10 Beautiful Tourist Destinations in Kasaragod
|
Kasaragod, the northernmost district of Kerala, is somewhat a less explored destination. But it has its fair share of attractive beaches, forts, wildlife sanctuaries, trekking trails and other places of importance.
In this article, we have included 10 such gorgeous tourist spots which you must visit in Kasaragod.
1. Bekal Fort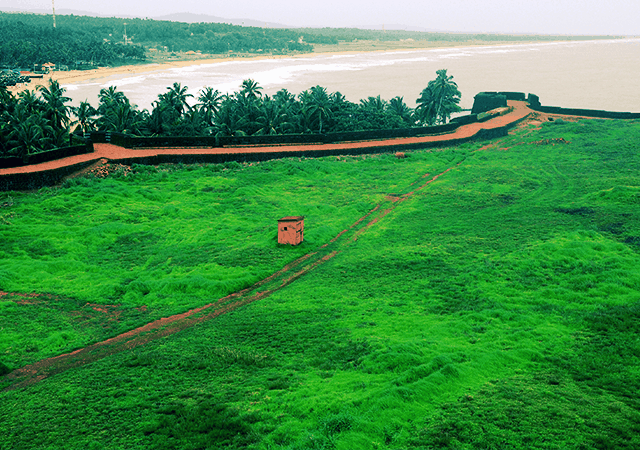 Bekal Fort is a historic fort which was built almost 300 years ago. It is surrounded by a beautiful beach offering a mesmerizing view of the Arabian Sea from its observation tower where once the cannons were placed.
The fort has a keyhole shaped structure that stands still against the rocky shores of sea amusing its visitors with its impressive strength. The fort was constructed purely for defence purpose by Shivappa Nayaka of Bednore in the year 1650.
Bekal Fort is one of the largest and most preserved forts in Kerala. The fort still stands in its full glory narrating a story of its past. Every year tourists visit this fort which is nestled in the lap of nature.
2. Ananthapura Lake Temple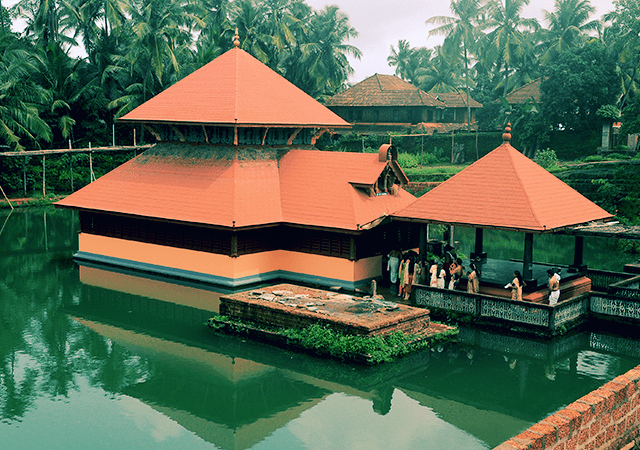 The only lake temple in Kerala, Ananthapura Lake temple is believed to be the original seat of Ananth Padmanabha Swami. It is built in the middle of a lake in the small village of Ananthapura.
The temple is located 6 km from Kumbala. The temple structure is built out of a massive rock and it is dedicated to Anantha Padmanabha Swami. The mural painting on the walls of the temple depicts the stories from the Puranas. Besides the paintings, there is a cave that leads to a pond.
3. Hosdurg Fort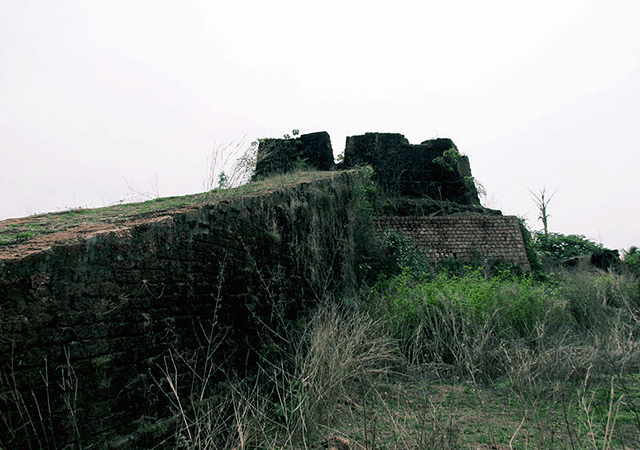 Image by Noeljoe85 via Wikimedia
Hosdurg Fort is the landmark of Kanhangad, hence it's also known as Kanhangad Fort. The fort is famous for its chain of forts built by Somashekara Nayak of Ikkeri dynasty.
The major and unique feature of this fort is its round bastions that look eye-catching from a distance.
Karpooreshwara temple, constructed by the Nayaks, is situated in the south-western part of the fort. The NithyAnandashram with 45 caves is an internationally recognized spiritual centre that makes the fort popular. Lots of tourists visit this beautiful fort every year.
4. Thaikadappuram Beach
Thaikadappuram beach is located 40 km south of Kasaragod, near Nileshwaram. The beach is famous for the rare Olive Ridley Turtles that visit here during the rainy season to lay eggs.
The ideal time to visit this place is from September to January. A non-governmental organization, Neythal runs an Olive Ridley breeding centre here.
5. Kareem Forest Park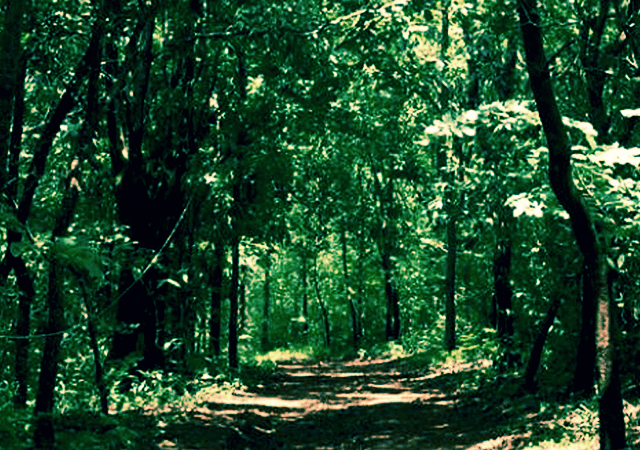 Image via kareemsforest.blogspot.in
The 32 acres of land situated at Puliyamkulam, near Parappa which is 23 km away east of Kanhangad town is the only man-made forest in Kerala.
Kareem forest park is a remarkable example of forest conservation. A native of Kasaragod named Kareem is the man behind this great green venture. It is a paradise for all the nature lovers, scientists, biologists, environmentalists and Ayurveda students.
Similar to all the natural forests, this park is packed with a plethora of medicinal plants and other flora and fauna. It also provides shelter to innumerable species of birds and small wild animals.
6. Maipady Palace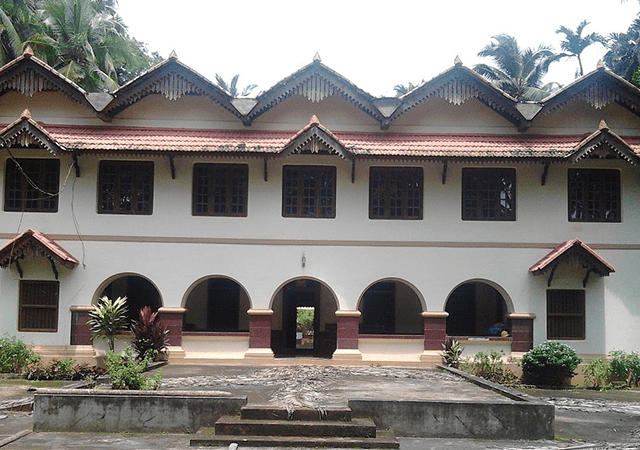 Image by Prof tpms via Wikimedia
Maipady Palace is an ancient palace located nearly 8 km from Kasargod town on Kasargod-Perla Road. This popular site belongs to Kumbala kings.
The Maipady Palace has a history of about 200 years. Frequent buses are available to reach this palace from Kasaragod town. Madhur Village located near to the palace is also a popular destination among tourists.
7. Veeramala Hills
Veeramal Hills is a popular vacation spot among tourists as well as locals as it offers spectacular views of the Kariangode River. Lying on the same hills is the 18th century Dutch Fort which is renowned for its architecture.
Veermala Hills is an offbeat and less explored destination in Kasargod. Veermala Hills can be considered as an incredible place to spend time with family and friends.
8. Ranipuram Hills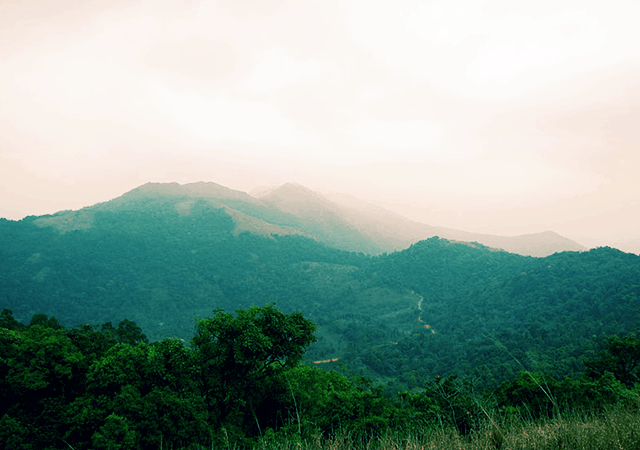 Image by Vaikoovery via Wkimedia
Ranipuram is a famous trekking trail in Kasaragod. Situated 750 m above sea level, this area was previously known as Madathumala. It has got a varied vegetation – evergreen shola woods, monsoon forests and grasslands.
Because of its natural beauty, Ranipuram can be compared to Ooty. The extensive forests of Ranipuram merge with the forests of Karnataka.
On the top of the mountains, wild elephants can be seen. From Panathady, jeep services to Ranipuram are readily available. Bus services are also available from Kanhangad.
9. Chandragiri Fort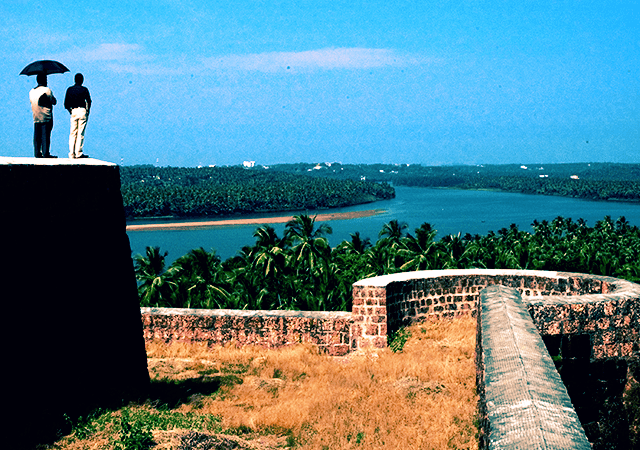 Built in the 17th century, the Chandragiri Fort is now in ruins, but the tourists and locals still visit this place to have a spectacular view of the Chandragiri River joining the Arabian Sea. The squarish fort still stands proudly at 150 feet above sea level and it occupies an area of seven acres.
The Chandragiri fort has an interesting history. The Chandragiri river near the fort was considered to be the border of two kingdoms – Kolathunadu and Thulunadu. Later Kolathunadu lost the Chandragiri region to them when the Vijayanagara Empire captured Thulunadu.
After the fall of Vijayanagara empire, the region was administered by Keladi Nayakas of Ikkeri. Vijayanagara Empire fell during the 16th century, after which Vengappa Nayaka declared independence. Later a chain of forts of which Chandragiri was a part, was built by Shivappa Nayaka.
The Chandragiri fort is only 8 kms from Bekal and 7 kms from Kasargod. Regular bus services are available to the fort.
10. Kappil Beach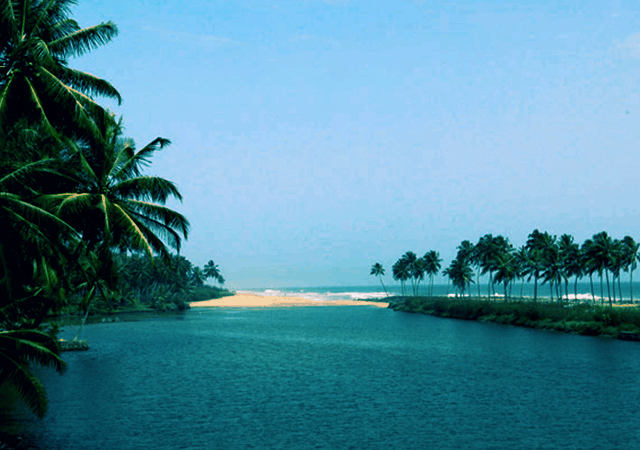 Kappil beach is a flawless tourist spot along the Malabar shoreline, located about 15 kilometres south of Kasaragod town.
The beach has a bewitching beauty that attracts tourists who are looking for a serene location to spend an evening with family or friends.
The Kodi cliff near the beach offers panoramic and magnificent view of the Arabian sea. The climb to the cliff is worthwhile as one can enjoy the majestic glory of the Arabian sea.
The beach is situated 6km away from the Bekal fort. Kappil beach is one of the cleanest and pollution free beaches in Kerala.
There are many more awesome places to visit in Kasaragod like Malom Wildlife Sanctuary, Parappa wildlife sanctuary, Malik Deenar Mosque, Madhur Ganapathi Temple, etc. So, plan your next tour to Kasaragod and get set for a memorable journey.
If you like this post, please share!!