10 Grand Mosques of Kerala
|
Ever since the early times, Kerala has played host to various people and religions from all over the world. We welcomed the foreigners with open arms and then, embraced their religion too.
Over time, these religions gradually weaved into the complex structure of our cultural framework. So, it really does not come as a surprise that the earliest Islamic place for worship in India was established in Kerala.
Let's go on a visit to some of the famous mosques in Kerala.
1.  Cheraman Perumal Juma Masjid, Kodungallur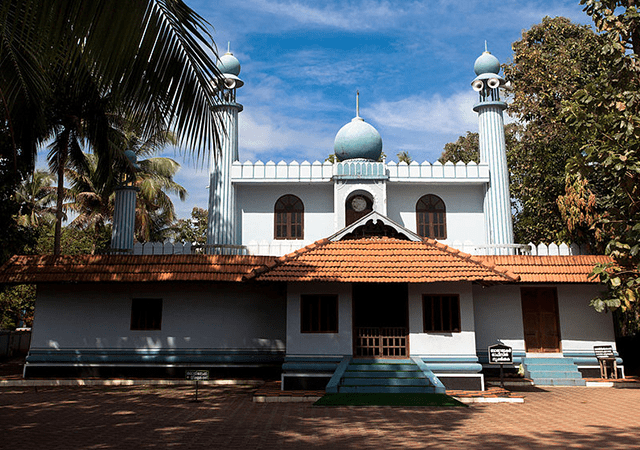 Image by Shahinmusthafa via Wikimedia
Cheraman Juma Masjid located at Methala in Kodungallur town of Kerala is the first and the oldest mosque built on Indian soil in 629 AD by Malik lbn Dinar.
One interesting fact about this mosque is that it was built in Hindu Architectural style and has an ancient oil lamp which is believed to be more than a thousand years old.
People of all religions bring oil for the lamp as an offering. It is the only mosque where Vidyarambham (tradition of introducing kids to education) is done on Vijaya Dashami day.
Another fact is that Cheraman Perumal Juma Masjid faces eastwards unlike other mosques usually facing westwards.
2. Beema Palli (Mosque) – Thiruvananthapuram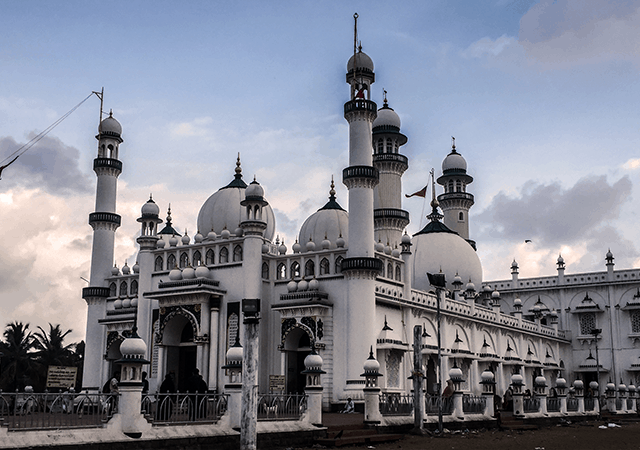 Image by People's Photographer via Wikimedia
Beema Palli is an important place of worship in Thiruvananthapuram. The reason behind its popularity is because of Beema Beevi and her son. People believe that Syedunnisa Beema Beevi was a woman with divine powers and belongs to the family of Holy Prophet Mohammed.
Every year, Chandanakudam Festival or Beemapalli Uruz, is celebrated at this mosque, lasting for 10 days. It is one of the most colourful events. People of all faiths and castes come to offer prayers at Beemapally.
The Beemapally is an excellent building with impressive façade and soaring pink minarets. The tomb of Beema Beevi is the main attraction at this mosque. This famous Islamic place of worship is 12 km from Thiruvananthapuram city.
3. Ponnani Juma Masjid, Malappuram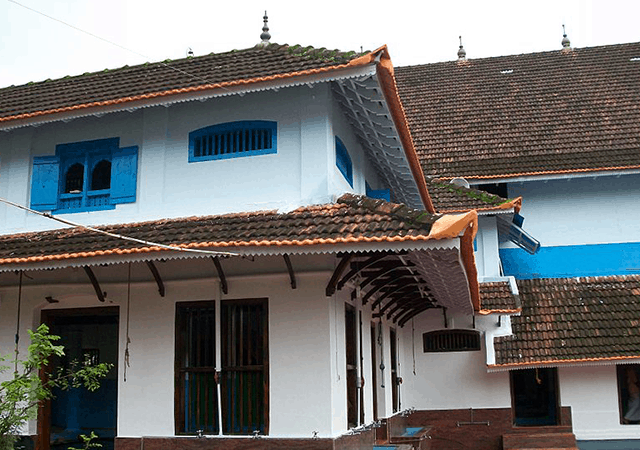 Image by Vicharam via Wikimedia
Amid all the Muslim pilgrim centers in Kerala, Ponnani Juma Masjid has an important place. It serves as the 'Mecca of Kerala Muslims', located in Malappuram district.
Ponnani Juma Masjid was built in the year 1510 by Zainudhin Makhdum, a famous Muslim spiritual leader and scholar. The architect of the mosque is said to be a Hindu craftsman who was a good friend of Makhdum Ashaari.
The structure of the masjid depicts the rich traditional architectural style of Kerala.  From a long time back, Ponnani Juma Masjid remained as a centre of Islamic education in Kerala.
4. Erumeli Vavar Mosque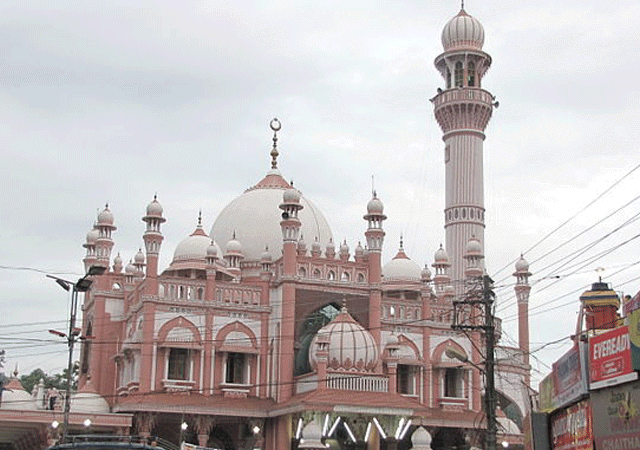 Image by Avsnarayan via Wikimedia
Erumeli Vavar Mosque is a popular and sacred place for both Muslims and Hindus. It is located at Erumeli in Kottayam district.
Erumeli mosque is known in the name of Vavar, who is believed to be the friend of Lord Ayyappa. There are many tales about Vavar and his association with Ayyappa.
It is believed that the Lord Ayyappa himself instructed the King of Pandala Desam to build a mosque for Vavar. The Sabarimala shrine is just about 50 km away and the devotees make it a point to visit this mosque before proceeding to Sabarimala.
5. Mampuram Mosque, Tirurangadi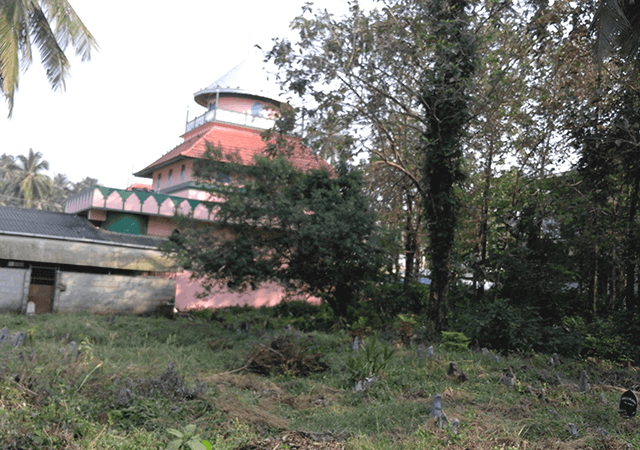 Image by Prof tpms via Wikimedia
The Mampuram Mosque in Tirurangadi, Malappuram district is a historically significant mosque and is one of the well-known pilgrim centers of Sunni Muslims of Kerala. It is closely related with the Mappila Revolt (Mappila Lahala) of 1921 against the British Government.
From the first to the seventh of Muharram month every year, an Uroos is conducted in the mosque. It includes talks on Islam and distribution of free food. The final day also has a big gathering where people from all over the world participate.
6. Thazhathangady Juma Masjid, Kottayam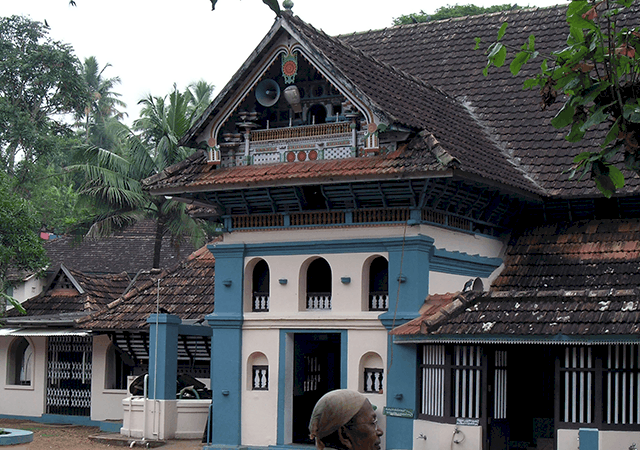 Image by Aryaabraham via Wikimedia
The Thazhathangady Juma Masjid, also called Taj Juma Masjid, is one of the oldest mosques in India and is more than 1000 years old. The mosque is situated in Thazhathangady, one of the heritage zones of Kerala, near the town of Kottayam.
It is famous for its intricate wooden carvings, architecture and beauty. Thazhathangady Juma Masjid is situated on the banks of the Meenachil river.
It is asserted that the Muslims who lived here played an active role in the freedom struggle and other national movements.
7. Malik Deenar Juma Masjid, Kasargod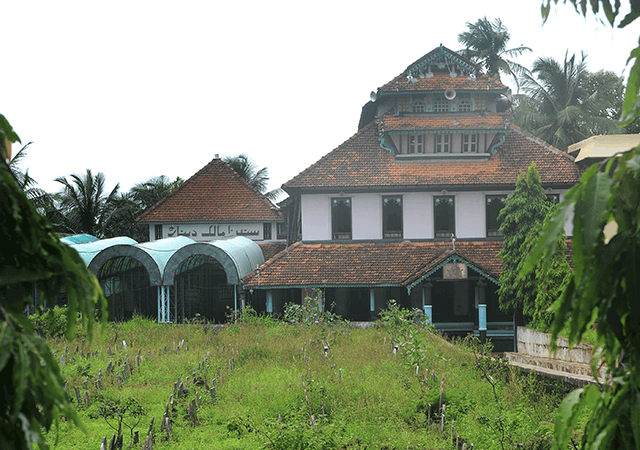 Image by Rannusmash via Wikimedia
The Malik Dinar Mosque is one of the best kept and most attractive mosque located at Thalankara, Kasaragod district of Kerala.
This historical mosque was built in the typical Kerala style architecture and is believed to have been founded by Malik Ibn Deenar.
Intricate carvings in Arabic can be seen on the wooden beams and pillars of the mosque. The mosque details its history of construction in Arabic on the latticed woodwork.
The important local celebration takes place every year in commemoration of the arrival of Malik Ibn Dinar to Kerala.
8. Palayam Juma Mosque, Thiruvanathapuram
Image by Sugeesh via Wikimedia
Palayam Juma Mosque (Masjid-i Jahan-Numa) is located in Thiruvananthapuram is one of the most important mosques in Kerala.
There is a temple dedicated to Lord Ganesha and a church as its neighbours, establishing the communal harmony of Keralites.
The history of Palayam Pally dates back to 1813 AD when Britishers were stationed here. It was constructed as a small mosque, a place to offer prayers. Slowly the mosque was reconstructed by the officers and people there. In 1960, Government officials along with wealthy businessmen took up its renovation and constructed the mosque that stands today.
9. Mishkal Masjid, Kozhikode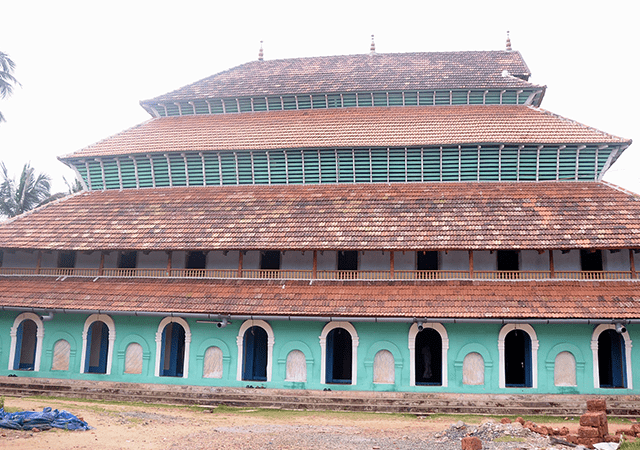 Image by Sidheeq via Wikimedia
Mishkal Masjid was built in the 14th century by a rich Arab merchant named Nakhooda Mishkal. It is one of the oldest in the Malabar region and a major cultural, historical and architectural monument in Kerala.
It has a wonderful four-storied structure; originally this was a five-tiered structure before the attack by the Portuguese in 1510.
Mishkal mosque does not have cupolas and minarets and is built in timber which is typically found in similarly aged mosques in Malabar.
The Masjid has 47 doors, 24 carved pillars and a big prayer hall that can accommodate 400 people. The Kuttichira tank is attached to the mosque. This uniquely built wooden mosque is simply a breathtaking structure, especially from the other side of the tank.
10. Odathil Palli, Thalassery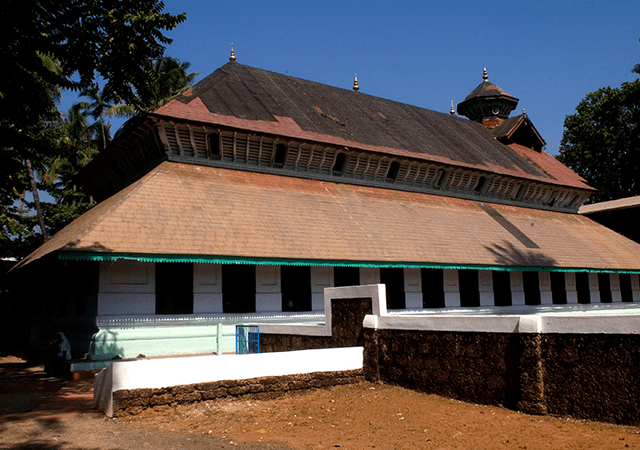 Odathil Mosque is about 200 years old and is located in the heart of Thalassery town of Kannur district. It was built by an Arab merchant in typical Kerala architecture.  Odam means 'garden' in Dutch.
The mosque was built in 1806 by Moosakaka, a contractor of East India Company. He built the mosque in the 'Karimbin-odam' (sugarcane plantation) that once belonged to the Dutch.
The highlights of Odathil Palli are that the roof of the mosque is made up of copper and the crown of the roof is made up of gold. The wood used in the interior is beautifully carved.
So, that sums up the grand mosques situated in various parts of Kerala. There are many more such beautiful mosques to see. You can visit them anytime during the year. While you plan your Kerala tour, do consult with your tour operator; they can guide you to the famous mosques near the location you are visiting.
If you like this post, please share!!