12 Famous Historical Monuments Of Kerala
|
Kerala, with the abundant historical landmarks  and monuments grabs the attention of domestic as well as foreign tourists. Colonialism and foreign invasion has left a lot of landmarks in the lap of this small state. Kerala is indeed a paradise with lush greenaries interspersed with rich and unique landmarks.
The magnificent forts, palaces and architectural monuments symbolises different dynasties, communities that existed in Kerala. They truly manifests the rich cultural heritage of Kerala.
Now let's have a visit through the famous historical monuments of Kerala.
Anjuthengu Fort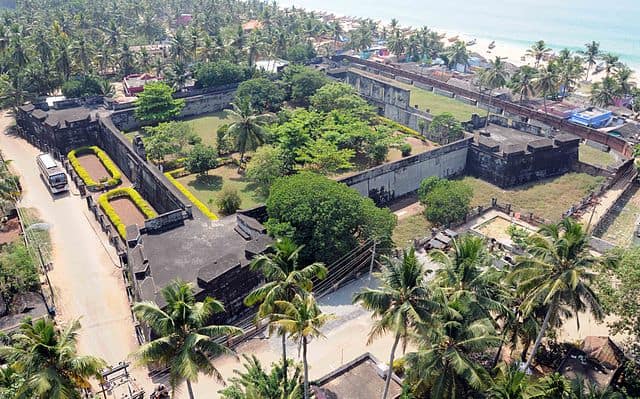 As the name indicates Anjuthengu is a place full of coconut trees. Anjuthengu fort or Anjengo fort was established by British East India Company during 17th century. The fort has got much historical relevance as it is the first major trading station of the East India Company.
It was also the first signaling station for ships arriving to Kerala. Anjuthengu is 36  km  from Thiruvananthapuram. The nearest railway station is Kadakkavur railway station and the nearest airport is Thiruvananthapuram International airport.
Bekal Fort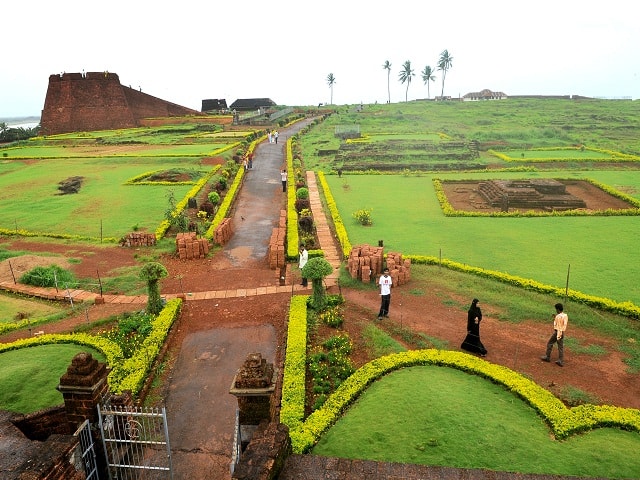 Bekal fort, which is situated on the backdrop of Arabian seashore in Kasaragod district is the largest fort you can see in Kerala. The water-tank with its stairway, a mosque and a Hanuman temple at the entrance and the fascinating view of the surrounding areas from the fort makes it unique among other forts of Kerala.
Winter and summer seasons attracts more tourists to this magnificent and best preserved fort. Pallikkara, Kasaragod and Kanjangad railway stations are the nearest railway stations to this destination.
Hill Palace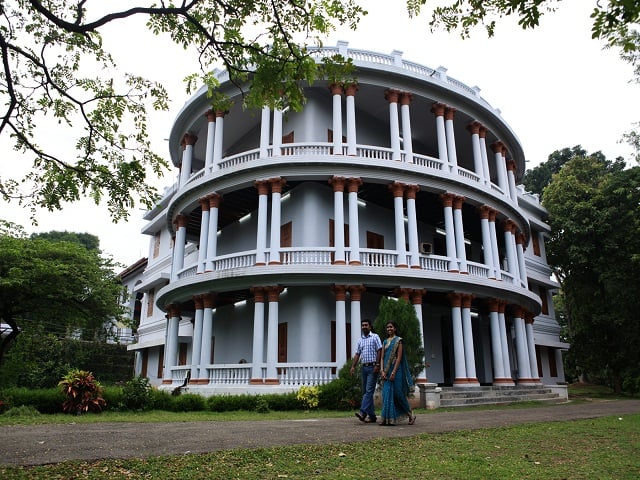 Hill Palace Museum is considered to be the largest museum in Kerala. Museum displays majestic beds, paintings, carvings and samples of epigraphy  belonging to the royal family of Kochi. The display of antique paintings and relics belonging to the bygone kingdom fascinates the visitors.
This elegant looking palace with traditional architecture is now a full fledged ethno-archeological museum. You can visit the museum from 9 am to 5 pm  on all days except Mondays. Hill palace is situated at Thripunithura in Kochi, on the way to the famous Chottanikkara temple.
Synagogue at Mattanchery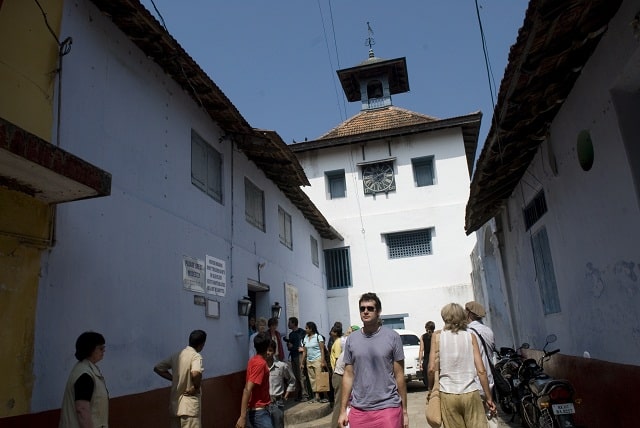 Jewish synagogue or Paradesi synagogue is a major historical monument with its unique relics like Belgian glass chandeliers, brass railed pulpits, gold crowns and copper plates belonging to 10th century. The flooring of this synagogue is made up of 18th century hand painted porcelain tiles of China and each one of this hundred tiles are unique.
The building is adjacent to Mattanchery palace in Jew street. The visitors are allowed inside the synagogue from 10 am to 12 noon and 3 pm to 5pm on all days except Fridays, Saturdays and Jewish holidays. Cochin international airport, Ernakulam railway station, and the road services makes the accessibility to the place easier.
Padmanabhapuram Palace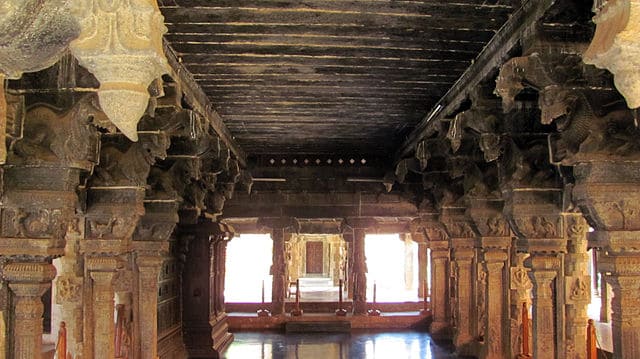 "Navarathri Mandapam at Padmanabhapuram Palace " by Aviatorjk via Wikipedia
This well preserved wooden palace welcomes tourists and an abundant group of archeologists with its exquisite floral carvings, black glossy granite floor, magnificent 18th century murals, secret underground passage and colored mica windows. This palace showcases the richness of Travancore dynasty which ruled the southern part of Kerala. This palace is currently not in Kerala but 64 km away from Thiruvananthapuram city.
November to May is the suitable months to visit the palace. The visiting time is from 9:00 am to 5:00 pm on all days except Mondays and national holidays. In order to maintain polish the visitors are restricted from using footwear inside the palace. Nagarcoil railway station (Tamil Nadu) is about 16 km from the palace and the nearest airport is  the Thiruvananthapuram International airport.
Dutch Palace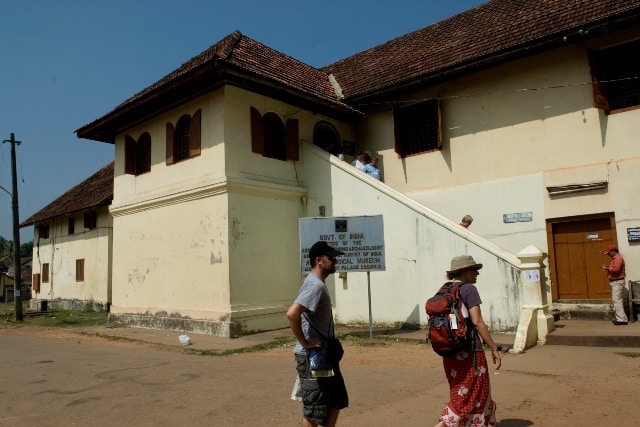 Dutch palace or Mattanchery palace has great historical relevance. It is constructed by Portuguese and is renovated by Dutch during their reign. The palace welcomes you with the stark white walls and sloping roof. The small temple inside the palace and the mural paintings depicting the Hindu mythologies will fascinate you .
Except Fridays, the palace is open to visitors from 10 am to 5 pm. It is close to Cochin city. You can reach there either through road or by taking boat service.
Thalassery Fort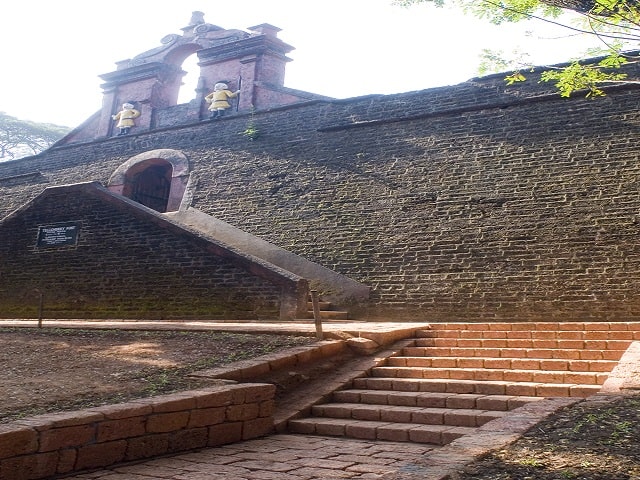 Thalassery fort was the military center of British rule and it stands as the monument of colonial imperialism. British East India Company constructed this fort with carved doors, secret tunnels and two underground chambers.
The fort which is at the heart of Thalassery city is in Kannur district. The nearest railway station  is Thalassery railway station. Frequent bus services and auto, taxi services will help you to reach the fort.
Gundert Bungalow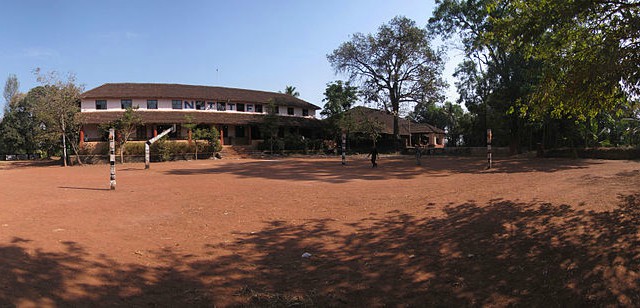 Gundert Bungalow  is very crucial in the history of Malayalam language. The revered German priest and lexicographer Dr Hermann Gundert who was the compiler of first Malayalam dictionary and the publisher of the oldest Malayalam newspaper, lived here for 20 years. Hence the bungalow witnessed the birth of a dictionary and a newspaper in Malayalam language.
Gundert bungalow is around 20 km from Kannur.  Thalassery bus stand and Thalassery railway station are very near to Gundert Bungalow. This historical monument grabs attention of visitors mostly during the months from October to May. Currently Nettur Technical Training Foundation (NTTF) functions there.
Kanakakunu Palace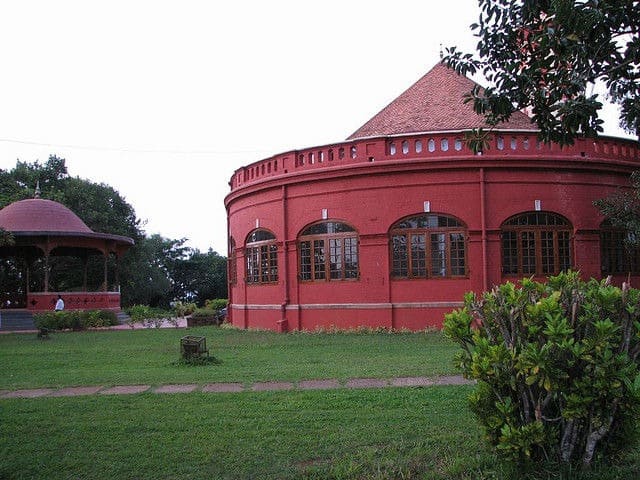 If you are a nature lover you will be charmed by the green meadows, grooves and flowering shrubs around the palace.  And once you stepped inside the palace, you are welcomed by the crystal chandeliers and abundant royal furniture that are the relics of Travancore Dynasty.
Kanakakunnu  palace is now used as a guest house  because of its nature friendly atmosphere . A large number of tourists visit the palace during Oct to March due to the All India Dance Festival conducted by Kerala tourism department. Thiruvananthapuram International Airport and Thiruvananthapuram Central railway station makes your trip convenient.
Palakkad Fort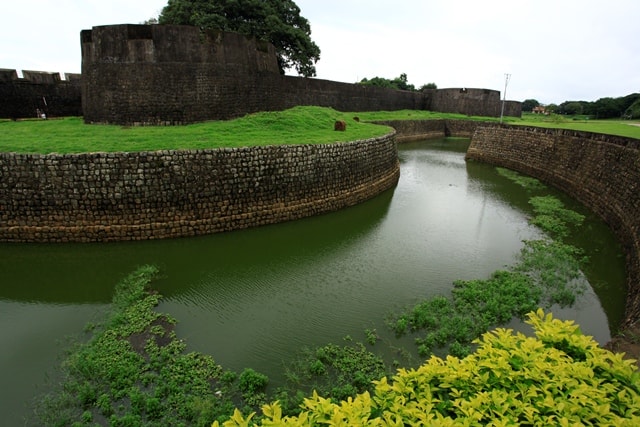 Here you can see a well preserved fort which is situated in 15 acres. Palakkad fort or the Tipus fort is a very important historic monument of Kerala, which witnessed the Mysorean invasion and the British colonialism.
The fort is in the center of Palakkad town. Palakkad railway station is the nearest railway station. You can reach the fort  through Coimbatore airport, which is 55 km from here and also through Cochin International  Airport, which is 140 km from here.
Kannur Fort
Kannur fort is also known as st. Angelo's fort. The fort, which is situated in  Kannur cantonment area is in the Arabian sea shore. It is one of the most important tourist spot of Kannur. Kannur fort is 3 km away from Kannur town.  Kannur railway station is the closest railway station. Frequent bus services and auto, taxi services are available to reach the fort.
Ambalavayal Heritage Museum
Ambalavayal Heritage Museum or Wayanad Heritage Museum attracts a lot of archeologists, historians, and tourists with its artifacts belonging to ancient times. This is one of the largest heritage museums of Kerala.  You will be astonished to see the tribal relics and rare artifacts dating back to 2nd century AD.
The museum is at Ambalavayal, 12 km south of Sulthan Bathery in Wayanad district. Karipur international airport, Kozhikode railway station and lots of bus services from Kozhikode to Sulthan Bathery ensures your comfortable journey to the museum.
While planning your Kerala Tour, make sure you include some of the above mentioned monuments and museums in your itinerary and  experience the rich heritage of Kerala. You can also ask the assistance of your travel operator to arrange a tour package to Kerala which includes these famous landmarks.