29 Mouth-watering, Lip-smacking Dishes from 29 Indian States
|
The varieties that you get to experience in India doesn't extend to its topography, culture, religion and lifestyle alone, but a huge part of its cuisine too. The specialties that you get to enjoy in this country is definitely delectable, savory, delectable, tantalizing and every positive adjective that's related to food. Spicy, rich, sweet, salty – you have it all here in India. The country is a haven for gastronomers, so get ready for the blast of flavors that's definitely going to play in your mouth.
Lay the table, set the plates, knives, forks and the rest of the works – here come 29 famous dishes from all the 29 beautiful states in India. Let's start from right at the top.
1. Tabaq Maaz, Kashmir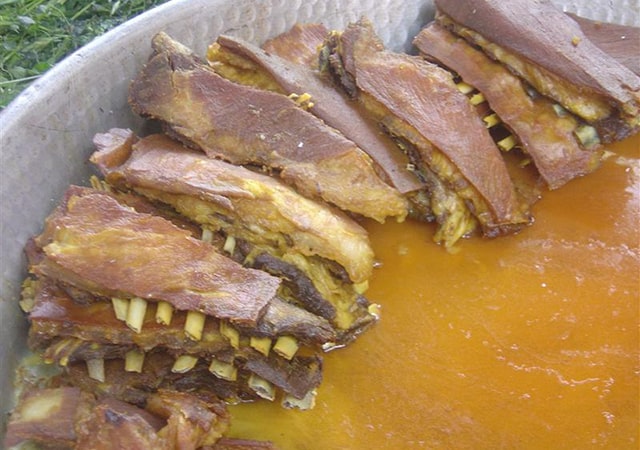 Image by Oniongas via Wikimedia
The pride and joy of the country, Kashmir has so many mouthwatering dishes, but unfairly enough, we are just going to write about one of them – Tabaq Maaz. This is a lamb preparation and indigenous to the area. Made with Persian spices and marinated overnight for that extra sensory taste, the ribs themselves are cooked until tender. A quick dip in the frying pan and your Tabaq Maaz is ready for dinner.
2. Butter Chicken, Punjab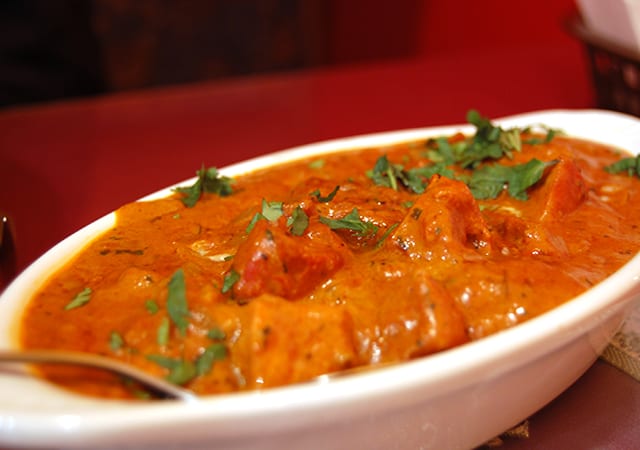 Image by  stu_spivack via Wikimedia
The people of Punjab have a special panache in cooking chicken and when it comes to adding butter to chicken, you've got to hand it over to them. You can easily pair the sweet and tangy gravy with anything and everything. It is the authentic Punjabi spices that make it all so special.
3. Safed Maas, Rajasthan
Treat your taste buds to a meat curry made with a blend of aromatic spices, milk, curd, cashew nuts and loads of cream. What meat? Chicken, of course. How can you be in Rajasthan and not relish Safed Maas? It is their traditional dish, and quite special too.
4. Kadi Pakoda, Haryana
Kadhi Pakoda is a dish made with a blend of yogurt and besan or gram flour. It is a traditional, simple and aromatic dish that you can enjoy with plain white rice. It is the spicy, sour taste that makes this dish yummy, and when the crispily fried pakoras are simmered in curry, they become truly irresistible.
5. Tengaa Maach, Assam
Tenga Maach is an Assamese fish curry where the dominant flavor in the curry is Tenga or "sourness". It would definitely be a unique dish to be enjoyed with lunch or dinner. When you are visiting Assam, be sure to try this. It is worth a second helping!
6. Litti Chokha, Bihar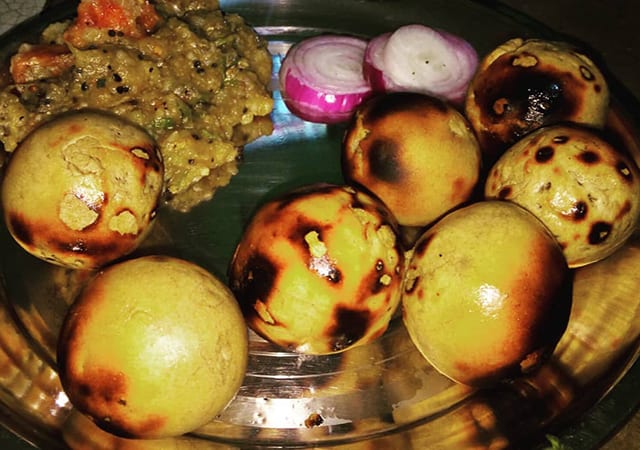 Image by Pankajsahu20 via Wikimedia
How about a "chili" snack with mashed potatoes, brinjal, and tomato along smoked red chili? Litti ingredients include wheat, ghee, and sattu, and it's healthy too, as it's baked. Surely, when you are in Bihar, you are not going to give this one a pass, are you?
7. Channa Madra, Himachal Pradesh
Channa Madra is a perfect dish to relish on a chilly night at Himachal Pradesh. Enjoy the goodness of chickpeas with the thickness of yogurt cooked in ghee and spices. Mouth-watering and absolutely delicious, you can enjoy this with plain rice or roti.
8. Ripe Lemon Chaat with Bhang Chutney, Uttarakhand
The perfect Uttarakhand dish to try out while you are there, this is one chaat you would dearly love. Bhand is roasted hemp seeds; and the tamarind water in the dish adds a special flavor.
9. Dal Baati Churma, Rajasthan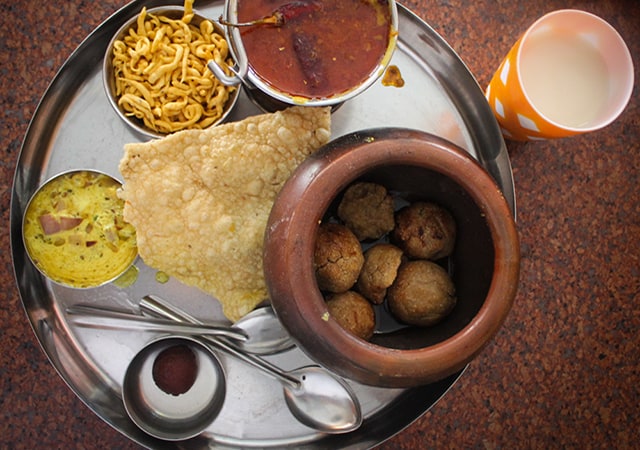 Image by RohitValecha via Wikimedia
A typical and traditional Rajasthani delicacy, Dal Bati Churma is made with plenty of ghee, spicy dal, sweet charm and deep fried crunchy baatis. Authentic and popular, you can really enjoy this dish on a cold, winter night. Baatis are hard, wheat rolls, while dal is lentil, so it is perfectly healthy and nutritious too.
10. Galauti Kebabs, Uttar Pradesh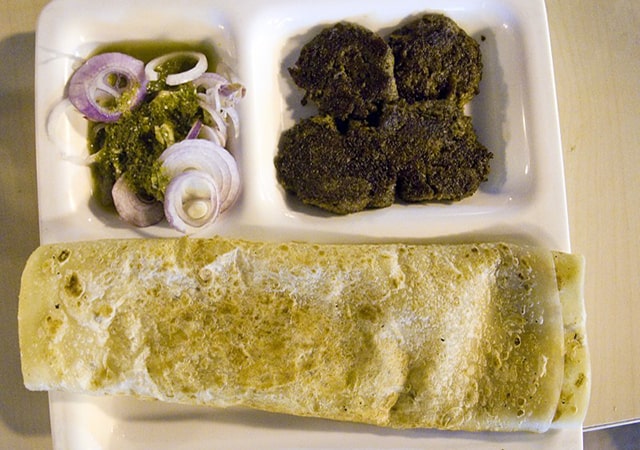 Image by Mcbridejc via Wikimedia
Rumor has it that these beef kebabs were originally made for Nawab Wajid Ali Shah of Lucknow who lost all his teeth. Well, that would probably be true too considering the fact that the kebabs will melt in your mouth, totally. This is a must-try dish while you are touring Lucknow.
11. Kosha Mangsho, West Bengal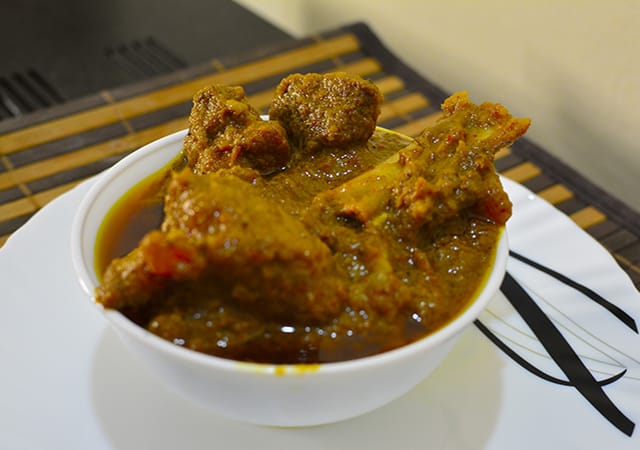 Image by Kajori.p via Wikimedia
Throw all caution to the wind, and lick your fingers after you dip your fangs into the velvety gravy of the Kosha Mangsho, a spicy Bengal Mutton Curry with juicy pieces of meat, yogurt, bay leaf and potatoes. It is a popular traditional dish from Bengal, and delicious beyond words. You would absolutely relish this especially if you enjoy rich, spicy food.
12. Papaya Khar, Assam
Papaya Khar is a completely offbeat dish from Assam, but a well-loved one among tourists. It is made out of red rice, beaten pulses, raw papaya, and a lovely mix of Assamese spices. It is a classy dish, and quite different and unique from what you had ever tried before.
13. Chakhwi, Tripura
Made from bamboo shoots, jackfruit and pork, Chakhwi is a heart-healthy dish because it doesn't require much oil to prepare. You will find this dish gracing the dining tables of most Tripura households, along with their main cuisine. It is perfect with rice and rotis.
14. Naap Naang, Nagaland
Think of Nagaland, and you will probably come with a singular delicacy that's unique to the area – momos. You've probably tried that a few times now, so let's talk about Naap Naang. An interesting name, don't you think? It's made with black rice, sugar, milk and water. The dish looks purple because of the use of black rice, but it's perfectly yummy and incredibly delicious.
15. Kangshoi, Manipur
Kangshoi is a kind of soup, but you have seasonal vegetables, spring onions, dried fish pieces and coarsely chopped onions, tomatoes and potatoes added in it. It is healthy, once again, because no oil is used, and can be had as a filling lunch or dinner meal. It is a favorite among the Manipuris.
16. Jadoh, Meghalaya
Jadoh is flavored rice from Meghalaya, and you can enjoy it with Tungtap or fish chutney. This is a favorite, local cuisine in the state, and you must have it if you are ever in the area. It is the caramelized onions, smokiness of the pork and the richness of the spices that make this dish special. Ja means 'rice', and Doh means 'meat', so it is a kind of biriyani.
17. Chhena Jhili, Odisha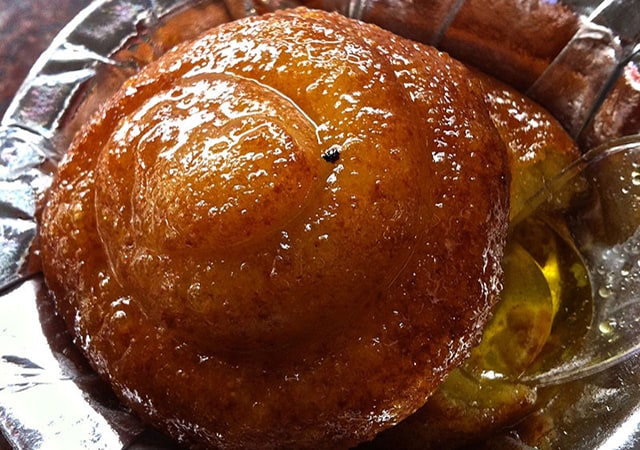 Image by Subhashish Panigrahi via Wikimedia
Chenna Jhili is prepared in fried cheese and sugar syrup and a popular dessert from Odisha. It is also made as an offering to Lord Jannath. The main ingredient in the dish is cheese and sweetmeat adds to the 'biteness' of the dish. Other basic ingredients of the dish include grated paneer, sugar, cardamom powder, hung curd, baking soda, wheat flour, and sugar syrup.
18. Sel Roti, Sikkim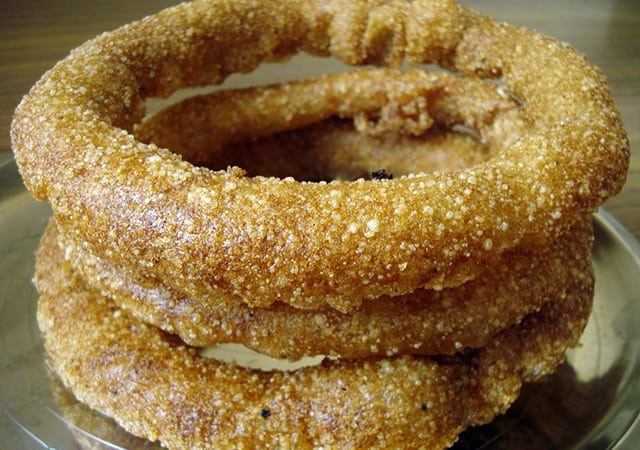 Image by Swapnil Acharya via Wikimedia
Sel Roti is crispy fried sweet bread and is a very addictive snack. It is the traditional circular shape of the roti and the golden brown crispiness that makes it so attractive. This mildly sweet bread is made with rice, ghee, clove and spices.
19. Mawa Bati, Madhya Pradesh
Mawa Bati is a favorite street food of Madhya Pradesh. Made with mawa, cardamom powder, sesame seeds, pure cow ghee and plenty of dry fruits, Mawa Bat is going to play music with your taste buds.
20. Zu Tea, Mizoram
Zu tea is the local tea of Mizoram, and the locals like to sip this with every meal they take. Try the tea in the evening with bamboo shoot fry if you are not interested in having tea along with your regular meals.
21. Raagi Flour Roti, Jharkhand
Raagi Roti in Jharkhand is quite a simple and nutritious roti made with the powerful grain, ragi. Ragi is mainly consumed by laborers as they needed something solid when they go out in the fields. Hence, it is slow to digest dish, but very tasty and very healthy.
22. Dhokla, Gujarat

Image by Dhananjai11 via Wikimedia
Dhokla is a main dish of Gujarat and extremely popular among food lovers all over the world. It is made with fermented batter derived from rice and split chickpeas, and can be had as a main course or side dish, or even as a snack. Dhokla is healthy, easy to digest and aids in bowel movements while boosting energy levels. It is completely vegetarian and an ideal dish for occasions as well.
23. Puran Poli, Maharashtra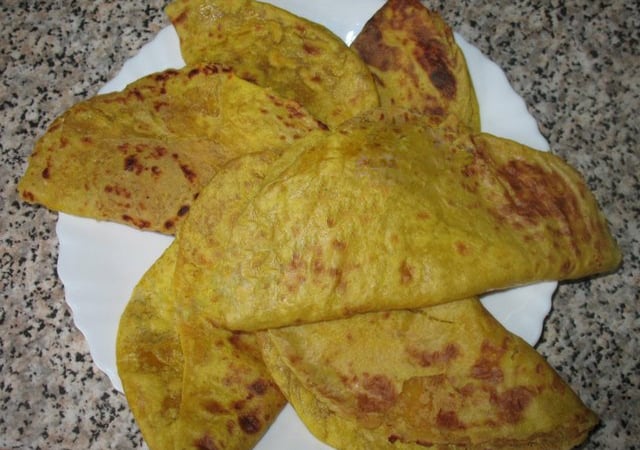 Image by Amarnujju via Wikimedia
Puran Poli is a sweet flatbread that you will see gracing the dining tables not only in the state of Maharashtra but the rest of India too, especially during religious festivals. This sweet bread is made with a filling of lentil, jaggery, and ghee, prepared with a lot of care, and consumed with relish.
24. Hyderabadi Biriyani, Andhra Pradesh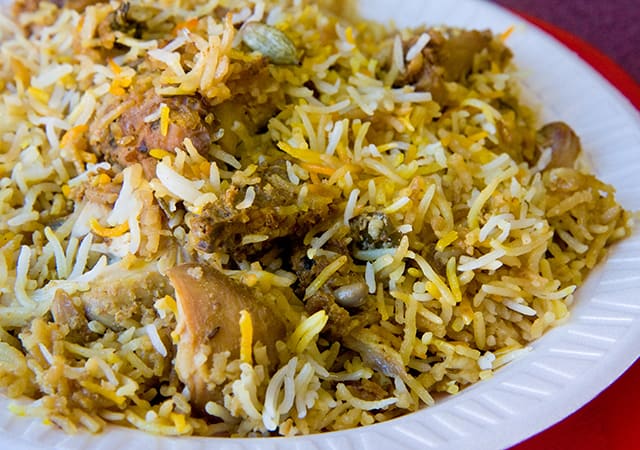 Image by Garrett Ziegler via Wikimedia
The kitchens of Hyderabad conjure up magic that remains on your taste palette long after the meal is consumed. The Biryani, made with a blend of Mughlai and Italian spices is something you should consume at least once in a lifetime. This Biryani once ruled the kitchens of the Nizam rulers, and now you will find this dish a favorite of anyone who enjoys eating Biriyani. If you have not yet had this gastronomic wonder, then you have seriously missed something in life.
25. Mysore Dosa, Karnataka
Mysore Dosa is a special dosa that you get in, well, Karnataka. The dosas are crispy and yet fluffy, provided along with chutney and onion-potato masala. If you like your dosa to be a little spicier, you can have a smear of flaming-chili-garlic disco paste. Mysore Dosas are different from the ones you get in Kerala, as the latter ones are softer.
26. Dry Fried Chicken with Bamboo Shoots, Arunachal Pradesh
This is a chicken preparation with tender fermented bamboo shoots and is a much-loved recipe in Arunachal Pradesh. It is sumptuous and absolutely divine, so if you are a fan of chicken, don't miss this one, ever.
27. Sweet Pongal, Tamil Nadu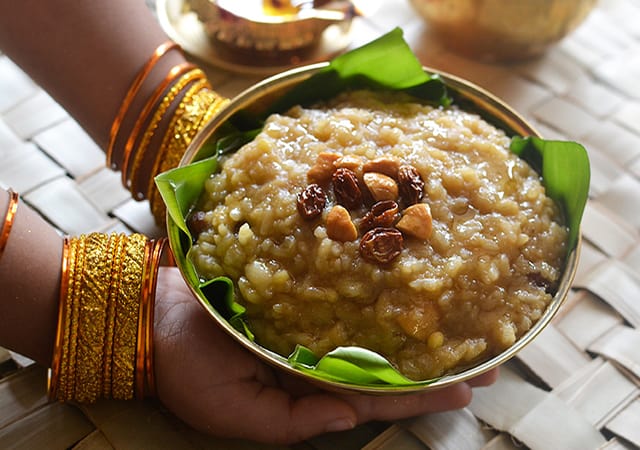 Image by VSharmilee via Wikimedia
Pongal is a popular rice dish in Tamil Nadu, it is also the name of a popular festival. The term Pongal means "to boil", and the festival is also meant to honor harvests, and is thus dedicated to the Sun God. This festival is celebrated in various forms and names throughout the country. So, coming back to our delicacy, Sweet Pongal, you really should have it when you are visiting TN. It is rice cooked in milk and jaggery and is mostly eaten as a breakfast dish.
28. Goan Fish curry, Goa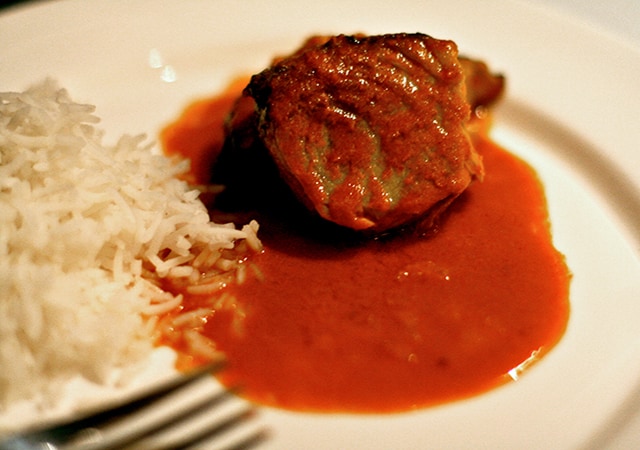 Image by Ramakrishna Reddy y via Wikimedia
You cannot visit Goa and come back without trying its iconic Goan fish curry. The fish is cooked in onions, coconut, tomatoes, chilies and tamarind juice in a clay pot, and this method of preparation makes it lip-smacking. Fish is the staple of the Goan people, so you will find that a variety of their dishes are fish-based.
29. Chilli Beef Fry, Kerala
Tantalize your taste buds when your visit Kerala, and the state has hundreds of delicacies worth trying. Chili beef fry is one of the must-try Kerala dishes. You get to savor this at any of the restaurants, big and small in Kerala. Beef is roasted slowly after marinating it in authentic Kerala spices, making it a delight for those who love to eat non-veg with their rice and chapattis. It is the signature dish of the Christian community here, and worth every single ravishing bite.
Wrapping up
India is a divine destination for food lovers. Apart from the above-mentioned delicacies, each of these states in the country has a number of other native dishes that you would thoroughly enjoy. How about planning to embark on food journey along the various destinations of India?
If you like the post, please share!!!!