6 Refreshing Summer Drinks to Try Out in Kerala
|
Kerala is loaded with activities even in summer, so visitors keep flowing in, even when the weather changes from the cold winter days to weeks of pleasant warmth, and then to the bristling, hot summer months. This time of the year is not a bad time to visit the state, but you can take care of your health by keeping yourself hydrated aptly. The trick is to drink fruit juices and sufficient water, dress appropriately and carry sunscreen. Packaged drinking water is available all over the state, so make sure you carry at least one litre of water per person at all times.
The beauty of Kerala is that you get to relish so many typical drinks indigenous to this part of South India. And they are so yummy and refreshing, that you would feel instantly energetic and fresh. Here is our pick of 6 refreshingly energetic drinks to enjoy in Kerala. Browse through, try them during your next visit to Kerala, and you will know what we mean. The recipes themselves are so simple, that you can even make them at home.
1. Panakam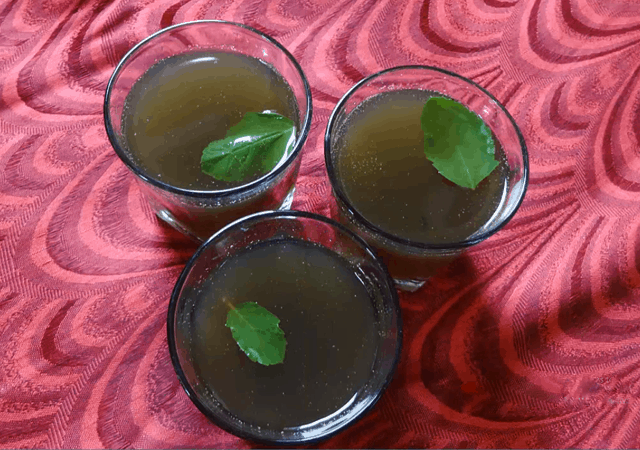 Panakam, made with lemon, water and dried ginger is not just a thirst quencher, but comes with immense health benefits as well. It is a South Indian favorite, especially in the states of Kerala, Andhra Pradesh and Tamil Nadu. It is so tasty and refreshing, that it has been given the status of "prasad" in many Hindu temples during the festival season. It's sweet, pepper-flavored taste has received rave reviews from visitors who have vouched for its instantaneous rejuvenating properties. If you are drained after a city tour in Kerala in the hot summer months, you can easily restore the minerals lost by sweating, and combat your lethargy by drinking this elixir.
It can be made using powdered or crushed jaggery, a pinch of cardamom powder, a dash of crushed black pepper and one full lemon. Drink it chilled, and enjoy the effects! The raw carbohydrates in the drink can easily facilitate the electrolytes into the cells, and is definitely much better than the so-called high calorie, zero-nutrition drinks that we get in the market today.
2. Kulukki Sherbeth
Walk the streets of any district in Kerala, and you will get this sumptuously delicious drink at any cool drink stall. The highlight of this drink is unripened lime and basil seeds. Basil seeds play an important role in cooling your body. The trick of the taste is the way you shake the mix. Yes, that's right. It is a shaken, not stirred kind of drink. You can also make this at home if you have a cocktail shaker at home. If not, then a tall glass and a stainless-steel cup would do.
Kulukki Sherbeth or shaken lemonade is loaded with antioxidants and rich in fibre. Juice stalls add chopped pineapples or apples and garnish with mint or tulsi leaves for added flavor. To make this drink, you need 2-3 lemons, a few pieces of crushed ice, one tablespoon of basil seeds, a couple of sliced Thai green peppers, sugar syrup and honey. Certain shopkeepers add their own tasty twist to it to make it more unique than the kiosk next door.
3. Spiced Sambharam
This is one of the most old-fashioned drinks in this part of the world. Changes have been going on in the mixing of ingredients, but nothing can undermine the importance it has during each hot season. It is just pure buttermilk, and seasoned with shallots, garlic, ginger, green chilli, yellow chilli, bilimbi (pulinji), asafoetida powder, coriander leaves, mint leaves, mango and pineapple slices. One of the main highlights of this drink is that it is sugarless, despite the mango and pineapple, so if you are watching those calories, this would be an ideal drink.
The drink eases your digestive system, refreshes you wholly, and delivers an instant energy booster in the hot summer afternoons. If you are planning to cut down on coffee/tea, this would be a good and healthy choice.
4. Banana and Tender Coconut Drink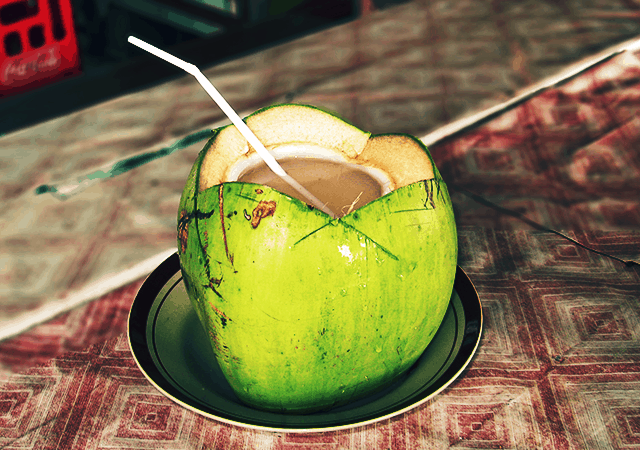 Image by Crisco 1492 via Wikimedia
You must have had tender coconut water or elaneer juice on your trip to Kerala. Here's a yummy drink made using tender coconut pulp. So, when you are drinking elaneer next time, don't throw away the pulp, you can make a refreshing drink using tender coconut pulp with crushed ice, chilled milk and bananas in a sugar syrup. This drink would work wonders in restoring the essential electrolytes and regulates the sugar levels in your body.
If you are staying in a homestay or resort, you can get your host to prepare this drink. It would be the fitting end to a lovely day of touring Kerala.
5. Nannari Sherbeth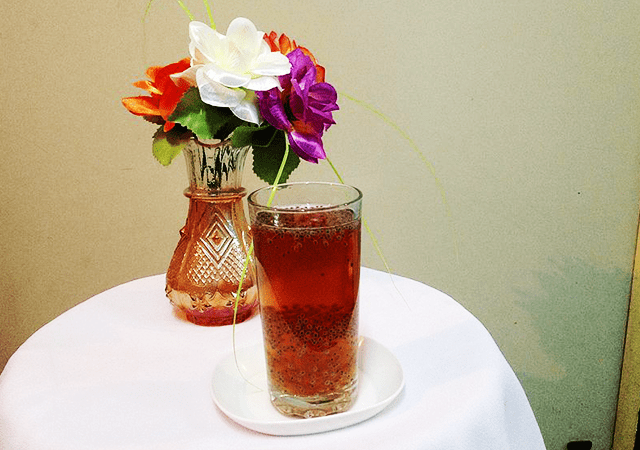 Image by Sajida begum via Wikimedia
A highly refreshing drink devoid of all artificial flavors and colors, Nannari Sherbeth or Naruneendi Sherbeth, as it is called in Kerala is a rage among visitors during the scorching summers. The drink is made using Nannari roots, also called Indian sarsaparilla, and acts as an immediate coolant. Being a herbal root, it provides several other health benefits too, and protects your body from common summer ailments.
You can down this drink prepared with lemon and jaggery while visiting any of the roadside kiosks or stalls.
6. Raw Mango Drink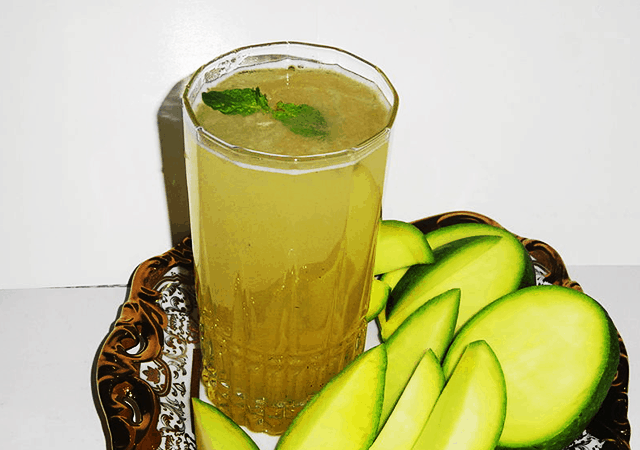 Image by Miansari66  via Wikimedia
Also known as "pacha manga" juice in the local language, the raw mango drink is in huge demand during the sweltering summer months. This is because the fruit is abundantly available during these months. The drink would easily protect you from a heat stroke, apart from quenching your thirst and refreshing you instantaneously.
It is made using raw mangoes, freshly ground pepper, fennels seeds, cumin seeds, mint leaves and coarsely ground black rock salt.
Conclusion
Apart from the above-mentioned yummy drinks, you can also sip watermelon juice, munch on fresh cucumber, relish sweet/salt lassi, go crazy with a strawberry smoothie and reach for that second helping of chilled lemon-honey concoction. The options are endless when you are in Kerala.
If you like this post, please share!!