8 Hideouts in Kerala to Escape From Your Hectic Life
|
Life in India's God's Own Country, Kerala is exciting, energizing and ever dynamic, however, there are times when the hustle and bustle of city life can get on your nerves. But the best part about Kerala is that you always have a place to go and unwind yourself.
Being encompassed by the mesmerizing Western Ghats, there are numerous hideouts in Kerala with captivating scenic beauty.
Here are some of the top weekend hideouts in Kerala that you just can't miss.
1. Vagamon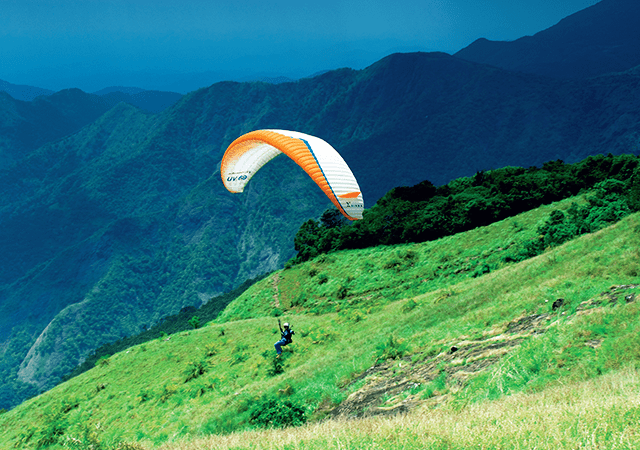 Image by Lukas Vacovsky via Wikimedia
Located on the hills of the Idukki-Kottayam frontier, Vagamon is an awesome place known for its eco-tourism and is the best to free your mind and unwind your bones with your friends and family.
Blessed with an entrancing view, untouched by commercialisation, this sleepy town with delightful green glades, picturesque valleys, mists, tea domains, charming pine backwoods, fogs, waterfalls with the general greenery, is truly striking.
Situated 1100 meters above the sea level, far from the uproarious city culture, lavish greenery and tranquillity to gift every visitor, Vagamon could be your peaceful weekend getaway in Kerala far from the maddening tourist swarms.
By Road: Vagamon is 100 kms away from Kochi by bus. Direct buses to and from Trivandrum, Madurai, Kottayam and Munnar are available. Also, you can hire a local cab to vagamon.
By Rail: The nearest railway station is Kottayam which is 64 km away from Vagamon.
By Air: The nearest airport is the Cochin International Airport located 75 km from Vagamon.
2. Gavi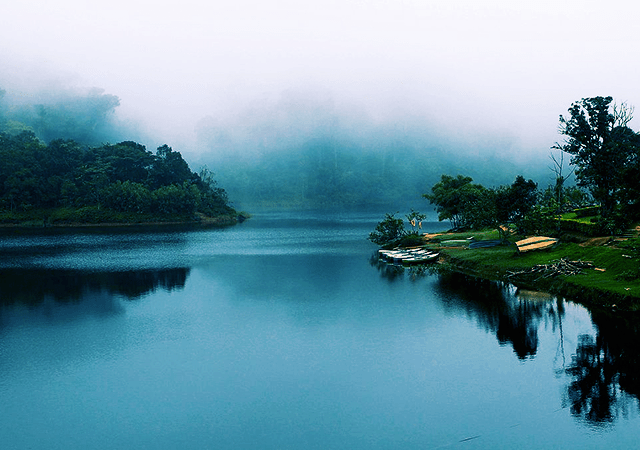 Image by Samson Joseph via Wikimedia
Gavi, a small village in Pathanamthitta, is a place which is loaded with captivating sceneries, astonishing wildlife and other extraordinary activities. Located 28 kms from vandiperiyar of Idukki district, is the embodiment of everything that tourism in Kerala offers.
The paths leading to Gavi town takes you through great views of little streams and tea estates. An early morning trek or bicycle ride through this scenic road is one of the best experience you can have.
If you are a nature loving adventurous person, then Gavi is the ideal place for you. You can enjoy trekking, paddling, outdoors camping, and different activities that are happening there or simply sit back close to the lake and be overwhelmed by the excellence of the place.
You can reach Gavi by bus, train or by air. By road, it's 28 Kms from Vandiperiyar and 51 Kms from Thekkady. If you prefer going there by rail then it's 128 Kms from Kottayam Railway Station, 168 Kms from Ernakulam Railway Station and 180 Kms from Madurai, Tamilnadu. By air, it's 160 Kms from Cochin International Airport, Ernakulam and from Madurai Airport it is about 199 Kms.
3. Ramakkalmedu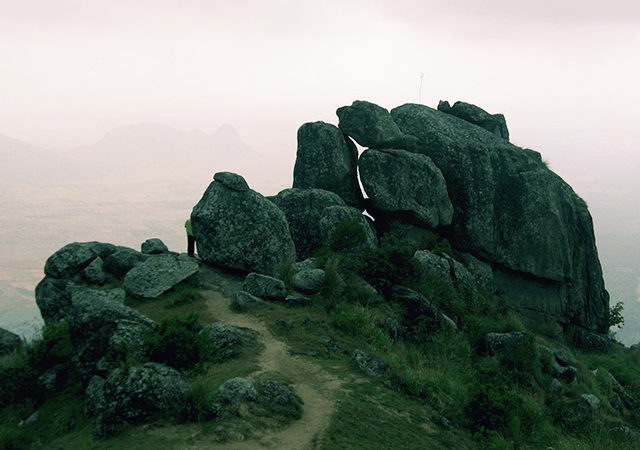 Image by Rojypala via Wikimedia
Situated in Idukki district of Kerala, Ramakkalmedu is around 40 km from Thekkady, which is one of the well known wildlife destinations in Kerala. Going on the Munnar-Thekkady route, one can achieve the charming slopes of Ramakkalmedu in the Western Ghats, which is around 16 km from Nedumkandam.
Ramakkalmedu got its name from the impressions of the feet found on the stone surface here. It is believed to be of Rama, the incarnation of Lord Vishnu, as told in the Ramayana.
Situated, 1100 m above sea level, it is one of the windiest places in Asia. Ramakkalmedu is noted for its grassy, cool hills and also for the all-encompassing and quaint views of towns in the neighboring province of Tamilnadu, on the eastern side of the Western Ghats.
Other attractions like the Kuravan and Kurathi statue, frog rock and turtle rock gives tourists an extraordinary experience.
4. Pathiramanal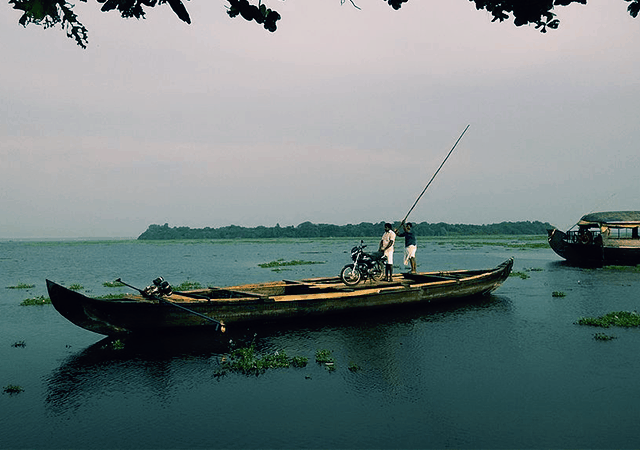 Image by Samson Joseph via Wikimedia
Located in the Vembanad lake, pathiramanal is a small isle on the backwaters of Alappuzha. Both side of the lake and the island is a mind boggling scenic beauty. Pathiramanal is a haven for hundreds of rare migratory birds from different parts of the world.
Pathiramanal in english means "midnight sand." Based on the legends about this island, it is believed that the isle was created magically by a single night by a famous brahmin and a devotee of Sree Guruvayoorappan, Vilwamangalathu Swamiar.
The major attraction in pathiramanal is bird watching and boat riding. This scenic island is surely a place where you can relax and unwind your mind and soul.
The only way you can reach the isle is by boat. You can reach your destination in 1.5 hours if you're taking a motorboat and if you take a speed boat, it would take you there within 30 minutes.
Reaching there
The nearest railway station: Alappuzha, about 16 km
Airport: Cochin International Airport, about 85 km of Alappuzha.
5. Varkala Beach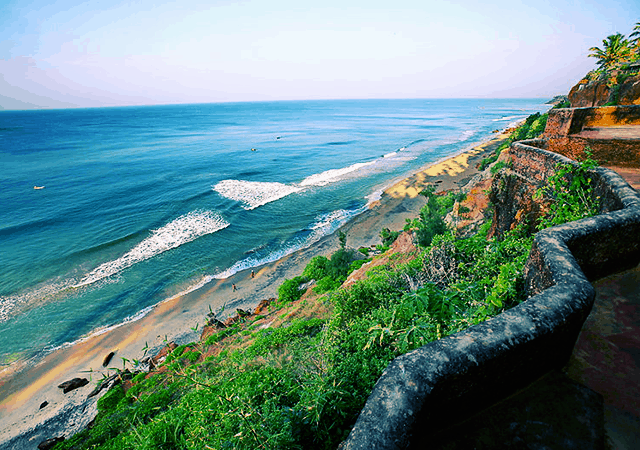 Image by Navaneeth Krishnan S via Wikimedia
Set in the midst of a delightful coastal town and municipality in Thiruvananthapuram, around 10 km far from the quiet and calm hamlet of Varkala, Varkala Beach is a wonderful shoreline eminent for its isolation not at all like other beaches.
Also known as the Papanasam Beach meaning 'Destroyer of Sins', it is unlike to other beaches in the region with impeccable beauty. Varkala beach is the only place in Kerala where sedimentary formation cliffs are found alongside the Arabian sea.
This beach is a haven for swimming and sunbathing. From the top of the geological wonder, Varkala cliff, there are steps that lead down to the long stretch of sparkling beach. An evening stroll on the paved footpaths along the length of the cliff and the mesmerising sunset are worth lingering over.
6. Paniyeli Poru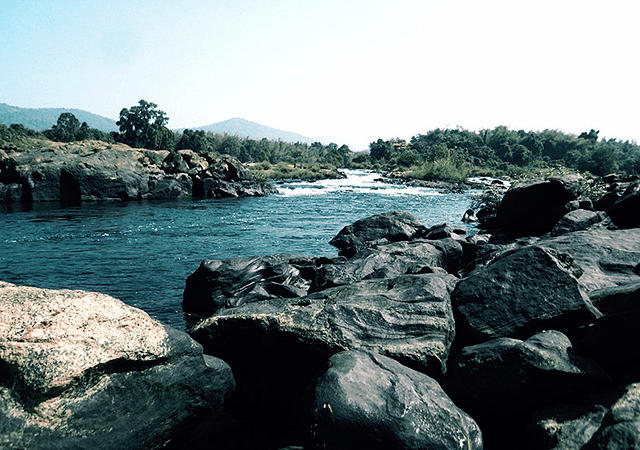 Image by Joshypj  via Wikimedia
Paniyeli poru, located in the paniyeli village along the sides of Periyar river is the best place to visit in Kerala. You can spend time with your family and friends enjoying the whirlpools and waves in the river bouncing on the rock. The natural waterfall, offshore surrounded by flora and fauna, small streams are a mind soothing sight to experience.
The melodious and sweet chirps of the birds, the bustling sound of the water will make your mind, heart and body cheerful from all the hustle and bustle of the city life.
The nearest town to paniyeli poru are Perumbavoor, Kothamangalam, Kalady and Kuruppampady.
Aluva and Angamaly are the nearest railway stations with equal distances to poru.
Cochin International Airport is the nearest airport and you can take a taxi or cab to paniyeli poru.
7. Anamudi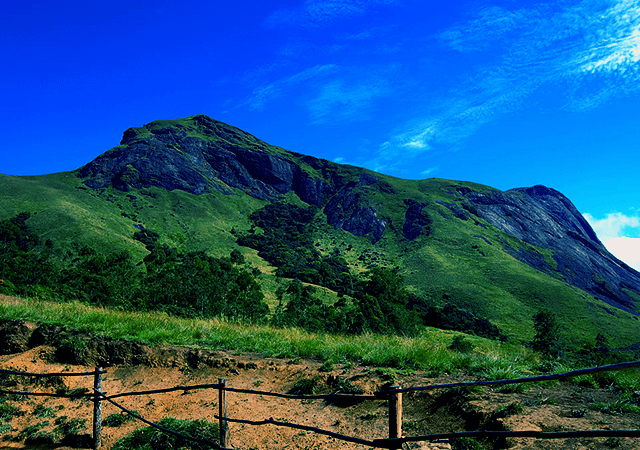 Image by Arunguy2002 via Wikimedia
The highest peak in the western ghats of Kerala, Anamudi has an elevation of 2,695 metres. In the local linguistics, Anamudi means "elephant's forehead", because of the resemblance of the mountain to an elephant's head.
Anamudi is also the home to the largest surviving population of the Nilgiri tahr. Other than Nilgiri thar, Asian elephants, gaur, Bengal tigers, and the Nilgiri marten are the other species of fauna found here.
Taking a trek to the top of Anamudi would give you a feel like you are at the top of the heaven. Well, who wouldn't love to feel like that? One thing to note is that if you want to trek on this mountain you must get the permission from the Eravikulam National Park authorities.
8. Parunthumpara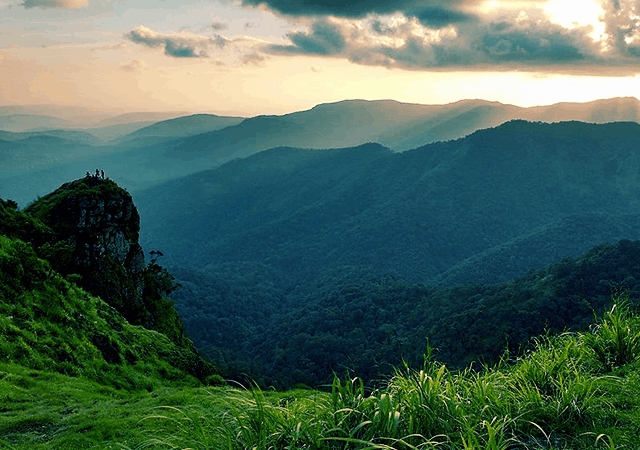 Image by Manu Mathew Keerampanal via Wikimedia
Parunthumpara, situated in Idukki district, literally means "eagle's rock" in local lingual. It is 6 km away from the famous plantation town peermedu in Kerala. Parunthumpara offers a bird's eye view of the endless stretch of green forest land.
The major attraction of this place is the suicide point and Tagor Head. The sprawling grassland makes it a stand out destination where families can enjoy a few quiet moments, away from the busy and noisy city life.
Parunthumpara is an ideal choice for adventure and nature lovers who wish to have a holiday off the beaten track and to explore the unseen and the unexplored scenic beauty of the forest land around. It's a perfect place for a weekend getaway.
That sums up some of the best destinations in Kerala where you can spend some quality time with your family, especially during weekends. Take a break from your busy schedule and head towards these places and unwind yourself.
If you like this post, please share!!