19 Must See Places Near Kochi
|
Editor's Note: This post was originally published in November 2012 and has been updated for freshness, accuracy, and comprehensiveness. Lot more locations has been added to this post.
Kochi, the largest city in Kerala, is also one of the most popular tourist destinations in the state. Kochi (or Cochin, as it is also known) has some fabulous hideouts and getaways that are always a hit with the holiday crowd.
If you've included a trip to Kochi in your Kerala holiday itinerary, you're sure to have a blast! From historical monuments to scenic locations, Kochi provides visitors a wide array of things to do and places to see.
Interested in an escapade to this mesmerizing city? Be sure to check out this updated list of 19 must see places near Kochi!!
1. Fort Kochi
Fort Kochi is situated about 13 km from Ernakulam and is famous for Chinese fishing nets, picturesque beaches and architectural style of the buildings. European style is clearly evident and that makes this small town stands apart from other towns in Kerala.
2. Jew Synagogue and Jew Town
Jew synagogue (Paradesi Synagogue) is built in 1568 and is one of the oldest active synagogues. This synagogue is located in the old part of Mattenchery Town in Kochi known as Jew Town.
3. Dutch Palace
The Dutch Palace (also known as Mattenchery Palace) is very near to the Jew town. It was built in 1555 A.D by the Portuguese and presented to Veera Kerala Varma, Raja of Kochi. It has a huge collection of Kerala Temple murals, portraits and exhibits of the Rajas of Kochi.
4. Marine Drive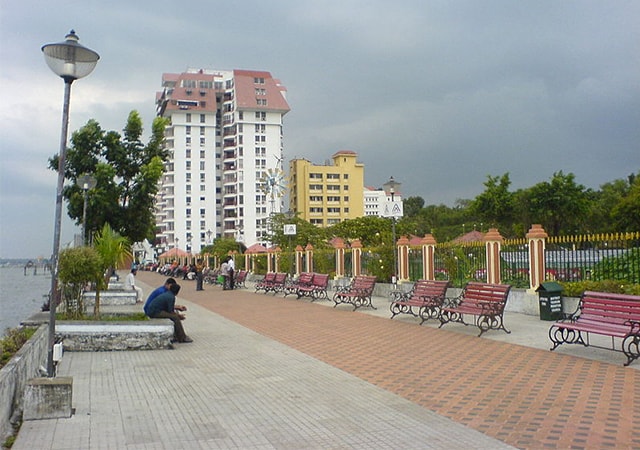 It is a popular meeting jaunt for localites (…me included!) This scenic pathway is built facing the Vembanad lake. The walkway has two recently built bridges; the Rainbow bridge and the Chinese Fishing Net Bridge. The sunset view from here is simply awesome!
Well, I couldn't help myself….but post this second picture as well! Isn't it beautiful?
5. Cherai Beach
Located in Vypin Island, Kochi, Cherai Beach is one of the beautiful beaches facing the Arabian sea. It is about 25 Kms from Cochin and is an ideal place to unwind and enjoy the long sandy beach!
6. Hill Palace Museum
Hill palace museum is the Kerala's first heritage museum and is also the largest archaeological museum in Kerala. It is situated near Tripunithura, Kochi. It was built in 1865 and was the administrative headquarters of Kochi Rajas.
7. Bolgatty Palace

This palace was built by Dutch in 1744 and is one of the oldest existing Dutch palaces outside Holland. Bolgatty palace is located in Bolgatty Island, Kochi. It is now converted into a heritage resort by the state.
8. Kodanad Elephant Training Center
Kodanad is a rural village near Cochin which is around 42 Kms from Ernakulam town. This place is famous for the elephant training centre established in 1950. Because of the Indian government ban to elephant capture, Kodanad is now just a rescue training centre for stranded baby elephants and wounded elephants.
9. Willingdon Island
Willingdon Island is a man-made island created in 1933 under the supervision of Sir Robert Bristow. Up until recently Cochin airport, Seaport and the railway terminus (Cochin Harbor Terminus) were functioning on this island. Now, the Cochin Port Trust and the headquarters of the Southern Naval Command function here.
Airport continues to function as naval aviation wing. There are beautiful walkways and jetty's on this island. My favorite is the "Embarkation Jetty". It has a walkway and a jetty close by. A good place to enjoy a leisure walk over evening sun!
10. Backwaters of Kochi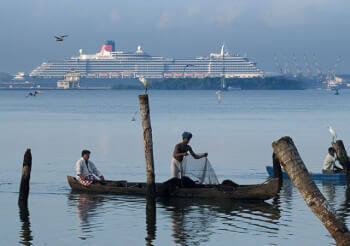 A backwater cruise in Cochin is the highlight of the tour. You can enjoy natures' bounty through the huge proliferation of palm and coconut trees lining the pellucid waters, and marvel at the quiet ambience generated by the quintessential moments of Cochin, especially when you pass through Fort Kochi and Mattancherry areas.
The backwaters of Kochi are best enjoyed through backwater cruises and you can choose from several package tours that are charted and planned according to the convenience of the traveller.
11. Santa Cruz Cathedral Basilica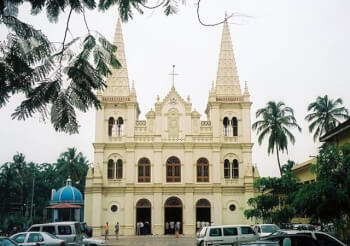 Image by albany_tim via Wikimedia
Santa Cruz Cathedral Basilica in Fort Kochi is an important Basicilla in India, one of the eight and magnificently constructed edifices of its time. The cathedral church of the Diocese of Cochin is an important tourism destination. The most noticing feature of the Basilica is the two lofty spires that greet you from a distance. And of course, the reproduction of the Last Supper is truly magnificent and a feast for the eyes.
12. Museum of Kerala History

Museum of Kerala History at Edappally is a must visit destination for ardent lovers of history and for people who want to know about the history of Kerala. A lovely reproduction of Parasurama, the legend and reincarnation of Lord Vishnu greets you right at the door.
Museum of Kerala History is also known as MadhavaNayar Foundation and showcases amazing episodes of various ancient historical events, including commentaries and life-size tableaux. You can also enjoy more than 200 original works of famous Indian artists.
13. Pallipuram Fort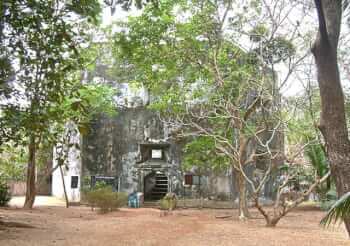 Image by Challiyan via Wikimedia
Pallipuram Fort was built by the Portuguese and is considered to be the oldest such surviving monument in the India. The monument is more than 513 years old and still holds a great deal of attraction to its visitors. The fort is evidence of the stunning architectural nuances followed by the Europeans in those times.
Definitely worth a visit when you are traversing through Cochin. The fort is also known by the following names – Ayikkotta and Alikkotta.
14. Athirappilly Falls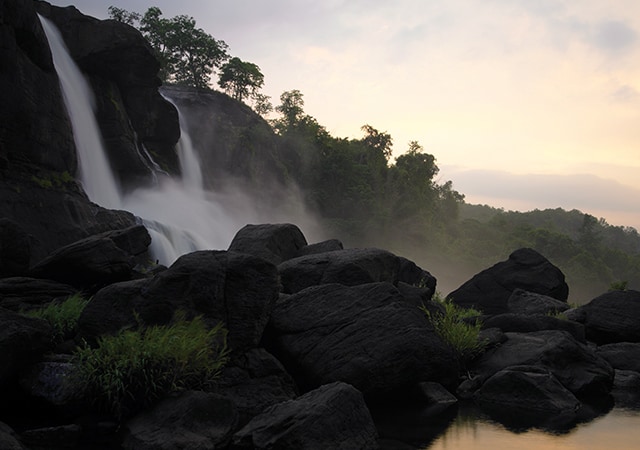 The calming, soothing sound of Athirappilly Falls is the sound that greets the visitor here. Plummeting down 80 feet to Chalakkudy River, the picturesque Athirapilly Falls in Thrissur district is a very famous and very busy tourism destination. Be ready for a mesmerizing spell, right here at the Sholayar forest range.
15. Chottanikkara Temple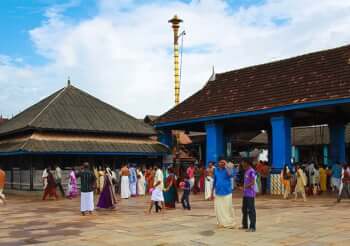 Image by Roney Maxwell via Wikimedia
Sri Chottanikkara Bhagvathy Temple is the abode of millions of devotees who come here with many woes and pains. The huge golden idol, bedecked with jewels, flowers and various adornments is a sight to behold. Be ready to feel the positive vibrations emanating from the temple and take part in the festivities and poojas(rituals) to remove any afflictions you are suffering from.
16. Paliam Palace,Chendamangalam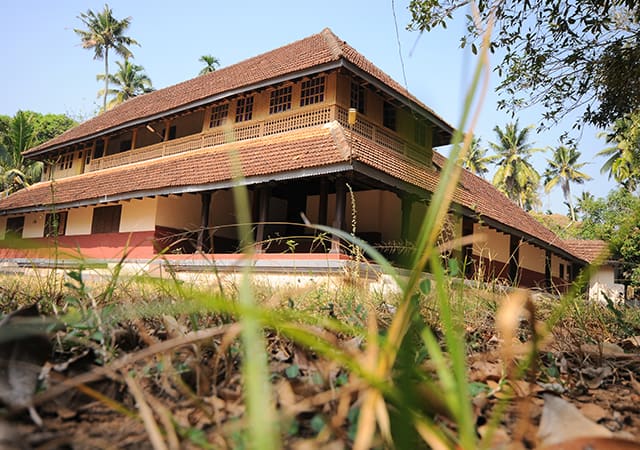 Included in the famed Muziris project in Kerala, Chendamangalam and the Paliam Palace are enjoying renewed attention. The Paliath Achans were the prime ministers of the Maharajas of Cochin and the palace in which they lived in bear evidence to the richness and splendor of a bygone era.
While visiting Paliam Palace, you can also enjoy viewing a typical Kerala-style palace and observe how their lived there and maintained it during the Maharaja's time.
You can also visit Kottayil Kovilakam and the Vypeenkotta Seminary, both located quite near the palace. At Kottayil Kovilakam, you can see a temple, church and mosque built next to each other; a perfect example of religious tolerance.
17. Malayattoor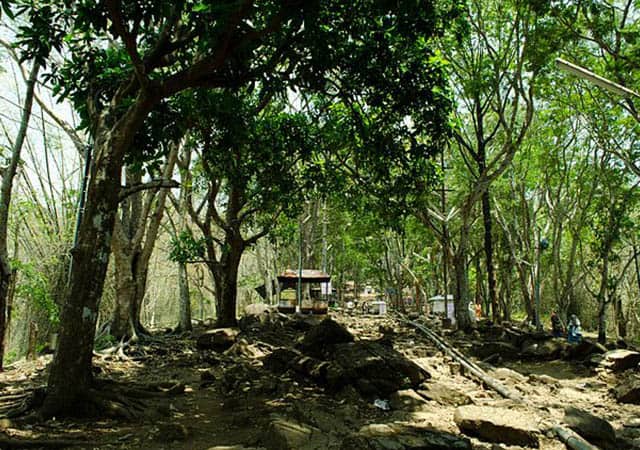 Image by Dilshad Roshan via Wikimedia
Malayattoor in the northeast part of Kochi houses the famous St. Thomas Syro-Malabar Catholic Church. This shrine is internationally well known and thus attracts people from all over the world. Malayatoor means the meeting place of the land, river and mountain, and here, you can enjoy the beautiful scenery the area around Kurisumudy is famous for. A must-visit!
18. Vypeen Island Zone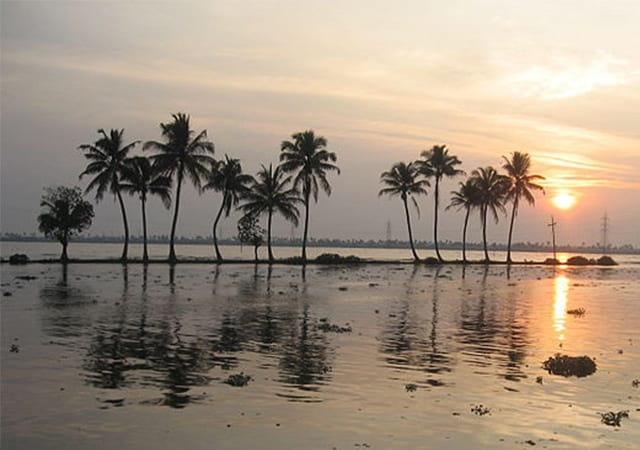 Image by P.K.Niyogi via Wikimedia
Vypeen Island Zone is where Arabian Sea merges with Vembanad Lake and where you can see Fort Kochi on one side. It is believed that the island zone was formed as a result of a heavy flood during 1341. Vypeen Island Zone is so beautiful and magnificent that you would get the feeling that it is a painting that escaped from its canvas.
You can reach Vypeen Island through the boat and jetty services offered from Fort Kochi. The ethereal Goshree bridge that connects Cochin with Vypeen can also be seen here. Worth visiting!
19. Wonderla Amusement Park (Veegaland)
Being a leading amusement park in Kochi, Wonderla Amusement Park is a must visit destination for people travelling with kids. The clean, safe, hygienic and well-maintained park is a joy where you can spend an entire day exploring the adventurous rides; plenty of these rides are water based. There are special rides for children and thrillers for adults. An amazing experience!
So, have you booked your tickets to Kochi yet?
If I have missed any great hideouts near Cochin, do mention. I love to check out new places and destinations!