14 Famous Tourist Places in Wayanad
The mist-capped hills and vast expanse of foggy, rocky mountains blend together to form the scenic natural beauty of Wayanad. Wayanad is exceptionally beautiful during the monsoon and many people actually make a trip just to see the green meadows, the white water springs, the luscious forest and peaceful lakes all awash in rainy splendor. These natural endowments are what make Wayanad look as stunning as a bride on her wedding day. Few of the Tourist Places in Wayanad is mentioned here.
Historical Enigma
Wayanad has a deep, resounding history of its own.Come to these destinations and you can hear the whisperings of the past.
1. Edakkal Caves

If you don't mind walking a bit, then gather your kids and walk up to this pre-historic rock shelter. Edakkal means "stone in between", so here you have three huge boulders where one rests in between, while one of them serves as a roof. The rock engravings are a major highlight of this place. This is a major Tourist Places in Wayanad
2. Pazhassi Memorial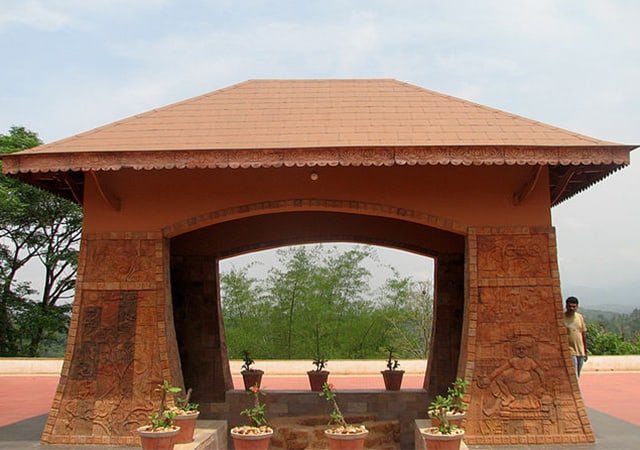 Image Credit by  Saraths via Wikimedia
The brave and courageous Kerala Varma Pazhassi Raja was a king of Kottayam dynasty who fought the British in the 18th century. His unique guerrilla warfare had the British scrambling for cover. Finally, British killed him through stealth means. You can see his tomb here at Manandavady, near Kalpetta. This is another Tourist Places in Wayanad
Revive Your Spirit Through Reviviscence
Now that you have gone through some serious history lessons, it is time for some fun and frolic. The following places at Wayanad would be just ideal:
3. Pookot Lake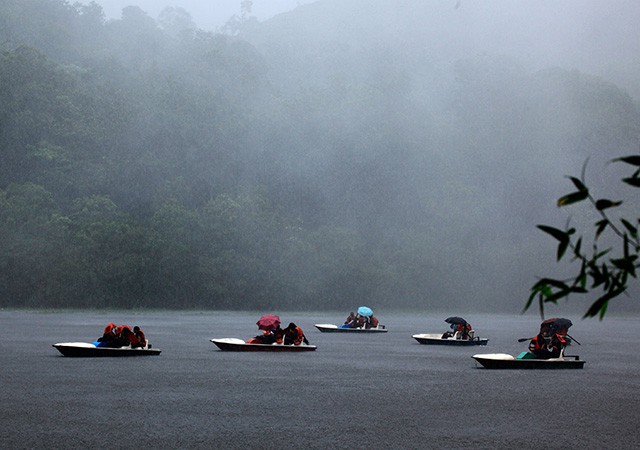 Pookot Lake in Wayanad is one of the most beautiful lakes in Kerala surrounded and enveloped by rich, evergreen forests. If you are lucky, you can see groups of blue water lily flowers floating here and there. Boating is allowed here. Other attractions include spices emporium, children's park, fresh water aquarium and handicrafts. This is another Tourist Places in Wayanad
4. Kuruva Dweep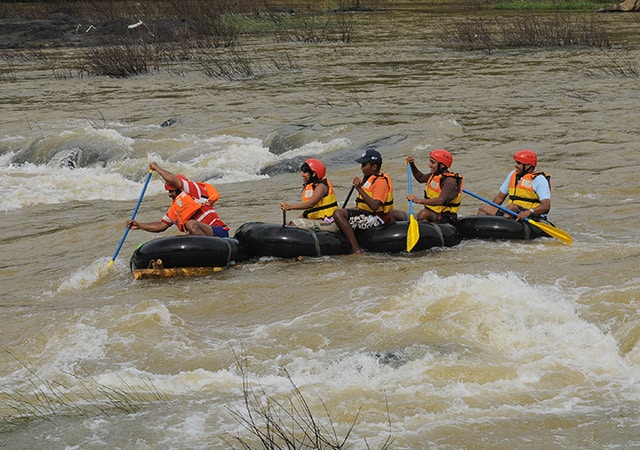 A beautiful 950-acre island located 14 kilometers from Mananthavady called Kuruva Dweep attracts people all year through. It is located in the middle of Kabani River and are actually groups of islets formed into a massive place where you can observe mighty trees bowing down to the river while it gurgles by. It is truly a place of peace, greenery and enchantment.You can even see some rare kinds of flora here, including herbs. This is a Tourist Places in Wayanad
5. Banasurasagar Dam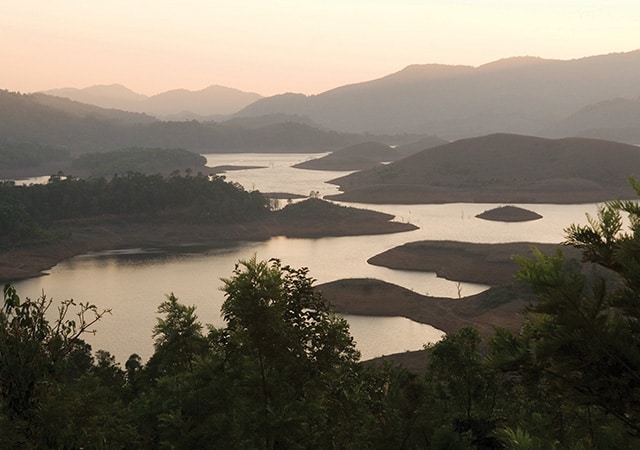 Banasurasagar dam is the biggest earth dam in India and it is a truly a spectacular sight with magnificent hills as backdrop. This is another Tourist Places in Wayanad
6. Kathan Para Waterfall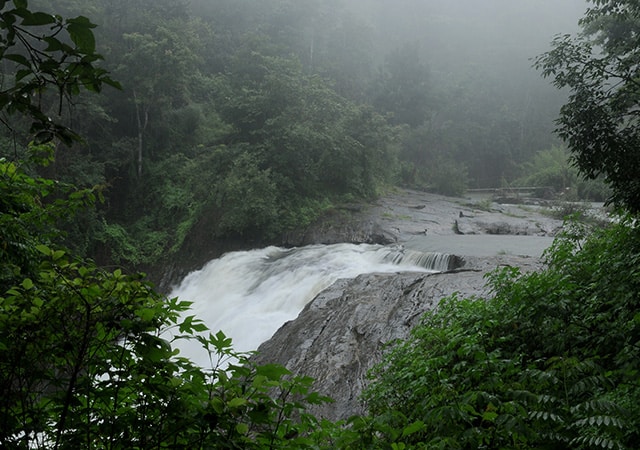 A stunning waterfall worth visiting, located south east of Kalpetta.
7. Sentinal Rock Waterfall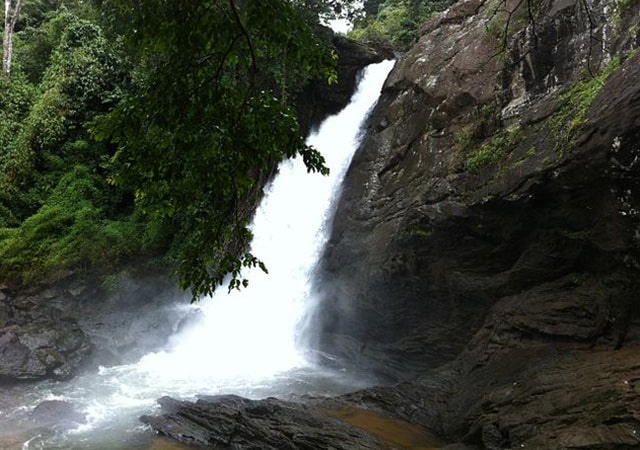 Image Credit by Yjenith via Wikimedia
Sentinal is also known as Soochippara Waterfalls and you can see deciduous, evergreen and montane forests. This is a Tourist Places in Wayanad
8. Lakkidi Ghat Pass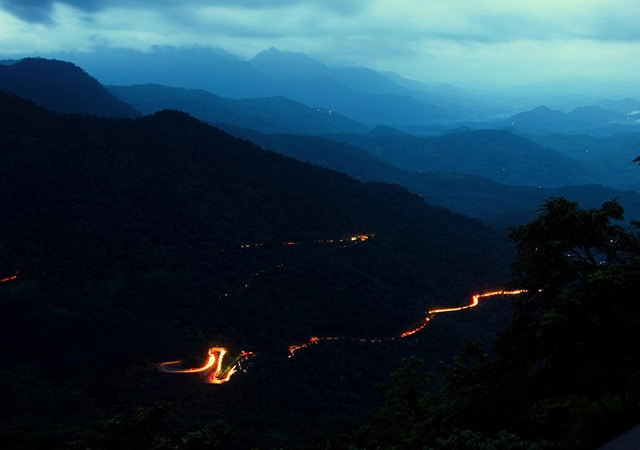 Image Credit by Dhruvaraj S via Flickr
Lakkidi Ghat Pass is the gateway of Wayanad and located at an elevation of about 700 meters above sea-level. The winding roads to the left are the main attraction here. The sight is absolutely divine, especially at night. This is a must visit Tourist Places in Wayanad
A Smattering of Adventure
The rich natural resources of Wayanad and the stunning scenery beckon the adventure loving tourist. Be ready to trek along the exotic wilderness of Wayanad; here are some mild activities for tourists:
9. Pakshipathalam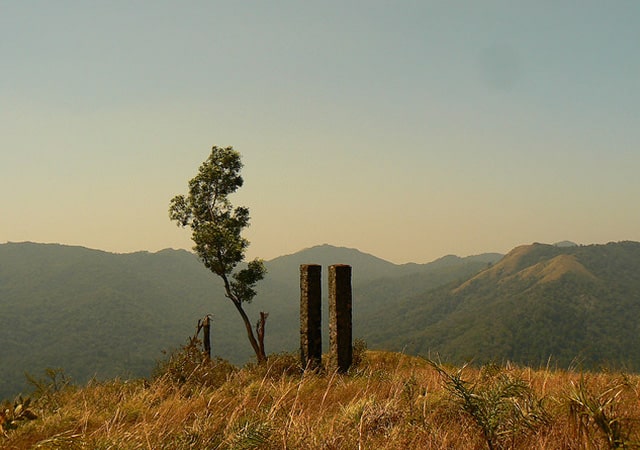 Image Credit by Vijay S via Flickr
Pakshipathalam is located on the north-east side of Thirunelly temple and at a height of about 1740 meters above sea level. It is a bit challenging, as you will have to walk 17 kilometers through the forest. But it is worth the effort because you can feast your eyes to the indigenous flora and fauna. Ensure you have special permission from the DTPC or District Tourism Promotion Council before embarking.
10. Chembra Peak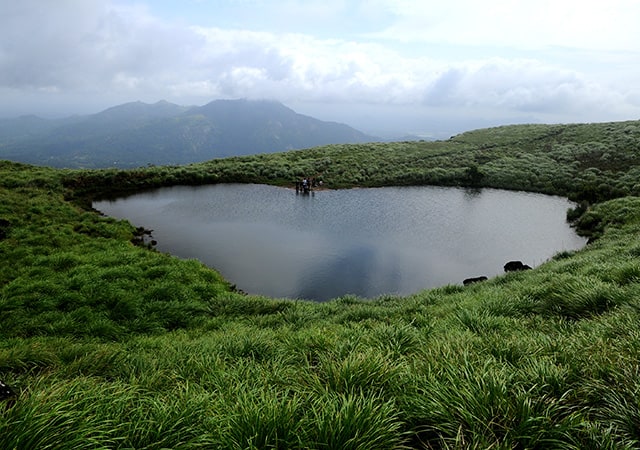 Chembra peak is a popular trekking destination in Kerala.It could be a bit risky but if you are used to trekking in difficult circumstances, then this should be a piece of cake. There are temporary camps you can stay for the night when you are embark on the climbing expedition, Once again, you need to take the permission of DTPC. This is another Tourist Places in Wayanad
11. Meenmutty Waterfalls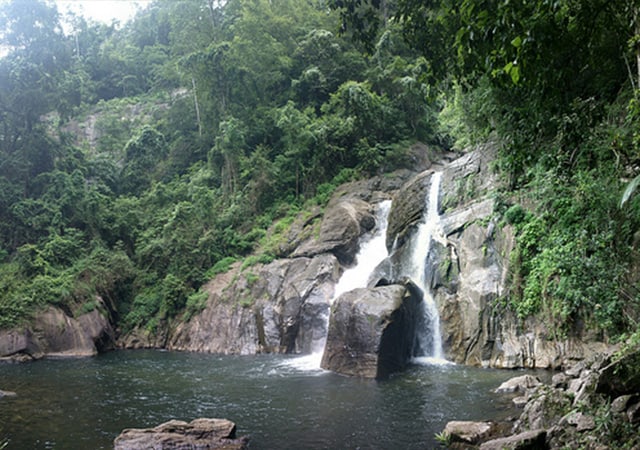 Image Credit by Gokul Karipath via Flickr
Meenmutty waterfalls is located 12 kilometers on the east of Meppadi. Kabani river, a well-endowed tributary of River Cauvery is an important river system in Wayanad and it flows relentlessly along the gorges, hills and joins with other streams as well. You can see Meenmutty waterfalls falling in three steps into three rivers – Panamaram, Thirunelly and Mananthavady.
On the Path to Divinity
Wayanad is known for its religious splendor as well.
12. Thirunelli Maha Vishnu Temple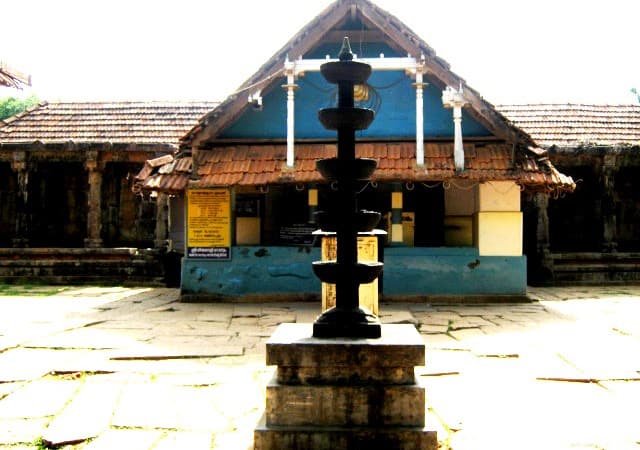 Image Credit by Augustus Binu via Wikimedia
People from all over the world flock to this temple, to see its beauty and to enjoy its serene ambience. Hindus come here mainly to perform the last rites of their near and dear ones. It is believed that the stream Papanasini is endowed with the divine powers to absolve one of one's sins. The tranquil location of the temple amidst beautiful hills and forests is a major attraction as well.
13. Jain Temples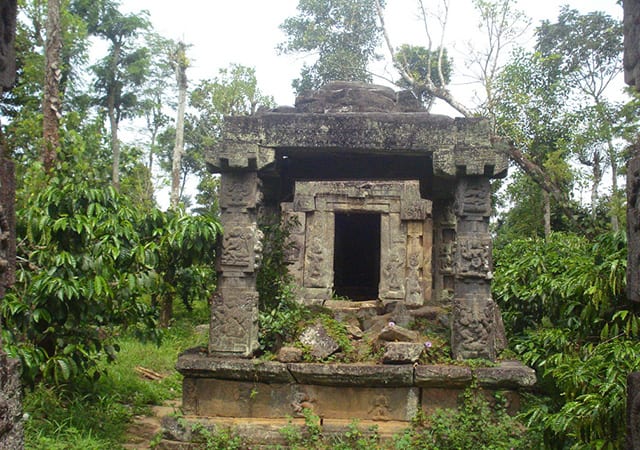 Image Credit by Kamaljith K V via Flickr
There are some ruined Jain temples situated along the northeast side of Panamaram.
14. Valliyoorkkavu Temple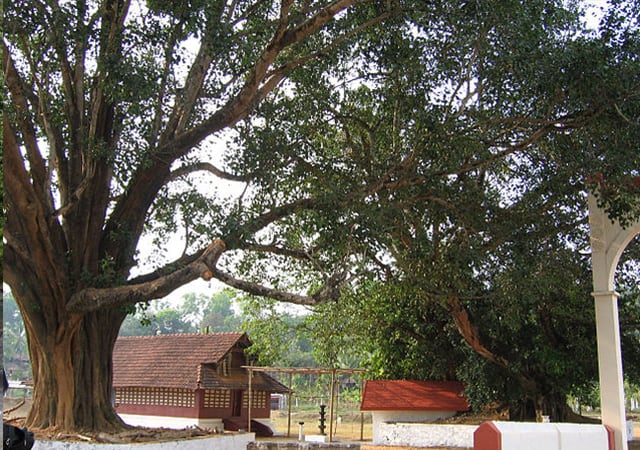 Image Credit by Vinayaraj via Wikimedia
A beautiful temple is located 3 kilometers away from Mananthavady. It is quite famous for the festival held during March-April months.
These are some of the mind-blowing tourist destinations in Wayanad. Take a trip and feel the serenity of this beautiful place!
If you like this post, please share!