Fishing…For Fun at Njarakkal Aqua Fish Farm
Njarakkal Aqua Fish Farm is in Cochin. National Geographic Traveler was never more right when it tagged Kerala backwaters in the list of 50 important, must-visit tourist destinations in the world. UNESCO has also tagged Kerala and its backwaters as a World Heritage site. In fact, you can enjoy a kaleidoscope of Kerala culture when you are on a tour of its pristine backwaters.  There are plenty of exciting ways to enjoy the virgin beauty of Kerala backwaters and the Njarakkal Aqua Fish Farm in Cochin is just one of them.
It is part of the Kerala Fisheries Department and Tsunami Emergency Assistance Program (TEAP). Fishes like Prawns, Karimeen (Pearlspot), Mullets, Tilapia, Crab , Green Shell Mussels are the important species in the farm according to the aqua farm employees and members.
Spanned across an area of 18 kilometers, this mesmerizing fish farm with its brackish waters and alluring beauty is perhaps one of the most endearing highlights of Cochin. Fishing is one of the most significant sporting activities in Njarakkal Aqua fish farm. You will be given fishing reels, fish food and lots of useful advice, but after that you are on your own. You can also meet a few professionals and maybe garner a tip or two from them. If they feel you are not a threat to their business, they might offer some 'fishy' tips. Favored by both locals and tourists, the fish farm lets you take your catch back home where you can proudly show off your fishing exploits to others.
You can take a boating ride through this lagoon and enjoy the calm and serene nature.. They have provided pedal boats. Half an hour boat ride is included in the initial entrance pass. The interesting part is the resting places set up in the middle of the lagoon.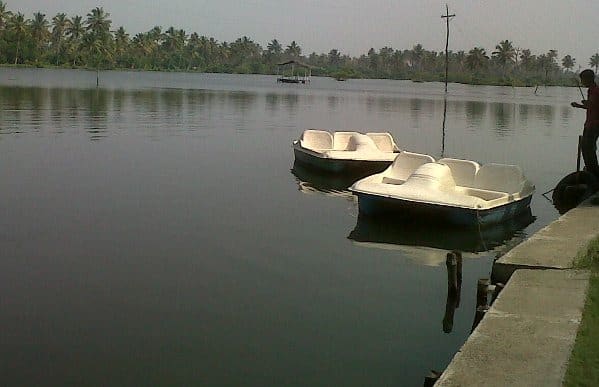 You can enjoy a very delicious and sumptuous lunch consisting of rice, fish and vegetables when you visit the farm.  This is also included in the entrance pass. The crispy fish fries and spicy, delicious fish curries provided during lunch will only urge you to earn your own share of fishes when you go fishing on your own.
You can bask in the canopied shade of the coconut trees, lie in a hammock and sway slightly to the wind's rhythms, be lulled into sweet indulgence by the murmuring waters and maybe, doze off a bit in the soothing evening rays of the sun.
Give yourself a day of peaceful submission at this stunning farm.
More info about this place:
Entry Ticket:
For Each Person Rs.150 which includes Food, Ice-cream and Boating.
For Children Rs.100
Visitors Timing:
From 9:00 am to 6:00 pm
Have you visited this place? Do share your experience..
Here is the complete list of articles in this Kerala Backwater series.
2. Exploring Kerala Backwaters : Kumarakom
3. Fishing…For Fun at Njarakkal Aqua Fish Farm (Part of Kochi Backwaters)
4. Traversing Backwaters of Kuttanad
5. Feel the Beauty of Kollam Backwaters
6. Discover: Backwaters of Kochi
7. Unveiling the Charm of Alleppey Backwaters
Hope you will enjoy this blog post series on Backwaters of Kerala.