My Travel Experience to Thekkady
To provide a virtual tour to all the major tourist places in Kerala for my guests, I have decided to travel to these places purposefully and write travel dairies of what I experienced. This is the first in the series and I hope it will be helpful, for all on tour to Thekkady.
I have been to Thekkady recently with this purpose in mind. Thekkady is also called Periyar and sometimes known as Kumily too. Kumily is the place where we normally stay and Thekkady is where Wildlife Sanctuary is located; both are just 2 -3 km apart.
Thekkady is situated 170 kms from Cochin and it takes approximately 5 hours to reach there. For most of the package trips, we go to Thekkady after Munnar which is 110km away or from Alleppey which is about 140km away. The route is a combination of hills as well as normal roads.
Thekkady is famous for the wildlife sanctuary located here. There is boating facility at Thekkady where the boat will take you around the Wildlife Sanctuary through the Periyar Lake. One can see wild animals during this boat ride but need to be very quiet. Mullapperiyar dam can also be seen during this boat ride. Note that, Mullapperiyar dam and Periyar wildlife sanctuary can be seen only during this boating and cannot be accessed by road.
For a guest who opts for one night accommodation, try to reach Thekkady as early as possible and get tickets for boating in lake. Ticket availability depends on the rush on that particular day. Advance booking is possible through KTDC where they charge Rs. 500/- instead of 150/- which is the cost for for normal booking. To do advance booking for boating at Thekkady, you may contact KTDC Lake Palace on 04869 222014 or send an email to lakepalacethekkady@ktdc.com. They will respond back with their bank account details and you can proceed with booking. To take normal ticket, you need to be in queue and need to produce ID card and your personal details.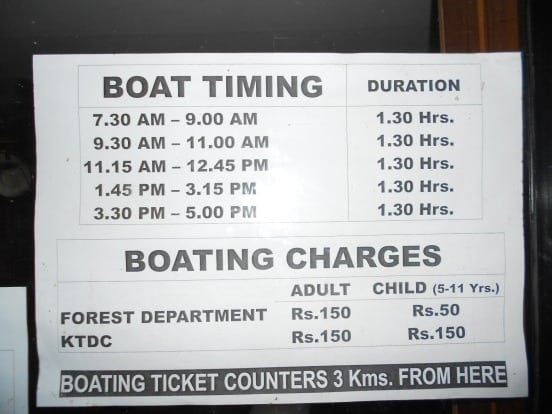 Boat timings and charges are as given above. Try to reach Thekkady as per this timing.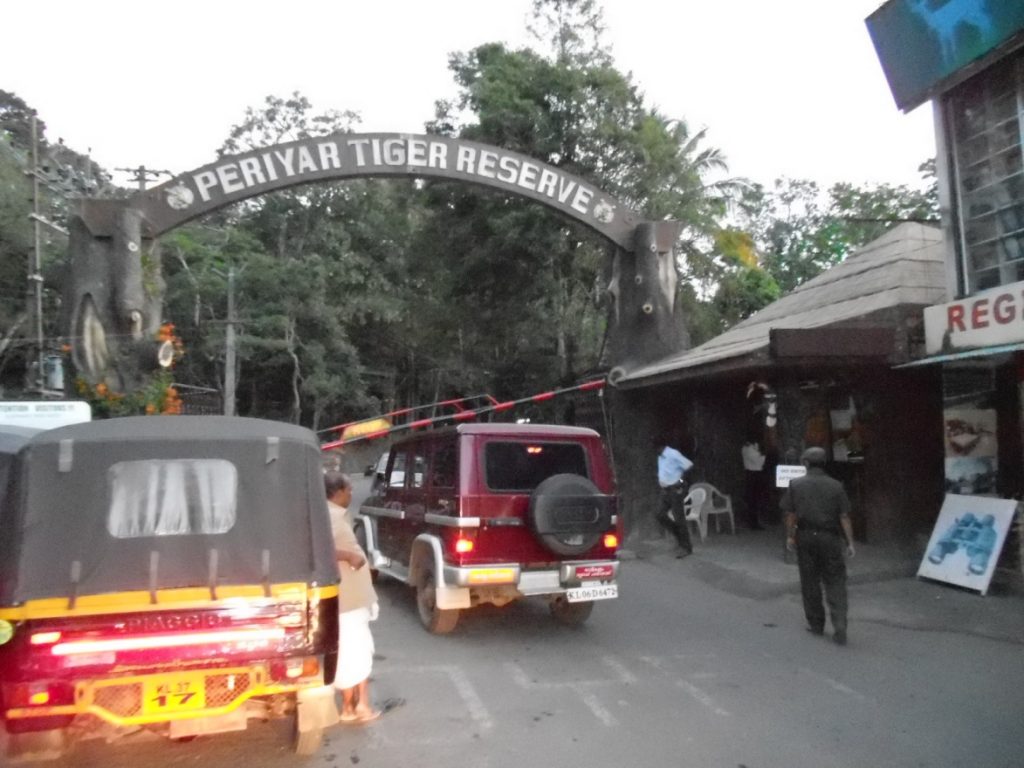 Entrance to Periyar Tiger reserve
This is the place where you enter the Periyar Tiger Reserve and need to take ticket for yourself as well as for your vehicle.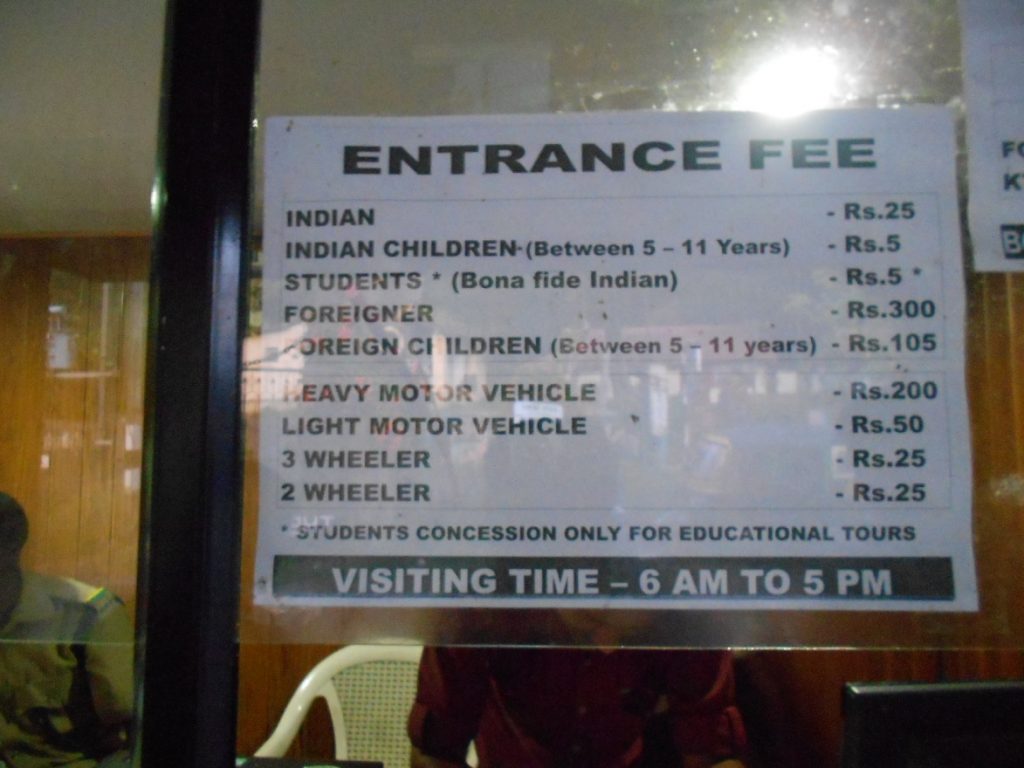 Entrance fee chart to Periyar Tiger Reserve
Once you enter into Tiger reserve, you can see a temple and moving forward will take you to the boating area. This travel is through lot of greenery.
There are three hotels inside this reserve; KTDC Lake Palace, KTDC Aranya Nivas and a budget hotel KTDC Periyar House. If your stay is in any of these hotels, make sure you reach hotel before 5PM as entrance will be closed after this.
Once you reach boating area, if you do not have pre-booked ticket, be in the queue and purchase tickets for boating.
We recently found a website where you can do online booking for boating at Periyar. We have not tried this ourselves but one of our guest did it themselves. They said it saved them lot of time!
You can visit www.periyarfoundation.org to do the online booking. The current rates are Rs 248 for adult and Rs 75 for student.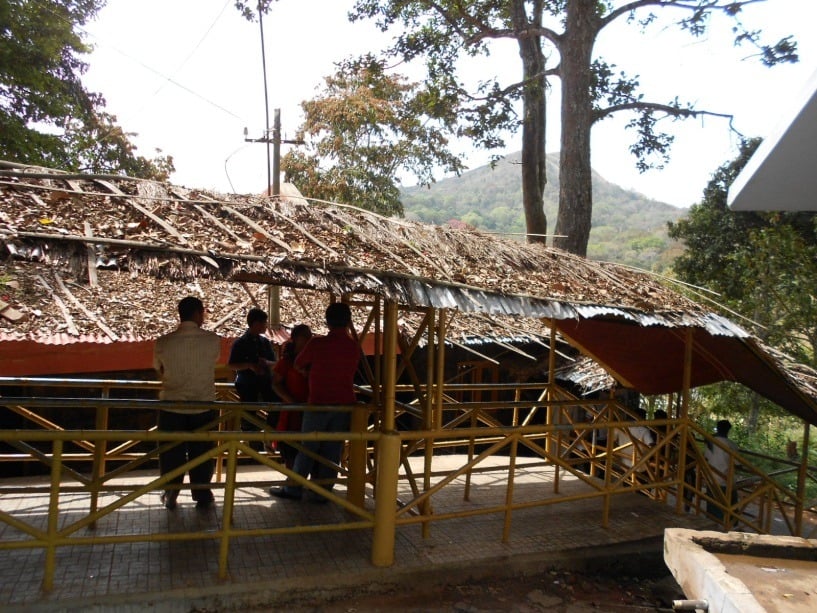 You can wait in the waiting area after getting tickets.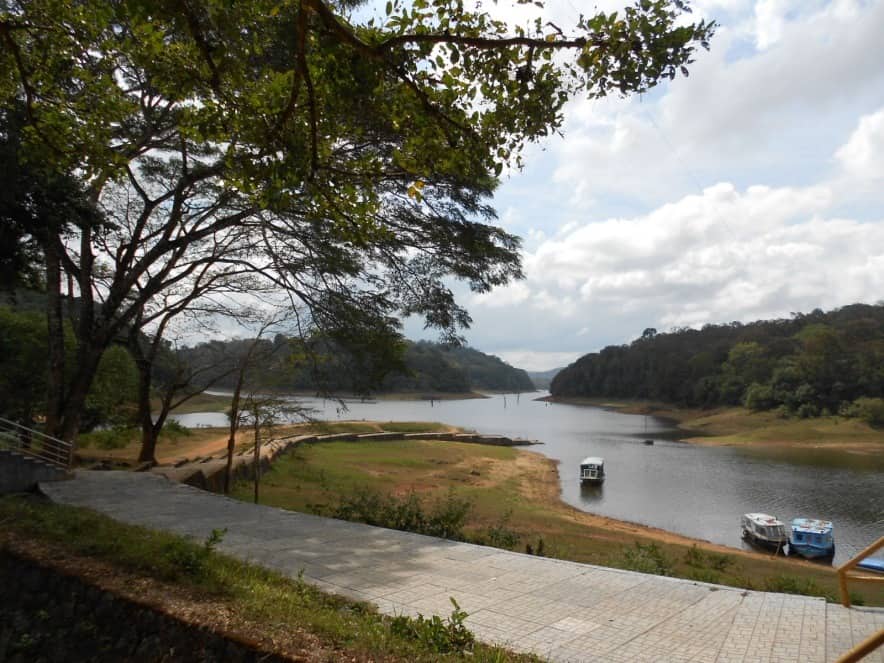 Boat Jetty at  Periyar Wildlife Sanctuary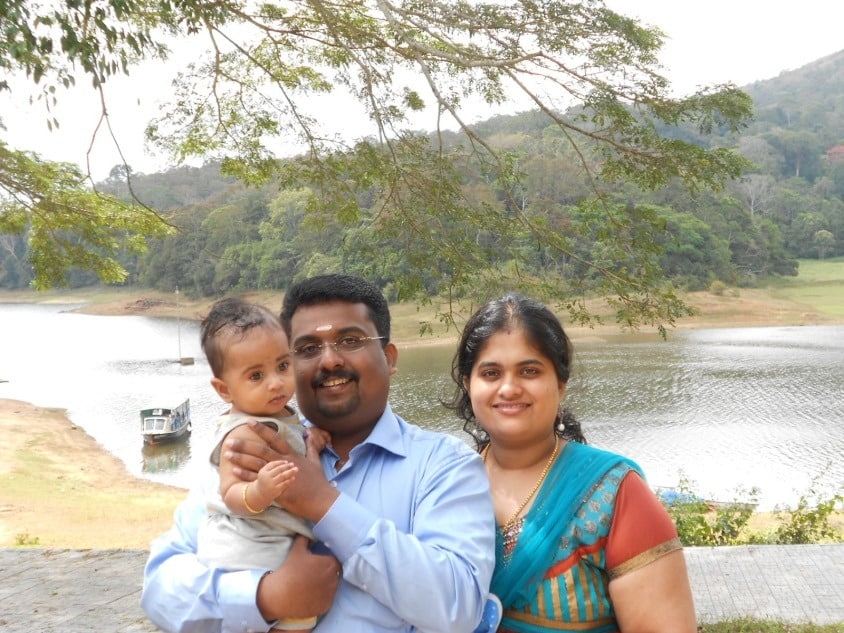 Me and my family at Thekkady Boating Area
 Once boating is finished, leave the Tiger Reserve; myriad of extra activities awaits you at Thekkady. Before going for shows in the evening, you can go for an elephant ride, give elephant bath or even get an elephant shower which is quite thrilling!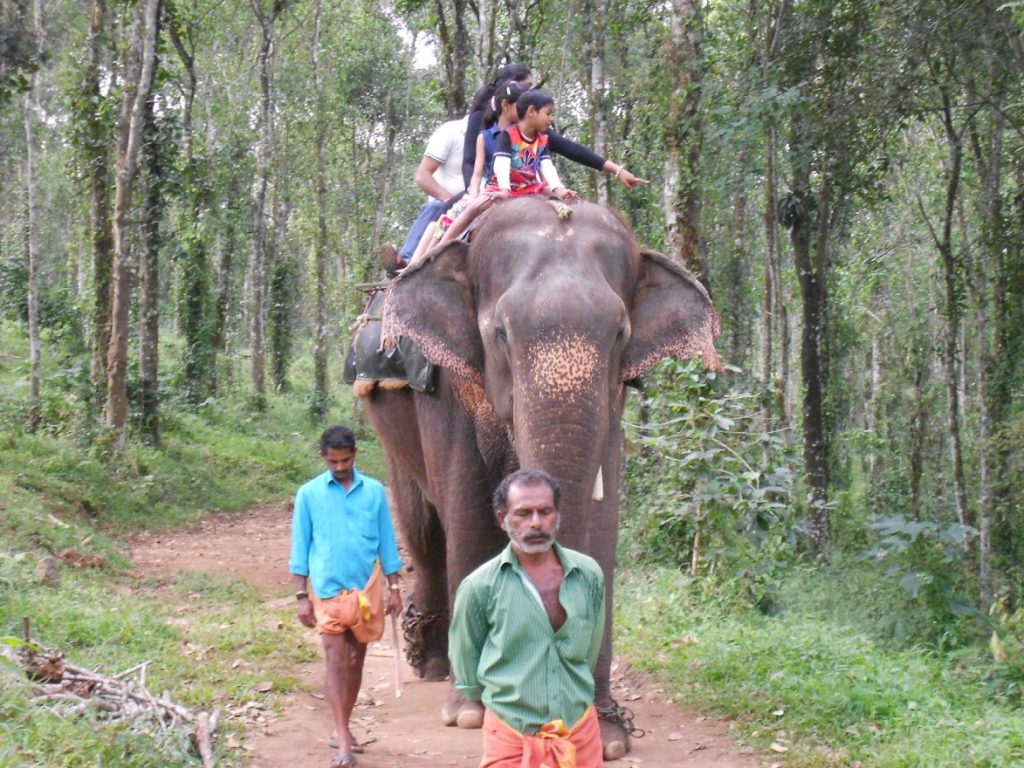 Elephant Ride
Give Elephant Bath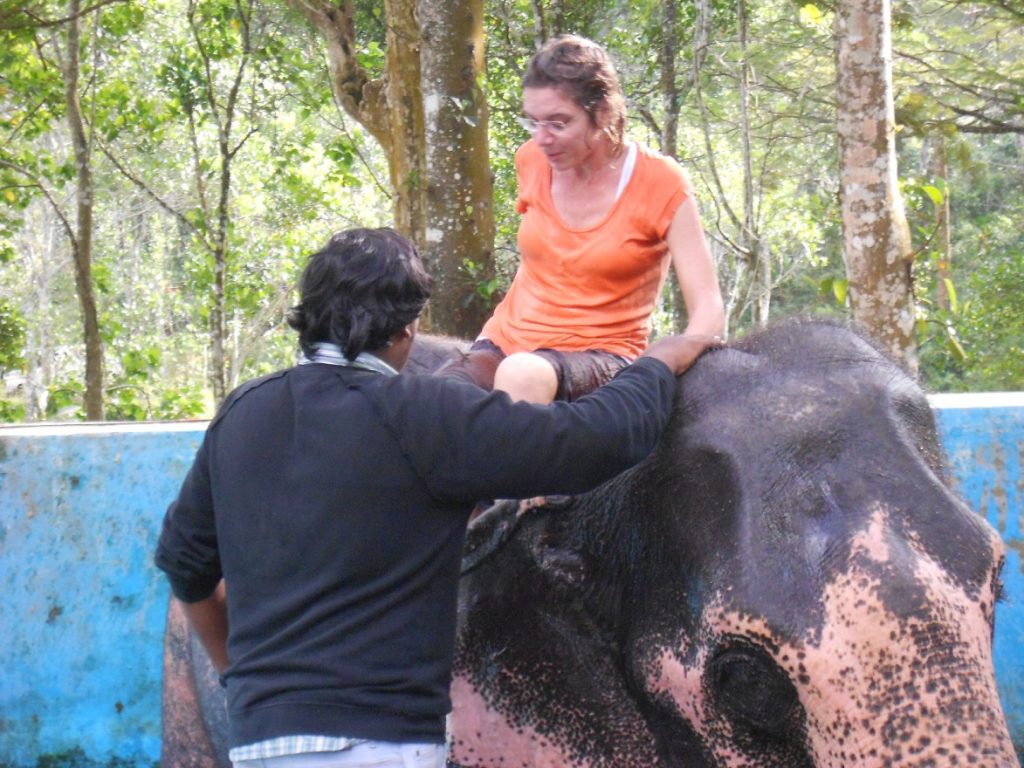 All soaked after a drenching elephant shower!
 Click here to watch video of Elephant Shower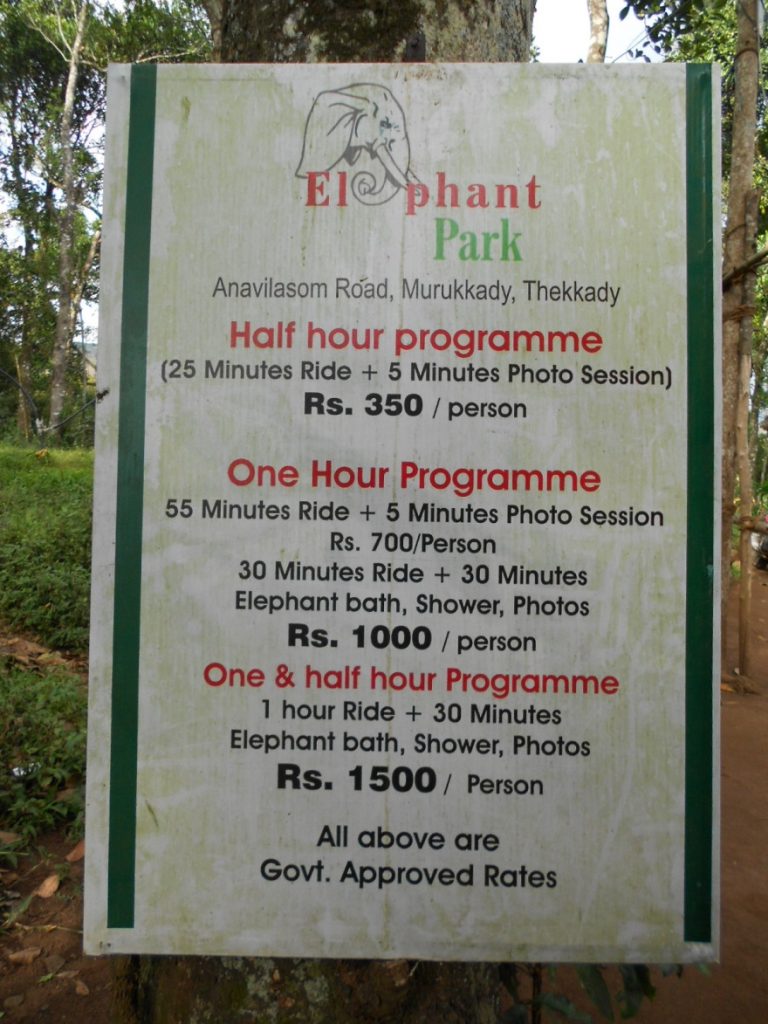 Rate chart for elephant activities
 You can go for an Ayurvedic massage from any of the massage centers at Thekkady.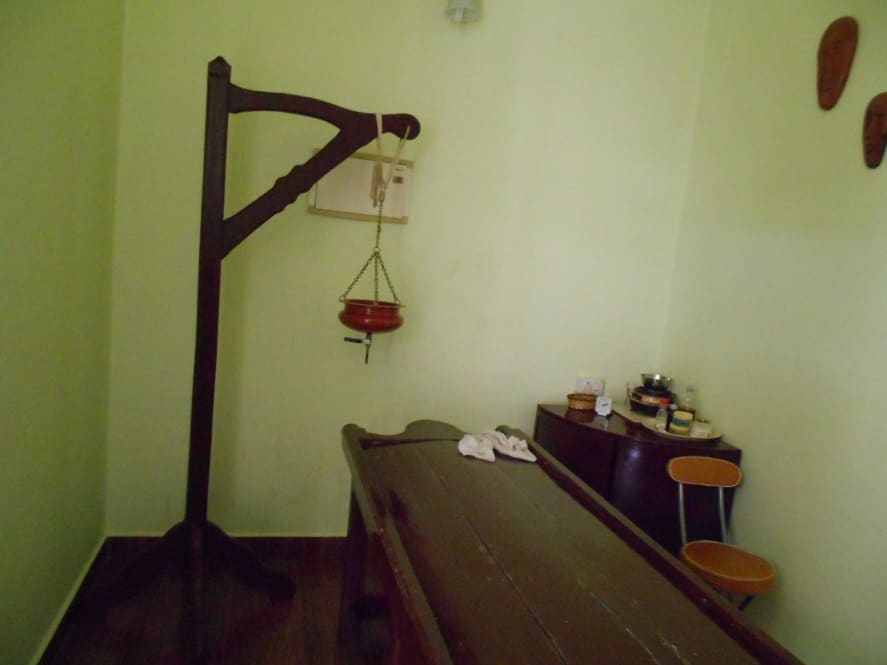 Ayurvedic Massage Center
Do purchase some spices and home made chocolates before you leave Thekkady
I had the chance to eat fried ice cream from Thekkady. Here Ice cream is roasted and is hot. When you are visit Thekkady, don't forget to taste this from Hotel Silver Crest.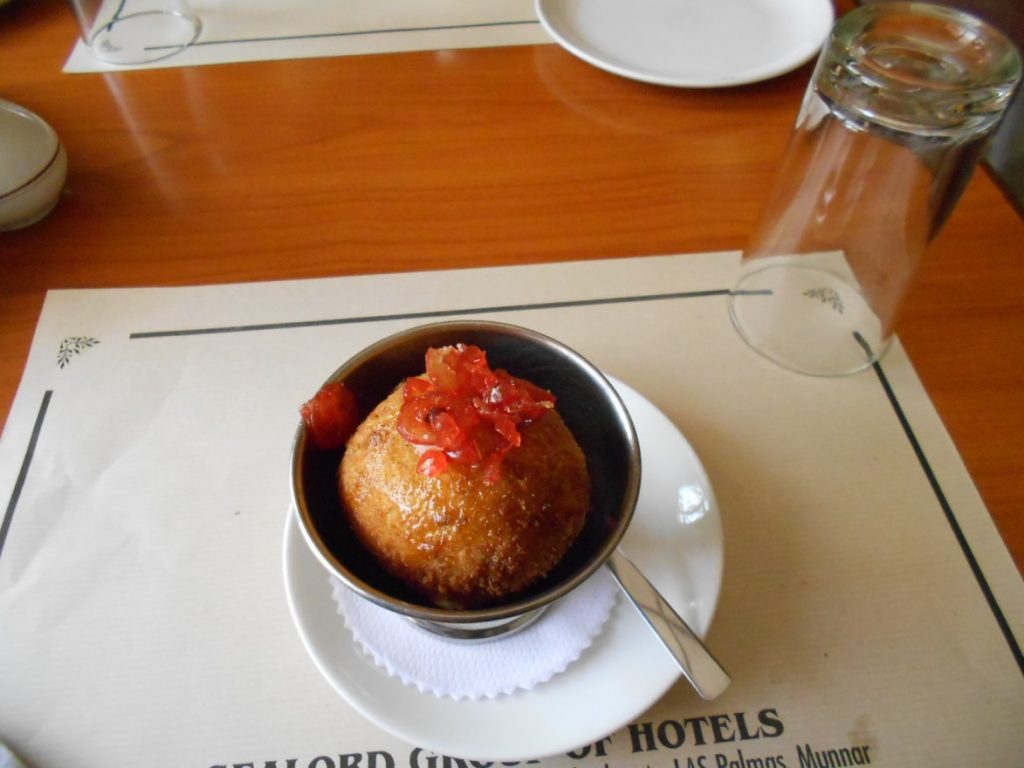 Depending on your interest, you can watch any of the shows listed below. This rate and timings is as on January 2013.
Kathakali                              –              200/Head            –              1hr  (5 to 7PM)
Martial Arts                        –              200/Head            –              1hr (6 to 7.15PM)
Tribal dance                        –              300/Head            –              1hr (6 to 7PM)
Musical fountain              –              150/-Head           –              30min (7 to 7.30PM & 8 to 8.30PM)
Magic show                        –              200/Head            –              1hr (12Noon to 1Pm & 5PM to 6PM)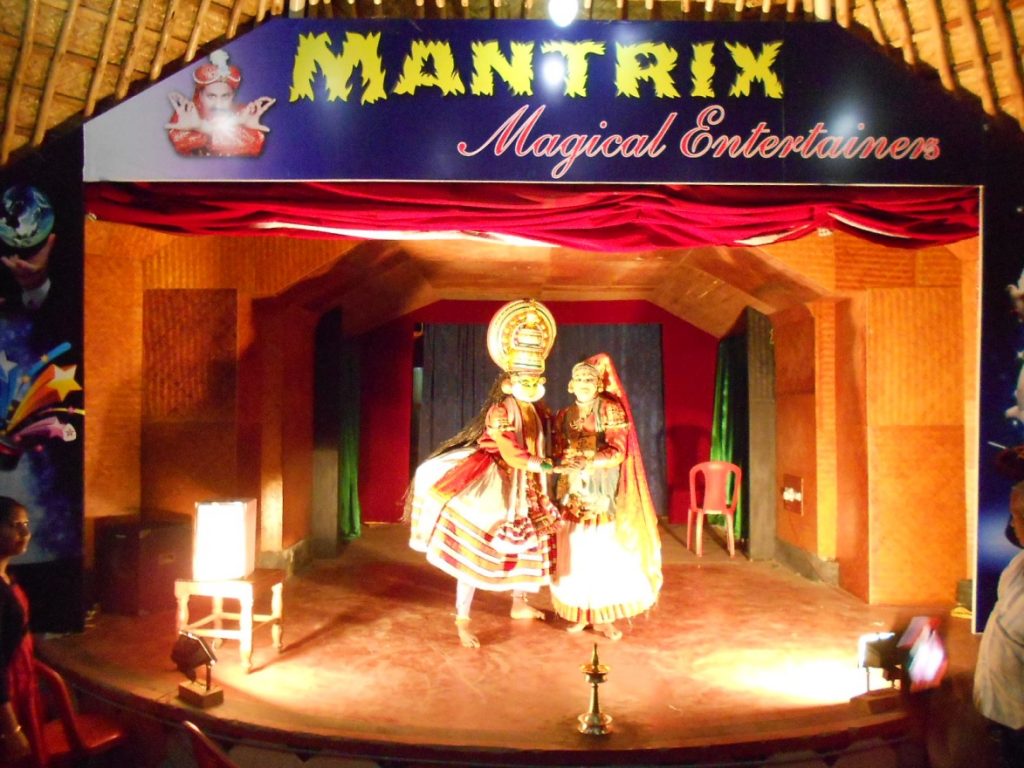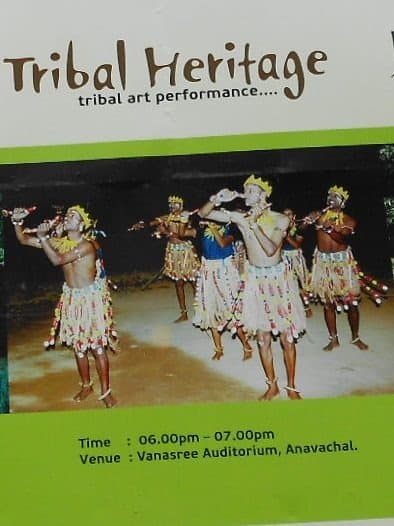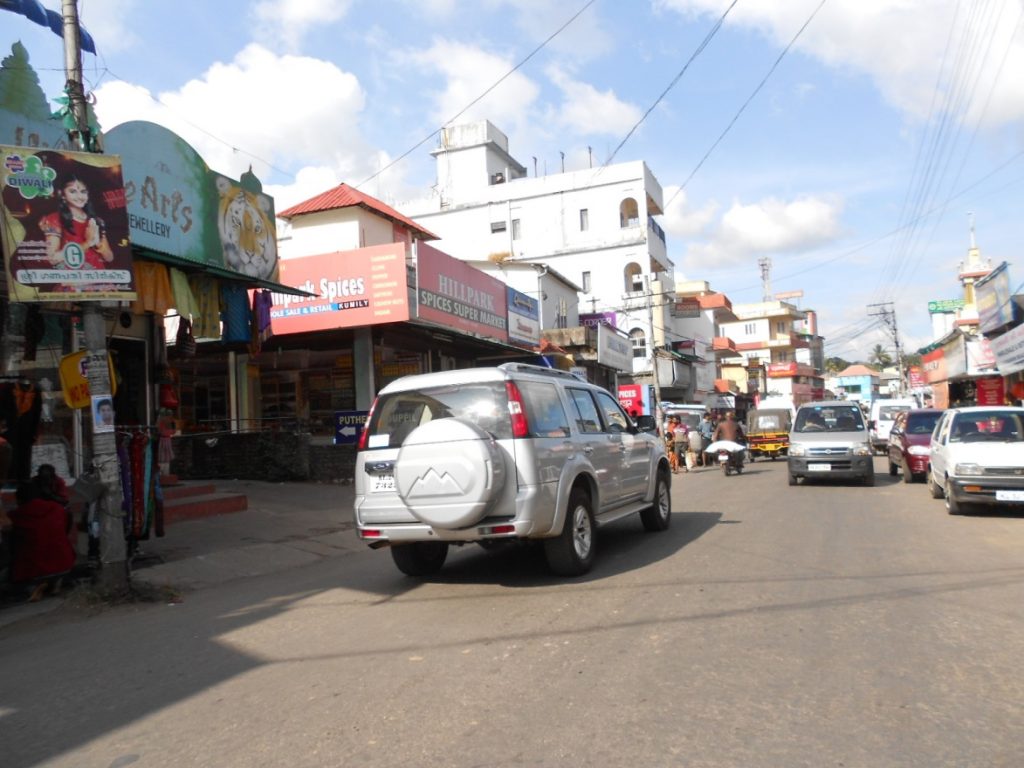 Street at Thekkady
Once you are done with the activities of interest, go back to your hotel and relax. Most of the hotels in Thekkady are in Town area and only a few require travelling. Make sure this is as per your preference at the time of booking itself. Some resorts at Thekkady have Tree house and have lot of land area. You can roam around inside the resort itself.
If you could not go for boating on the first day, then start out early for boating on the second day. And if you plan on moving to the next destination that day, opt for the first boating which is at 7.30am. You might need to be in the queue by 5.30am depending on seasonal rush. You might reach your next destination little late but try to have this boating experience once you are at Thekkady.
If your next destination is Alleppey/Kumarakom Houseboat (resort), then leave Thekkady as early as possible after the boat ride so that you can reach your houseboat by 12Noon.
If you are staying at Thekkady for more than two night you have lot to do here…
You have the option of going for a full day Gavi tour. This tour includes trekking, boating and visiting viewpoints at Gavi. Make sure you book this on the day of arrival at Thekkady itself.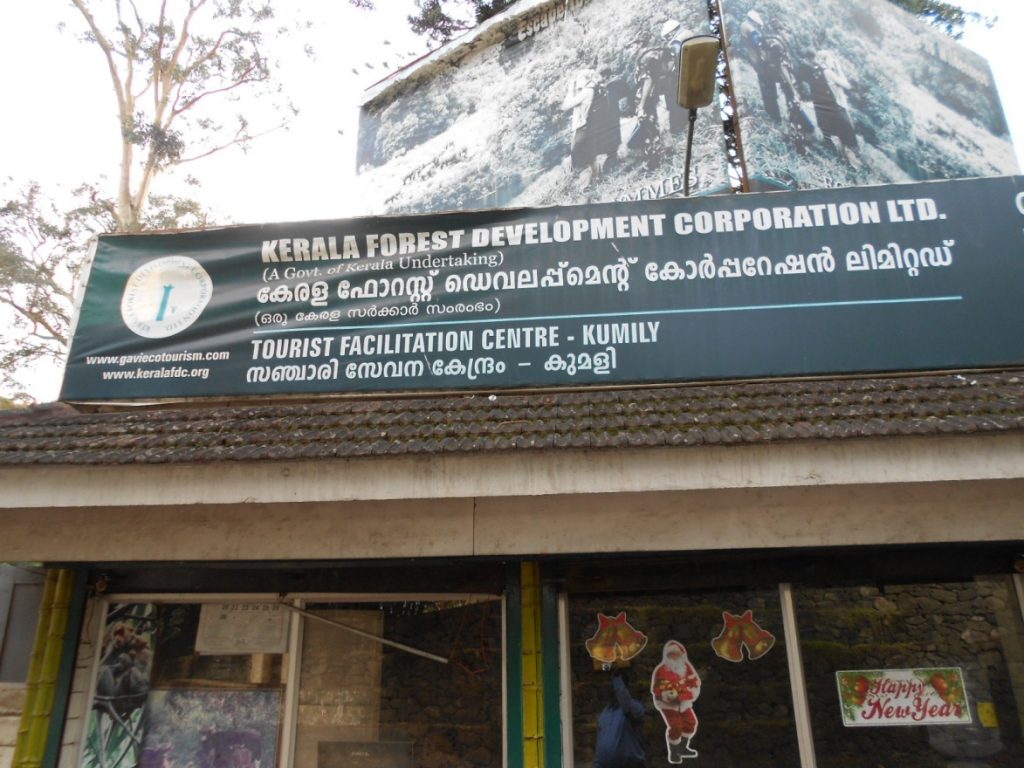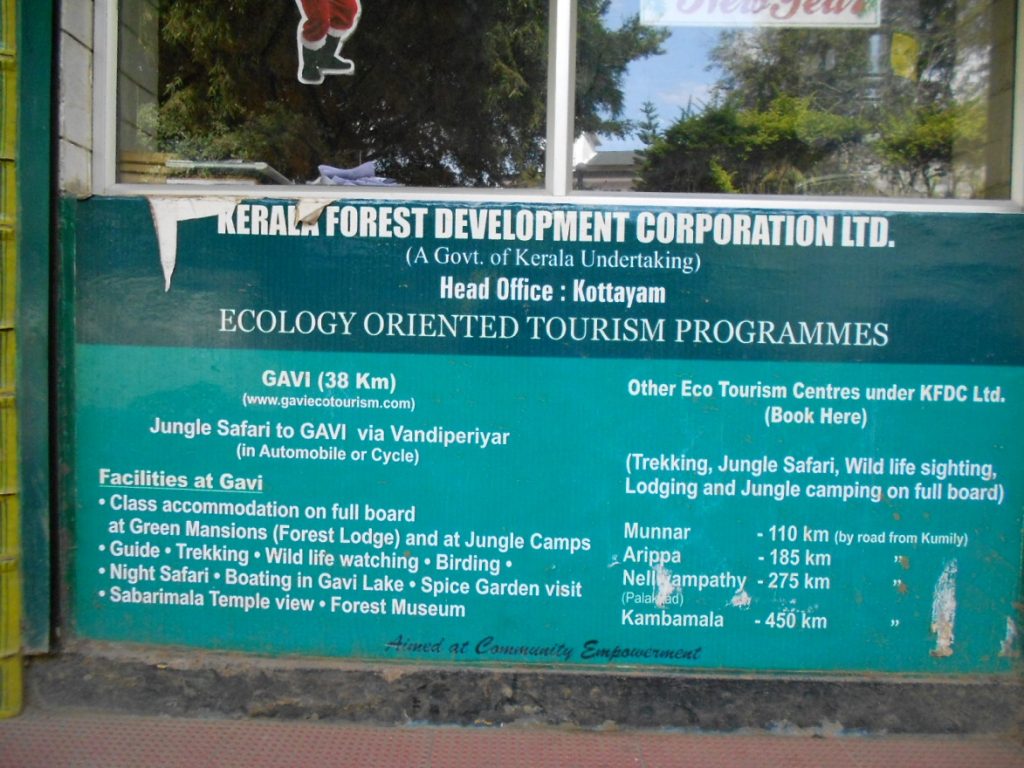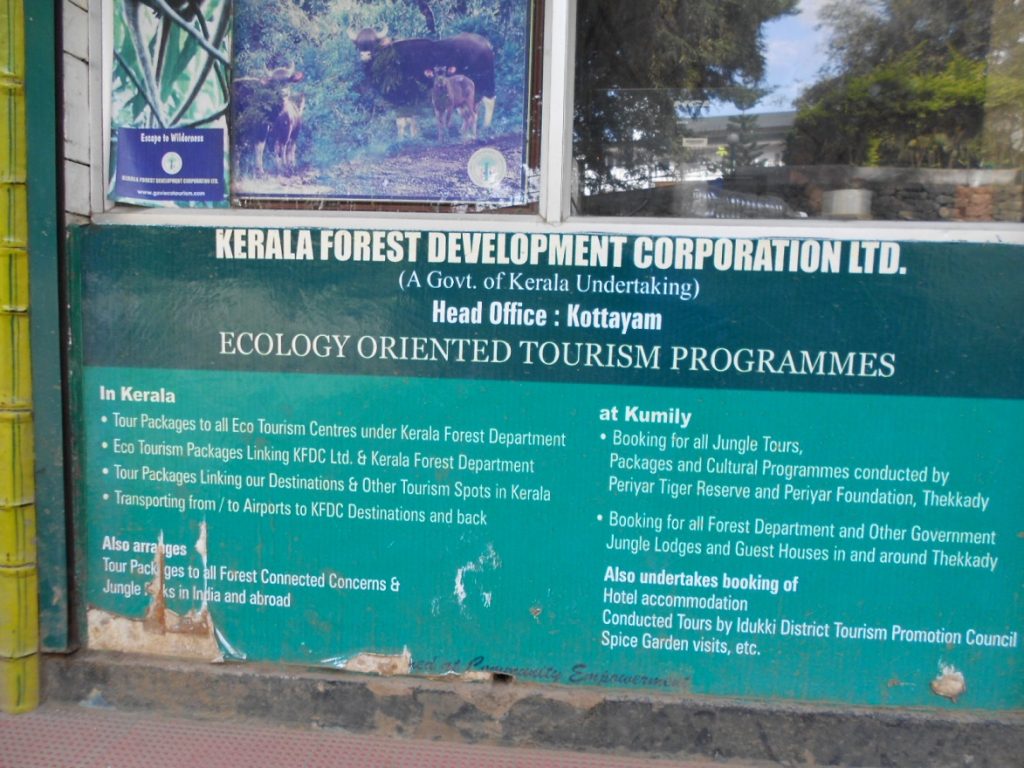 Ticket charges for Gavi tour are as below. Vehicle charges will be extra.
GAVI ECO-TOURISM
KERALA FOREST DEVELOPMENT CORPORATION Ltd. (A Govt. of Kerala Undertaking)
GAVI DIVISION. GAVI P.O.
(Via) VANDIPERIYAR
Ph: 04869 223270, 9947492399
Website: www.gaviecotourism.com
eMail: gavi@kfdcecotourism.com
PROGRAMME DETAILS
1. Day Package
8.00- 8.30 AM- registration
Trekking through Forest under trained Guide after breakfast
Return by 12.30pm, have South Indian vegetarian lunch and there after boating in Gavi Lake (row boat), visit to cardamom plantations, Curing house, Sabarimala view point and Museum of Skelton of Animals.
Leave the place after evening tea by 4.30pm.
Tariff: -Rs.1000/- per pax (Full board)
2. Stay at Green Mansion Jungle Lodge
Check in time- preferably after noon by 2 PM.
Check out – after 24 hrs. or 2 PM next day whichever is earlier.
Events: – A trained Guide will be attached to your group throughout the package. Trekking through Forest, Boating in Gavi Lake (row Boat), visit of Cardamom Plantations and curing house, Museum of Skelton of Animals and early morning jeep safari through forest road for 2 ½ hrs.
Tariff: – Rs.2200/- per pax per day (full board)
3. SWISS COTTAGE TENTS:
Stay in permanently pitched Cottage Tents in Forest with attached bath room. All events and conditions are same as in "JUNGLE LODGE"
Tariff: – Rs.2500/- per pax per day (full board)
4. JUNGLE CAMPING
Night stay in portable small tents in deep forest. Guides and helpers will be staying there along with you. Dinner will be prepared and served there itself. All events and conditions are the same as in "JUNGLE LODGE" except Jeep Safari. Not desirable for ladies and kids.
Tarrif: – Rs.10000/- full board. (Minimum rate – 4 persons can be entertained; Rs.2500/- each for extra persons.)
Children up to the age of 6 year have free entry and for those between 6 and 12, it is half of the tariff mentioned earlier.
Gavi is situated deep inside forest in the "Poonkavanam of Lord Ayyappa" near Ponnambalamedu. You have to travel 20 kms through forest road to reach Gavi. Any vehicles can be used for your journey, but the number of your vehicle should be intimated to us well in advance to arrange permit.
Confirmation of the overnight stay programme is done only after remittance of total amount in advance before two days, after ascertaining availability. The amount should be remitted to A/c. No.362801010021042 of Kerala Forest Development Corporation Ltd, in Vandiperiyar Branch of Union Bank of India (IFSCode:UBIN0536288).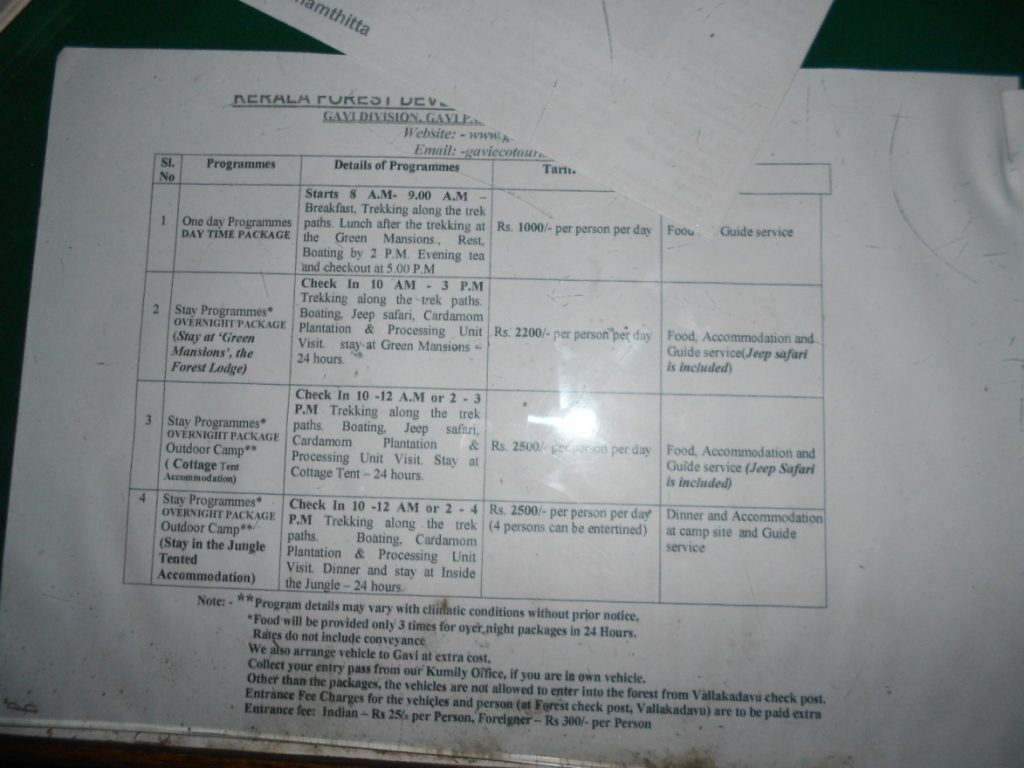 You have other options of staying at Bamboo grooves, Jungle camp etc. at Thekkady.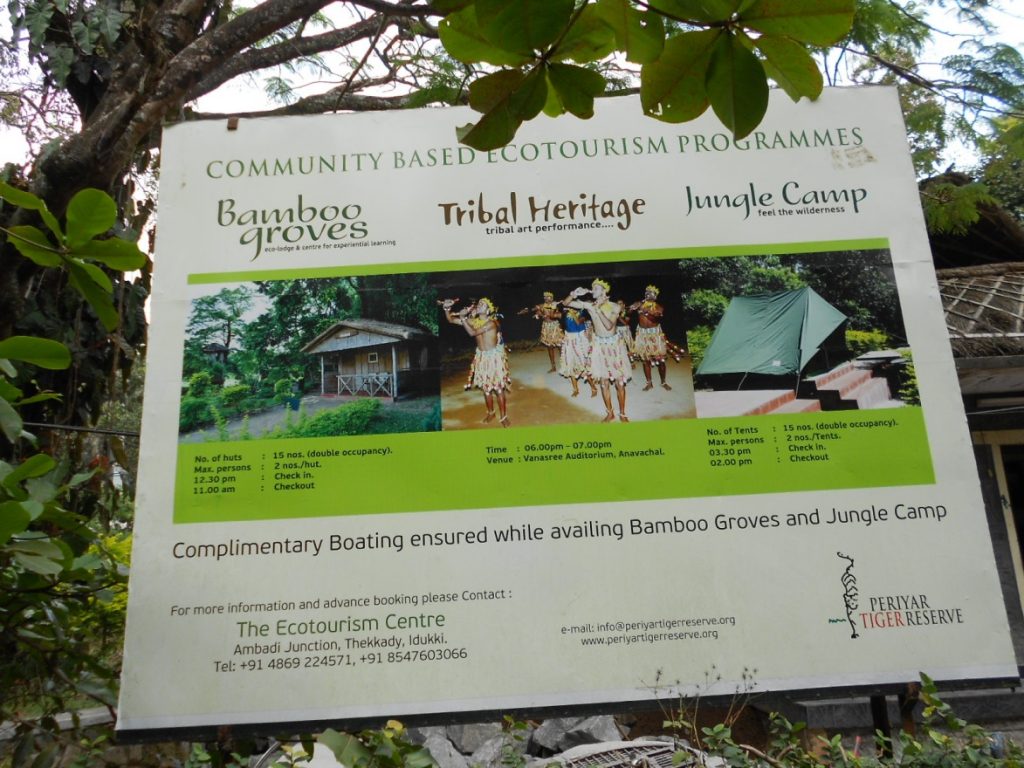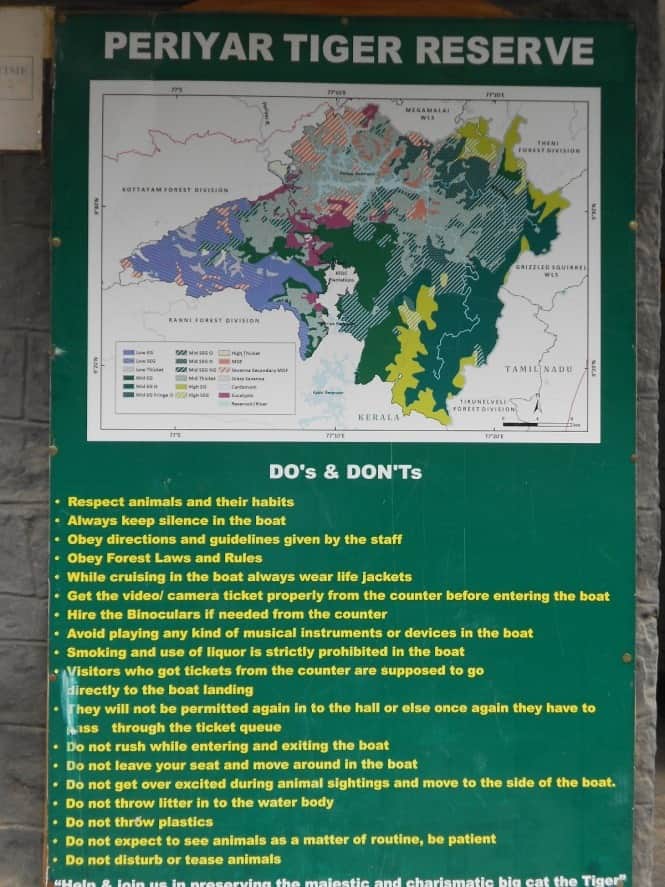 Do's and Don'ts at Periyar Tiger Reserve
Visit Eco-tourism Information Center for booking activities listed below: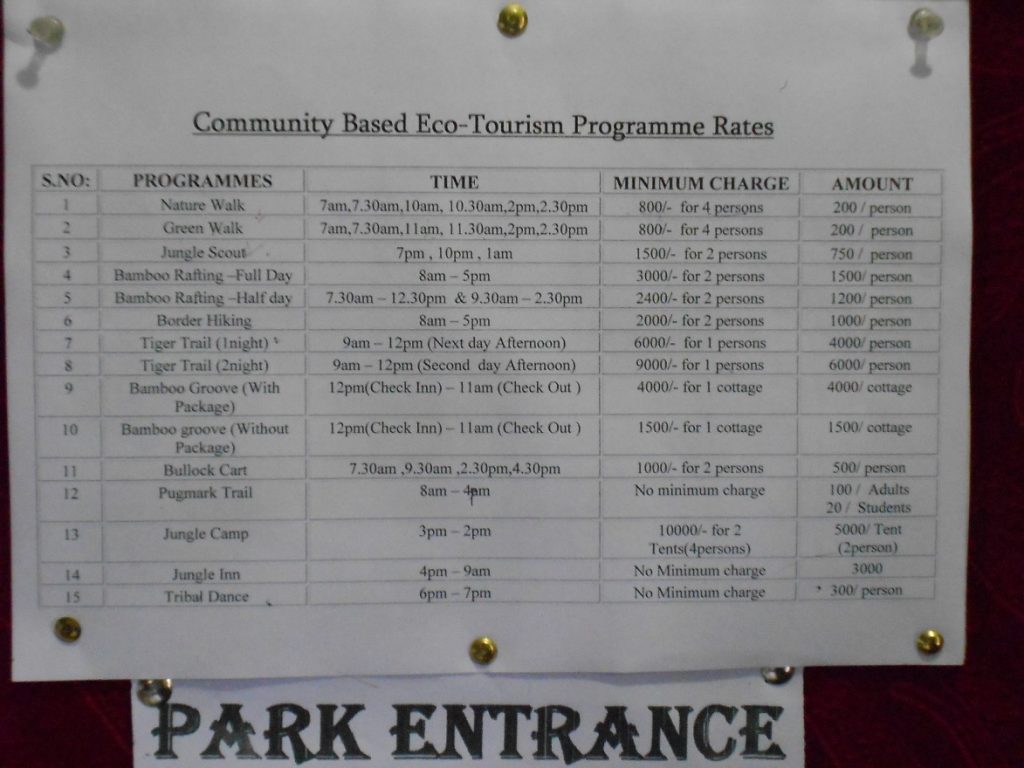 Bamboo Rafting
Bamboo rafting can be booked at Eco tourism center in advance
Cost for Full day Bamboo rafting – Timing: 8Am to 5PM – Rs. 1500/- per person (Min 2 pax) where rafting for 3hrs and 5 – 6hrs trekking
Half day Bamboo rafting – 7.30Am to 12.30PM and 9.30AM to 2.30PM – 1200/- per people (Min 2 pax) where rafting for 1.5hrs and 3.5hrs trekking
Food is included for both option and advance booking can be done by calling Eco tourism centre, Thekkady at 04869 224571 and payment should be made in advance.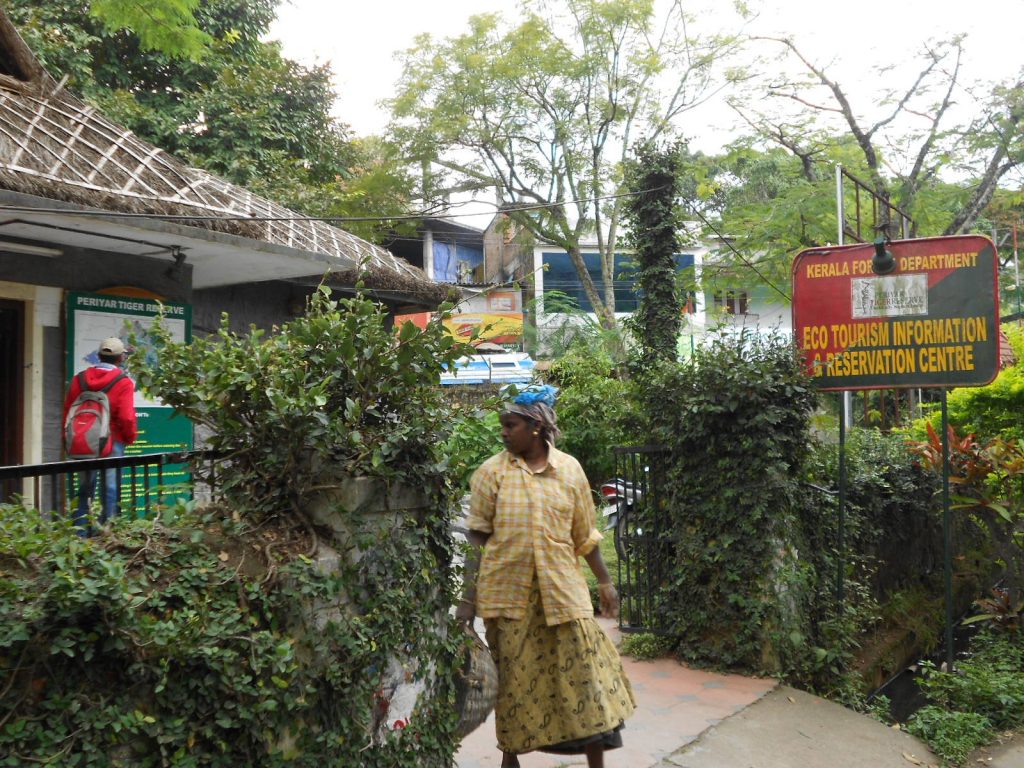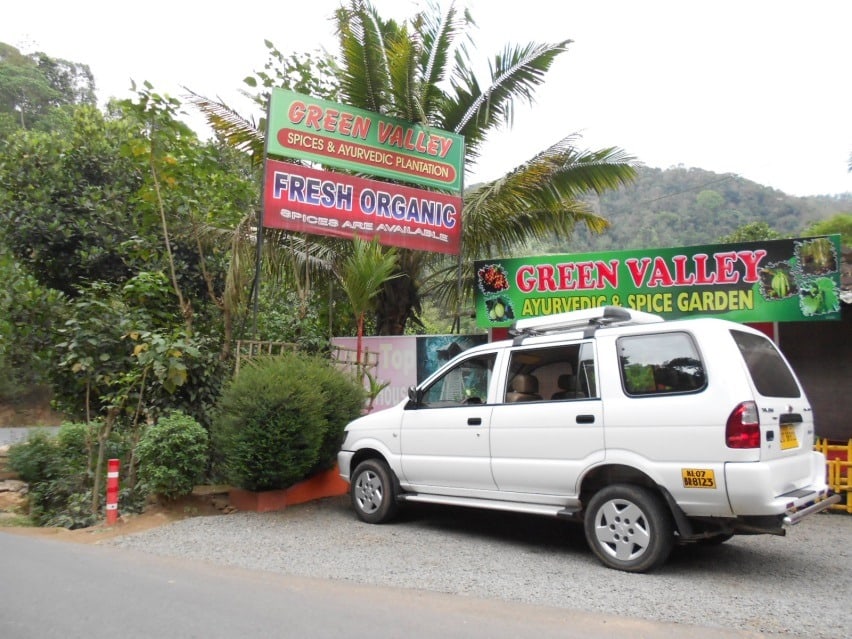 You can visit spice plantations at Thekkady.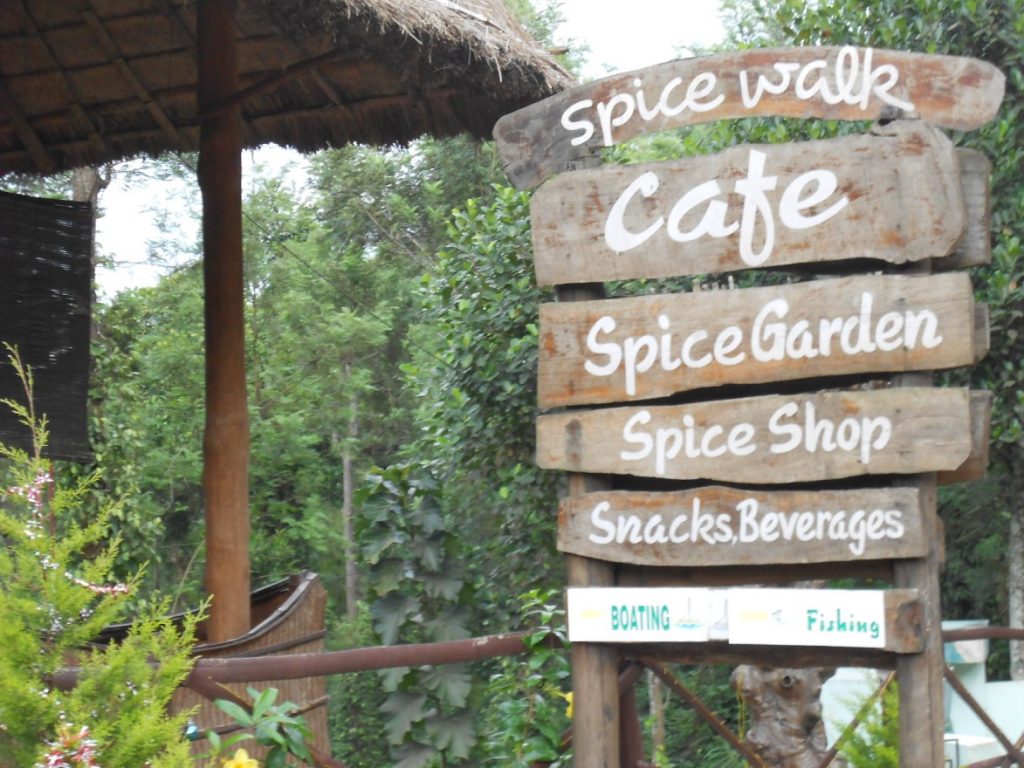 You can go for spice walk, boating, fishing etc.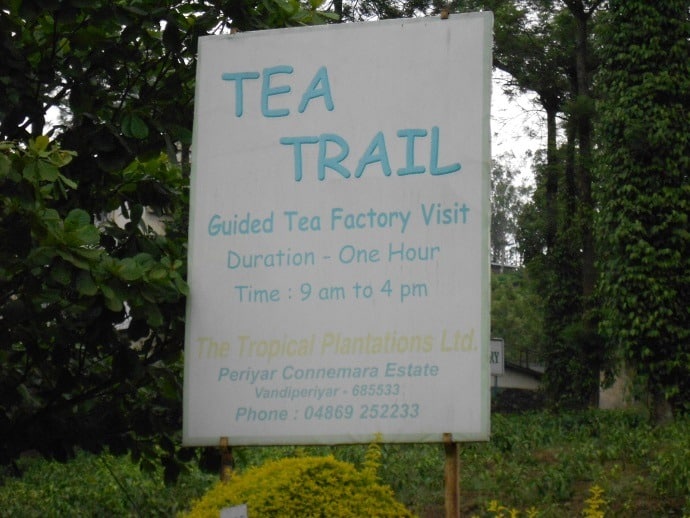 Tea Trail : You can even have a visit to Tea factory at Thekkady and purchase some fresh Tea power from here.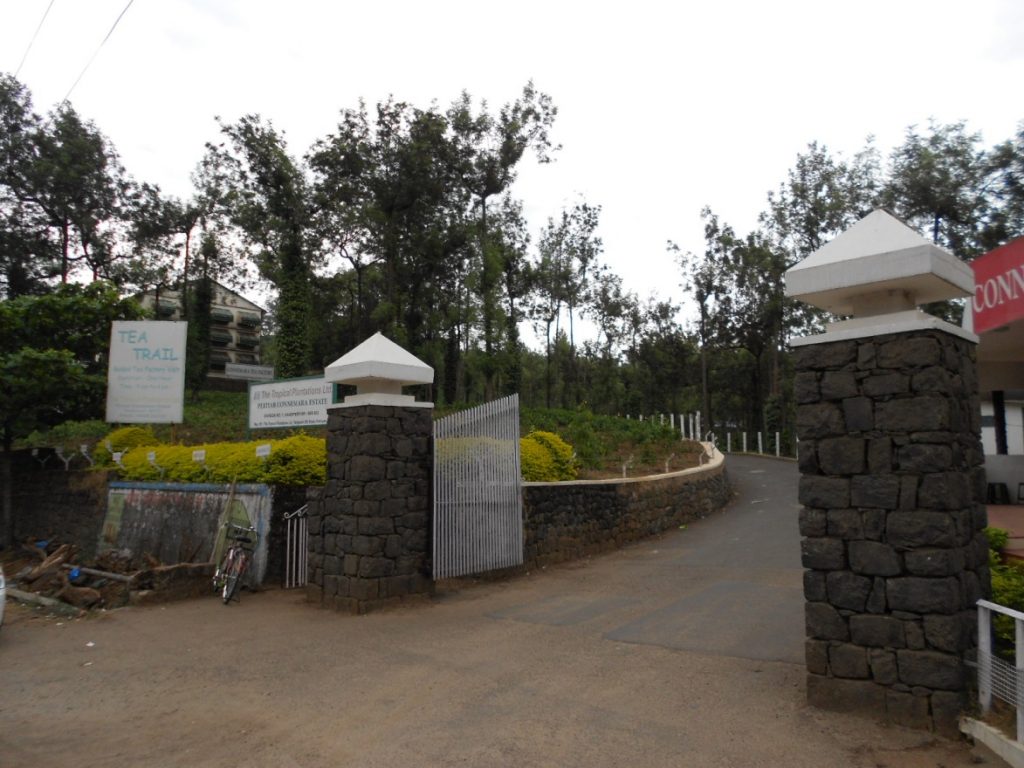 Tea plantations at Thakkedy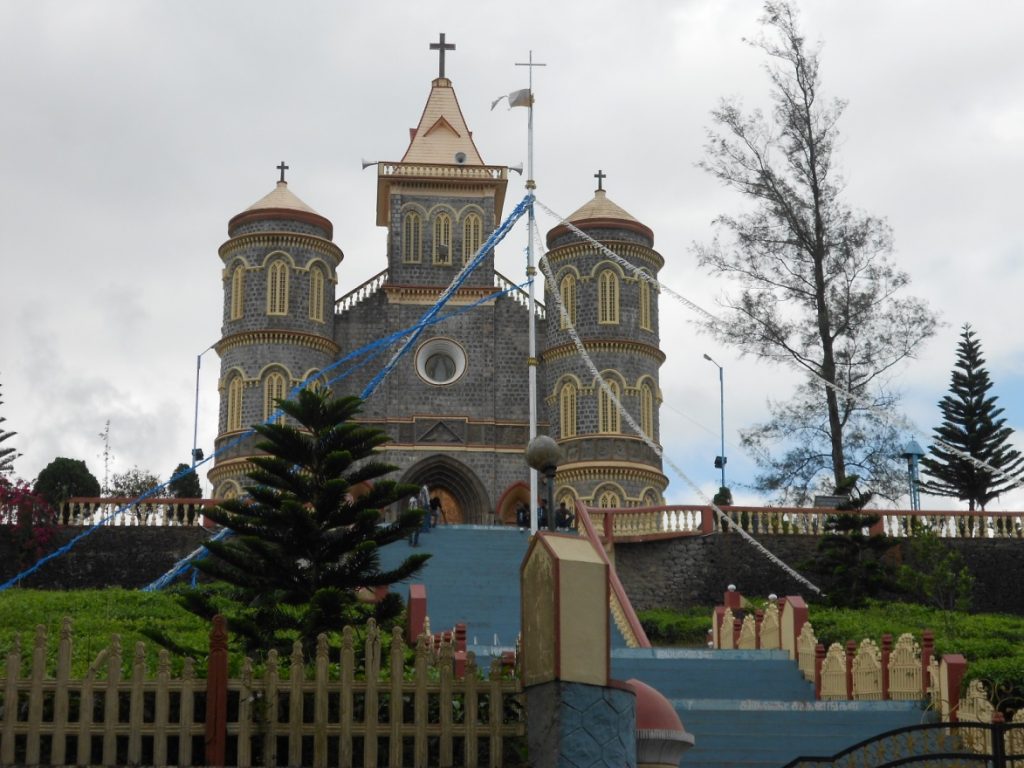 Church at Thekkady
Hope by now, you have got an idea about all the activities you can do at Thekkady. Depending on your interest, decide on the number of days to stay there and enjoy to the fullest.
While returning home, don't forget to purchase spices, tea, homemade chocolates from Thekkady.
Distance from Thekkady to Kumily – 4km
Distance from Thekkady to Munnar – 110km
Distance from Thekkady to Kumarakom – 138km
Distance from Thekkady to Cochin – 170km
Distance from Thekkady to Kodaikkanal – 120km
Some scanned copies of brochures from Thekkady: