My trip to Isha Foundation Coimbatore
|
My visit to Isha Yoga Centre – Coimbatore
It was yesterday, the most risky day of this year in my life. Most men understand why I mentioned as risky day and what it means, of course it was my wife's birthday. Though her date of birth is 10th October, as per Malayalam star sign it was 6th October this year. It is this day which writes next one year horoscope for most of us. I too wanted a lovely year ahead and gave all commitments I could bluff at her like any other men in the world.
For a change I planned for a spiritual trip this year and wanted to visit Isha Yoga center, Coimbatore, all set to start the trip at 4am and reach Coimbatore by 8, spend whole day at center and evening back home or stay at Coimbatore was my plan.
Previous day, I made sure I can sleep at 9PM to get up early for the trip and reached home by 7PM where my planning started to deviate one by one. The heavy rain and lightning started exactly at 7PM which continued till 8.30, by the time power gone as well generator stopped working (first time in its history). Power came by 10PM, but I was worried of the power as we had guest at homestay who are supposed to reach airport at 10.30, 12 and 1 in the night. With out taking risk, I asked my team to shift all guest to hotel near to airport. Long story short, I slept at 2am after making sure every guest reached hotel safely.
I slept at 2am to wake at 4am after tuning my alarm to 4am with the intention of starting at 5am, 1 hour late is accepted for an entrepreneurs family. I still don't understand what happened, I woke up decently at 8am – the clock in my room was smiling at me sarcastically. To be on the safer side I wished her and some how managed her and started at 10am (imagine late of 6 hrs on your wife birthday) from home to same place, Coimbatore.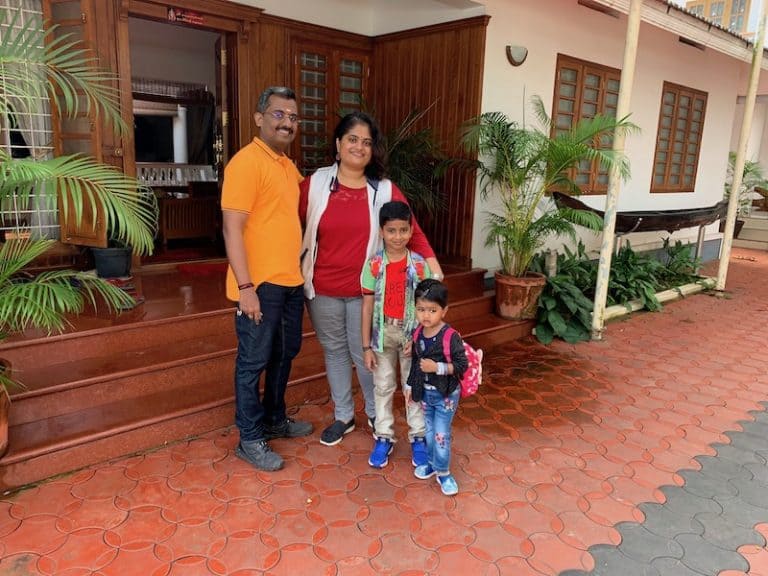 We started from Aluva (Kochi) at 10am and drove towards Coimbatore. The road was extremely good for first 100km and had our lunch, the so called birthday lunch (Chappati, Masala dosa) in a veg. restaurant. My luck re-started from here, the food was extremely good and saw first smile on her face after I got up at 8am. The staff was friendly and was caring, we loved the place. On the rush, I could not collect cash from ATM but this hotel collected money through google pay, even for the chips we brought from the outside shop – the hotel person asked us to pay through google pay to him and he intern gave cash to the chips vendor. Our children brought some toys too.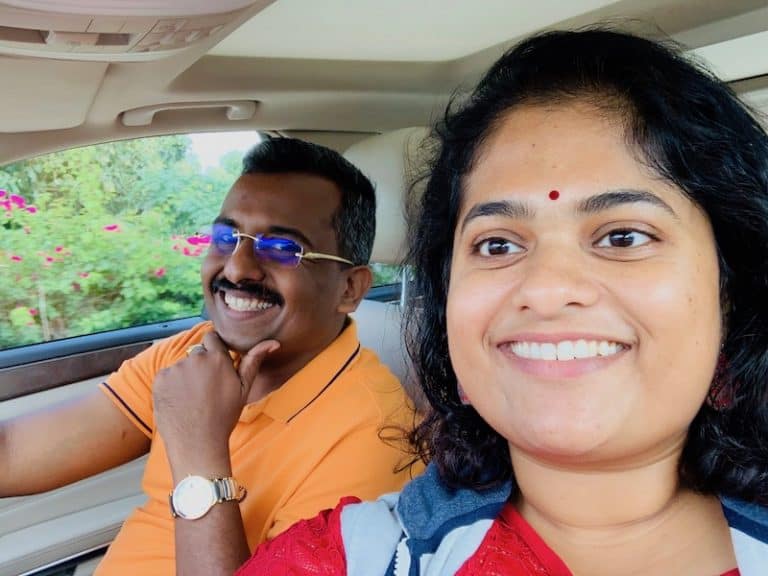 The road was not good for next 20 km which took some time and we reached Isha centre by 3.30PM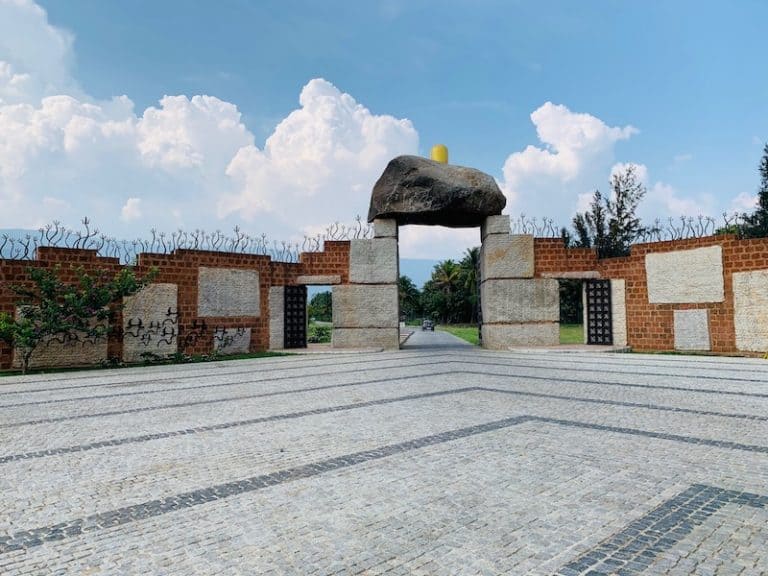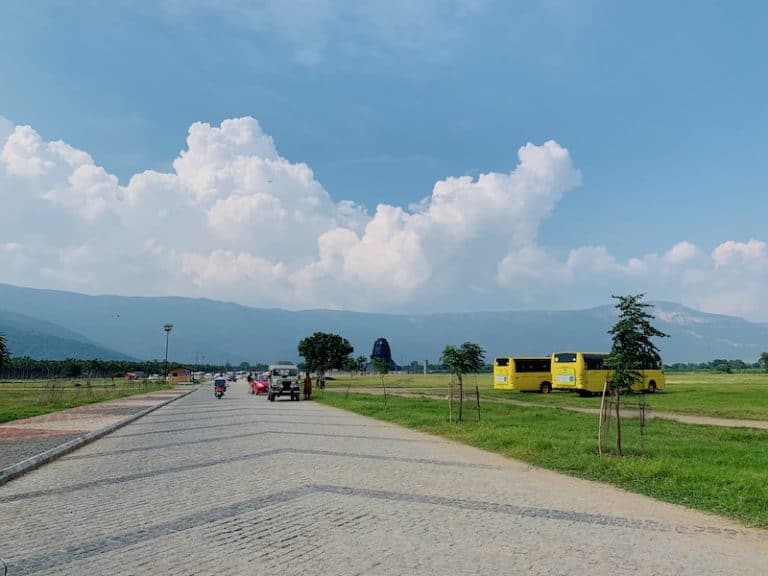 At Isha centre, you see the Adiyogi statue first a marvelous work and the volunteers there explained us how to go around.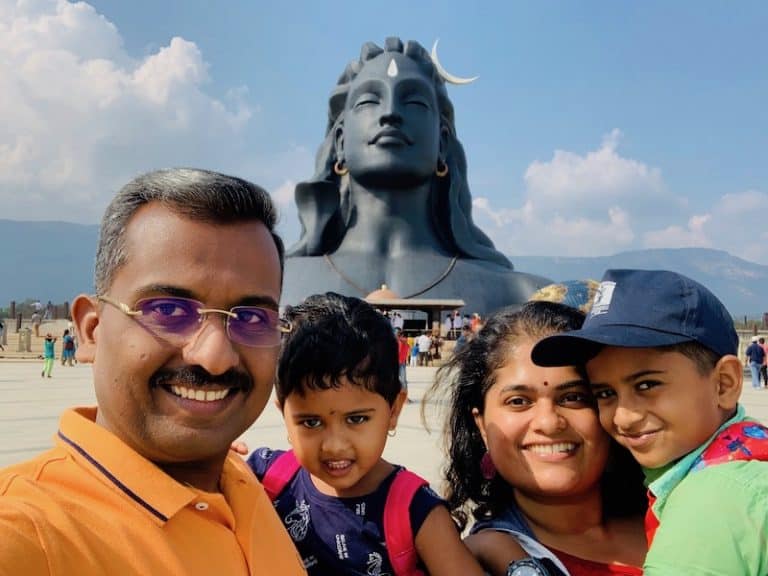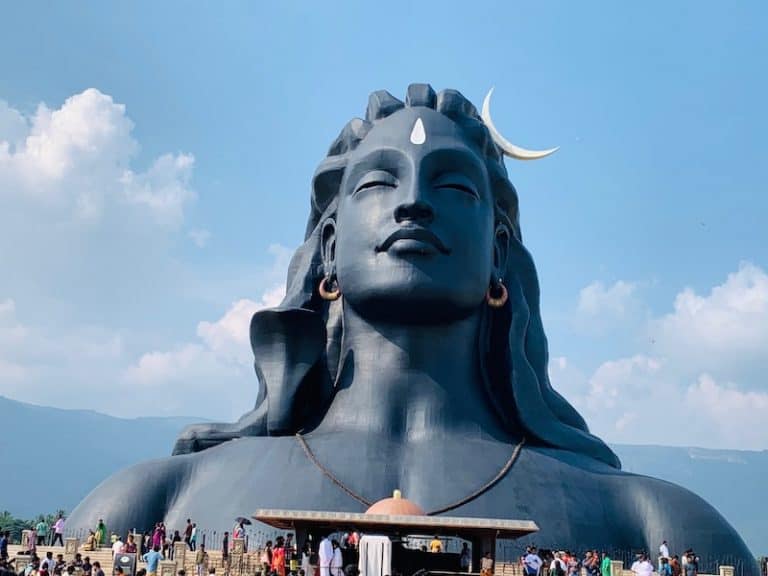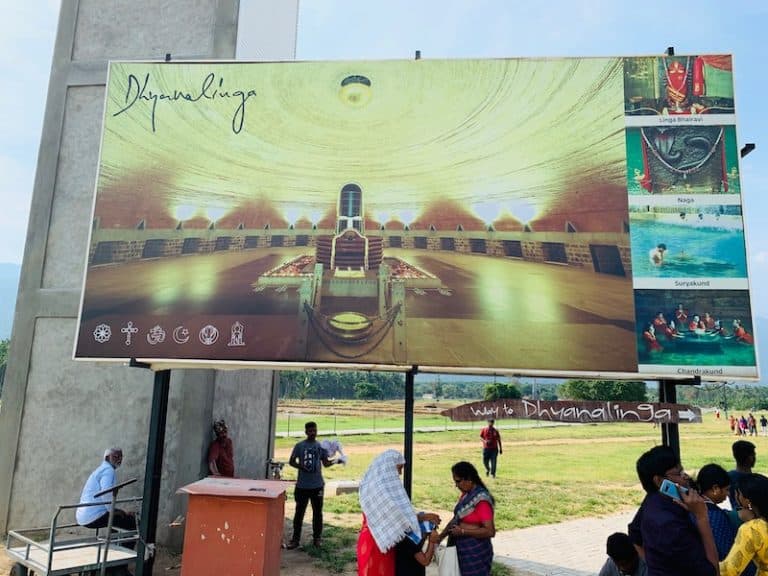 From Adiyogi statue we need to either walk or use bullock cart to reach the actual place which is 400meter away.
From there we need to deposit our footwear, mobile and move forward to have
Bath in the Suryakund (for men) and Chandrakund (for women)
We can either have a dip here or not, but move to have darshan of Naga
And then to Linga Bhairavi and
Dhyanalinga Darsan
Me and son Madhav had a dip in Suryakund which was a refreshing feel, very clean and a spend of 10 to 15 minutes make us feel good. Sree and daughter Sivada was afraid of taking dip and we went for Naga darshan.
From here we went to Linga Bhairavi temple where different que for men and women and the spiritual feel is unique inside.
After this darshan we moved to Dhyanalinga which is the main place for the visit. This place is so secret that we are not allowed to talk, murmur inside even the sound of bangles is avoided by sticking cello tape over the bangles. We sat for approximately 15 minutes and the holistic feel was something different. We get in to deep meditation inside here.
We just loved the spirituality inside, the way things are arranged, organized and volunteered. This is a place which should be visited atleast once by those who enjoys the spirituality.
On every Saturday, Sunday, Paurnami and Amavasi days there is a lazar show around the Adiyogi statue at 8 to 8.15PM. Fortunately the day being sunday we rushed back to Adiyogi statue and reached by 7.50. Big crowd was waiting for the lazer show and we could get a seat too.
This was the best part of the day, the lazer show was magnificent, excellent and is something one should not miss when you are at Isha centre. I recorded first 5 minute of the show and is posting here.
I did not even ask for the feedback of trip, It was just understandable how I could make the day special and I don't know how coincident it was, all we could enjoy well only because we started late.
We planned to return same night itself and had dinner from a typical tamil restaurant on the way. Here too the service was so caring and the food was good. We had Kothu porotta, porotta, dosa etc and reached home back at 1am.
At Isha centre there is hardly place for payment, we can just relax and have a great day. We did pay Rs. 30 for car parking, 10 per head for bullock cart, 20 per head for the dip.
A day cherished for long and an advisable place to visit.
Ratheesh R. Nath
Managing Director
Paradise Holidays Cochin
director@paradise-kerala.com
9947876214