11 Must Try Kerala Dishes
|
When it comes to food, Kerala is indeed rich with its numerous authentic delicacies. Kerala, the land of coconut trees, is famous for its delicious dishes that use coconut oil, coconut milk and grated coconut in abundance. It is this addition of coconut products and special spices that enhances the taste and aroma of Kerala food, making it stand out from other Indian dishes.
Keralites prepare a good variety of both vegetarian and non vegetarian food. The southern part of Kerala is well known for scrumptious sea food delicacies, while the northern part of the state specializes in other non-vegetarian dishes.
Let's take a small trip through the cuisines of Kerala.
Kappa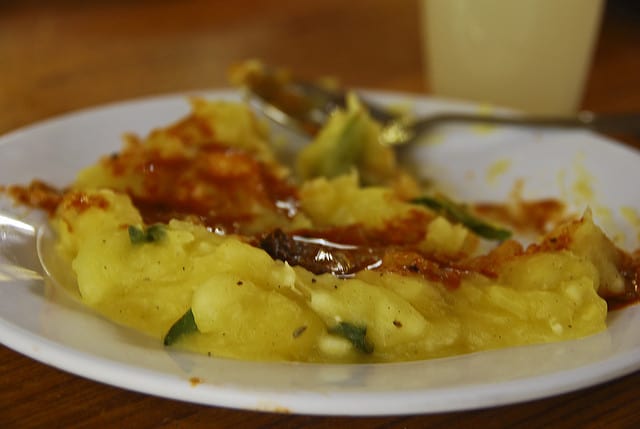 Image by Mikhail Esteves via flickr
Tapioca, known locally as Kappa, is a staple diet for Malayalees. It is as tasty as it is healthy, and a lot of foreign tourists prefer to indulge in kappa, especially during their house boat trips.
Though numerous kappa preparations are available, you will enjoy the mashed kappa the most. Mashed kappa paired with Kerala fish curry is a mouthwatering dish that you must try. This easy to cook food can be consumed as a starter, breakfast, side dish for your lunch, or as an any-time snack. It can also be eaten with a variety of curries and chutneys.
Kallummakaya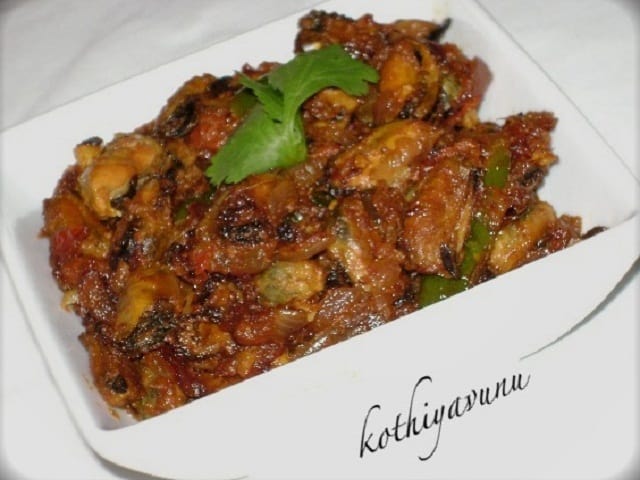 Image by s4's world via Flickr

Now, let's have a taste of a delicious non vegetarian food, courtesy of the Malabar regions of Kerala. Though kallummakaya or mussels is not very common in other parts of Kerala, almost all Keralites have enjoyed this auspicious dish.
Roasted kallummakaya with rice filling is the tastiest preparation of them all. It is a traditional Thalassery dish, which is unavoidable at parties and special functions. Kallummakaya is also used to make other tasty dishes like kallummakaya fry, kallummakaya curry and kallummakaya biriyani.
Sadya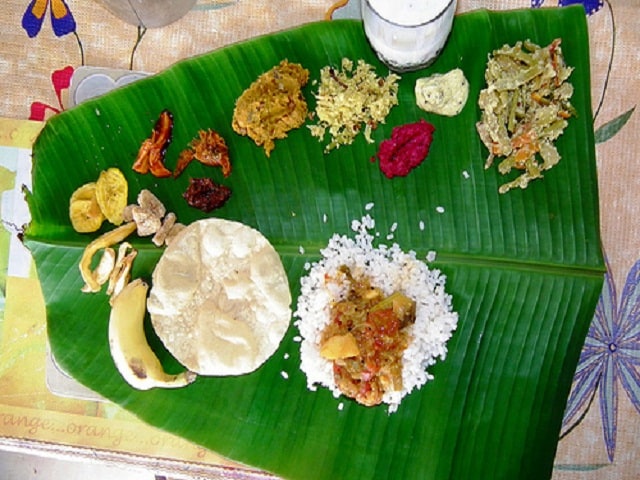 Image by Ramesh NG via Flickr
If you are searching for a heavy lunch, the sadya is the that aptly suits your appetite. It is an elaborate dish with rice and a lot of curries, accompanied by sweet payasam. In a normal sadya you will get 5 to 8 curries, but you will be served much more in the larger functions.
Sadya is traditionally served on a banana leaf. The position of the leaf and the placement of the curries have to follow a specific order. The way the banana leaf is folded after lunch is also significant for this traditional food. The sadya is a complete vegetarian dish which is usually served during festivals and special functions.
Avial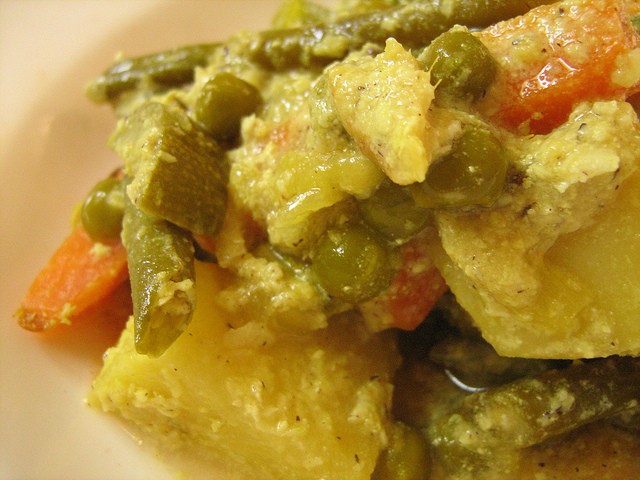 Among the numerous curries in sadya, one outstanding curry is avial. It is indeed a rich preparation with lots of vegetables and coconut. The vegetables are sliced into thin pieces and cooked to a crunchy consistency with lightly beaten curd, garlic, coconut grinding and coconut oil. The malty colored vegetables adds a visual beauty to the curry. The addition of vegetables also makes it a healthy dish.
Kerala Biriyani
Image by Basheer Olakara via Flickr

Biriyani is an all time favorite food in India. But the biriyani preparation differs from place to place, and hence the name also changes according to the place and the ingredients used in it. Biriyani is usually a mixture of rice, spices, meat or vegetables.
The selection of the rice and the proportion of ingredients are both very important in biriyani preparation. The most attractive quality of a biriyani is its aroma. Malabar biriyani is the tastiest variety of Kerala biriyani, and the choice of khaima rice makes it quite unique. Biriyani is a common food in Kerala, especially for functions and special days.
Kerala Fish Curry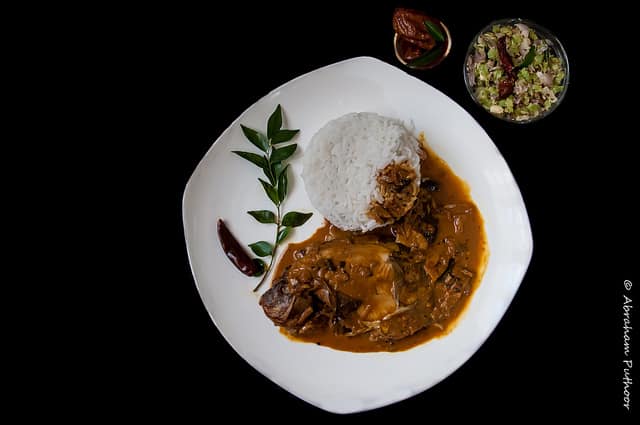 Image by Abraham Puthoor via Flickr

The red colored fish curry with kudampuli or fish tamarind is a compulsory dish for almost all Keralites. Fish tamarind is the souring agent and it also adds to the taste of the fish curry. Fenugreek, green chilly, red chilly powder, turmeric and curry leaves are the other taste makers.
Kerala fish curry is a very healthy dish and it is also an apt food for the Kerala climate. Normally fish curry is prepared in clay pots to make it more delicious and durable. If the proportion of ingredients are correct, the curry can be stored for many days.
Karimeen Pollichathu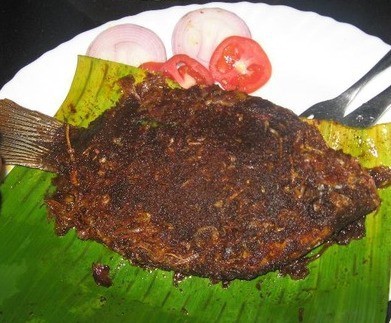 Pearl spot or karimeen pollichathu is an authentic Kerala cuisine which attracts a lot of tourists inside and outside the state. This dish is most common in Alapuzha, especially in house boats. Karimeen is mostly available in the Kerala back waters.
To prepare this dish, the fish is wrapped in a banana leaf for marination. It is then grilled afterwords and served with the same banana wrapping. The wrapping adds to the aroma and taste.
Kerala Chicken Curry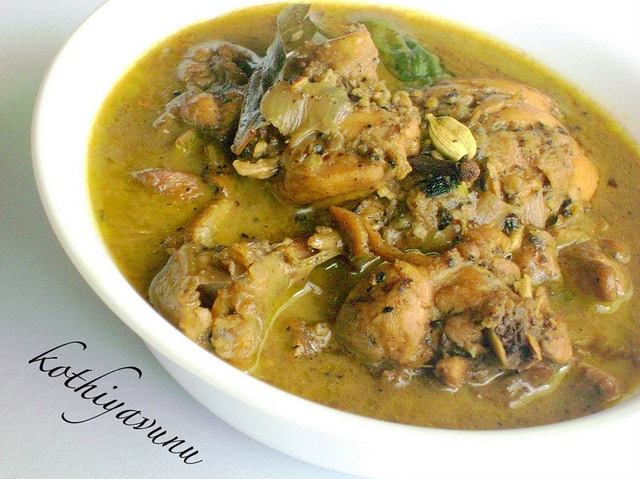 Image by s4's world via Flickr

If you are a non vegetarian, you will definitely love this brown colored thick gravy. This is the most traditional method of preparing chicken. Like Kerala fish curry, this chicken curry is also prepared in clay pots.
Spices, roasted coconut and coconut milk are the essential ingredients of this curry. Coconut oil is used for the preparation of this curry, so the smell itself is very attractive. The curry is garnished with curry leaves which are very common in Kerala.
Palada Paysam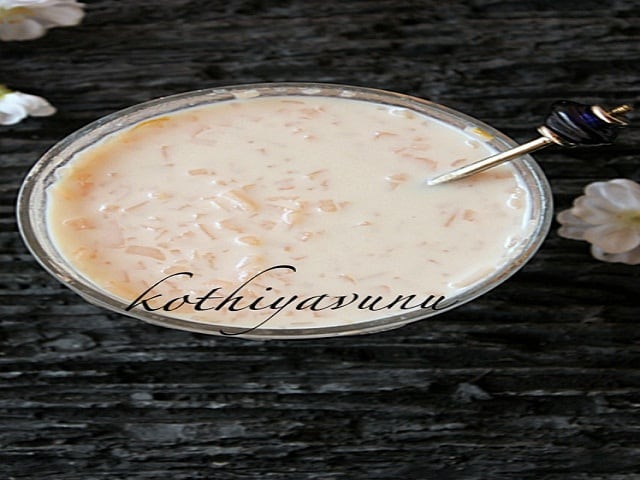 Image by s4's world via Flickr
Palada or palada paysam is a sweet dish which is commonly served after lunch, especially after a sadya. Milk, sugar and rice ada are used in a particular proportion to cook this pink payasam. Traditionally it is served on a banana leaf. Cashew nuts and raisins are also added to enhance the taste and as a garnish.
Pazham Pori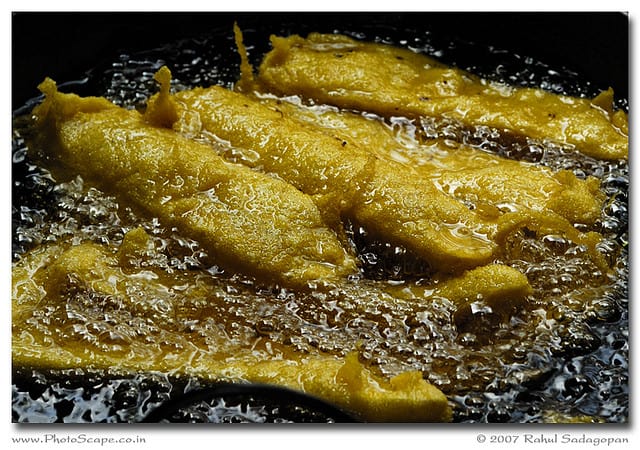 Image by Rahul Sadagopan via Flickr
Now, it is the time for a snack, and that too an exclusive Kerala snack. Yes, pazham pori is hardly found in other parts of the country. It is a sweet snack with a crispy outer cover and a soft inner portion.
Ripe banana and wheat flour are used for the preparation of this tasy snack. Just the thought of sitting with cup of hot tea and crispy yellow pazham pori makes the taste buds of Malayalees water.
Unniyappam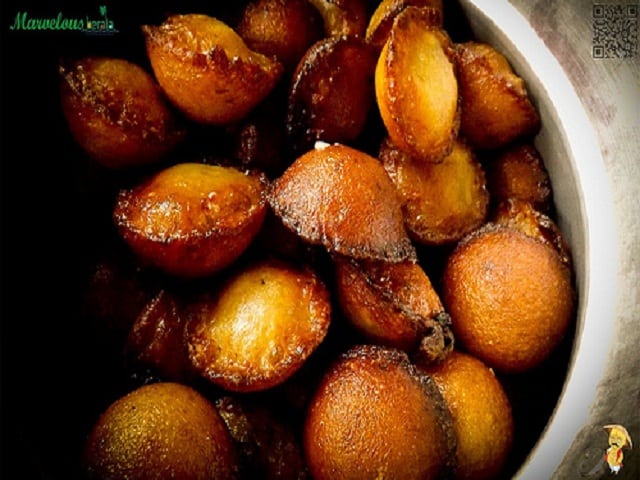 Unniyappam is the most traditional snack of Kerala. This snack used to be compulsory for festivals and functions. It is basically a brown colored crispy, spongy sweet dish made up of jaggery, rice flour and banana.
Preparation and ingredients may vary from place to place but the taste is unique and there is no substitute dish for unniyappam in Kerala. Unniyappam preparation, its smell and the crispy roasted coconut pieces makes all Malayalees nostalgic.
Plan a trip throughout Kerala and explore all the spicy, creamy delicacies it offers. Don't miss a chance to visit this food lover's paradise.