Alleppey to Kovalam is a popular tourist route in the state of Kerala, India. It covers a distance of approximately 160 km and takes around 4-5 hours by road. The journey offers scenic views of the Arabian Sea and the lush green landscape of Kerala. Alleppey is famous for its backwaters and houseboat tours, while Kovalam is a popular beach destination.
Beaches to Visit in Kovalam
Lighthouse Beach
This is one of the most popular beaches in Kovalam, famous for its lighthouse and scenic views. The Kovalam Lighthouse is one of the major attractions in the beach town of Kovalam. The lighthouse is situated at the southern tip of Lighthouse Beach and offers panoramic views of the Arabian Sea and the surrounding area. It is a popular spot for tourists and offers a scenic view of the sunrise and sunset.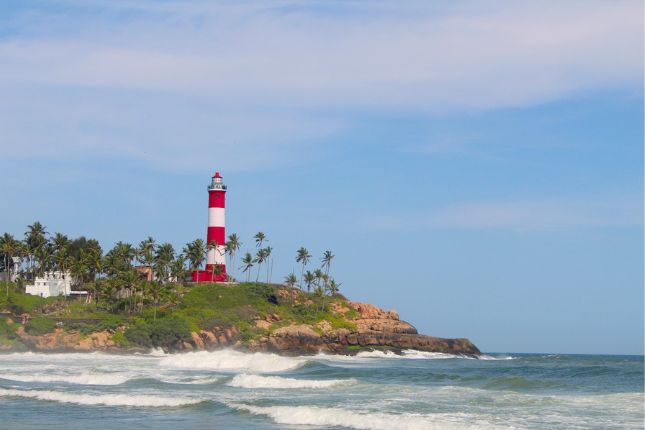 The lighthouse is a 30-meter tall tower, with a spiral staircase that leads to the top, providing a panoramic view of the sea and the coastline. Visitors can climb to the lighthouse's top and enjoy the observation deck's view. The lighthouse is also surrounded by a well-manicured garden, making it a pleasant place to spend some time.
Visitors can also take a tour of the lighthouse to learn about its history and see the equipment used to operate it. The Kovalam Lighthouse is a popular spot for photography, and the view from the top is a must-see for visitors to Kovalam.
Hawa Beach
Hawa Beach is a famous tourist destination for its pristine beaches, scenic beauty, and water sports activities such as swimming, sunbathing, and surfing. The beach is surrounded by coconut groves and is a popular spot for tourists and locals alike to relax and enjoy the beauty of nature.
Water Sports in Kovalam
Water sports are a variety of recreational activities that take place in, on, or near water. Water sports provide a fun and engaging way to get regular exercise and improve overall health and wellness. Some popular water sports activities offered in Kovalam include:
Surfing: Surfing is a popular water sport where the surfer rides the waves on a surfboard. The goal is to stay on the board for as long as possible and to perform various tricks and stunts. The sport originated in Hawaii and has since spread to become popular all over the world. With its strong waves, Kovalam is a great spot for surfing.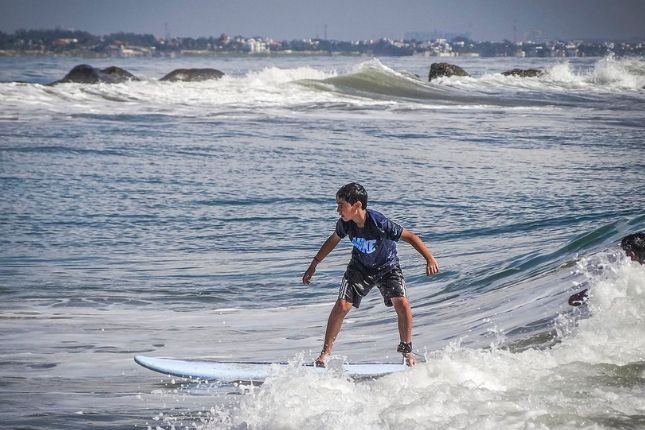 Snorkeling: Snorkeling is a recreational activity where a person swims or floats on the surface of the water while wearing a snorkel and a diving mask. The snorkel allows the person to breathe through their mouth while keeping their face underwater. Snorkeling is a popular activity in Kovalam where visitors can explore the underwater world and see various species of fish and coral.
Kayaking: Kayaking is another popular water sport in Kovalam. Visitors can paddle through the calm waters of the Arabian Sea and enjoy the scenic views of the surrounding coast.
Windsurfing: Windsurfing is a sport that combines surfing and sailing and is a popular activity in Kovalam.
Jet Skiing: Jet skiing is a water sport that involves riding a personal watercraft (PWC) which is commonly referred to as a jet ski. A jet ski is a small, fast, and maneuverable craft that is powered by a jet of water expelled from the rear of the device. Jet skiing is also available in Kovalam for those seeking a thrilling water sports experience.
Note: It is essential to take necessary precautions and follow guidelines to ensure a safe and enjoyable experience while engaging in water sports.
Whether you're visiting Kovalam for a honeymoon, a bachelor's trip, or a family vacation, choose from the best Kovalam resorts within your budget and book ahead of time to ensure a comfortable, unforgettable stay.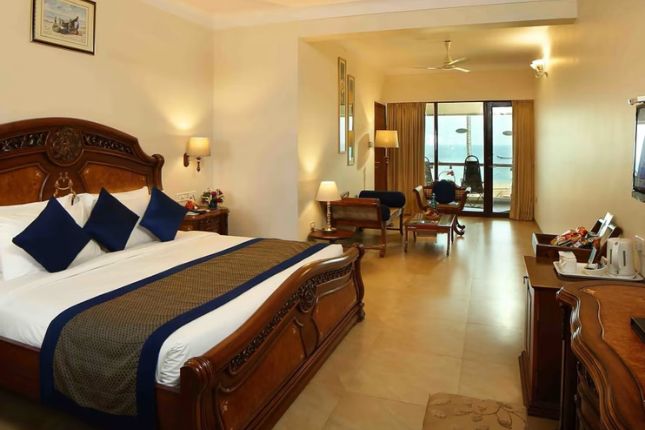 In Kovalam, you can stay in some of the popular hotels or resorts like The Travancore Heritage, Uday Samudra Leisure Beach Hotel & Spa, Gokulam Grand Turtle on the Beach, Abad Harmonia, KTDC Samudra, Beach Hotel Neelakanta, Leela Kovalam, Sagara Beach Resort or in Soma Palmshore Beach Resort.