Discover: Backwaters of Kochi
This is the sixth post in the Kerala backwater Series. In this post, we will be traveling around Kochi and its close lying backwaters…
A holiday spent in Kochi would be an exotic mix of history, modern city life, and water world. By water world,  I meant the backwaters adjacent to the sea, almost making it a unique marine experience. Such a combination is not all that common….!
A boat ride through the Kochi backwaters will be an awesome experience. There are cruises of various durations. All cruises from the city start at the Sea Lord jetty at Marine Drive. There are half day cruises which take you to a lot of interesting destinations in and around Kochi through these waters. Tickets should be booked in advance…
When the boat starts from the Marine Drive,  you see modern high-rise buildings such as, apartment complexes, Government buildings all tastefully built to suit the locale. The Cochin Port trust Building combines the traditional and modern styles and it stands out.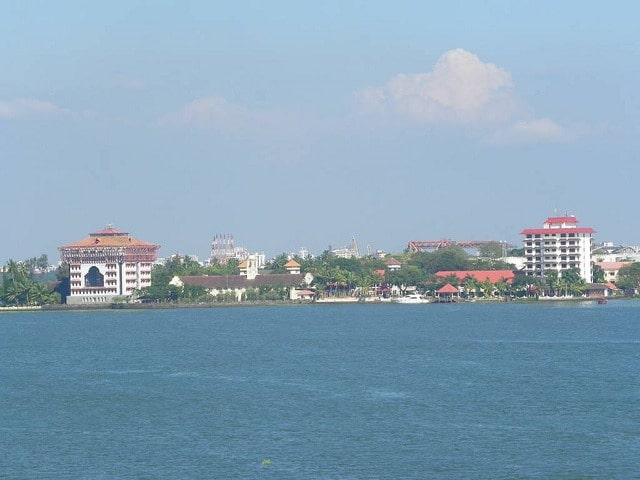 Cochin Port Trust building and Taj Malabar : Image by vm2827 via flickr
Taj Malabar, a five star hotel can also be seen as you near Willingdon Island. There is a private boat jetty for the hotel guests. Port of Kochi is a big busy port on the  west coast. The island is  also the location of some of the best hotels.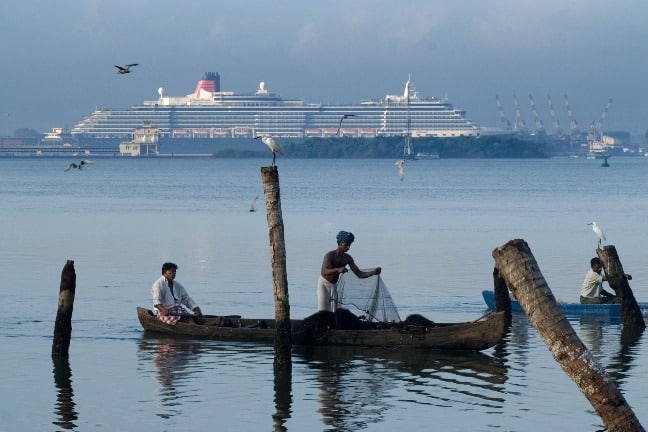 As we reach the vicinity of the island, it's exciting to sea ships from all parts of the world. Occasionally a 'Luxury Cruise Liner' may be seen anchored at the port. The Naval Base can be visited with permission from the authorities. Willingdon Island can also be reached from the mainland by road that passes through picturesque surroundings.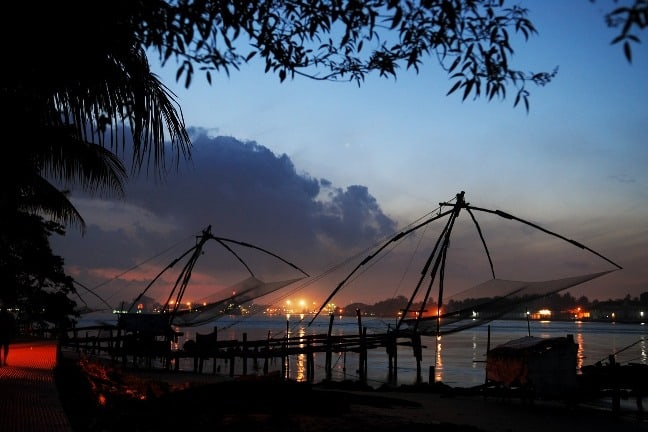 Next, the cruise takes you to Fort Kochi and Mattancherry. Fort Kochi has a distinct  European ambiance, mostly because of the architecture of houses and churches such as the St.Francis Church, Santa Cruz Basilica, all in all, the place looks kind of different from rest of Kerala. Don't forget to see the Chinese fishing nets…the sunset view from here is awesome!
St Francis Church at Fort Kochi where Vasco da Gama's body was buried in 1524 AD
There is a Dutch palace at Mattenchery (one can say in Kerala-Dutch style!), with beautiful Hindu temple art murals. The Jewish Synagogue at Mattancherry was built circa 1568. It is matter of pride for Kerala that Jews lived here and conducted their business in peace and the synagogue stands as an eloquent witness to the peaceful past.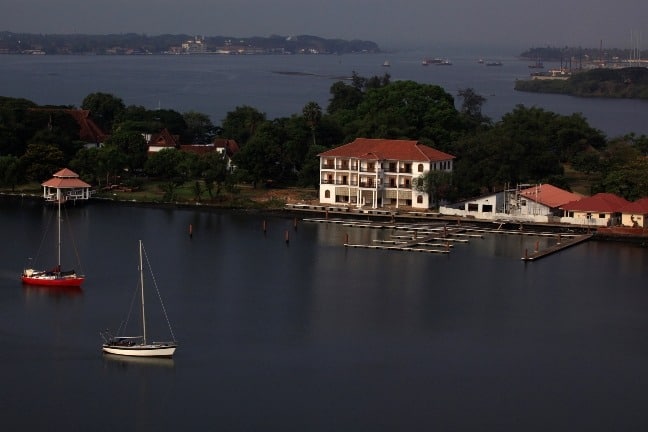 The last stop of the half-day cruise is the Bolghatty Palace Hotel , originally built by Dutch. It is situated in an island on the backwaters.
Vypin one such island 27 km long was accessible only by boat, till very recently. Its western coast is a long beach The northern tip of Vypin has a large fishing harbour called Munambam. Now the island is a fast developing suburb of Kochi. A series of bridges known as Goshree Bridges connects Vypin to Marine Drive, Kochi on the way connecting two other islands along. There are regular boat services connecting Vypin to Fort Kochi.
Vallarpadam Container Terminal at Night: Image from Wikipedia
Vallarpadam one of the islands traversed by Goshree Bridge is where India's first International container trans-shipment terminal (ICTT) is located in the Special Economic Zone. This terminal has given a big boost to Cochin to develop into the Southern Gateway of India. Now vessels from foreign lands can decargo at the Terminal. The Basilica of our lady of Ransom, an important pilgrim center, is located here.
The Bolgatty Island is also connected by the Goshree Bridge. By boat it takes just 10 minutes from the High Court corner. The attraction here is the Dutch style Bolgatty Palace, now a luxurious hotel with its own golf course. Recently a Marina with international standards has been set up there for promoting yacht tourism in Kerala.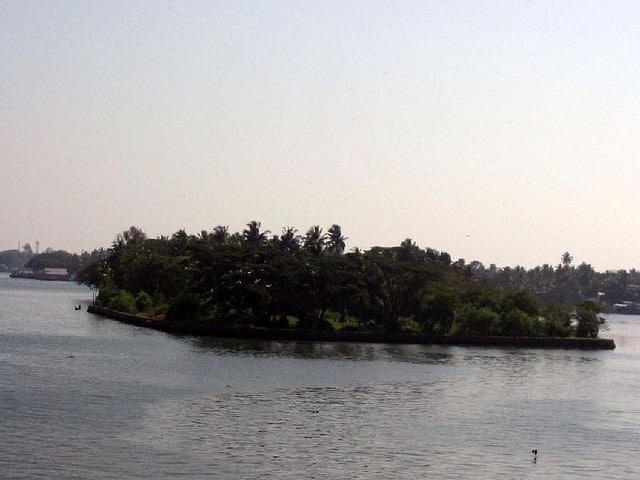 Gundu Island, Cochin: Image by A – Jay via flickr
Gundu island is the smallest island in Kochi.. It has an extent of only 5 acres. You can reach the island by boat from Vypin. It is now a resort owned by the Vivanta group (Taj Malabar Hotel). Earlier, there was a coir factory where workers used hand made looms to weave coir carpets.
Kumbalangi tourism village is a small island in the west near the port city of Kochi. It is eco-tourism project and demonstrates tourism can be done without damaging the environment. Mostly a fishing place, it is of interest to those who care for nature and ecological balance. The abundant mangrove provides the right setting for marine life.
Kumbalangi at Sunset: Image by hey!jude via flickr
It is a model village project by the Government. The Chinese fishing nets can be seen from close. Kalagramam the artists' village is a place to see there. They craft pretty things out of wood and natural raw materials. You can buy fishing equipment also.
The villagers love to show their ways of fishing, farming, making of coir objects and even encourage us to participate. There are clean and comfortable home-stays available if you want to spend a night there.
I am sure Cochin, the queen of Arabian sea, will not disappoint you.
Here is the complete list of articles in Kerala backwater series.
2. Exploring Kerala Backwaters : Kumarakom
3. Fishing…For Fun at Njarakkal Aqua Fish Farm (Part of Kochi Backwaters)
4. Traversing Backwaters of Kuttanad
5. Feel the Beauty of Kollam Backwaters
6. Discover: Backwaters of Kochi
7. Unveiling the Charm of Alleppey Backwaters