13 Best Seafood Cuisines From India That Would Make Your Mouth Water
Seafood primarily refers to fish and shellfish, and it's an important part of cuisines all over the world. The method of preparation and the usage of spices may vary, and it's often attached to the culture and tradition of that particular country. Seafood, also known as sushi, first originated in Southeast Asia and then spread to Japan, Israel, Greece, Rome, Europe and eventually India. Seafood cuisines of India are famous through out the world.
Now India consists of a variety of exotic fishes and a delectable variety of seafood varieties. The coastal regions of the country present sumptuous meals to its visitors, some of which are described in the list below.
1. Shrimp Cooked with Grilled Onions as seafood cuisines of India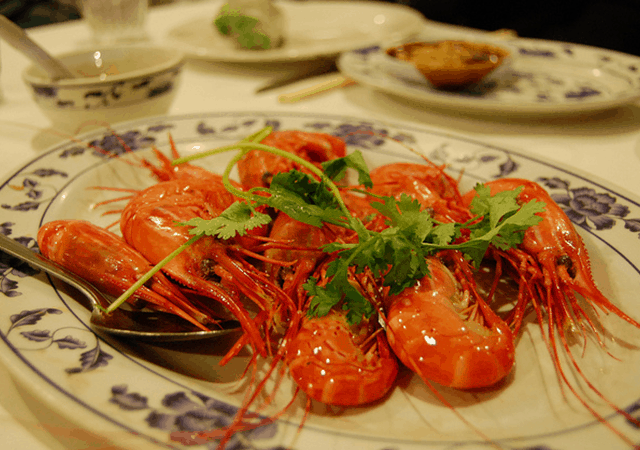 Image by stu_spivack via Flickr
Shrimps and prawns are fairly popular in India and is a famous seafood cuisines of India.  Shrimps are smaller when compared to prawns, and they are an important ingredient in several recipes. Every food connoisseur must taste this dish as it is an all-time favorite in the country. The fact that it is a low-carb meal and gluten free makes it all the more attractive to people looking to conjure up a super quick dish.
2. Konchu (Prawn) Pollichathu (Kuttanadan Special)
This is a special dish from Kerala is one of the seafood cuisines of India. Konchu Pollichathu or roasted prawns in spicy, tangy gravy from Aleppey, is a raved dish, and you can enjoy it while visiting touring Aleppey or while traveling in a houseboat. Pollichathu means 'burnt', and the prawns themselves are prepared with a great deal of expertise. First by marinating them, and then dunking them in spicy tangy gravy over hot coals. The dish is a dream with rice, roti and appams.
3. Prawn Biriyani as seafood cuisines of India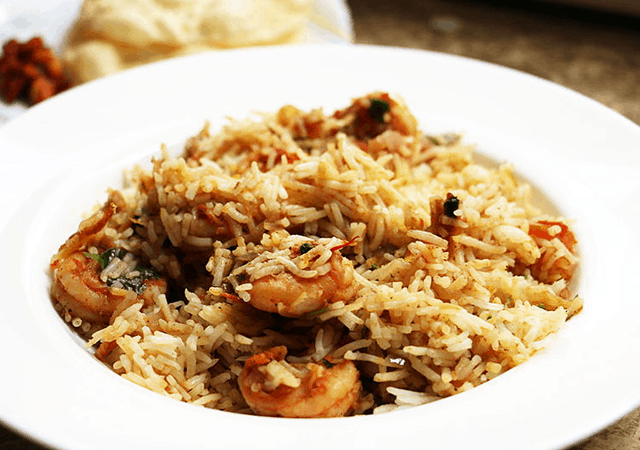 Image by Renupradhul via Wikimedia
Prawn biriyani is a traditional dish made with an array of aromatic spices and rice and cooked to perfection. It is a perfect and filling meal that can be taken as lunch or dinner. Though yogurt can add flavor to the biriyani, several people add coconut milk to render exceptional taste and flavor.
4. Chili Squid Pasta with Roasted Tomato Sauce
Pasta with squid and roasted tomato sauce does sound a whole lot yummy. This is of the major seafood cuisines of India. And when you eat it, it is even yummier. The dish is made with fresh squid rings and mushrooms tossed with chili flakes, oregano, thyme, paprika, and cooked penne. The tomato sauce is made from roasted tomatoes, onions and garlic, adding to the flavor and taste. Parmesan cheese is grated on top for added taste.
5. Goan Shrimp Curry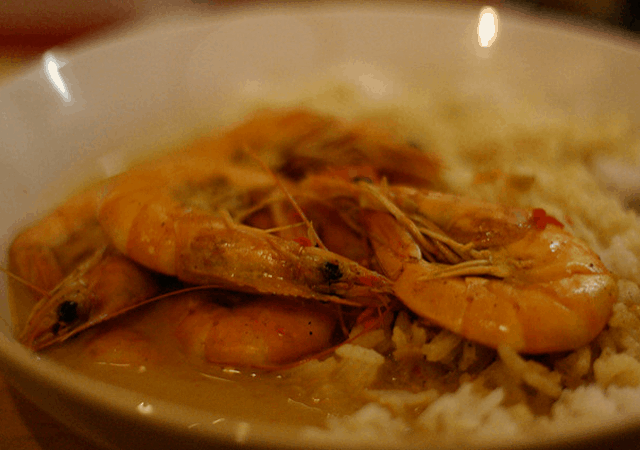 Image by James Savage via Flickr
When you are visiting Goa, you must try their authentic seafood dishes, and shrimp curry is one of them. It is a nourishing dish you can have with rice or roti, and the spicy, sour flavors stay on your tongue long after you've relished it. With out tasting seafood cuisines of India, don't leave Goa too.
6. Shrimp-Prawn Pickle as seafood cuisines of India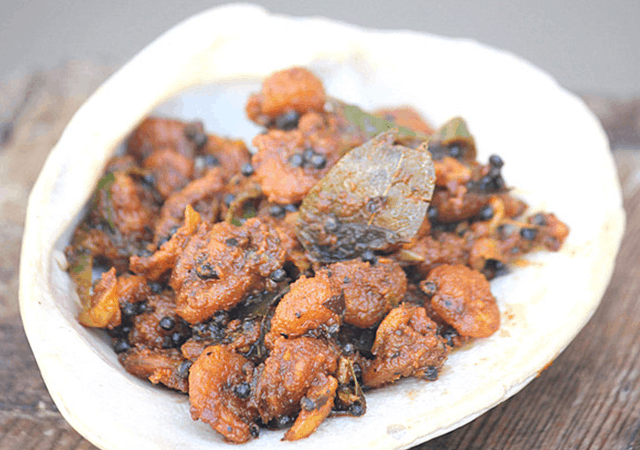 Image by s4's world via Flickr
If you are a fan of pickles, you would definitely love the Shrimp-Prawn pickle. Goans and Mangoleareans make the pickle in their own styles, and you can enjoy a taste of it if you are visiting these places.
7. Crab Cake
The crab cake is a kind of fishcake and is actually a popular dish in the US. This is also a seafood cuisines of India.  But now, you can find it in several good hotels in India as well. It's made with crab meat, mayo, bread crumbs, mustard, eggs and finally, seasoned. A delicacy you must try and you can enjoy your choice of meat as sautéed, baked, grilled, deeply fried, or broiled.
8. Lobster Masala as seafood cuisines of India
Lobster Masala is an indulgent dish that would make your taste buds come alive. The taste enhances when you use freshly ground spices and freshly grated coconut. This is a not to be missed seafood cuisines of India.
9. Spicy Clams Mangalore Style
Image by pointnshoot via Flickr
A dish of spicy clams made in Mangalorean style is also known as Kube Such, so you can ask for it while visiting the city. It is amazingly delicious, especially if your host uses fresh clams. This is actually a traditional dish prepared by the Protestant Christians of Mangalore – it's spicy and contains coconut. As the clams are cooked in their shell, the taste and flavor are retained to the max.
10. Oyster and Wild Mushroom Stew as seafood cuisines of India
Oysters and wild mushrooms are an irresistible combination that would make your mouth water. When made with smoky bacon and cashew cream, the dish becomes even more delectable.
11. Seafood Spaghetti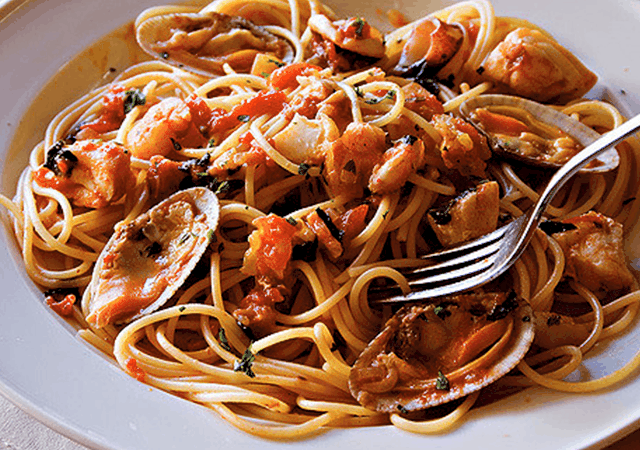 Image by Benjie Ordoñez via Flickr
Seafood spaghetti is practically a dream dish. Lobsters, squids, prawns and scallops are cooked in white wine and mildly flavored tomato sauce. Once the dish is done, basil is sprinkled over it for added flavor and taste. The incredible taste of the dish is enhanced with fresh ingredients and spices used.
12. Oyster/Mussels Fry Malabar style
This is also a Kerala style dish, prepared in the Malabar region, so if you are anywhere in the area, give it a try. It's painstakingly prepared, and the taste definitely proves its worth. You must make sure the mussels are properly cleaned before you eat them, so it's better to eat them only from good restaurants.
13. Squid Masala with Coconut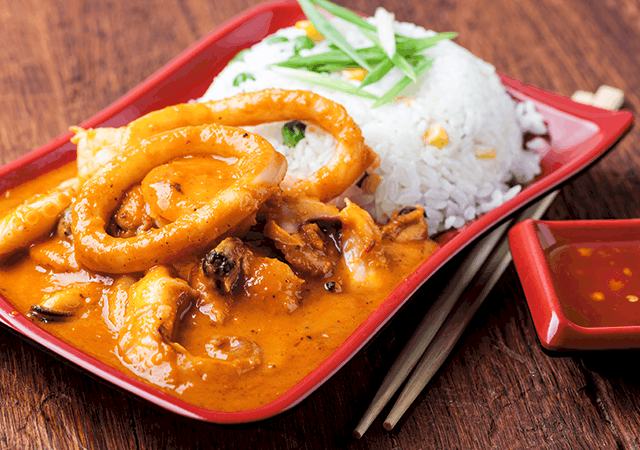 When prepared in Kerala style, Squid Masala with coconut is a dish that's raved by thousands. The roasted coconut gravy and the rich spices, freshly ground, are what adds the special flavor to the dish, and it goes well with plain rice.
Conclusion
Seafood is good for the body and for the immune system. It is a storehouse of vitamins and minerals, especially, B-complex vitamins, vitamin D and vitamin B. Prawns, shrimps, lobsters and squid are highly nutritious too as they are enriched with Omega 3 fatty acids. If you are a lover of seafood and enjoy sampling different varieties of various seafood dishes, go ahead and try these.
If you like this post, please share!!!