Bird Sanctuaries of Kerala
Bird Sanctuaries of Kerala is ever attracting one for the bird watchers. Almost 28% of the total land area of Kerala state is forest…yes, dense tropical forest. So naturally, it is home to many species of birds and animals. Many of these forest areas are now protected and declared as wildlife sanctuaries and reserves.
Pond Herons: Photo by challiyan via flickr
In this post, lets explore the important bird sanctuaries of Kerala.
Thattekkad Bird sanctuary, Ernakulam
Thattekkad is a more or less flat forest area spreading across 25 sq km between two tributaries of the river Periyar, with some evergreen dense forests. The bird sanctuary is named after its founder Dr.Salim Ali, a great ornithologist. It is home to more than 300 species of birds. Many rare birds, forest birds as well as water birds live there or visit the sanctuary. The nocturnal Frogmouths,colorful Pompadour Green pigeon, whiskered terns have been sighted here. It is winter home to Indian Pitta. If you are lucky you may come across some rare birds like bee-eaters, shrikes, gray hornbill , barbets etc.
"Cuckoo Paradise" is a unique region where cuckoos converge to make their nests. Large Hawk Cuckoo is the biggest with a heavily streaked throat. Butterflies of various hues are an additional bonus. The sanctuary is hardly a two-hour drive from Kochi with a ferry ride at the end. The evergreen forest of Edamalayar is only 15 km away from here. The majestic Mountain Hawk eagles and needletails, both brown and white are often seen here.
Kadalundi Bird Sanctuary, Kozhikode
Its a cluster of islands where the Kadalundi river joins the sea. This place is the haunt of migratory birds such as herons, terns, sand pipers and Whimbrels.  Siberian cranes have been reportedly seen here. The birds come visiting in November and stay till April and naturally it is the best time to visit.
The locals sell fried fish, mussels and crabs to the visitors. Kadalundi Bird sanctuary is around 19 km from Kozhikode (Calicut).
Kumarakom Bird Sanctuary
This is a convenient place to visit ; it is only 14 acres in area along the southern bank of Kavanar river. There are well laid out paths inside the sanctuary to move around. You can also take a boat ride bird watching in the Vembanad Lake.
The birds excel in variety with lots of local species like cuckoo, egret, kingfisher, cormorants etc. The migratory birds such as teal, lark travel great distances from Himalayas and even cranes from Siberia fly all the way to come here.
A walk or trek in the early morning is an unforgettable experience, which should not be missed. The place is 106 km from Kochi. There are comfortable resorts nearby to stay.
Mangalavanam Bird Sanctuary
Nowhere else does a bird sanctuary exist in the heart of a city? It adjoins the backwaters of Kochi and the Arabian Sea. Mangalavanam, behind the High Court of Kerala, with its variety of mangroves and migratory birds nesting in them is unbelievable! It is often referred as the "green lung of Cochin city".

Mangalavanam Bird Sanctuary : Photo by  Ray John George via flickr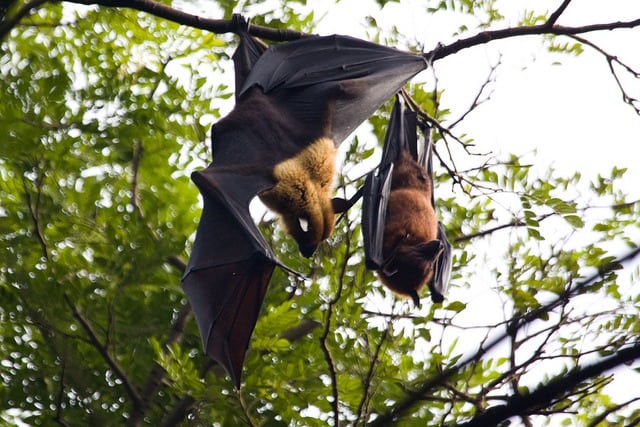 Indian Flying Fox at Mangalavanam Bird Sanctuary : Photo by Ken-ichi via flickr
About 72 species of birds have been recorded here. Apart from this other animals such as flying fox, painted bat, uncommon fish and a whole lot of butterflies live here. An example of peaceful co-existence of the animal world! A shallow lake in the middle provides a watering place for the fauna. As it is in the boundaries of a cochin city, getting transport to visit here is no problem at all.
Pathiramanal bird sanctuary
Pathiramanal is a small island located in the great Vembanad Lake. So your sense of wonder is aroused right from the beginning as you cruise in the lake to reach the place. From Allapuzha or Kumarakom, you can travel by boat enjoying the lake and the enthralling beauty around you.

Pathiramanal : Photo by Shameer Arattupuzha via flickr
The name of the island means "midnight sands" probably given by a romantic who spent a night there. A true birdwatcher may call it paradise; for there are about 90 local species and 50 migratory birds seen there. Egrets of different sizes, purple heron, terns , ducks, geese live there. There is a chance to spot stork-billed kingfisher and even the rarely viewed Monarch Flycatcher there.
If you love birds, then visit to one of these awesome bird sanctuaries should be a must in your itinerary.
And…we love to hear from those who already visited these places!! How many types of birds were you able to see and identify?