Top 10 Ecotourism Spots in Kerala
Geologically and ecologically fragile, pristine and exotic natural environments should be handled with kid gloves by man. His duty is to support conservation efforts, so that the endangered fauna and flora do not suffer at his hands. Man should not intervene in the life style of the tribes who may have made it their natural habitat. They draw sustenance from the ecology without harming the factors that contribute to its maintenance.  Here are some of the Ecotourism Spots in Kerala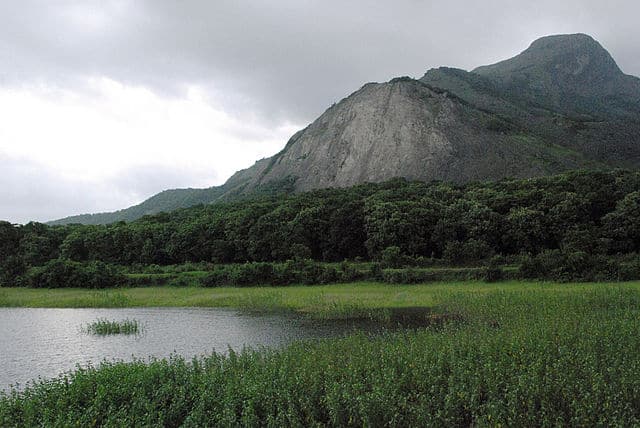 Image by Alosh Bennett via Flickr
Tourism should be at a similar level, without harming the ecology and natural balance of the site; or else it can bring disaster to all. Kerala Government seems to have realized this fact at last.  Eco Tourism Projects that got started by government has gained immense popularity as they offer lot of facilities and things to do in those places.
Let me share top 10 Eco-tourism spots spread across the state. These places are where you can experience nature to the fullest!
 1. Thenmala
This range of "honey hills" so called due to the medicinal honey obtained from there, lies at an altitude of 1650 ft extending over acres of dense forests. The area houses various zones to cater to differing tastes of the visitors. The terrain is rough and Eco-fragile; so zones for activities are demarcated. This is one of the Ecotourism Spots in Kerala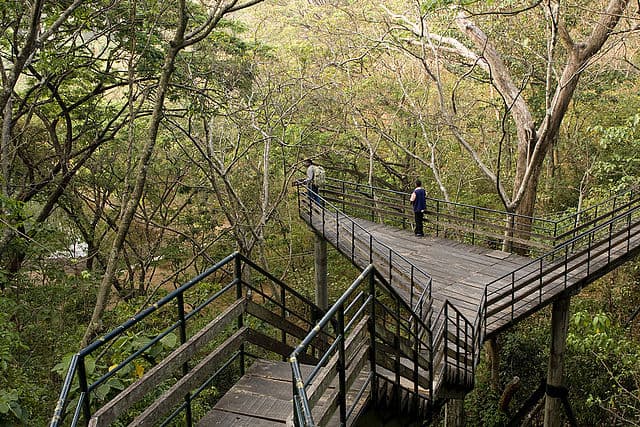 In the leisure zone, you can choose some of the nature trails and take leisurely walks observing the flora some of which you have never seen before, stop and admire the occasional waterfalls, sit down and enjoy the picnic fare you brought along. Stroll on the boardwalk made of pieces of wood, looking at the stream below. You can also visit the sculpture garden "Man and Nature".
The Canopy walkway, an elevated path in the adventure zone should not be missed. There is a 1000 m trail for mountain biking. Rock climbers can enjoy their hobby as pegs and ropes are provided. You can do an exciting river crossing using rope bridges, make a trust fall or pedal a boat. There is a Deer Rehabilitation center nearby where you can get friendly with the stray deer. Enjoy local art forms and performances at the amphitheater or shop from the shop court for souvenirs.
Thenmala is equidistant from Kollam and Thiruvanathapuram and takes about 2 hours to reach there from both the cities.
2. Konni
Konni village lies on the banks of Achankoil River. The forests around Konni were one of the first reserve forests in Kerala. There is an abundance of rivers and streams in the area and diverse flora that includes many medicinal herbs which are fast disappearing from the face of the earth. Aboriginals lived here once; their simple lives had never upset Man-Nature equilibrium. This is one of the Ecotourism Spots in Kerala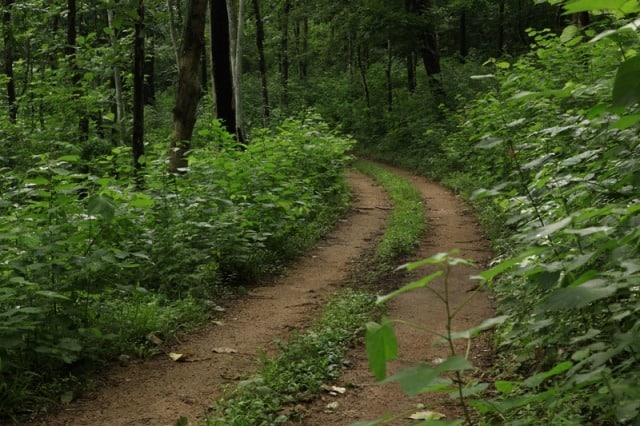 Konni is mainly associated with "Aanakoodu" a camp for elephants where they are trained. Tourists can view the taming; even participate in feeding them and bathing them. Rides are provided. An elephant museum has also been set up.
This location is the hub for ecotourism activities, such as trekking accompanied by trained guides to interior camp sites. Treks of half day, whole day and two days are possible. The last mentioned takes you to Manalar-Kumbhavarutty, a refreshing waterfall deep inside the forest. This is one of the Ecotourism Spots in Kerala
Konni is 10 km from Pathanamthitta, the district head-quarters.
3. Parambikulam
It is one of the best Eco-tourism spots in Kerala. This Wildlife Sanctuary is spread across 277 sq km between ranges of hills. The Teak plantation here is scientifically managed. Kannimara Teak tree is the tallest and the oldest at 350 years. This is one of the Ecotourism Spots in Kerala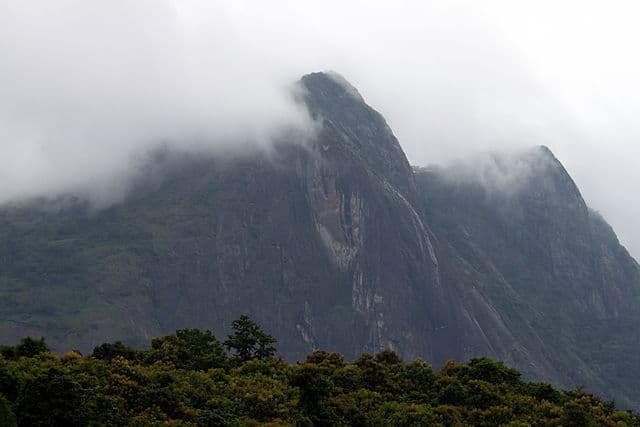 Karimala Gopuram, Parambikulam
Among the calm greenery rise many peaks, the tallest being Karimala Gopuram, 4,718 ft tall. Vengoli peak is climbable without much hassle. There are 3 dams in the area. Thus the sanctuary sports a series of reservoirs interconnected by tunnels, rivers and canals.
The place is exciting for wildlife enthusiasts, bird watchers and botanists. Deep inside the sanctuary live rarely seen animals such as lion-tailed macaque and Bengal tiger. 250 species of birds have been identified. Floral diversity is something to write home about. 1320 species of flowering plants including orchids! Amazing!
Activities are plenty to choose from according to your energy and interest.  Soft, medium, tough and adventure trekking trails of different length, duration and difficulty present you with a choice. For any trek you need permission and a tribal guide. Thunakadavu and Parambikulam lakes offer boating and rafting. You can camp out in the forests or stay in a watchtower and view the animals.
Varied accommodation are available such as tented cottages, treetop huts, dormitory, Forest Inspection Bungalows, rooms on an island. What more do you want?
Parambikulam lies in Chittur Taluk of Palghat District.
4. RhodoValley
As the name implies, rhododendrons flower profusely in this high altitude locale in Munnar.  This "Silent Valley" plateau, covered with grass, is home to many endangered species of animals. To enjoy the scenic beauty one has to trek along some of the many trails that start from Silent Valley Tea Estate.
There are a number of packages with fixed tariffs lasting from one day to 3 days. The treks touch Land's End Camp, Lake View camp and Rhodovalley Camp. A two-day trek halts for the night at a forest hut and returns through Rhodo valley and back home.
Next to the KFDC office on Mattupetty Road is an orchidarium and garden. A trek from Rajamalai through thick shola forests will land you at the orchid farm at Kadalar. Part of the way is traversed by jeep. There are some beautiful lakes nearby. There is dormitory accommodation available. There are few comfortable resorts nearby too! This is one of the Ecotourism Spots in Kerala
5. Thommankuthu
The topography of the place is as strange as its name. It consists of a seven-step waterfall from 1500 m to 500 m spread over a distance of 5 km.  At each step there is a cascade and a pool beneath. There are dark mysterious caves in between. Naturally tourists rush to this spot for a rarely experienced treat. It is only 20 km from Thodupuzha.
If you are game, you can trek 12 km to the top of the mountain where the waterfall starts. But you can enjoy as much in the shallow pools lower down. Go boating, bird watching and camp for the night. For those who prefer comfort stay, there are a number of hotels in Thodupuzha. Even a farm stay is available nearby. This is one of the Ecotourism Spots in Kerala
Cochin International Airport is 70 km from Thodupuzha.
6. Aralam
This wildlife sanctuary is the northernmost sanctuary of Kerala lying 45 km to the east of Kannur. The extent is only 55 sq km. It is a bio-rich forest range with large Teak and Eucalyptus plantations. The tallest peak Katti Betta rises to a height of 1145 m. The forest is mostly evergreen with diverse fauna and flora. The Aralam State Farm adjoins the Sanctuary. This is one of the Ecotourism Spots in Kerala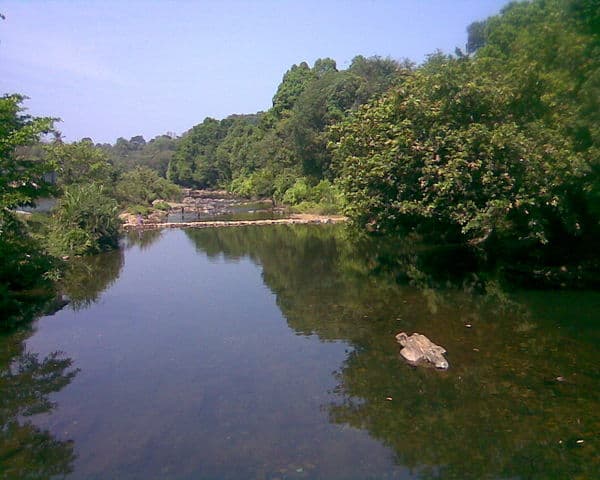 Image by Manojk via Wikipedia
An overnight stay in the forest watchtower may give you glimpses of wildlife such as leopards, elephants, bison and other wild life. Meenmutty waterfall is near the watchtower and you can relax there during the day. You can also trek 14 km from Valayanchat to reach Meenmutty. Aralam River flows calm; a picnic on its banks would be pleasant.
There is dormitory accommodation at Aralam : also rough night camping at Meenmutty. Proper facility for staying is in Iritty town, 20 km from the sanctuary. This is one of the Ecotourism Spots in Kerala
 7. Eravikulam National Park
This Park at an altitude of 7000 ft lies 16km north east of Munnar. The fauna and flora is diverse; special emphasis is to be placed on the Nilgiri Tahr a type of wild goat seen only in this area and also the rare butterflies including the Atlas moth. 5 species of mammals seen here are endemic to Western Ghats. Over 100 species of birds and butterflies have been sighted here.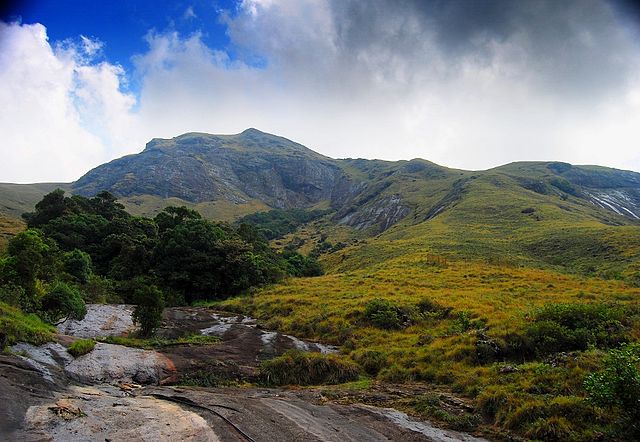 Image by Arayilpdas at ml.wikipedia
Trekking and other activities are allowed only in the tourism zone which can be reached by vehicles. The view from the top is marvelous. Guests can undertake treks along many a trail from here. A one-day trek from Lakhom falls is worth the try, at the end of which you can view the Anamudi Peak, the highest in the Western Ghats. You may stay overnight at the Log House and rest your weary feet.
Fishing is another pastime in the park area. Rainbow trouts are abundant in the streams. If you explore the upper valley you'll land in the shola grasslands, adorned with balsams and orchids.
For stay you can opt for the Government Guest Houses or the many resorts in Munnar. This is one of the Ecotourism Spots in Kerala
8. Peppara  Sanctuary
This area of mixed forests is about 50 km from Thiruvanathapuram. It covers an area of 53 acres which includes a dam, thick forests, rocky terrain with rich fauna, and sparkling streams. There are some tribal settlements here and there.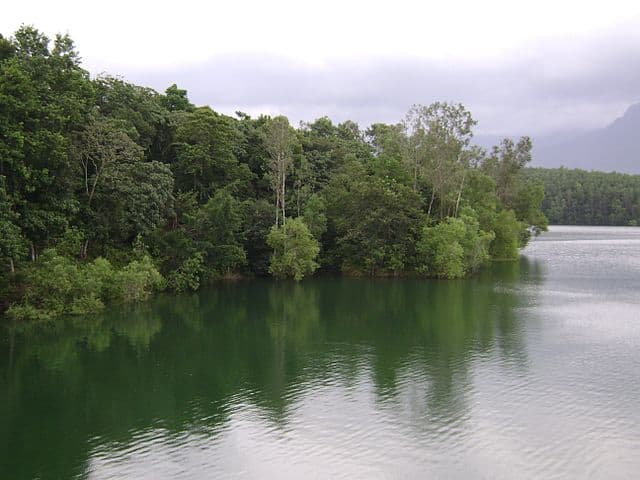 Image by Shadow auror at Wikipedia
Birdwatchers and butterfly lovers will find this place especially attractive. There are plenty of water birds also, so any trekker or sightseer will find the place satisfying. Treks require previous permission. The sanctuary also supports wildlife such s tigers, panther, lion-tailed macaques and Nilgiri Langurs.
Ponmudi Hill Station and Meenmutty waterfalls are quite near from Peppara. This is one of the Ecotourism Spots in Kerala
9. Periyar
"All things wild and wonderful", (the title of a book on his veterinary practice by James Herriot) – that is how Periyar can be defined. Thekkady with the big lake in the middle brings pictures of herds of elephants, whole families of all ages strolling gracefully in their natural habitat. A cruise in this 26 sq km man-made lake is a comfortable way of watching the wildlife around.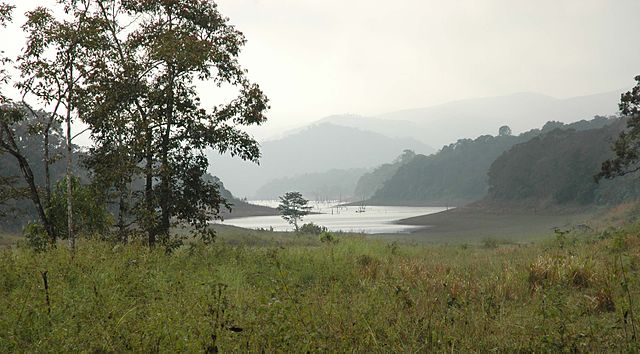 But the ecotourism activities designed are more thrilling at Periyar Sanctuary, a tiger reserve in Thekkady than at the lake.
A nature walk accompanied by tribal trackers along selected trails takes you through a variety of flora comprising many species of flowering plants, rare orchids, birds and butterflies in the forests. Twice a week a protected trekking and camping activity for a group of 5 along the Tiger trail is provided in the company of reformed poachers who know every nook and corner of the forest. You may sight a tiger from a safe distance. A night patrol with armed guards is an exciting opportunity to feel the "dreadful thrill "of the wild.
Do not miss bamboo rafting. It is a dawn to dusk combo of trekking and rafting. Unforgettable experience indeed!
If you want the true feeling of life in the wild, stay at the eco-lodge in tents, tree houses or thatched cottages. The lodge is located in a vast bamboo grove.
You can read this post for all information about Thekkady and what to do there : My Travel Experience to Thekkady
10. Gavi
A two hour jeep ride from Kumily, passing through exemplary scenic beauty takes you to Gavi a must-see for bird watchers. There are a lot of tea and cardamom plantations, forests, waterfalls etc, which you can view on the way or stop and spend some time.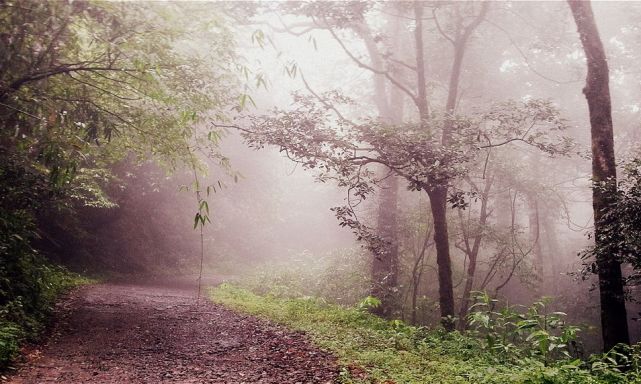 On the way to Gavi : Image by Tootapi via Wikipedia
Besides bird watching, visitors can go boating or canoeing in the Reservoir lake. The trekking trail to Pullumedu Peak ends with a panoramic view including the famous shrine of Sabarimala. The adventurers can hike to Meenar or Valley view and gaze in awe at the deep ravine below. You need to have a local guide and "elephant chaser "accompany you.
The most exciting thing to do is night-camping in the forest, which is possible in Gavi. You can stay in the eco-lodge overlooking the Gavi Lake and forests. You may also stay in a tree-top house or to say honestly that you lived right in the forest; pitch a tent in the wilderness.
Kerala Tourism Department has realized the significant advantages of environment friendly tourism and taken steps to develop it. Such nature-oriented travel induces man to think deeply of how pristine and green the earth was when humans did not avariciously snatch resources meant for other living things. While visiting such a spot, any honest person will condemn man's cruelty to nature, the animals and the vegetation and will definitely start thinking about ways to preserve the Mother Nature.