Elephants at Periyar Wildlife sanctuary: Photo by Exodus Travels  via flickr
"Sons Of Sahya" as they are called, the elephants of Kerala live in the lower regions of the Western Ghats.(sahya is the name of Western Ghats in Sanskrit). Their natural habitat are the cool forests with moist leafy undergrowth suitable for the soft skin of their feet. They move in herds headed by a strong male with a few females and babies. Mostly they are on the water trail which is fixed for the group. Beware of the loner who is the male kicked out from a herd by a young stronger male! He is looking for trouble!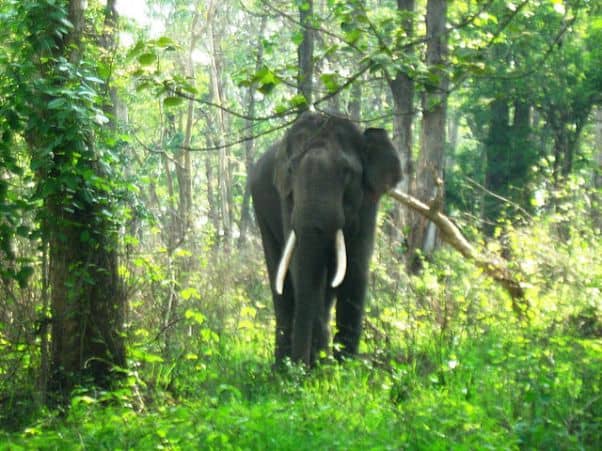 Mature male elephants are loners : Photo by moorthygounder  via flickr
Elephants have been much honored since old. They were used for temple festivals and were associated with the Divine. The Hindu God Ganesha has the face of an elephant; many legends depict an elephant coming to the rescue of devotees. A ring made with the stiff hair on its tail is said to ward off dangers. Children made to walk under an elephant are said to become fearless.
Only the royals or a few rich landlords owned them. They were used mostly for temple festivals. Their welfare was of utmost concern for the owners of elephants. Occasionally their service was needed to pull logs from forests.
No temple festival is complete without the awe-inspiring presence of richly caparisoned elephants. The decorations in some cases are made of gold and silver, the rest are gold-plated. The famous  Thrissur Pooram is a fantastic spectacle, the main attraction being the 30 bejeweled  elephants wearing bells and necklaces, standing in 2 rows facing each other with a large space between  them. The person holding the replica of the Deity mounts the tallest elephant in the center. Every elephant is adorned, and men carrying sequined silk umbrellas, peacock feather fans and swaying white tufts sit on them. An orchestra of Kerala instruments present on both sides offers renditions which are much appreciated by the aficionados.
At the famous Guruvayoor Temple devotees offer elephants to show their gratitude. The temple has a palace for elephants 3 km away where they are well cared for.  60 elephants are camping there.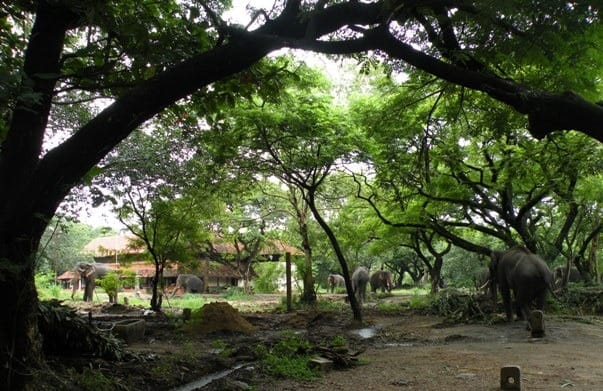 During the monsoon, they have time to enjoy the rejuvenation treatment. 3 men/ animal are employed for training, washing and feeding. They are called "mahouts". It is a common sight in central Kerala to see elephants relaxing in water-bodies when the mahout rubs then with coconut fiber. They love water; take it in their trunks and blow it over themselves.
A Side Note: A Peep into the Present Scenario
These days the poor animals are coerced to work under inhuman conditions. Some owners are only after the money. They get a good amount by lending them for all kinds of festivals and processions and also for timber works. They are made to walk long on hard surfaces under torrid heat which is unbearable for them. The crowds, the fire crackers, the long walks disturb them to such an extent that they sometimes become uncontrollable. We see so many such reports on newspaper.
Often the first to be attacked is the mahout .Why???
Their water-trails have been usurped by the grabbing mentality of man. Is it any wonder that elephant attacks on " farms" are often reported?  Who is to blame?
These questions often get…no answers; not from the authorities , not from the people who make money using these poor creatures.
Yet they find a place of honor in the emblem of Kerala Government…also in the hearts of many elephant devotees. Many are working for its conservation and also for uplifting their living conditions.
I urge you all, to take a stand against the inhuman treatment of elephants which are literally Kerala's pride.