13 Exotic Souvenirs of Kerala
Souvenirs are keepsakes or tokens of remembrance of some cherished memories, one experienced in the past. And traveling is often a time we accumulate lot of happy memories.  Who doesn't enjoy narrating travel tales with supporting evidence to boot, such as photographs, ethnic artifacts from a distant land? Souvenirs of Kerala provide details of this
Of course some of the items maybe of sentimental value which only the owner appreciates; an outsider cannot grasp their significance. Well, I love collecting curios, jewelry and other interesting objects which are unique to the place I am visiting. It adds to the travel experience!
In this article, I would like to mention some of the souvenirs that are unique to Kerala that a tourist visiting here may prefer to take back home.
1. Coir Products
Coir products are made from the fibres extracted from the husk of coconut.  Coir making is a laborious process but it's widely popular for their bio-degradable composition and long life. Coir products, mainly doormats are popular and sold widely. The price and looks depend on the way the fiber is extracted from the shell of the coconut and the quality of the fiber. This is one of the Souvenirs of Kerala
2. Coconut Shell Handicrafts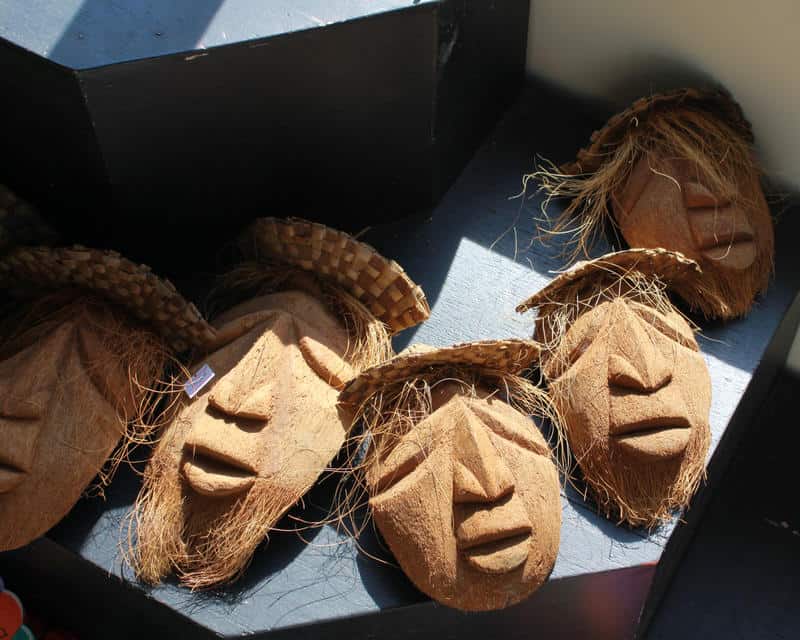 Image by Denishc via Flickr
Kerala got its name from the abundant coconut trees all over the landscape. Every part of the tree has some use to a Keralite. So this affinity for the coconut  is reflected in the objects of art they fashion.
The shell of the coconut is hard and not at all easy to work on.  The artisans smoothen and cut or carve to make useful and eye-catching articles. The bowls, cups and ladles can be used for long and thrown away. There are table lamps made of shell with overlaid metal work which are things of beauty. Coconut shell is bio-degradable; so these products are eco-friendly! This is one of the Souvenirs of Kerala
3. Elephant  Figurines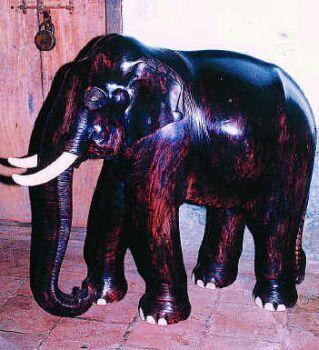 Elephant, the State animal naturally finds a place.  As it is not practical to take back a living specimen, you will have to be satisfied with a replica!  You won't find such perfect replicas of this huge animal anywhere else. From decorated ones to plain; from small to big, you will have ample choice when visiting handicraft stores. This is one of the Souvenirs of Kerala
4. Nettipattom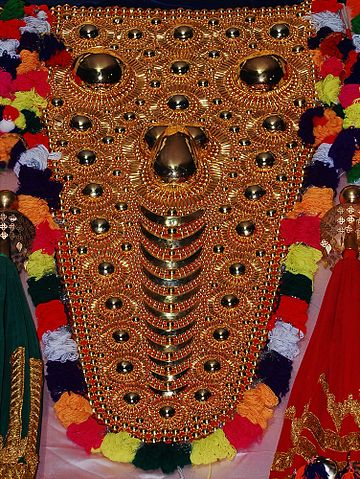 Image by Challiyan via Wikipedia
The glittering ornament worn on the forehead of the elephant called Nettipattam, is of regal lineage and looks. It is crafted from gold and copper. The front line sports golden crescents. Imitations are available, that can be used as wall hanging and small ones to hang behind the front glass of the car. This is one of the Souvenirs of Kerala
5. Nilavilakku (Traditional Lamp)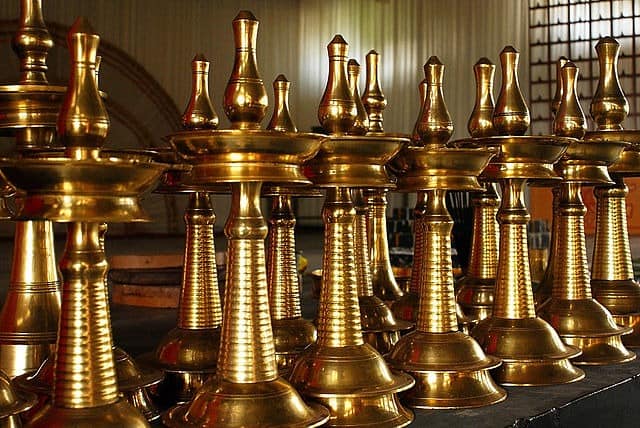 Image by Suniltg at ml.wikipedia
Another exotic thing you will get in Kerala is the "Nilavilakku" (lamp on the floor) which is lit during every auspicious occasion; in temples before the worship starts; at the beginning of almost all official and unofficial functions.
It is a must, during dusk in Hindu households in Kerala. Nilavilakku is lit in the front courtyard to destroy the darkness in our minds, before the lights are switched on. The lit lamp invokes blessings. You can buy such lamps of all sizes. They are cast in bronze or bell metal. This is one of the Souvenirs of Kerala
6. Kasavu Sari ( Kerala Sari)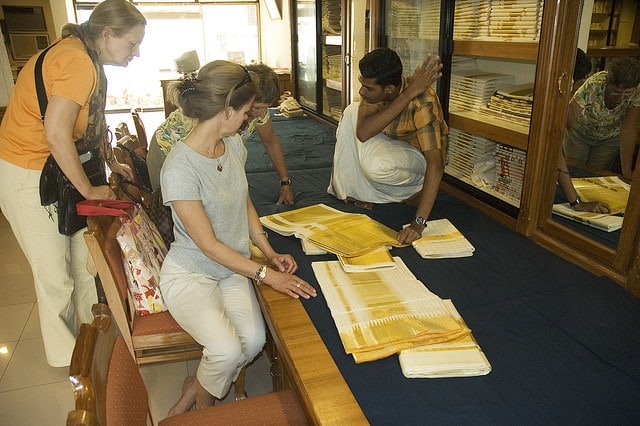 Image by hceebee via flickr
A piece of the Kerala woman's wardrobe is a Kasavu sari, worn on special occasions. It is woven from fine cotton and edged with gold and copper jari. The sari retains the color of the yarn which is beige-white. She wears this simple elegant attire even as a bride. The wedding sari has thick wide gold border and is worn with a similar blouse. This is one of the Souvenirs of Kerala
7. Aranmula Kannadi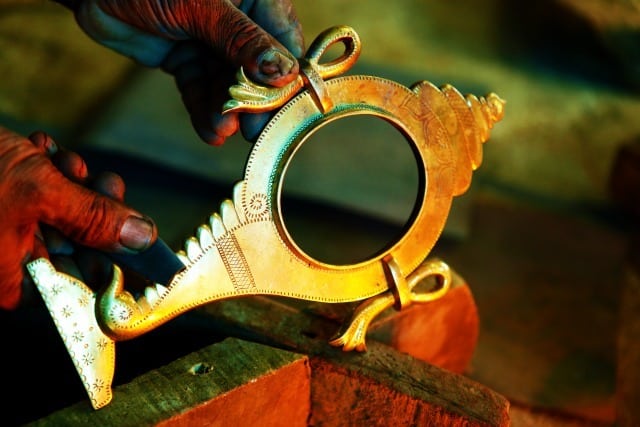 Aranmula Kannadi (mirror) is made only in Kerala, that too by a particular family who keeps the composition of the alloy a secret. It is not silvered glass, but made from a metallic alloy. It requires a lot of effort, so it is priced high. It is said to bring great prosperity to those who possess it. Its best to buy it from the family workshop where it is made. This is one of the Souvenirs of Kerala
8. Nettur Casket (Nettoor Petti)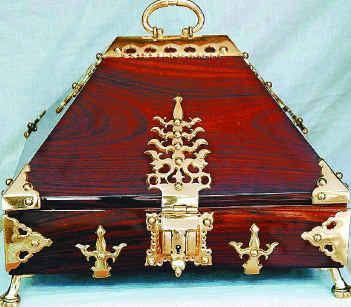 Nettoor Petti Replica : Image Courtesy Bizhat forum
Nettur casket is a hand-crafted jewelry box of old times. It used to be made of the best wood such as teak and colored and richly ornamented with brass. Some old families possess the originals, they were smart enough to keep them safe. These days new cheaper versions are made for sale. They are available in handicraft stores. This is one of the Souvenirs of Kerala
9. Uru Models
Beypore in Calicut is famous for building wooden ships known as Uru or Dhow which were the trading ships used by Arabs. These shipbuilding yards still exist. You can find miniatures of these Uru's for sale in many arts and crafts shops across the state.
10. Snakeboat Models (Chundan Vallam)
Snake boats or rather Chundan Vallams are made of Anjili wood and have raised sterns resembling the hood of a cobra. Models of snake boats used at traditional boat races are a good buy when you come to Kerala. You will get them in varying sizes and adornments.
11. Spices of Kerala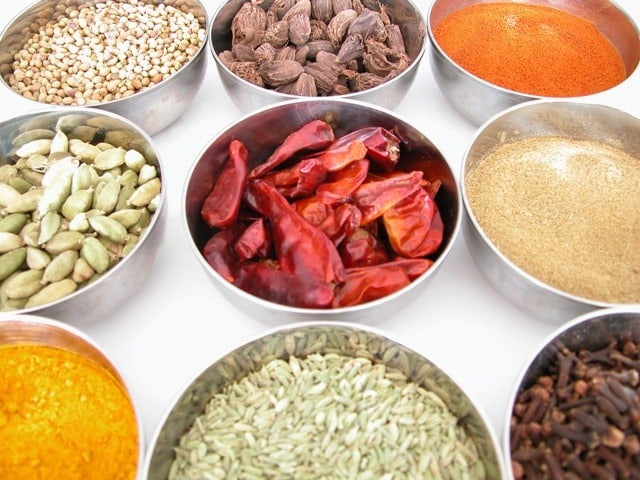 Gift yourself and your friends a small packet of Spices from Kerala . Kerala is famous from the ancient times for spices like black pepper, cardamom, cloves, dried ginger etc. You can buy these spices individually or buy them as a single sachet with assorted spices.
12. Mural Painting (Temple Painting)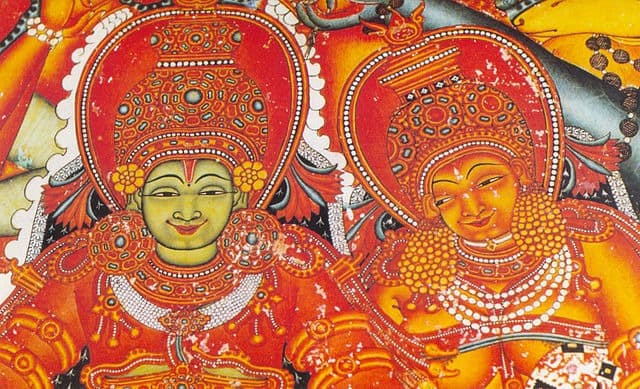 Image by Sivavkm via Wikipedia
Kerala is also famous for the rich and colorful temple paintings commonly known as Mural paintings. Walls of ancient temples, palaces and churches of Kerala can be seen adorned with Mural arts depicting mythology and legends pertaining to that locale. It takes lot of dedicated effort to create this wonderful visual art. You can buy them from handicraft shops or order them directly from noted mural art creators.
13. Kathakali Masks
Source: marrymeweddings.in via Chantel on Pinterest
A variety of masks are sold in Kerala.  Masks of dance performers of Kathakali and Theyyam are the most popular. Special emphasis is placed on a certain facial feature and its expression while creating these masks. The material used can be wood, metal or papier-mâché ; they are painted using natural extracts or artificial paints and laminated by sap from the pine or some glazing material.
Kathakali mask merits special mention as it can be called an icon of Kerala. The mask is made of fiber, painted and studded with glittering stones. The artisans take care to give it the same look and feel as that of an actual Kathakali dancer. Masks and Kathakali figurines of different sizes can be bought from Handicraft shops.
Most of the above mentioned things can be bought from "Culture Shoppe" the official agency for promoting souvenirs of Kerala. It has outlets at Hotel Mascot in Trivandrum and other places such as Punnamada  houseboat terminal in Alappuzha. You can buy these online too!
What are you planning to buy when you come to Kerala?