Exploring Varkala and Nearby Tourist Places
Varkala is an ideal place to relax…or one can say, it is meant only for relaxing!
It is situated in between Alleppey and Kovalam. This place is about 130 km from Alleppey and 50km before Kovalam. From Kallambalam junction, driving 12km towards west would take you to this beautiful beach. I am sure you will just love spending a romantic evening in the clean beaches of Varkala.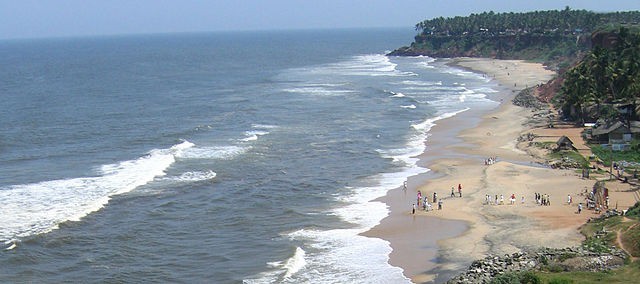 Varkala is ideal for honeymooners and also for those who want to relax for days together. You can add this destination in your Itinerary, if you have enough days to spend in Kerala. After a stay at Alleppey if you are travelling to Kovalam or Trivandrum, a one night stay at Varkala gives you total respite and peace of mind; but be warned, you do not have much things to do here other than spending quite evenings in beach and unwinding in the resort.
Some adventure activities like paragliding, late night parties are there…but not ideal for families. If you are traveling alone or with friends, you can give them a try!
If you are ending your tour with Varkala, you can have one night stay here and then head off to Trivandrum or Cochin the next day to catch your return flight/train. If you are going from Alleppey to Kovalam, you can have one night here and then two nights at Kovalam. Don't reduce your stay at Kovalam to add to Varkala stay.
If you want to relax for days together, you can opt for more days here. You can spend time practicing yoga, reading books and relaxing in the beach. The beaches are not that crowded like Kovalam.
If you are tight in schedule better skip this place and travel directly to Alleppey/Kovalam. It is also not a bad idea to have a look at Varakala beach on the way to Kovalam from Alleppey or vice versa. Varkala is a unique place where you can see cliff near to a beach.
Varkala is famous for SreeJanardhana Swami Temple which is 2000 years old. Janardana Swami is a form of Lord Vishnu.The temple is referred to as Dakshin Kashi (Benares of the south).
The final resting place of philosopher and social reformer SreeNarayana Guru is also at Varkala and the place is called Sivagiri.
How to reach Varkala
If you are driving from Alleppey towards Kovalam, then from Kallambalam junction you need to take a right turn and drive almost 12km to reach Varkala.Almost 3km before Varkala beach, you will see a sign board one heading to Varkala beach and the other towards Sivagiri.Try to visit this place first. Here you can visit Sivagiri temple, SreeNarayana Guru Samadhi place and Samadhi places of his disciples.On reaching Sivagiri, you can see the auditorium. Important days here are from December 30th to Jan 1st. These days are considered as Sivagiri pilgrim days (Sivagiri Theerthadhanam).This is the place where SreeNarayana Guru lived during his last days. Rabeendranath Tagore, Mahatma Gandhi, C. F. Andrews…all visited this great philosopher while he was at this place.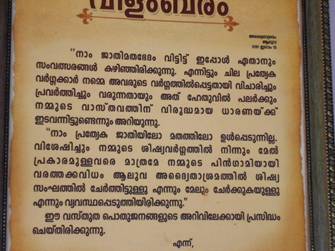 The below photo shows the statement made by Deena Bandhu C. F. Andrews about Sree Narayan Guru. He said 'I had a vision of God in human form, Sree Narayana Guru who was renowned in the southern-most part of India was that supreme being.'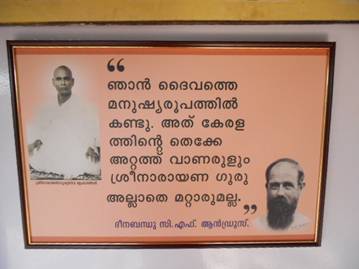 Quote Made by C.F.Andrews about Sree Narayana Guru in Malayalam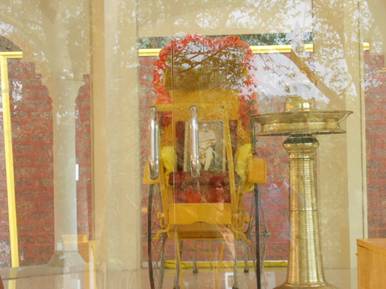 The chariot used by Sree Narayana Guru
After visiting this temple, move down and drive towards Varkala beach.
Mr. Madhoos is ushering you onward to enjoy Varkala Beach…. (but he got scared when he saw the waves at beach)
Varkala has three beaches, Papanasini beach, Cliff beach and Black beach
Papanasini beach – This is the first beach you will see as you step down there. 'Papanasam' means washing away all sins. It is believed that a dip in the sea washes away all the sins in one's life. Hindu devotees visit this place for the immersion of mortal remains of their deceased relatives in the Arabian Sea. Vavubali is also performed on the beach on the New Moon day of Malayalam month 'Karkkidakom'.
See the beauty of beach and the small umbrellas where rituals are being done.
Cliff beach – This is the ideal place for you to relax or to practice yoga. You can find lot of Yoga practitioners near this beach.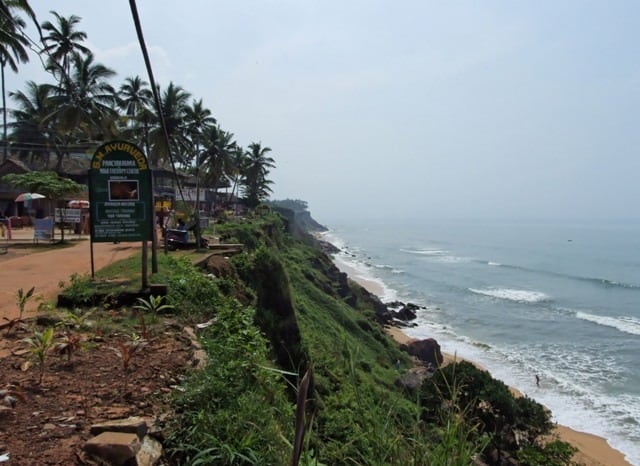 Clean water and fewer crowds are the main attractions here. The cliff is just near to the beach and getting down is adventurous. We spent that evening there. By 6.30pm life guards will pull you out from water…as the sea waves tend to get fierce after sunset.
You can see lots of Tibetian shops and restaurants on this cliff. DJ parties are being conducted in the evening at some restaurants. You even get bikes, cars on rent at this cliff.
During monsoon, water enters the beach and both Papanasam beach as well as cliff beach disappears and Black beach appears at a different place.
Black beach – The sand in this beach is of black color, hence the name. As we visited in summer, we could not see this beach.
You can then visit Janardhanapuram temple close to Varkala beach. This 2000 years old temple is referred to as DakshinKashi (Benares of the south). Janardana Swami is a form of Lord Vishnu and Hindu pilgrims come here to perform final rites for the deceased.
The temple also has an ancient bell detached from a shipwreck, donated by the captain of the Dutch vessel which sank near Varkala without causing any casualties.
We had a nice stay at Varkala and came back with sweet memories. We will be travelling to Kovalam next month for a meeting and you can expect my travelogue on Kovalam soon.
Thank you very much.