10 Famous Churches of Kerala
There are three main religions in Kerala – Hinduism, Christianity and Islam. Christianity is a very important religion having a sizeable population. There are several Christian pilgrimage sites spread across the state. Almost all of them are devoted to some of the oldest and architecturally brilliant churches. Few of the Churches of Kerala is mentioned here.
Let's go on a visit to some of the famous churches of Kerala.
1. Malayattoor Church
Image by Dilshad Roshan via Wikimedia
The St. Thomas Syro-Malabar Catholic Church in Malayattoor is one of the most famous pilgrim centers for Christians in Kerala. Malayattoor is situated on the north-eastern side of Ernakulam or Kochi. The name Malayattoor, means the amalgamation of mountain (mala), river (aattu) and place (ooru). The church attained great fame when the apostle of Jesus Christ, St. Thomas came here to start his missionary work.
According to legends, when St. Thomas arrived here to preach the teachings of Jesus Christ, he received a hostile reception. He fled to the top of a mountain at Malayattoor known as Kurisumudi and prayed to the Lord. He was in great anguish, and the Mother of the Lord appeared before him and consoled him. Malayattoor Church was built atop this mountain.
2. St. Alphonsa's Church, Bharananganam
Image by Jovianeye via Wikimedia
St. Alphonsa, the first saint of India was a very pious nun and her mortal remains rest here at Bharananganam, 5 kilometers from Pala in Kottayam district. St. Alphonsa's feast is a very popular event held every year in July. Pope Benedict XVI declared her as a saint on 12th October 2008. The church itself was built after her canonization.
3. Vallarpadam Church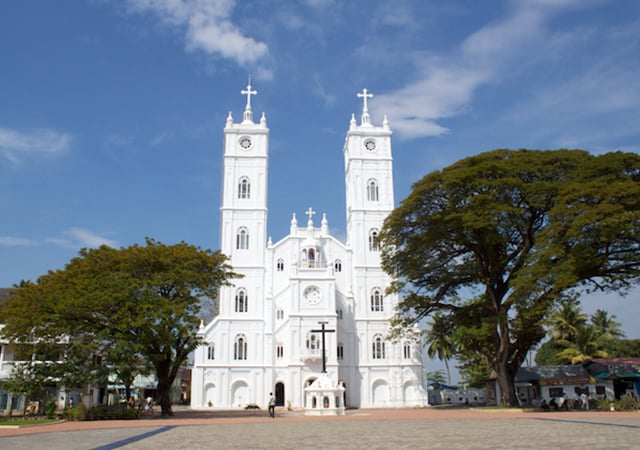 Image by Captain via Wikimedia
The Vallarpadam Church, located in Cochin, is also known as 'The Church of Our Lady Ransom' and dedicated to Mother Mary. The Mother is fondly remembered as "Vallarpadathamma". The church, built originally by the Portuguese was destroyed during the Dutch period and was rebuilt again in 1676.
The Government of India recognized the church as a divine and holy church in 1951. Irrespective of the caste and religion they belong to, people from all over the world flock to this church. Pope Leo XIII declared the church as a "special church" in 1888. This is one of ether major Churches of Kerala
4. Santa Cruz Basilica
Image by albany_tim via Wikimedia
Santa Cruz Basilica is one of the eight well-known Basilicas in India. It is situated in Fort Kochi – one of the must see places near Kochi. This fine church has an imposing edifice and is extremely popular for its magnificent structure and style. The church was built during the arrival of Portuguese missionaries in 1500 CE, with permission from the then Raja of Cochin.
The church went through major renovations over time; the present church was consecrated in 1905. This church serves as a notable landmark of Cochin. This is a good Churches of Kerala
5. St. Francis Church
St. Francis Church is believed to be the oldest European church in the country. The church, situated in Fort Kochi, bears mute witness to the colonialization of Europeans in India. Built out of timber in the 16th century, the church was later reconstructed in stone masonry. Initially, Vasco da Gama was buried here, and years later, the remains were transferred to Lisbon, Portugal. This is a good Churches of Kerala
6. Arthunkal Church
Located 22 kilometers north of Alappuzha district of Kerala, you have the famous St. Sebastian Church known as Arthunkal Church. A yearly feast, attended by thousands of devotees, is held here in mid-January. The fishermen in the nearby areas worship St. Sebastian, fondly known as Arthunkal Punyavaalan before they go out to the sea. The feast is known as Arthunkal feast. This is another Churches of Kerala
7. St. George Forane Church
Image by Tachs via Wikimedia
St. George Forane Church is situated in Edappally, which is located at a distance of about 10 kilometers from the main part of Ernakulam. This church is believed to be the oldest Roman Catholic Church in Kerala. The church is also known as Edappally Palli (church) and was constructed in 594 AD. Several renovations were done, of which the most noted one was done in 1080 AD.
The church has a miracle well, believed to have curing powers. People drink the water from the well, take home the water in bottles and wash their face and hands. The feast of St. George is held every year on April 23rd, and ends on May 15th. This is one of the major Churches of Kerala
8. Kadamattom Church
Image by Alias via Wikimedia
Kadamattom Church is a famous Malankara Jacobite Orthodox Syrian Church and is well-known for its old Persian cross. The church was built in the Indo-Persian style and was discovered in the 9th century. The famous Kadamattathu Kathanar, a priest with mystical powers and unnatural capabilities lived here, according to legends, and was closely related to the church. The church is situated 30 kilometers from Kochi atop a hill. This is a must visit Churches of Kerala
9. Nadamel Marth Mariam Church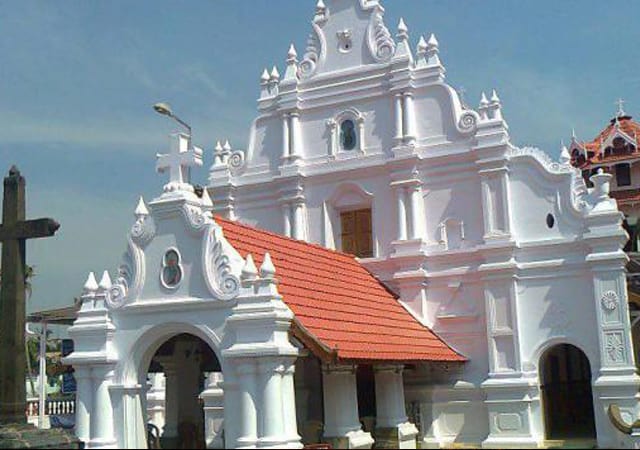 Image via Nadamel Marth Mariam Church
Nadamel Marth Mariam Church  was built during the 12 century by the parishioners of Karingachira Church. Located at Thrippunithura, Kochi, the church is very important to Jacobite Syrians.
10. Vimalagiri Church
Image by Groundhopping Merseburg via Wikimedia
Vimalagiri Church situated in Kottayam is famous for its Gothic style architecture. One notable feature of the church is its 172 feet tall tower. The tower is already recorded as one of the "tallest church towers" in Kerala.
There are many more popular churches in Kerala. You can visit them anytime during the year; but a visit to Kerala during Christmas time will be the best as the sight of churches resplendent in bright coloured lights will be simply awe-inspiring!
If you like this post, please share!!