Free Printable Travel Planner
Planning a trip is an exciting time, rivaled only by the trip itself! There are so many things you need to pack, places you want to visit, sights you don't want to miss, and you don't want to go above your budget either! Travel Planner is an article helps you in travelling to Kerala
We realize you need to keep track of numerous things on your trip. What better way to do it than with a handy printable you can carry with you as you travel?
We've created a free printable travel planner just for all you travel enthusiasts out there. You can use it to plan as much of your travel itinerary as you please, and still leave some room for impromptu adventure.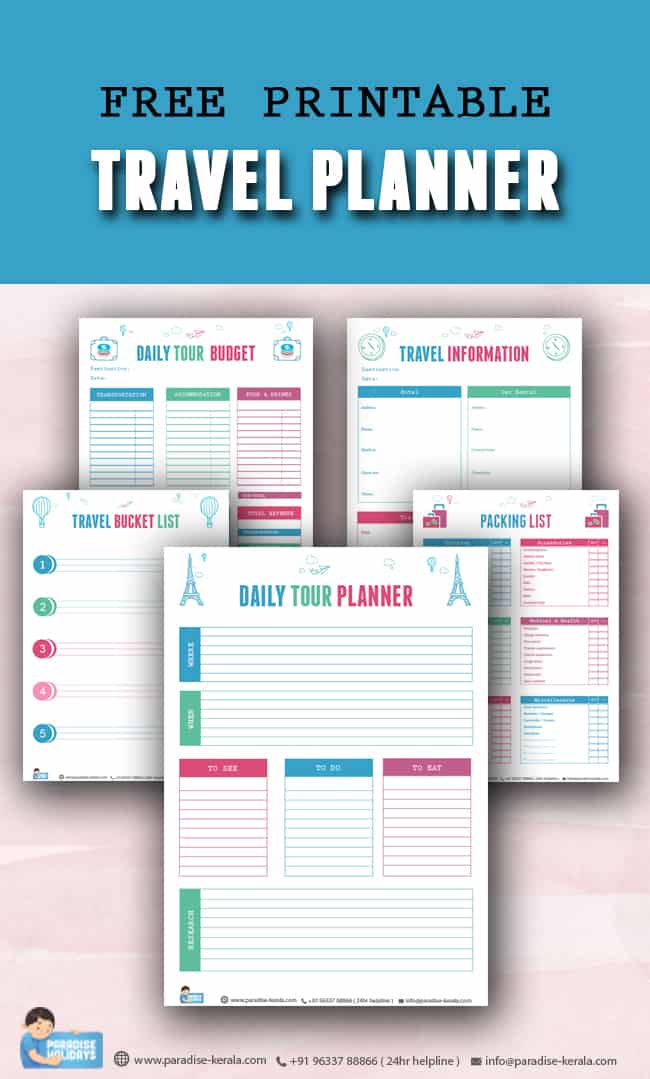 Here's what you'll find inside the printable travel planner:
1. Daily Tour Planner
Document all the destinations you'll be visiting during your trip and their corresponding dates. You can also note down the sights you'd like to see, activities you'd like to do, and special cuisines you're eager to try out. There is also space for you to jot down specific research you may have done for each location you're planning to visit. This is an important Travel Planner
2. Daily Tour Budget
You don't have to blow your travel budget in order to have a fun vacation. Keep track of the money you're spending on transportation, accommodation, food, drinks, supplies, and other miscellaneous expenses.
3. Travel Information
This lists all your travel information at a glance. Keep track of your bookings for hotels, car rentals, flights and trains, so you don't get your dates mixed up. This is yet another important Travel Planner
4. Packing List
You can't miss out on packing your essentials with this exhaustive checklist. It also helps if you carry it along with you on your trip, so you can remember what you brought along with you.
5. Travel Bucket List
This is the most fun part! Make a list of all the things you want to do on your trip, and cross them out as you complete them. Be sure to include some activities that are on your life bucket list as well!
We hope this free printable travel planner helps you plan your tour well, so you can have an enjoyable time!
If you like this post, please share!