5 Fruits You Must Try When You Visit Kerala
On a visit to Kerala, you are sure to be blown away by the rich asset of fresh fruits and the hospitable natives. It is indeed the blissful scenario and delicious dishes that make Kerala your paradise vacation destination. You will be delighted to indulge yourself in a variety of fruits cultivated here.
Let's have a look at five delicious fruits you should try when you're in Kerala.
Mangoes
Image by Prato via Flickr
Kerala has a wide variety of mangoes. You must enjoy the taste, nutrition, sight and even the smell of the king of fruits when visiting Kerala. The variety of mangoes available in Kerala range from small mangoes the size of ping-pong balls to big ones that come up to half a kilogram in weight, each showing its unique taste, smell and texture.
Embellish your visit to Kerala with a gastronomical voyage through the most spectacular natural scenery with tasty mangoes in your dishes. Enjoy delicious mango salads, juices, jam, and chutneys which are fat-free, cholesterol free, low in calories and rich in vitamins, fiber content and antioxidants. You can have an entertaining travel in Kerala with the mouth watering mangoes.
Jack Fruit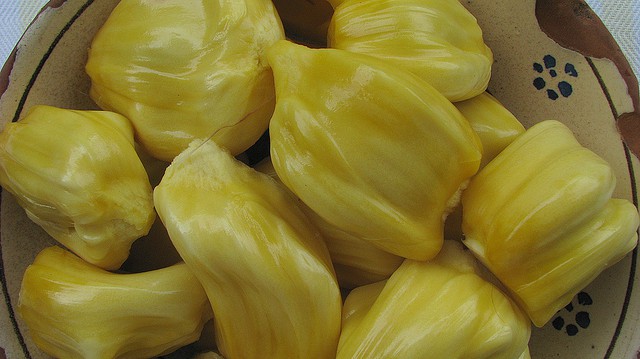 Image by Alex Popovkin, Bahia, Brazil via Flickr
The jack fruits available in Kerala will present you with a cheerful episode. The fleshy content inside is extremely tasty and intensely sweet. An unripe jack fruit can be cooked like a non-vegetarian dish, which is sure to tempt your taste buds. The ripe jack fruit with its yellow colored pulp has a unique deliciousness. It's difficult to explain its taste as it blends the flavor of banana, pineapple and lychee.
A variety of jack fruits  are available based on the difference in the texture of the pulp inside. The aromatic, flavorful and succulent pulp is eaten fresh. It is used for preparation of jams, canned products, chutneys, candies, and chips. The pear-shaped honeyed fruit can shoot up your energy with no fat. Its rich nutritional, mineral and medicinal values make it auspicious, fabricating it to be your most liked preference of all time.
Tender Coconut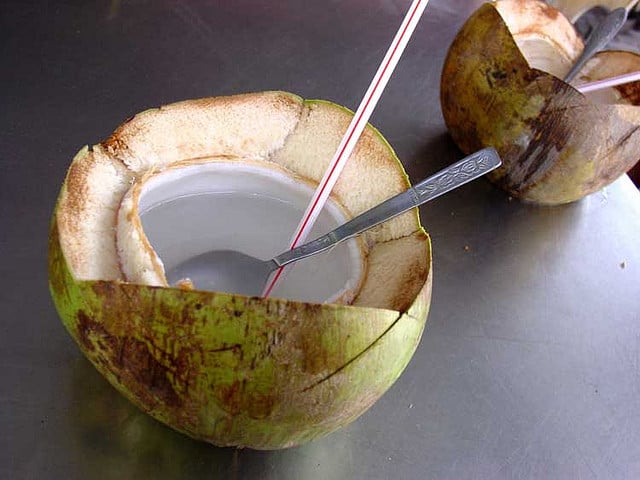 Image by Mindy McAdams via Flickr
Kerala got its name from Kera, which means coconut tree. Tender coconut is the most celebrated dish in Kerala. It is truly a special treat that garnishes your taste buds with a sweet, memorable and rejuvenating flavor. A sip of coconut juice directly from a tender coconut is an angelic experience. So have this eternal course with its high nutritional and medicinal value during your visit to Kerala.
The medicinal properties of the natural drink include a rich content of minerals, much higher than those found in other vegetables and fruit juices. It can be taken as a heartthrob juice that energizes you by instilling a memorable experience. You cannot leave Kerala without having tasted it at least once.
Pineapple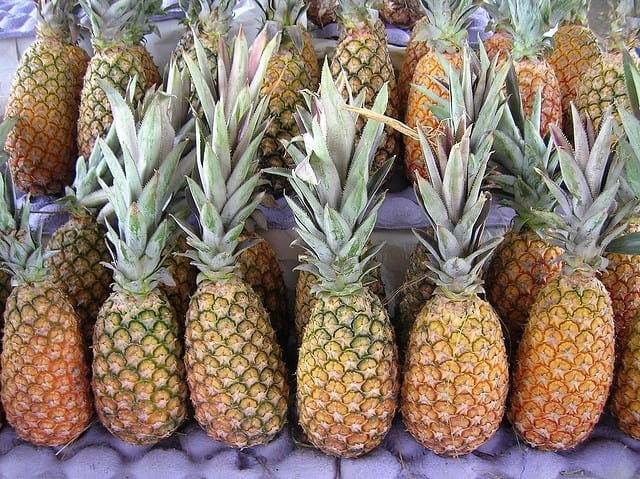 Image by Victoria Rachitzky Hoch via Flickr
The yummy taste and amazing flavor of pineapple make it a very popular fruit in Kerala. The astonishing taste of pineapple can add a delicious touch to your travel. The pineapple dishes will garnish your experience making you eagerly wait for your next visit to Kerala. It is a fruit that promotes digestion with the presence of Bromelain.
The pineapple pachady, one of the traditional foods of Kerala, is all time favorite among tourists. Permit yourself to have a heavenly time in Kerala and enjoy dishes that have pineapple as the significant ingredient. Along with the deliciousness, you also get the health benefits of the fresh pineapple fruits served in Kerala.
Cashew Apple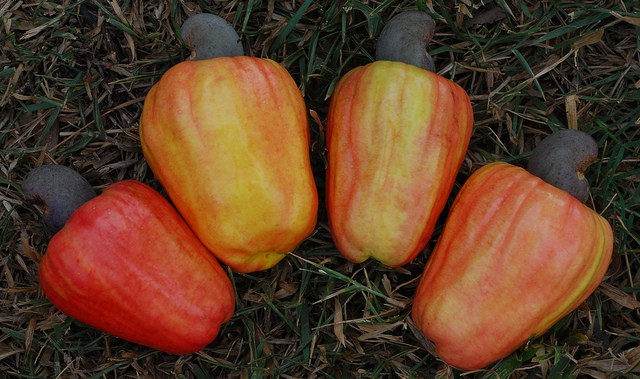 Image by Celine Massa via Flickr
In Kerala, you will have a nice time with the fresh cashew apple that is served. The flesh of the cashew apple is cottony and fibrous, and the juice has the unique sweet taste of citrus flavor. You will experience a unique sensation when you take a sip of the fresh juice of the cashew apple.
The nuts of the cashew apple possess great value as a dry fruit. The fruits are also used in salads, making it rich and potent. The cultivators can provide fresh fruits that can enrich the dishes served to you. When being enticed by the cashew apple, it's nice to be aware of its health benefits and medicinal value.
Please don't compromise and miss out on these five fruits during your visit to Kerala. The sweetness of these fruits on your tongue will make you feel fresh, culminating in a memorable travel experience. Make your health and your visit enchanting by enjoying these fruits as part of your Kerala cuisine.
If you like this post, please share!