Vavar Mosque and its Fascinating Legends
You can see several hundreds of places of worship throughout Kerala. However, out of all these, a couple stands out and will continue to do so till earth exists. The Vavar mosque and the Sabarimala Sree Dharma Shastha Temple is among them. This article will explore the Vavar Mosque in detail and the many legends attached to it.
The Vavar mosque is at Erumeli, which is about 40 kilometres away from Sabarimala. Erumeli in Kottayam is quite near the Western Ghats. Thus the place has a very favourable climate and a significant amount of rainfall all through the year. Vavar mosque, also known as Vavarpalli (Palli means mosque in Malayalam), is one of the most revered places globally for both Hindus and Muslims.
If you are a person who prefers religious tolerance and universal brotherhood, your heart will swell with pride when you watch the religious amity of this region. Sabarimala pilgrims must visit one of the grand mosques of Kerala before they visit Lord Ayyappa, the presiding deity of the Sree Dharma Shastha Temple. Lord Ayyappa was born from the divine union of two gods in the trinity – Shiva and Vishnu.
The Vavar Mosque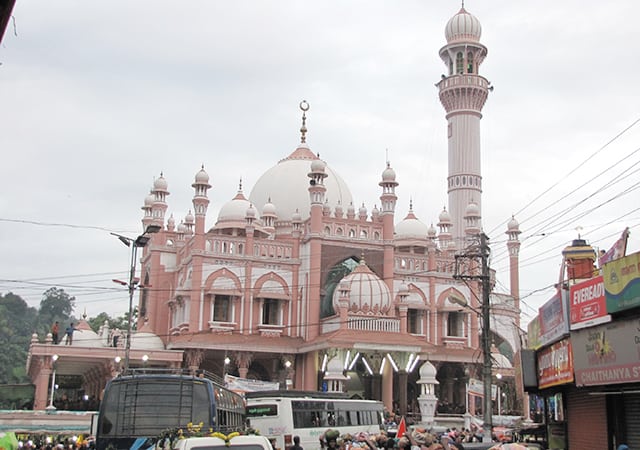 Lord Ayyappa had a small holy place built for his beloved friend, Vavar. This was initially a thatched hut and later became a magnificent and imposing place. There are large numbers of domes and minarets in the temple. There is a huge prayer hall as well, and you can see that several Muslims come to Vavar Mosque twice a day to pray.
The Lord Ayyappa devotees don't enter the main prayer hall, but rather go around it, with prayers on their lips, and then move onwards towards their ultimate destination – Sabarimala and the Sree Dharma Shastha Temple. The daily rites at Vavar Mosque are conducted by a Muslim priest. 
You can see a stone slab with inscriptions on it, just like other mosques. There is a belief that Lord Ayyappa appeared in the dreams of the king of Pandalam deism and instructed him to build a mosque for Vavar. You can also see an old sword that symbolizes the eminence of the great warrior in the Vavar Mosque. 
If you want to make any offerings to Vavar, you can give black pepper, green pepper, ghee or coconuts. The Vavar Mosque was thus, built to honor Vavar, who always accompanied Lord Ayyappan on his conquests. This place of worship is the perfect monument of the deep love they shared. 
The Spiritual Dance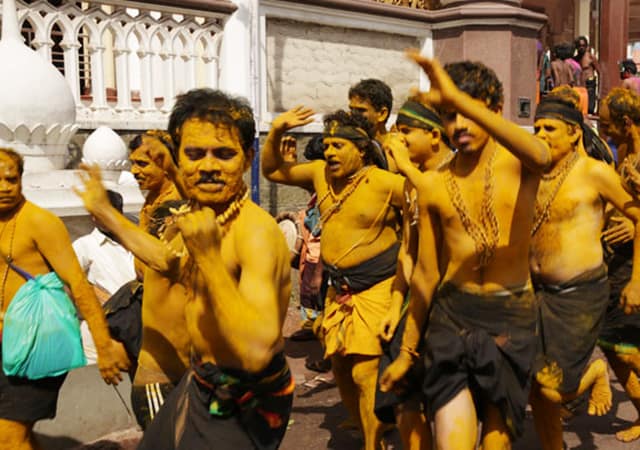 It is from this temple that they start the famous "Pettathullal", a spiritual dance by the devotees. The dance is performed during the Makaravilaku season (mid-December to mid-January). Pettuthullal is performed to commemorate the annihilation of the demon, Mahisha by the lord. You can watch the devotees dance and listen to the chant "Ayyappa-thin-thakathom, Swami-thin-thakathom".
The air becomes so holy then, and you will find yourself swaying in the mood. The trance dance begins from a small temple known as Kochambalam, at the heart of Erumely town, and proceeds towards the Vavar Mosque and then to Sabarimala. 
The Story and Legend of Vavar Mosque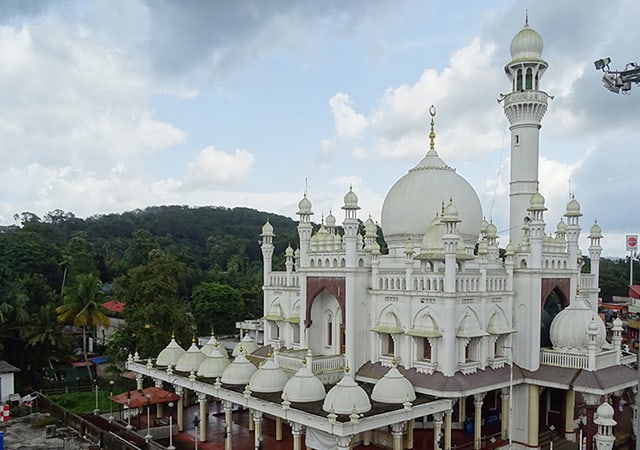 Just as any story in history, there are always different versions of something that came about. It is the same way with Vavar too. Some legends point out that he was a pirate who built his own ship and came down to the land of pepper to check his prospects here. And some legends point to him being originally from Pandya Desam near Madurai in Tamil Nadu. And there are other legends that say that "vavar" originated from the name Babar. Babar eventually became "Vavar". 
There is another legend that says Vavar was from ancient Syria or Southern Turkey, and he came here to escape the terrible famine that raged in his country. He also knew black magic, was good at building ships and was highly adventurous. It was this adventurous trait that propelled him to take a voyage across the Arabian Sea and arrive at Kayamkulam. Kayamkulam was then ruled by a petty king and was not equipped to face the ambitious sea pirate. 
He sought the help of the Pandalam king who sent Lord Ayyappan to fight Vavar. A fierce battle ensued, and neither one won. Eventually, they realized that both were an equal match in power, and they become brothers. Both looked out for each other, and their bond was so strong that the lord insisted that those who visited his shrine must first pay their obeisance to Vavar. 
Conclusion
This Vavar Mosque is a beautiful monument portraying the deep bond, love and friendship between people following two religions. If you are visiting Sabarimala during December-January months, you can experience it all.
If you like this post, please share!!