Kerala in April – Weather and Event Guide
Kerala in April talks about what all you can do in Kerala in the month of April.
Hello summer! While the majority of North America and Europe is still experiencing chilly temperatures in spring, it's a hot and blistering summer here in Kerala. But don't let the extreme temperatures scare you off. Kerala has much to offer even in the warm summer months.
The summer vacation is in full swing in India since most schools close down in April and May. So, you may encounter more crowds than usual in popular tourist hotspots. However, this would also give you a chance to venture out to other less popular getaways that the tourist crowds might miss.
If you are planning to visit Kerala this April, here's an all-inclusive weather and event guide to help you plan your travel itinerary.
Weather Conditions
April lies right in the middle between a dry winter season and an ultra-wet monsoon (rainy) season. It is without doubt the hottest month of the year, but the summer rains tend to cool the atmosphere down and make it more bearable, especially for foreign tourists who aren't used to the heat. The average temperature is expected to be about 29 °C or 84 °F across most of the state.
Average maximum temperature in April: 33 °C (91 °F)
Average minimum temperature in April: 25 °C (77 °F)
The day temperatures are almost the same as March, but the nights would be relatively warmer.
Here's more insight into the weather information for Kerala in April.
Sea temperature: 30 °C (86 °F)
Sunshine: 8 hours each day
Rainfall: Approximately 13 days in April
Precipitation: 34% to 45%
While the temperatures might go up to 33 °C or more during the day, Kerala will see more rainfall than the previous three months of the year. Just when you think it can't get any hotter, you will experience summer showers in the form of thunderstorms. At least 119mm of rainfall is expected in April – that's something to look forward to as the natural beauty of Kerala comes alive when it rains.
There will be a significant increase in the cloud cover as well – from 45% to 52% over the course of the month. You will also experience more daylight hours, ranging from 12.13 hours of daylight on April 1st to 12.28 hours of daylight on April 30th.
What to Wear
Come adequately prepared for the hot weather. Even when it rains, it will not become too cold. So, pack sufficient light clothes that would deflect the heat and absorb sweat. Cotton and linen clothes are preferred over polyester as they bring you comfort in the heat. Also make sure you carry a hat or scarf in case you need to venture out in the sun. Carrying a small, foldable umbrella is also recommended so you aren't caught unawares in the rain.
Precautions to Take
If you aren't used to the heat, here are some ways you can protect yourself when you visit Kerala this April.
Try not to go out when the sun is directly overhead to avoid the risk of dehydration and heat stroke.
Keep rehydrating yourself constantly with cool water, buttermilk, yoghurt or fresh juices. Fresh tender coconut water is a great option as its packed with electrolytes.
Use sunscreen generously to avoid sun burns.
If you do have to venture out when it's hot, make sure your head is adequately covered with a cap, hat, scarf or umbrella.

How to Travel
For unseasoned travelers, the heat might make it a bit uncomfortable to travel long distances. Try to split your journeys in Kerala so you're not traveling for too long at a stretch.
If you do have to make a long journey, opt to travel during the nights. Air-conditioned train coaches, buses, and taxis will help you beat the heat and you'll feel refreshed when you reach your destination.
Events to Attend
Kerala culture is rich and diverse, so if you're heading over in April, it's a good time to experience the native festivities. Here are some of the events that will be taking place this month.
1. Nenmara Vallangi Vela – A grand annual celebration with colorful lights, fireworks, elephant processions and a display of traditional art forms of Kerala at the Nellikulangara Bhagavathy Temple in Palakkad on 3rd April.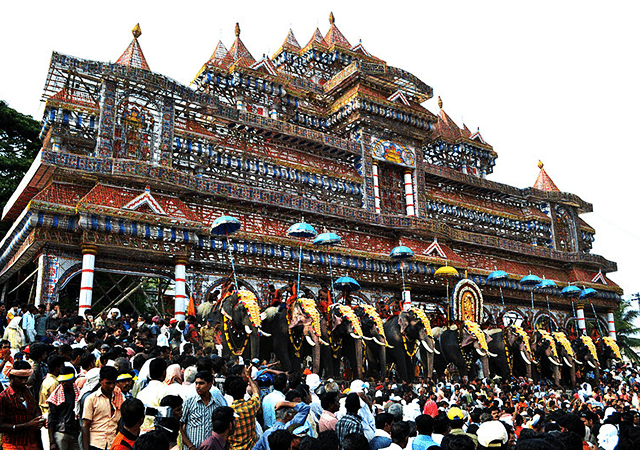 Image by Mullookkaaran via Wikimedia
2. Malayattoor Perunnal – Held on the first Sunday after Easter (8th April, this year), thousands of devotees of the St. Thomas Church at Malayattoor, Ernakulam prayerfully carry wooden crosses of different sizes and climb up a hill.
Image by Dilshad Roshan via Wikimedia
3. Kadammanitta Patayani – This is an annual festival celebrated at the Kadammanitta Devi Temple from the first day of Malayalam month, Medam to the 10th day. This year, the celebrations which include percussion, the lighting of a fire and the ritual art form Kadammanitta Patayani are held between 14th April and 21st April.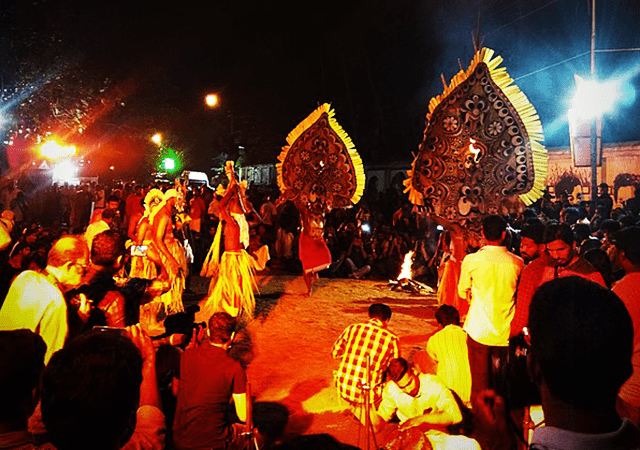 Image by Akhilan via Wikimedia
4. Thrissur Pooram – This popular festival, held at the Thekkinkadu Maidanam in Thrissur on 25th April, merges the spiritual and cultural background of Kerala. It's a visually enthralling experience featuring bedecked elephants, brightly colored parasols and traditional percussion music.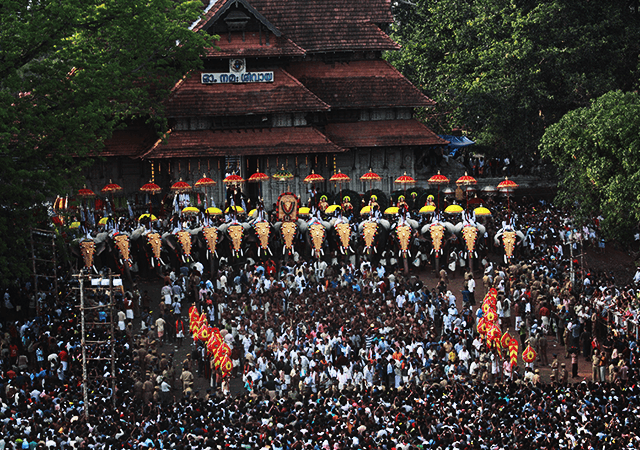 5. Edathua Perunnal – Held between 27th April and 7th May at the Edathua Church in Alappuzha, this annual religious celebration includes numerous cultural fetes and feasts on the banks of the Pamba River.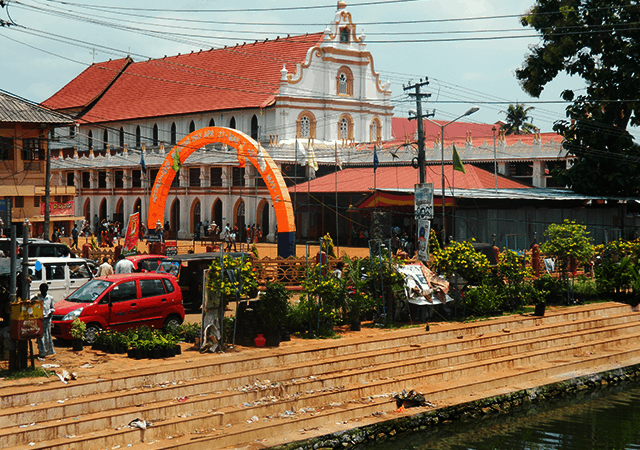 Image by Jobin Alex via Wikimedia
April may be midsummer in Kerala but despite the heat, it's a great time to visit. You can enjoy the balmy beaches or cool yourself down at the hill stations. Enjoy a houseboat cruise along the backwaters or take an adventurous trek through the hilly terrain. No matter what you choose to do, you'll be sure to enjoy the sights and sounds of Kerala this month.
If you like this post, please share!!