Kerala in August – Weather and Event Guide
Kerala in August talks about what all you can do in Kerala during this season. An in-depth article for someone planning to visit Kerala in August.
"Rain is grace; rain is the sky descending to the earth; without rain, there would be no life." – John Updike
The rainy season continues in Kerala through the month of August. But rather than cast a gloomy spell, the monsoon showers only make the scenery more vivacious. The trees look greener, the grass looks fresher, streams of water run freely and everything seems to come alive in nature.
If you've been planning to visit Kerala during the monsoon, this month would be ideal. The torrential rain that distinctly marked the months of June and July would have ceased. While it will still rain, the amount of rainfall is distinctly lower as the South West Monsoon bows out and the land gears up for the North East Monsoon.
Whether you're planning a relaxing beach vacation, visiting the hilltops, celebrating Onam with the locals or taking time to rejuvenate at an Ayurveda resort, the weather in Kerala would be ideal for your trip this August. Let's look at what's in store for you with respect to the major events in Kerala and what the weather will be like in August.
Weather Conditions
The temperature in Kerala during the month of August is more or less the same as July. The average temperature across the majority of the state is expected to be about 27 °C or 81 °F.
Average maximum temperature in August: 30 °C (86 °F)
Average minimum temperature in August: 24 °C (75 °F)
The temperatures are in the moderate range and quite pleasant for a tropical region. As long as you are ready to brace the seasonal rain, you'll be able to plan your vacation well and have the best time of your life.
Here's a breakdown of the weather information for Kerala in August.
Sea temperature: 27 °C (81 °F)
Sunshine: 6 hours each day
Rainfall: Approximately 24 days in August
Precipitation: 68% to 81%
The amount of rainfall is expected to be considerably lesser in August and it will reduce over the course of the month. Despite the unusually high rainfall Kerala received last month, it's unlikely that the trend will continue in August. Kerala typically receives 156mm of rain in August and it will probably rain moderately just 24 days through the month.
The cloud cover will also decrease as the month progresses from 82% to 74%, so the latter half of the month will likely be sunnier. If you plan to hit the beaches or do a lot of outdoor activities, the end of August would be a great time to visit Kerala.
What to Wear
You will most likely experience light to moderate rain on your trip, so do come prepared with a travel umbrella and a light raincoat or a waterproof jacket. Ensure your footwear is serviceable and capable of taking you across muddy trails and slippery slopes.
Precautions to Take
Here are some precautions you can take if you're travelling to Kerala this August.
Stay on top of the weather with the help of a weather app. This will help you plan your day based on the weather forecast.
Wear light clothing that can easily dry out if you're caught in the rain. You can always layer on a jacket if you're cold, although that's highly unlikely in Kerala.
Watch out for mosquitos, especially in the evenings and nights. Use a mosquito repellent, whether you're venturing outdoors or staying in your room.
Leeches also make an appearance during the rainy season. Squirting salt water on your skin will keep them away.
The rain can wreak havoc on your electronic gadgets, so ensure they're protected in plastic bags or waterproof backpacks when you're out and about.
How to Travel
Unless there's torrential rain, it's life as usual in Kerala during the monsoon season. You won't have difficulty finding suitable transportation in the form of buses and trains for long distances, and autorickshaws and cabs for shorter rides.
Events to Attend
August is a festive month in Kerala, and there are celebrations galore everywhere you turn. Here are some of the events you cannot miss
Nehru Trophy Boat Race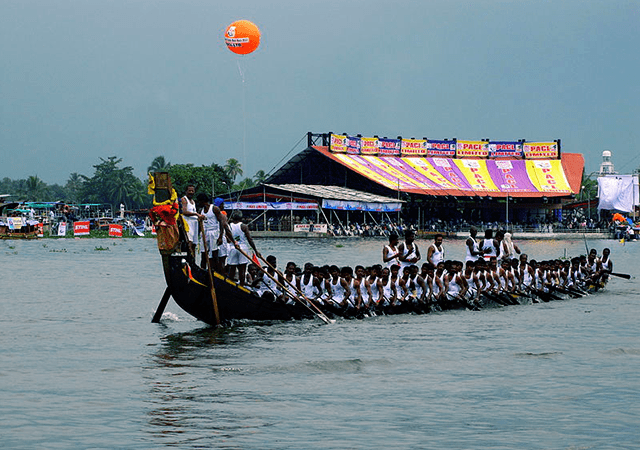 One of the most popular boat races in Kerala will be held on 11th August near the Punnamada Backwaters at Alappuzha.
Athachamayam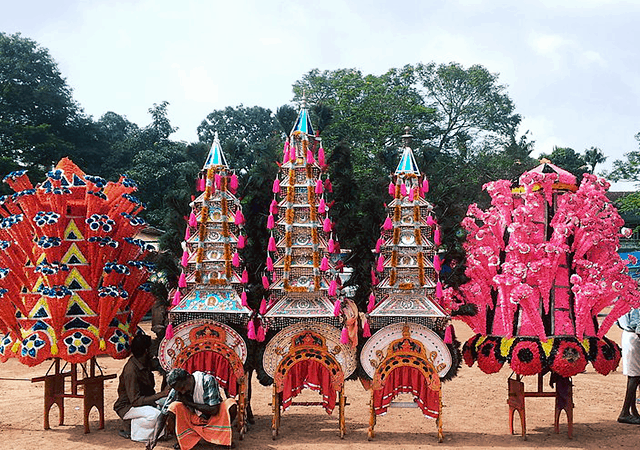 This cultural fiesta celebrated on 15th August at Thripunithura, Ernakulam features various native folk art forms and marks the beginning of the Onam celebrations.
Uthradam Thirunal Pamba Boat Race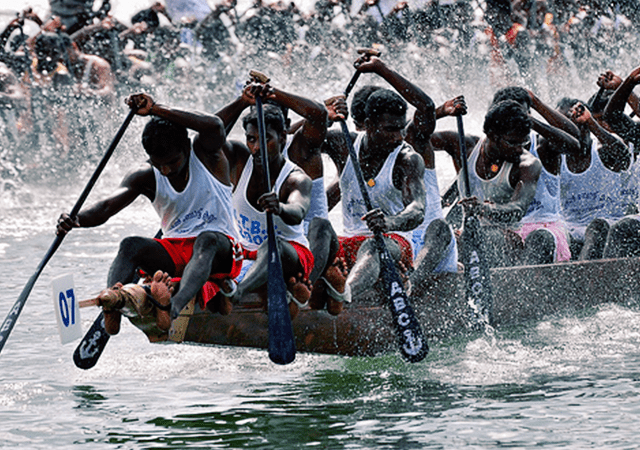 The boat race is held along the River Pamba in Alappuzha on 24th August during Uthradam which is an auspicious day of Onam.
Thiruvonam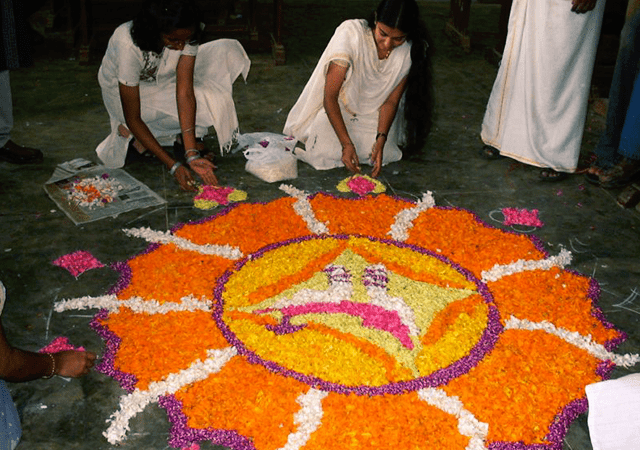 The epitome of Kerala culture can be experienced on 25th August in the form of Thiruvonam celebrations all over the state. Flower carpets adorn every home even as families feast on elaborate Onam Sadyas for lunch.
Payippad Boat Race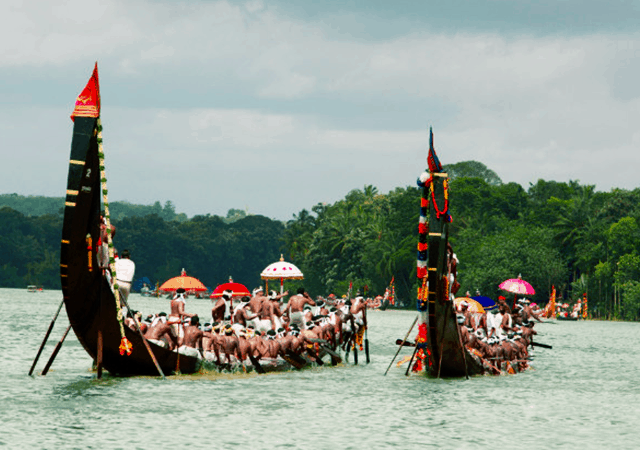 This boat race is associated with the Subramanya Swamy Temple and held along the Payippad backwaters in Alappuzha on 27th August.
Pulikali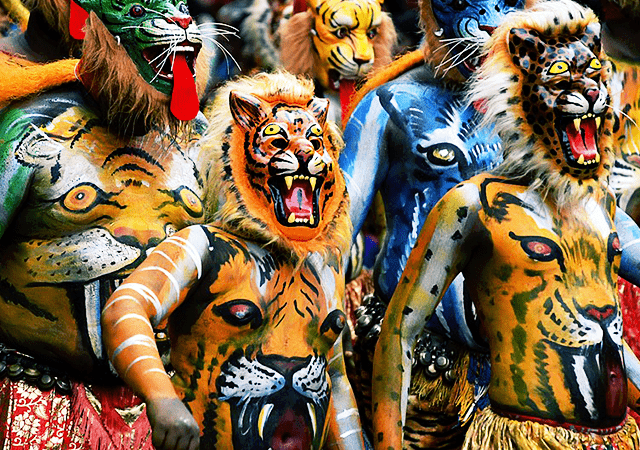 Literally translated Tiger Dance, during this event artists sporting tiger stripes dance to the rhythm of percussion at the Swaraj Round in Thrissur on 28th August.
Aranmula Boat Race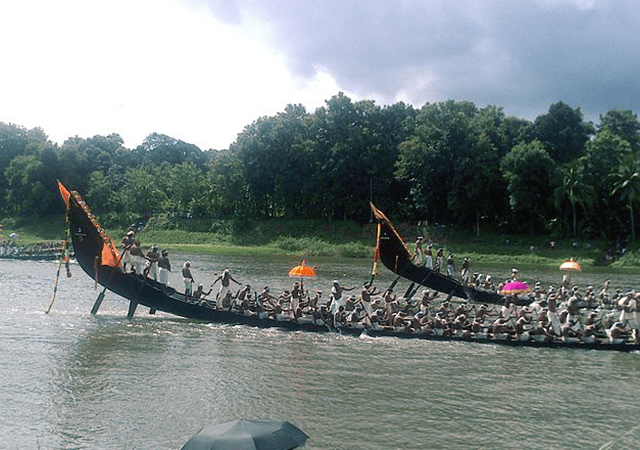 Also called the Aranmula Uthrittathi Vallamkali, this boat race is conducted with much fanfare on 9th August along the River Pamba in Pathanamthitta.
The lull in the monsoon paves the way for heady Onam celebrations in all districts of Kerala this August. Plan your trip to God's Own Country this month and experience the unique sights, sounds and flavors ingrained in Kerala culture.
If you like this post, please share!!