Kerala in February – Weather and Event Guide
Kerala in February talks about what all you can do in the month of February in Kerala.
Can you believe we're already in February? The days sure fly by when you're busy with work and errands, meetings and deadlines. But that's just one more reason why you need to take a mid-season break down south to God's own country, Kerala!
February is a splendid month to traipse through Kerala as the summer tourism rush hasn't set in, the weather is balmy and there are plenty of activities to keep you engaged.
If you are indeed planning to visit Kerala in February, here's everything you need to know.
Weather Conditions
February is considered a bit of a dry month in Kerala and you are likely to experience tropical weather conditions. The average temperature is expected to stay at about 28°C or 82°F in most parts of the state.
Average maximum temperature in February: 32 °C (90 °F)
Average minimum temperature in February: 23 °C (73 °F)
The high temperatures during the day and low temperatures during the night will pretty much remain constant for the duration of the month.
Here's some more weather-specific data, so you get a rough picture of how you'll find Kerala in February.
Sea temperature: 28 °C (83 °F)
Sunshine: 9 hours each day
Rainfall: Approximately 3 days in February
Precipitation: 5% to 14%
February is one of the driest months of the year in Kerala, second only to January. The month starts with only a 5% chance of precipitation but rises to 14% towards the end of February. You can expect the amount of rainfall to sum up to 26mm over perhaps 3 days of rainfall throughout the month. And when it rains, there's a high likelihood that it'll be a thunderstorm.
The cloud cover is minimal (29% at the beginning of the month, which moves up to 35% towards the end), so you can expect the sky to be pretty clear almost the entire month. You will get over 11.5 hours of daylight, so you can spend more time out on your adventures.
What to Wear
Since the weather is going to be on the warmer side, make sure you pack plenty of light, airy clothes. This is especially required if you're visiting the beaches because a clear sky means more sunrays hitting the sand. It won't get too cold during the nights, so you can make do without additional warm clothing. Be sure to carry comfortable shoes that are suitable for the particular terrains you're venturing into.
Precautions to Take
The tropical heat can make you feel tired if you don't take care of yourself. So, even though you won't experience extreme temperatures in February, it's better to take a few precautions.
Stay in the shade as much as possible during the day. There's an abundance of lush green trees in Kerala, so you can rest in the shade while you take in the scenery.
If you have to head out in the sun, keep your head cool with a hat, scarf, cap or umbrella.
Drink loads of fresh juices and bottled water to stave off dehydration.
Use a sunscreen during the day, and a mosquito repellent in the evenings and nights.
Pay attention to the food and drinks you take in. It's recommended that you consume food that is hygienically packaged or prepared at a quality restaurant.
How to Travel
Traveling to different locations within Kerala will be a breeze in February because you won't face any disruptions due to inclement weather. Whether you're traipsing through a dense forest area or taking in a quiet drive along the sea coast, it sure will be pleasurable.
If your travel destinations in Kerala are not too far apart, you can take a local bus or hire a taxi to get there. This will help you take in the surroundings and enjoy the most of what Kerala has to offer. For longer distances, you can take a train – it'll be a unique experience that you'll cherish for a long time.
Events to Attend
February brings with it a host of religious and cultural celebrations in Kerala. Now would be a good time to attend these events and embrace the unique culture that's native to Kerala.
1. Guruvayur Aanayottam – An elephant race (Aanayottam) held at the GuruvayurSree Krishna Temple in Thrissur on 27th February.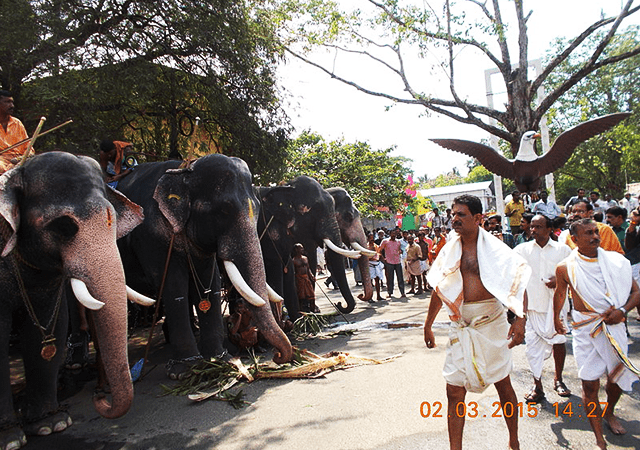 Image by Rudolph.A.furtado via Wikimedia
2. Pattambi Nercha – Annual feast celebrated at the Pattambi Mosque in Palakkad district, with a spectacular display of caparisoned elephants, traditional music, folk art performances and colorful tableaus.
3. Kathakali Performance – The Karnasapadham story will be enacted by Kathakali performers at Changampuzha Park, Edappalli on 11th February.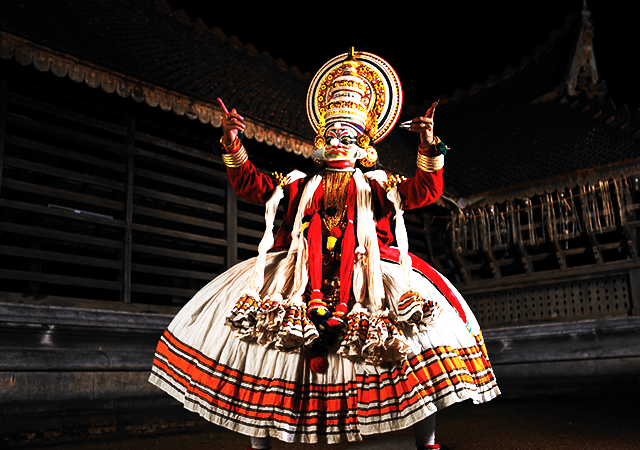 4. Gadhika – A tribal and folk arts festival and craft exhibition held between 11th and 20th February at Ponnani in Malappuram district.
5. MachattuMamangam – A five-day festival celebrated at the MachattuThiruvanikavu Temple in Thrissur with includes pageants of heavily decorated kuthirakolams (horse effigies) and elephants, accompanied by the chendamelam (native Kerala percussion music).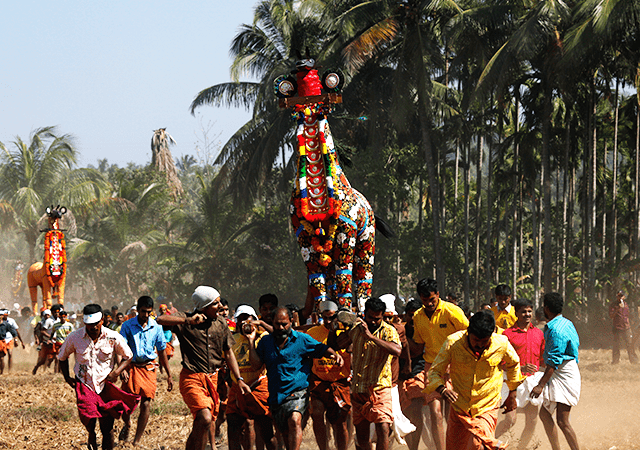 6. ChitturKonganpada – Annual celebration of a great military victory by the ChitturNairs, held on 19th February at the ChitturkavuBhagavathy Temple.
7. Kuttikkol Thampuratty Theyyam– A grand festival featuring the Theyyam art form, celebrated at the KuttikkolThampurattyBhagavathy Temple in Kasargodbetween 23rd and 26th February.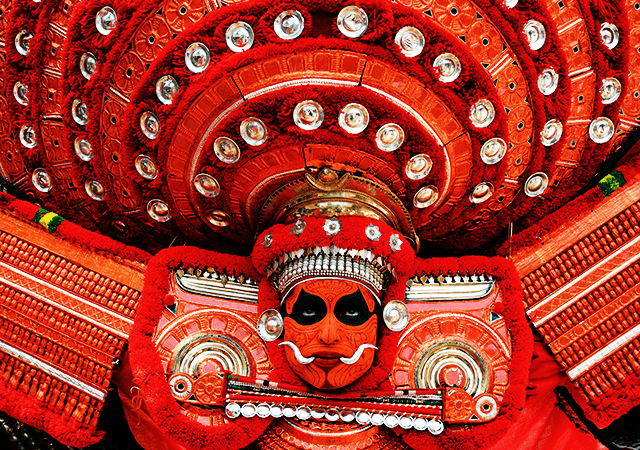 Considering the pleasant February weather and the number of cultural happenings this month, it certainly is a great time to visit Kerala. Take some time off your regular routine and plan a small vacation in Kerala this month. It'll be just what you need to de-stress, unwind and feel rejuvenated.
If you like this post, please share!!