Kerala in July – Weather and Event Guide
Kerala in July is an article about what how you can plan a Kerala trip in July with ease.
"In India, one has to plan according to the monsoons." – Roland Joffe
If you thought the beginning of the Kerala monsoon season in June was exemplary, you have to indulge yourself in what July has in store. Every bit of Kerala is quite different from what it looked like a few months back in summer.
The land looks more vibrant with the advent of the rain showers. Rather than play spoilsport, the rain only makes Kerala look more mesmerizing and inviting for tourists. In fact, many consider the monsoon season to be the best time of year to visit Kerala.
The atmosphere is just perfect this time of year, cool, moist and free of dust. It's said that the salubrious weather is perfect for those seeking ayurvedic massage treatments too, as it opens up the skin pores and makes the treatment more effective.
There's no better time to visit Kerala than this monsoon season. If you'd like to head on over to Kerala this July, read on to know more of the weather conditions and events you can look forward to.
Weather Conditions of Kerala in July
The temperature in Kerala during the month of July is likely to remain the same as June. The average temperature across the majority of the state is expected to be about 27 °C or 81 °F.
Average maximum temperature in July: 30 °C (86 °F)
Average minimum temperature in July: 24 °C (75 °F)
As you can see, the temperature is perfect for a holiday – not too warm and not too cold either. If you are able to plan your activities around the rain, you're certain to have a ball.
Here's a breakdown of the weather information for Kerala in July.
Sea temperature: 27 °C (81 °F)
Sunshine: 5 hours each day
Rainfall: Approximately 28 days in July
Precipitation: 80% to 89%
While the amount of rainfall predicted is slightly lesser than June, you can expect it to rain for more number of days. Generally, the mornings and evenings are relatively drier, and moderate rains might occur at nights. Kerala could receive about 239mm of rain through the month of July. It's supposed to rain approximately 28 days, so even if you're here for a few days, you are likely to experience light to moderate rain.
July typically isn't a sunny month, and the cloud cover should be between 81% and 85% through the month. In fact, July 12th is historically considered to be the cloudiest day in the entire year. You might have only about 5 hours of sunshine per day on average, but you can make the most out of it during your vacation in Kerala.
What to Wear
To reiterate, it is going to be wet and rainy in God's own country this month, so do come prepared. While you might not experience torrential rains, it would be better if you carry a foldable umbrella, light waterproof jacket or raincoat to protect yourself and your belongings from the rain. Make sure your footwear is sturdy and built to weather, slippery and muddy trails, especially if you plan to do a lot of trekking.
Precautions to Take
Here are some precautions you can take if you're travelling to Kerala this July.
Carry light, synthetic clothes that will dry out easily if you get caught in a downpour.
Keep an eye out for leeches, especially along nature trails and fresh water streams. Carry a bottle of salt water on your treks. When poured on leeches, salt water makes them fall off your body.
Mosquitos usually multiply during the rainy season, so keep yourself protected with sufficient mosquito repellent.
Keep your phones and small electronic gadgets in zip loc bags to protect them from the rain. If you do have to carry bigger gadgets like cameras or laptops, make sure your backpack is waterproof.
Keep up to date with the weather using a mobile app, so you can plan your activities based on the chances of rain.
How to Travel
The natives in Kerala take the rain in their stride, so you will find adequate options for traveling within Kerala even in the monsoon season. If you're not afraid of getting a little wet, taking a bus or autorickshaw will give you a real feel of what local travel in Kerala is all about.
Events to Attend
July is a lean month for festivals in Kerala, but the ones that are celebrated can be quite enthralling. Here are a few events you cannot miss.
1. Njangattiri Aanayoottu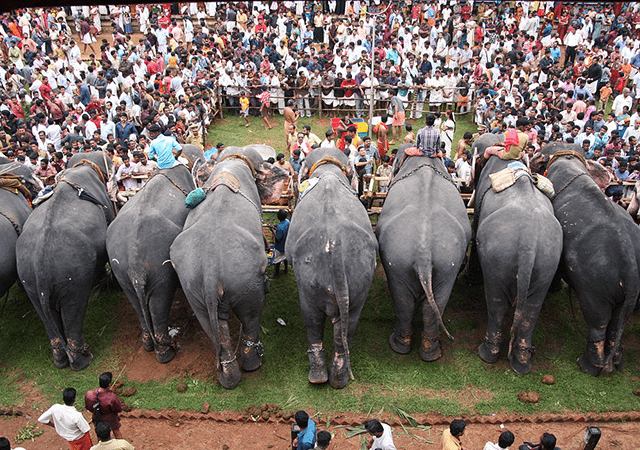 Image by Joseph Lazer via Wikimedia
A grand ceremony held at the Njangattiri Bhagavathi Temple in Palakkad on 20th July. Elephants are lined up and fed specially medicated food prepared according to Ayurveda principles to rejuvenate them during the Malayalam month of Karkkidakam.
2. Malabar River Festival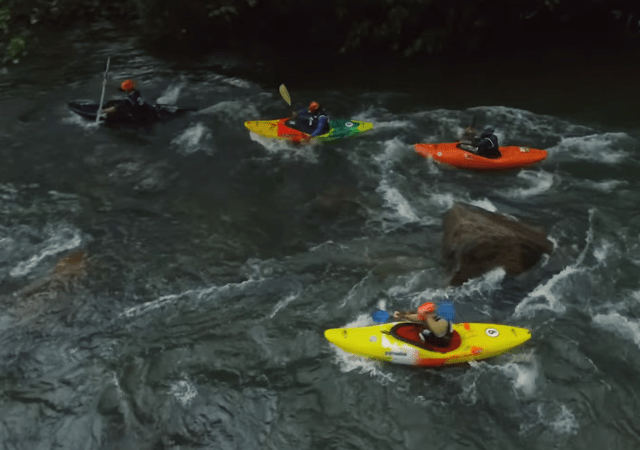 This extreme adventure kayak festival is to be held between July 18th and 22nd at Thusharagiri in Kozhikode. Amateurs and professionals from around the world are expected to participate in the 6th edition of the competition.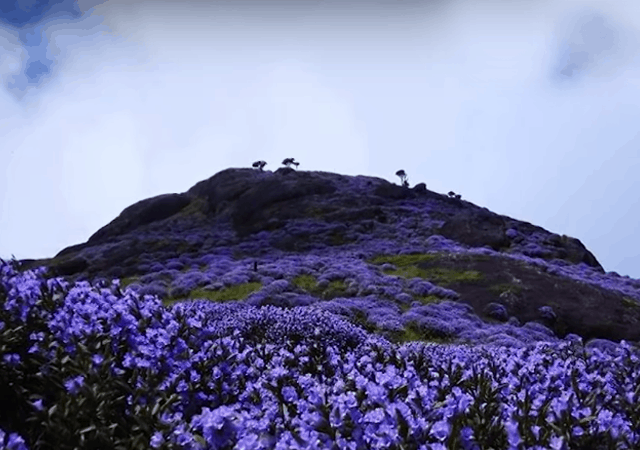 The hills of Munnar are expected to come alive later this month with the blue and purple hues of the Neelakurinji flower that blooms only once in 12 years.
4. Nishagandhi Monsoon Music Festival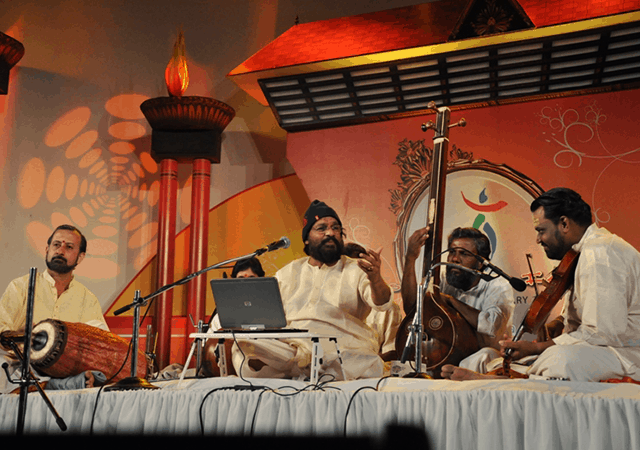 Image by Rakesh S via Flickr
It is to be held at the Kanakakkunnu Palace Grounds in Trivandrum between July 14th and 20th. Renowned musicians and dancers from across the country are expected to dazzle the audience.
The gentle drizzle and lush greenery of Kerala during the monsoon have become a magnet for tourists from around the globe. You'll certainly enjoy the best of Kerala when you plan your trip down here this July.
If you like this post, please share!!