Kerala in June – Weather and Event Guide
Kerala in June is an article on what we can do in Kerala in the month of June as a tourist.
"The three great elemental sounds in nature are the sound of rain, the sound of wind in a primeval wood, and the sound of outer ocean on a beach." – Henry Beston
It's monsoon time in Kerala, one of the best seasons to plan your visit and experience the very best of what nature has to offer!
Kerala is currently experiencing the first rainy season of the year – the South West monsoon. The season is also called Edavappathy, as it typically arrives in the middle of the month of Edavam in the Malayalam calendar. If you've been waiting for the temperatures to cool down after summer, they certainly have!
The weather will be quite pleasant and you'll have quite a lot of rains in store. But this is without doubt the best time to visit Kerala. The monsoon season brings out the ethereal beauty of Kerala's landscape and it's perfectly conducive for ayurvedic rejuvenation therapies.
If you are heading over to Kerala this June, here's the complete lowdown on the weather and events in store for you.
Weather Conditions
Kerala will certainly be much cooler in June, when compared with the summer months. The daytime highs are down a couple of degrees, and the nights are mildly chillier too. The average temperature is expected to be about 27 °C or 81 °F across many parts of the state.
Average maximum temperature in June: 30 °C (86 °F)
Average minimum temperature in June: 24 °C (75 °F)
This is perfect weather for a laidback vacation, as long as you're adequately prepared for the rains.
Here's more insight into the weather information for Kerala in June.
Sea temperature: 28 °C (83 °F)
Sunshine: 5 hours each day
Rainfall: Approximately 26 days in June
Precipitation: 68% to 90%
When it rains, it's certainly going to pour as June is supposed to be the wettest month of the year. Kerala expects to receive at least 341mm of rain in June, spread out over 26 days. So, it's highly likely that it will rain during your vacation. But that's not something you need to worry about. Unlike the summer thunderstorms, the most common type of rainfall in June is moderate rain which is easier to deal with.
June is the third cloudiest month of the year, so you can expect it to be quite cloudy over the course of the month. The percentage of cloud cover ranges from 71% to 85% through June. On an average, you'll get about 5 hours of sunshine each day that you can make the most of during your trip. If you can take the rain in your stride, you'll certainly enjoy your Kerala vacation in June.
What to Wear
You don't have to worry about the heat this month, but you certainly do have to come prepared for the rains. Carry a light raincoat or foldable umbrella with you so you're not caught unawares. It's best to wear light, synthetic clothing that will dry out easily even if you do get wet. It won't be too cold, so you don't have to bother carrying a jacket. But be sure to wear shoes that will endure wet and muddied trails.
Precautions to Take
If you're coming to Kerala in June, here are some precautions you need to take.
Make sure your phones and electronic gadgets are adequately protected from the rain. If your backpack has a rain cover, that's a plus.
Try to stay indoors if a thunderstorm is predicted. It's not advisable to venture outdoors when there's plenty of lightning.
Keep a weather app handy and plan your day's activities based on the possibility of rain.
There will be plenty of mosquitos this season, so be liberal while using a mosquito repellent.
Leeches too are in plenty, especially in fresh water streams and wet nature trails, so carrying a bottle of salt water is advisable. Pouring salt water on a leech that's stuck to your skin will make it fall off.
How to Travel
Traveling in Kerala during the month of June is going to be quite pleasant. You'll find adequate connections via buses and trains for the length of your journey. You can also hire local taxis to take you to your destination if it isn't too far off.
Events to Attend
There are quite a few events you can experience when you visit Kerala in June. Here are some of them.
1. Ochira Kali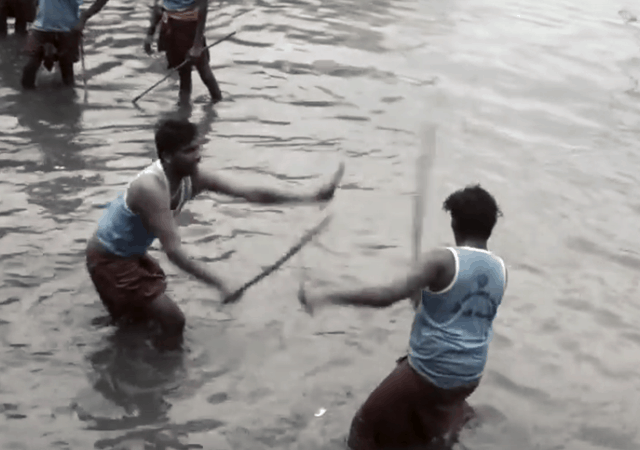 A 2-day temple festival will be held at the Ochira Parabrahma Temple at Kollam between 15th and 16th June. A mock battle is conducted in a waterlogged field with a background of drum beats, to commemorate a historic battle between the former Kayamkulam and Ambalapuzha kingdoms.
2. Kottiyoor Vaishaka Mahotsavam 
Image by User:Sivavkm  via Wikimedia
This 28-day festival continues at the Akkara Kottiyoor Temple in Kannur till 22nd June this year. The visually stunning festivities are held at the banks of River Baveli, in the middle of a dense forest on the hills of Kannur.
3. Champakkulam Boat Race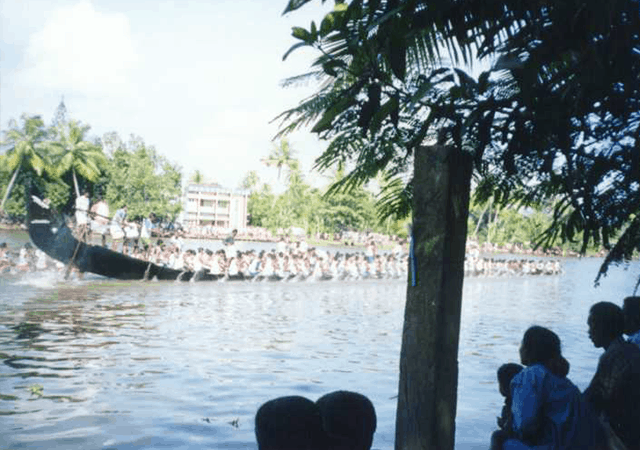 The oldest boat race in Kerala will be kicked off on 28th June at Champakulam in Alappuzha district. The popular event features massive boats rowed to native tunes as they cruise down the Pampa River.
The best of Kerala nature beckons you with the sound of soft rain and greenery that truly comes alive during the monsoon. Don't forget to visit an ayurvedic center for a rejuvenating massage that'll do wonders for your body and mind. You're certainly going to love spending your vacation in Kerala this June!
If you like this post, please share!!