Kerala in March – Weather and Event Guide
Kerala in March is an article on what we can do in Kerala in the month of March.
The weather has turned and we're halfway through a bright, sunny, summery March. If you're looking for a tropical getaway to thaw off after the winter months, you must head on down to Kerala. The sun, the sand and the sea beckon you warmly!
Since the summer vacation here in India hasn't begun yet, the holiday hotspots in Kerala will not be that crowded in March. While it will be considerably warmer than the past couple of months, it will not be scorching either.
If you are traveling down to Kerala this March, here's a comprehensive weather and event guide to aid your travel planning.
Weather Conditions
March and April are the hottest months in Kerala, so you must be ready to embrace the warmer than usual temperature. The average temperature is expected to be about 29 °C or 83 °F in most parts of the state.
Average maximum temperature in March: 33 °C (91 °F)
Average minimum temperature in March: 24 °C (75 °F)
It might get pretty hot during the day, but it will cool down considerably after sunset.
If you're looking for more data on how March weather in Kerala will be, here's a glimpse.
Sea temperature: 29 °C (85 °F)
Sunshine: 8 hours each day
Rainfall: Approximately 5 days in March
Precipitation: 14% to 33%'

March will not be as dry asthe preceding couple of months. You will see a bit of rainfall which might bring the temperatures slightly down and grant a brief relief from the heat. When it rains, there's a 75% chance that it'll be a thunderstorm.
The cloud cover will gradually increase over the course of the month from 35% to 44%. On cloudy days, you will see less sunshine and you can be a bit adventurous with outdoor activities. You can expect 11.55 to 12.12 hours of daylight over the course of this month, so come prepared for longer days.
What to Wear
Without mincing words, we must warn you that it's going to be hot in Kerala in March. Bring plenty of light, airy clothing, preferably in cotton or linen. You will also need a hat or scarf to protect your head from direct sunlight. It's also a good idea to pack a foldable umbrella that will be useful on sunny days as well as during thunderstorms.
Precautions to Take
The high day temperatures can be quite dangerous if you're not prepared for it. Here are a few ways you can take care of yourself while visiting Kerala in March.
Stay out of the sunlight as much as possible, especially in the afternoons when it's the hottest.
Drink plenty of water and fresh juices to keep yourself constantly hydrated.
If you do have to go out in the sun, keep your head covered to avoid a heat stroke.
Lather on plenty of sunscreens to prevent sunburns.
How to Travel
March is a good time to travel within Kerala as it's not peak tourist season yet. As long as you're careful to plan your activities well, you won't have any trouble traveling to different tourist hotspots. There's a wide selection of air-conditioned buses, vans and taxis to ferry you in the daytime if you don't want to feel the heat.
If you have to go longer distances, try to schedule the travel during the evenings or night as it will be cooler and more comfortable. If you're traveling by train, try to book your seat in an air-conditioned coach. This will ensure you have a chilled-out trip and you're not overly exhausted because of the heat.
Events to Attend
If you're interested in true Kerala culture, you'll find a lot of it in the numerous things to witness in March. Here are some of the main events you can witness this month.
1. Attukal Pongala – A large gathering of female devotees cook a feast for the goddess at Attukal Bhagavathi Temple in Trivandrum on 2nd March.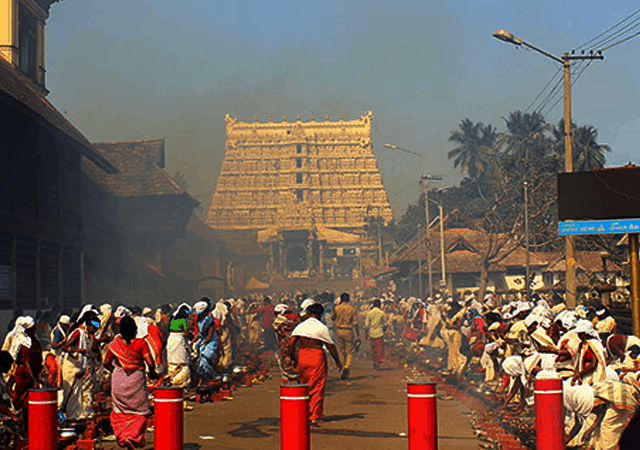 Image Credits: Maheshsudhakar via Wikimedia
2. Paripally Gajamela – About 50 heavily adorned elephants participate in an impressive ritual on March 4th at the Paripally Kodimootil Sree Bhadrakaali Temple in Kollam.
3. Attuvela Mahotsavam – A spectacular water carnival featuring beautifully lit canoes moving towards the Elankavu Sree Bhagavathy Temple in Kottayam between 20th and 21st March this year.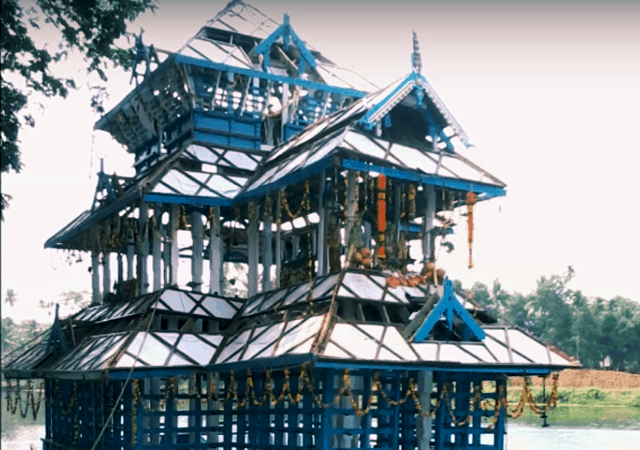 4. Kodungalloor Bharani – A quirky festival with thousands of devotees wielding swords will be held on March 20th and 21st in the Kodungalloor Bhagavathy Temple in Thrissur.
5. Chinakkathoor Pooram – The last day of the temple festival boasts of a colorful and musical procession at the Chinakkathoor Bhagavathy Temple in Palakkad on March 1.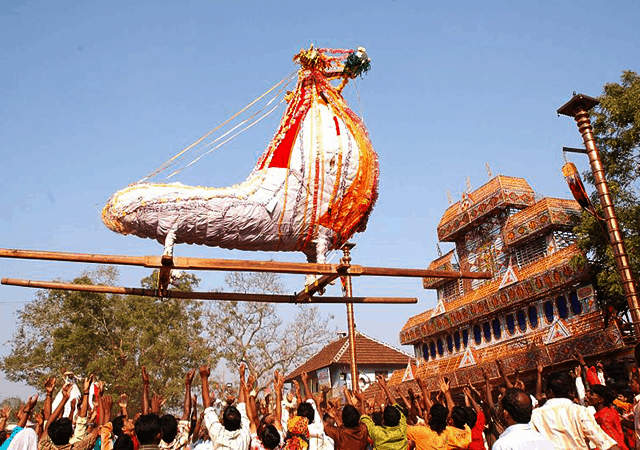 Image Credits Rajesh via Wikimedia
6. Malanada Kettukazcha – A temple festival that features a procession of well decorated structures accompanied by percussionists in the Poruvazhi Malanada Temple in Pathanamthitta on March 23rd.


7. Painkuni Festival – A 10-day extravaganza by the royal family of Travancore held between 23rd and 31st March at the Sree Padmanabha Swamy Temple in Trivandrum.
8. Thirunakkara Arattu – A 10-day temple festival featuring bedecked elephants, traditional dancers and drummers, conducted at the Thirunakkara Mahadeva Temple, in Kottayam on March 24th.
9. Arattupuzha Pooram – A large elephant pageant is the highlight of this traditional temple festival held on March 29th at the Arattupuzha Temple in Thrissur.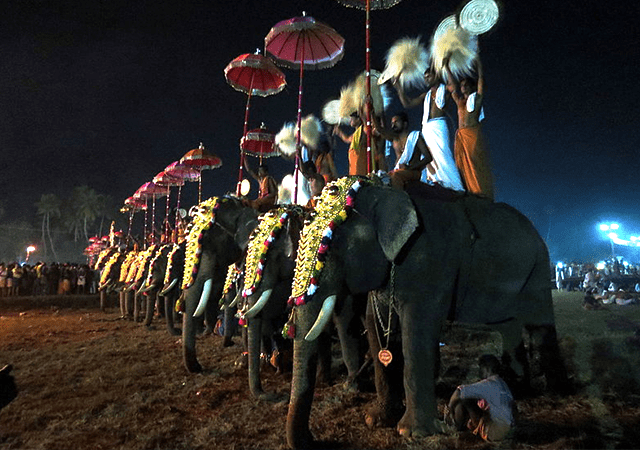 Image Credits Sivavkm via Wikimedia
Although the weather might be a bit balmy, March is a good time to plan your visit to Kerala. If you need to just take a break from a hectic lifestyle, you simply need to pack your bags and head on over. It will be a getaway you'll cherish for a long, long time.
If you like this post, please share!!