Kerala in May – Weather and Event Guide
Kerala in May is an article talks about what all we can do in Kerala in the month of May.
May is an interim month here in Kerala. It's still summer but the temperatures drop with the increase in rainfall, paving the way for the monsoon to set in. This is a good time to visit Kerala, especially if you'd like to travel without your plans getting hampered by torrential rains.
The weather is going to be warmer than what you are used to – Kerala lies in the tropics, after all. But it will not be unbearably hot either. The refreshing rains will come down when you least expect it and cool down the land. If you'd prefer a moderate climate, you can always head to the hill stations in Kerala where it will be cooler than the plains year-round.
If you are planning to vacation in Kerala in May, do read on for a highly informative weather and event guide.
Weather Conditions
A visitor may find Kerala as hot in May as in April. But in truth, there is a slight dip in the real-feel temperature. The evenings especially are much cooler, which makes for some pleasant evening strolls down the beaches or the trails. The average temperature is expected to be about 29 °C or 84 °F across many parts of the state.
Average maximum temperature in May: 32 °C (90 °F)
Average minimum temperature in May: 25 °C (77 °F)
The average day temperature is barely a degree cooler than April, but the night temperatures are almost the same.
Here's more insight into the weather information for Kerala in May.
Sea temperature: 30 °C (86 °F)
Sunshine: 7 hours each day
Rainfall: Approximately 17 days in May
Precipitation: 46% to 67%
It might go up to 32 °C or more during the day, especially in the drier parts of the state. You can expect quite a bit of pre-monsoon showers, mostly in the form of sudden thunderstorms. It's advisable to check the daily weather forecast before you venture out each day. You can expect at least 216mm of rainfall in May, spread across 17 days.
The rain is something you can truly look forward to as it cools the land down, makes the air crisper and the landscape greener. There'll be good cloud cover too, ranging from 52% in the beginning of May to 70% towards the end. The average number of daylight hours ranges from 12.28 to 12.40 over the course off the month. Adequate cloud cover and less sunshine means you can do more outdoor activities in Kerala this May.
What to Wear
You'll have to come prepared for both the heat and the rains. Pack light, airy clothing that will help you battle the heat and also dry easily if you get caught in a downpour. Make sure you carry a light raincoat or foldable umbrella for the rains, and a hat or scarf to shield your head from direct sunlight.
Precautions to Take
Here are some precautions you need to take if you're visiting Kerala in May.
Avoid going out in the noon sun. It's best to venture out only in the early mornings or late mornings, and visit indoor monuments or shady places when the sun is overhead.
The heat may affect your appetite but keep drinking sufficient cool water or fresh juices to keep yourself hydrated.
Use a sunscreen during the day and a mosquito repellent at nights.
If you'll be wading through fresh water streams or wet jungle trails, you may come across leeches. Carry a bottle of salt water with you that will repel the leeches that try to hold on to your skin.
How to Travel
Traveling in Kerala is pretty uncomplicated. You can avoid traveling long distances at a stretch if you find the heat uncomfortable. If you aren't able to split your journey, try to book tickets in an air-conditioned bus or train coach to make the travel easier to handle.
Events to Attend
Kerala culture is rich and diverse, so if you're heading over in May, it's a good time to experience the native festivities. Here are some of the events that will be taking place this month.
1. Edathua Perunnal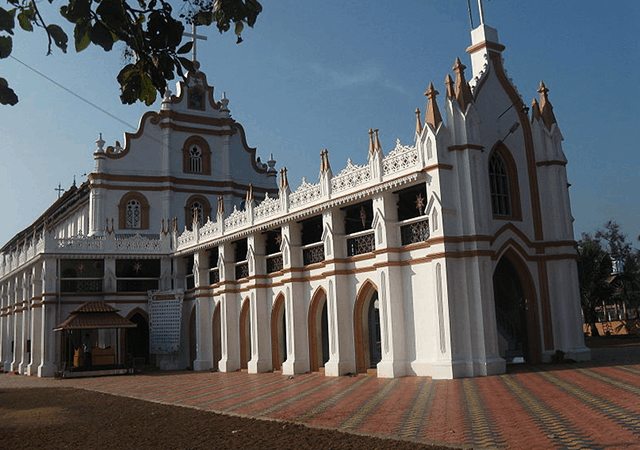 Image by Johnchacks  via Wikimedia
An annual religious celebration held between 27th April and 7th May at the Edathua Church in Alappuzha. The festivities include a procession with a statue of the saint decked in gold, carnivals and feasts held on the banks of the Pamba River.
2. Palayur Church Festival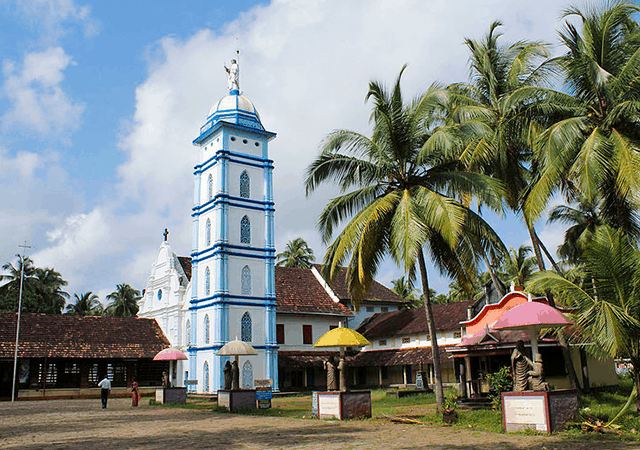 Image by Princebpaul0484 via Wikimedia
This is a unique religious festival held between 6th and 7th May at the St. Thomas Church in Palayur, Thrissur. Thousands visit the church during the festival and enjoy the pageantry, orchestra and fireworks.
3. Puthupally Perunnal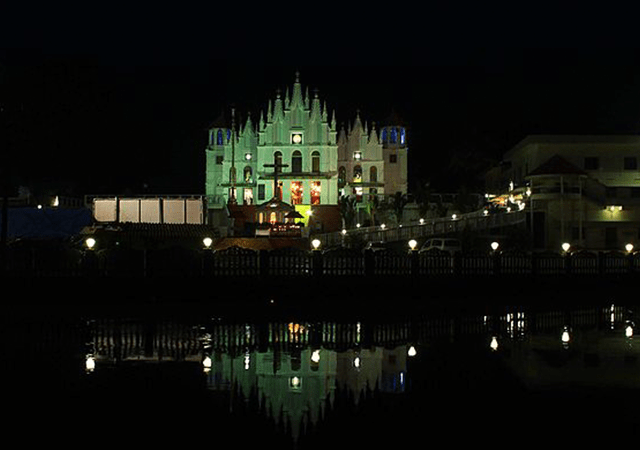 Image by Civi Varghese via Wikimedia
This majestic event is held at the St. George Orthodox Church in Puthuppally, Kottayam between May 6th and 7th. The festivities include hoisting the customary flag in advance, a ceremonial feast and a grand procession featuring ceremonial crosses and umbrellas.
4. Kottiyoor Vaishaka Mahotsavam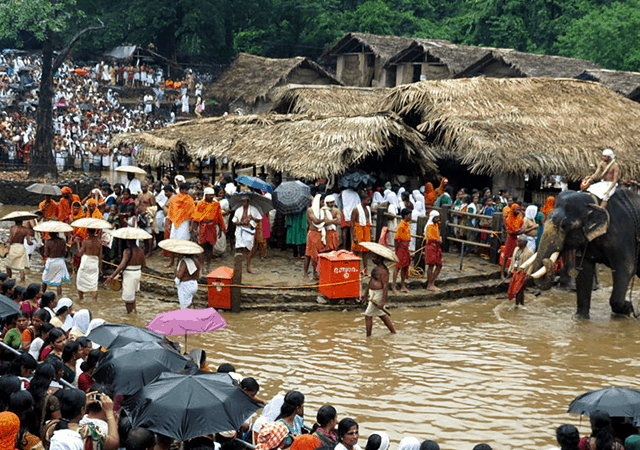 Image by User:Sivavkm via Wikimedia
A 28-day festival conducted at the Kottiyoor temple in Kannur between 26th May and 22nd June this year. The elaborate festivities are hosted by two temples, Akkara Kottiyoor and Ikkara Kottiyoor, on the banks of the River Baveli.
May is summer's last hurrah in Kerala before the monsoon sets in. Don't hesitate to spend a laidback weekend at the beach or head over to a hill station to cool down. There's no dearth of adventure activities in Kerala, or you could go the eco-tourism route and just explore the land. Whatever your Kerala itinerary may be, you're sure to have the best time of your life!
If you like this post, please share!!