Kochi: The Ultimate Tourist Destination For a Memorable Trip – Infographic
Kochi is one of India's most tourist-friendly destinations. Also known as Cochin, 'the Gateway to Kerala', it is also referred to as 'the Queen of Arabian Sea'.
It is an enchanting city that has had an international influence over many centuries. The British, Dutch, Chinese, and Portuguese have all left their marks here.
One thing that strikes every visitor to Kochi is the communal harmony that exists here. From the Hindus to Muslims, the Jains, Buddhists, Jews and Christians – you will find followers of all the main religions in Kochi.
Also, the vivid and exotic cuisine in Kochi reflects the influence of all the explorers who came from around the world.
Each and every corner of Kochi will have a story to tell you about its rich culture and heritage.
Step into the three-storied Kerala Folklore Museum and take a stroll down history where every relic speaks the traditions of a bygone era of the state.
And if you wish to relax and enjoy Nature by watching birds in this buzzing metro, then visit Mangalavanam Bird Sanctuary, one of Kerala's best bird sanctuaries where you can find different species of birds found in peninsular India.
You can also wander around Kochi shopping or go for a sunset cruise at Marine Drive.
There are lots of unique things one can do here in Kochi :
Take up an authentic Kerala cooking lesson
Visit the Eco-tourism village in Kumbhalangi
Cycle around the metro city
Explore the Jewish town and bazaar road
Visit St. Francis Church and many more tourist attractions in and around Kochi.
Kochi (or Cochin as the locals prefer) has captivated the imagination of travellers from around the world with its picturesque beauty and charm of its backwaters.
It has an entirely different signature – history and tradition woven together with modernization.
If you want to have an exhilarating trip, be sure to pick Kochi as it provides visitors with a wide array of things to do and places to see.
Here's an infographic that illustrates what Kochi offers to a tourist.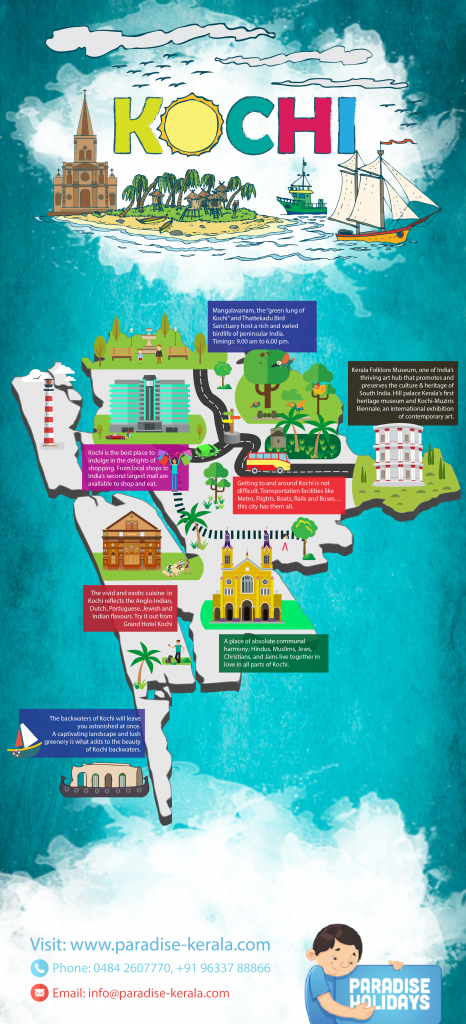 If you like this post, please share!