Kochi to Munnar – A Trip to Refresh You
Munnar is a popular tourist destination in the Idukki district of the Indian state of Kerala known for its tea plantations, hills, and wildlife. The best way to get from Kochi to Munnar is by car, which takes around 4-5 hours depending on traffic and road conditions. The distance between the two places is around 130 kilometers.
While going to Munnar, here are some popular places to visit. Cheeyappara and Valara are two popular waterfalls located near Munnar.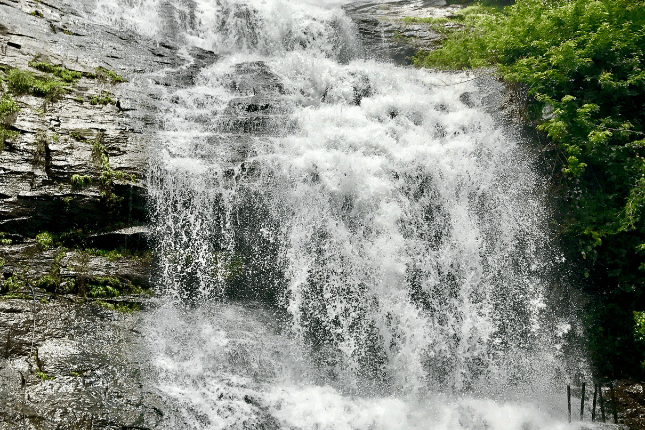 1. Cheeyappara Waterfall: Located in Marayoor, around 42 km from Munnar, Cheeyappara Waterfall is a spectacular waterfall that cascades down from a height of around 100 ft. The falls are surrounded by lush green forests, making it an ideal spot for a picnic or a trek.
2. Valara Waterfall: Located around 15 km from Adimali, Valara waterfall is one of the most popular waterfalls in Munnar. It is a picturesque waterfall with a height of around 100 feet and surrounded by lush green forests. This waterfall is also a good spot for picnicking and trekking.
Both of these waterfalls are great places to visit if you're looking to escape the hustle and bustle of the city and enjoy some time surrounded by nature. Keep in mind that, due to its proximity to Munnar it can be quite crowded on weekends and holidays.
Tea Plantations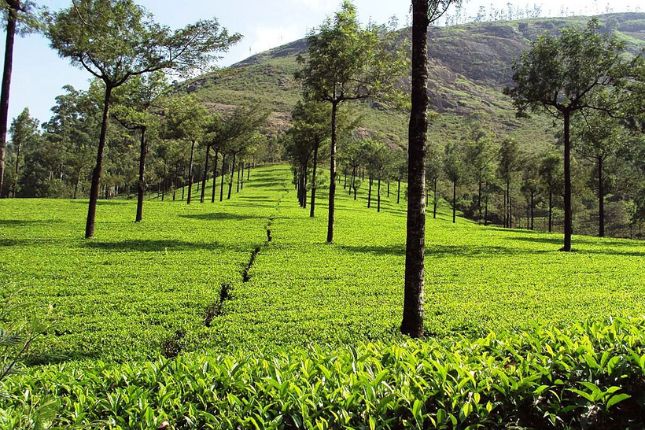 The tea industry is a major source of income for the region and employs a large number of people. The tea produced in Munnar is known for its high quality and distinctive flavor, and is exported to various countries around the world. Many tea plantation companies like Tata Tea and Harrisons Malayalam are operating in Munnar and providing jobs for locals.
Spice Gardens
In addition to tea plantations, Munnar is also home to several spice gardens that are popular among tourists. These gardens offer visitors the opportunity to learn about the cultivation and processing of different spices, such as cardamom, pepper, cinnamon, and nutmeg. They also often include spice shops where tourists can purchase a variety of spices, teas, and other locally made products. Visitors can take guided tours of the gardens to learn about the different spices, their usage and benefits as well as how they are grown and processed. Some spice gardens also offer activities like cooking classes and ayurvedic massage sessions. Many of these gardens also include beautiful, well-manicured lawns and gardens that are popular for picnics and nature walks.
You should plan a minimum of 2 -3 days trip to Munnar to explore its beauty. Because, by the time, you reach there and visit these places it would have been evening. You can then check-in to your respective hotel. Some of the most preferred hotels are Fog Resort, Blanket Resort, Fragnant Nature, Tall Trees, Chandys Windy Woods and Parakkat Nature Hotel & Resorts.
The next day, you can continue exploring Munnar and an ideal time would be 9: 00 AM.
Eravikulam National Park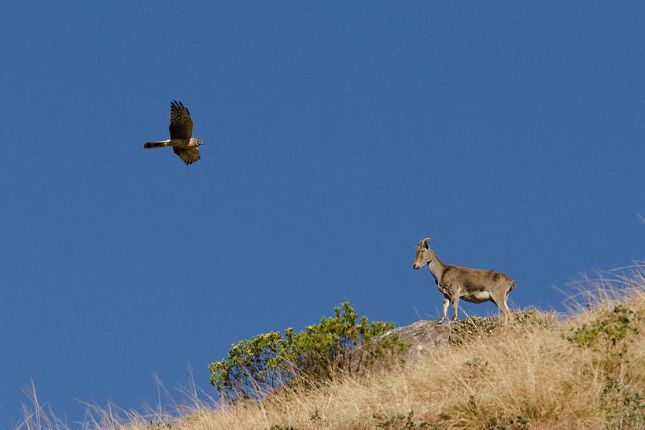 Eravikulam National Park is home to the endangered Nilgiri Tahr, as well as a variety of other flora and fauna. The park is also known for its scenic beauty, including rolling hills, grasslands, and shola forests. It is a popular destination for hiking, nature photography, and wildlife viewing. The park is open year-round, but certain areas may be closed during the monsoon season. It is better to book the tickets well in advance through the links provided by Paradise Holidays, once your kerala tour package is confirmed.
Tea Museum
The Tea Museum in Munnar is located in the Nallathanni Estate of Tata Tea. It showcases the history of tea cultivation in the area, as well as the tools and equipment used in the tea-making process. Visitors can also learn about the different types of tea produced in the region and take a tour of the tea factory. The museum also has an interesting collection of photographs, documents, and other memorabilia related to the history of tea in Munnar. The museum is open to visitors all days except on national holidays.
Mattupetty Dam
The Mattupetty Dam is a concrete gravity dam located in the Idukki district and is a popular tourist spot. The dam was built in the year 1963 and is primarily used for hydroelectric power generation and for providing irrigation water to the nearby areas. The dam also offers a picturesque view of the surrounding hills and valleys, and visitors can take a boat ride in the reservoir to enjoy the scenery. There is also a children's park, a beautiful garden and a boating facility available for visitors. The dam is open to visitors all days, but the boating facility may be closed during monsoon season.
Echo Point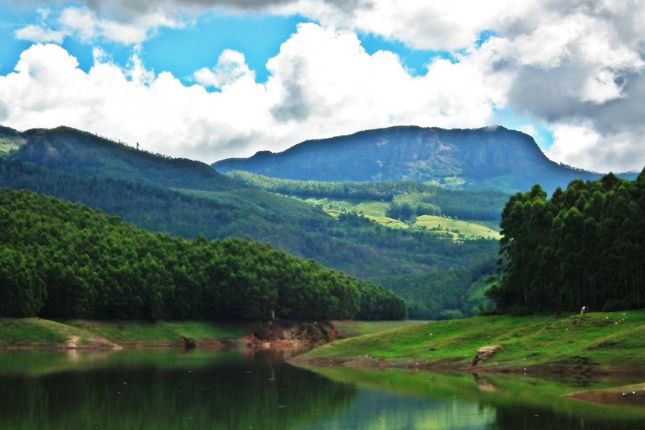 The name "Echo Point" is derived from the natural echo phenomenon that occurs here. The place offers a panoramic view of the surrounding hills and valleys and is a popular spot for photography and picnics. Visitors can also take a boat ride on the nearby lake to enjoy the serene beauty of the place. Echo point also has an artificial waterfall and a beautiful garden that makes it perfect spot to spend some quality time with family and friends. The place is open to visitors all days and can be reached by car or by foot from the main Munnar town.
Kundala Lake
Kundala Lake is a man-made lake surrounded by lush green hills, and it is a popular spot for boating, fishing, and picnics. Visitors can take a boat ride on the lake to enjoy the serene beauty of the place. The lake is also a popular spot for bird watching, as a variety of migratory and local birds can be seen here. The lake has a dam that creates a stunning view of the surrounding hills and valleys. The dam is also famous for paragliding, which is a popular adventure sport in the area. Kundala Lake is open to visitors all days, but boating facilities may be closed during monsoon season.
Botanical Garden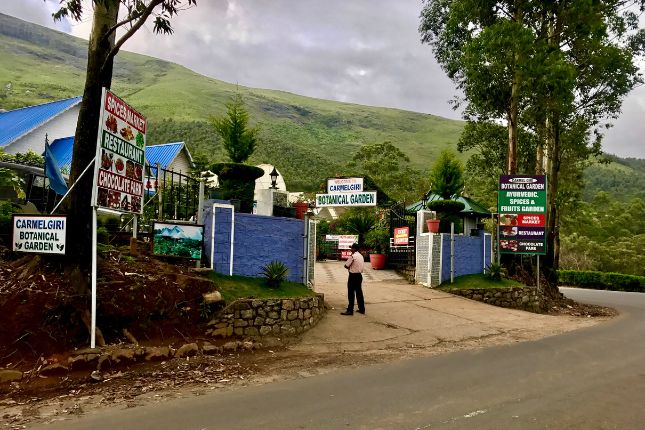 The Botanical Garden in Munnar is spread over an area of around 60 acres and is home to a wide variety of rare and exotic plants and flowers. The garden is also known for its beautiful and well-maintained lawns, fountains, and statues. Visitors can take a leisurely stroll through the garden, admire the plants and flowers, and relax in the peaceful surroundings. The garden also has a greenhouse, which is home to a wide variety of orchids and other tropical plants. It also has a nursery where visitors can buy plants and seeds. The Botanical Garden is open to visitors all days but the timings may vary.
After all the sightseeing, you can take a rest and then return on the next day. These 2 days would definitely be so refreshing that you may decide to come again next year too. So, happy trips!