We are generally enamored of Royal families and Palaces, even in this age of Democracy.  Most of the other States in India had a single Sovereign, a Maharajah ruling them before India became a republic. But Kerala was always differentiated into a number of entities ruled by their respective ruler; thus there are many palaces in Kerala. They are all built in traditional style, some with a few special features. Later with the advent of Portuguese, Dutch and English, more palaces of different styles came into being. Here are some of the Palaces in Kerala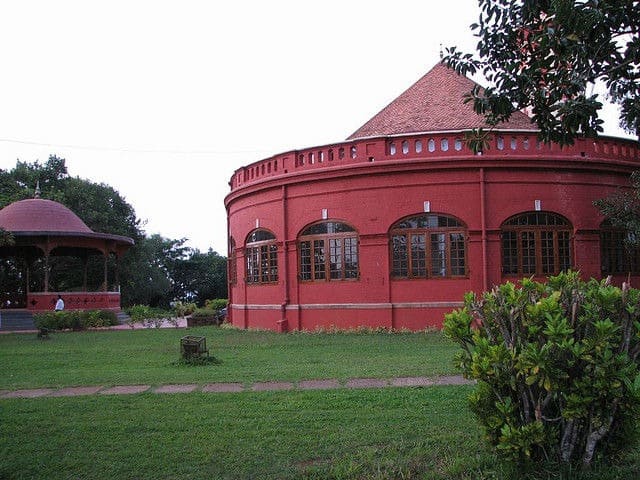 Kanakakunnu Palace in Trivandrum with its sprawling grounds comes under the list of heritage monuments. Tourism department conducts cultural Festivals in the open-air Nishagandhi and Sooryakanthi auditorium. The Annual All India Dance Festival is an occasion for those who adore Indian classical dance. It draws a lot of tourists.
The loyal subjects of the past kings of Travancore  never forget that the palace was built by Sree Moolam Thirunal of Travancore Royal family in early 20th century and served for hosting royal banquets where meat could be served, which was considered barbaric by the upper castes. The crystal chandeliers and exquisite furniture bear witness to the bygone days of life of kings. The palace is built on a hill with meadows and gardens as setting. This is one of the major Palaces in Kerala. This is a good Palaces in Kerala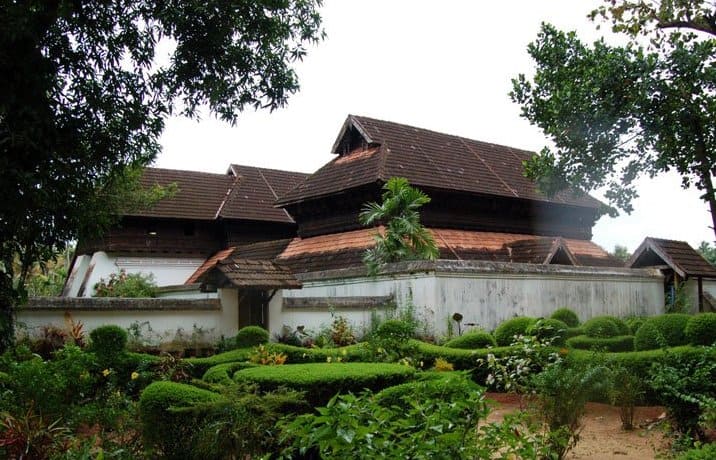 The Krishnapuram Palace was built by the most famous Rajah, Anizham Thirunal  Marthanda Varma  in the 18th century. It is located in Kayamkulam near Alleppey. With its gabled roof and dormer windows it recalls the days of yore. The king built it near the Krishnaswamy temple. It contains exhibits of the period that is 18th century. A large pond in the complex is said to have an underground passage for escape from enemies.  The ground floor of the palace has a great  mural titled "Gajendra Moksham". The courtyard has a statue of Buddha. This is another Palaces in Kerala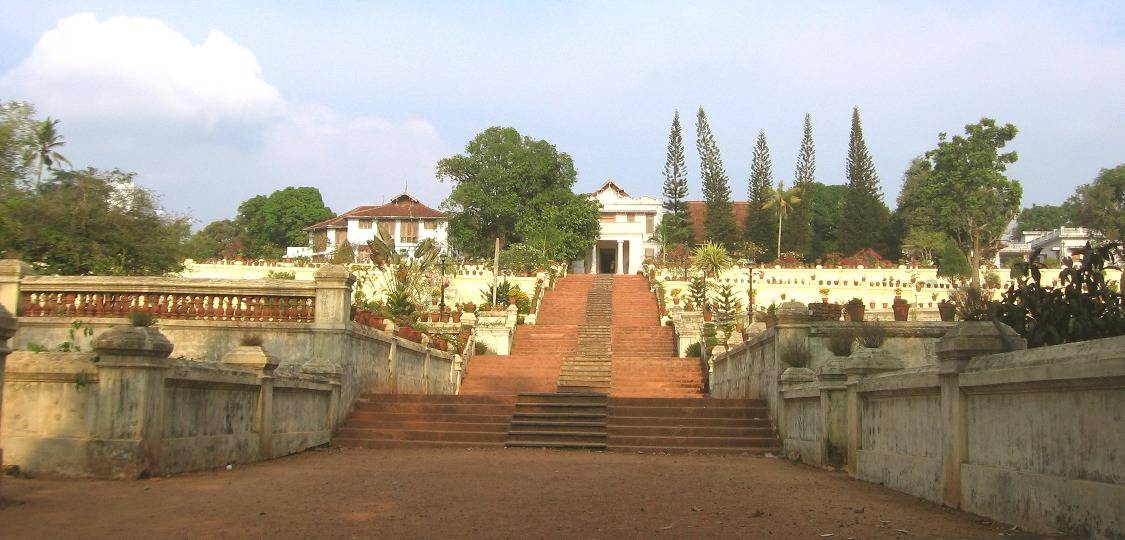 Hill Palace, Tripunithura was built in 1865 by the Maharaja of Kochi in 1865, taken over by the Government in 1980. Now it houses the largest archeological museum in Kerala. The complex consists of 49 buildings built in the traditional style. So many institutes connected to Kerala culture are housed there. It is the foremost museum for a culturally inclined tourist. Most of the exhibits belong to the Cochin royal family such as stone studded crown, ornaments, paintings, sculptures etc. The horse cart gallery and weapon gallery are fantastic. The palace is situated about 12 km from Ernakulam. This is a must visit Palaces in Kerala.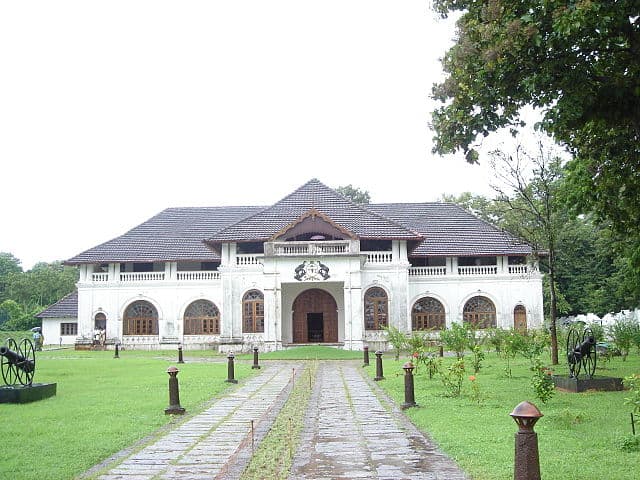 Shakthan Thampuran Palace stands proudly in the city of Thrissur. It was reconstructed in Kerala-Dutch style later by the Rajas. The main structure is a two storied building in the style of a nalukettu, means a mansion with 4 wings around a central courtyard.. Spacious rooms with thick walls and Italian marble floors make it amenable to a comfortable stay. It was the center of power of Rajah Shakthan Thampuran the best known ruler of Kochi. In 2005, it was turned into a museum. This is also a good Palaces in Kerala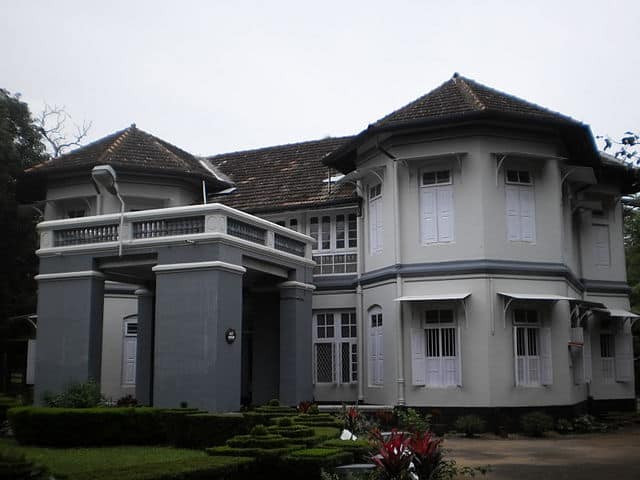 Image by
Edukeralam
at
ml.wikipedia
Kollengode Palace was constructed by Vasudeva Raja, the ruler of the place as a gift for his daughter. Department of archeology converted it into a Mural Art Museum. Architecture shows a mingling of traditional with western style. It is situated in Thrissur city. This is a must visit Palaces in Kerala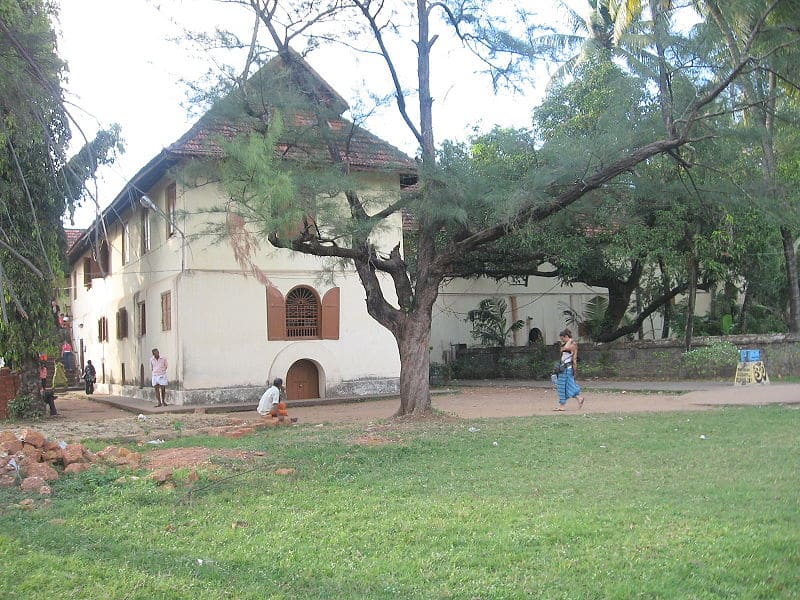 Mattancherry Palace in Cochin was built and gifted to the Rajah of Cochin by the Portuguese circa 1555. It is said to be gifted as an atonement for plundering a temple nearby. A century later the Dutch renovated the palace and since then it is known as Dutch Palace. The Rajahs maintained the palace well. The palace hosts a portrait gallery of Rajahs of Cochin in the Coronation hall, and also some of the best mythological murals in India. All the royal paraphernalia are also exhibited in the palace.
The palace is in the Nalukettu style with a courtyard in the middle. The temple of "Bhagavati" the protective goddess of the royals stands in the middle. The temples on either side of the palace also still stand surprisingly. You can see the beautiful Kerala flooring which looks like black marble. The glory of the palace is bestowed by the murals in rich colors dating back to 16th century. They depict all the important scenes of Hindu mythology. The Mattamcherry palace is a centrally protected monument. This is a good Palaces in Kerala
Laxmipuram Palace in Kottayam district was the residence of Koi Thampurans. Its significance is that some of the best writers and musicians hail from there.
Halcyon Castle in Trivandrum is a modern style building built for Rani Sethulakshmi Bai of Travancore by her consort. After its sale to the State Government it was made into a deluxe hotel. Now the castle with a large surrounding area is a private hotel owned by Ravi Pillai a NRI businessman.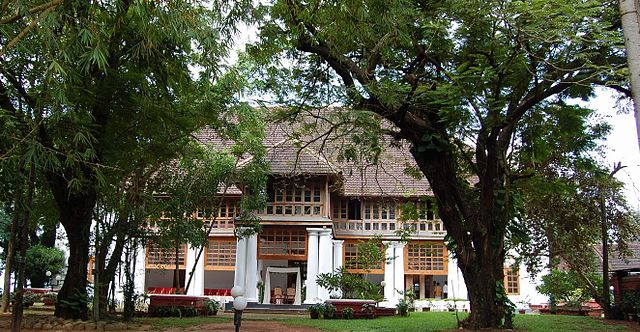 Image by
Challiyan
at
ml.wikipedia
Bolgatty Palace is on the island of same name in Kochi. This beautiful palace with landscaped gardens was built in 1744 by the Dutch and it accommodated the governor of Dutch Malabar. Later the British Residents of Cochin used to live there. In 1947 after independence the palace was made a heritage hotel resort. There is a pool, golf course, ayurvedic center; the daily kathakali performance is an added attraction. It is a sought-after place by tourists. This is another Palaces in Kerala
Mankavu Palace – The Zamorins of Kozhikode had a number of mansions, mainly 4. They had to suffer attacks by Hyder Ali and later his son Tipu Sultan. They fought and thwarted the alien rule for some years but were conquered ultimately. Their residences  also suffered damages . Rajah Krishna Varma and his nephew Ravi Varma with a brave group of Nair warriors fought valiantly to prevent Muslim conquest and conversion. They lived in the Mankavu Palace, 6oo years old, in Calicut which is still inhabited by some of the members. The powerful family had to struggle against the Mysore rulers and later the British. They had 4 palaces, but none of them could maintain their status due to constant strife. This is a good Palaces in Kerala/
Kodungallur Kovilakam (Palace) was renowned as Gurukulam, center of learning. Scholars from all parts of Kerala used to live there and study Sanskrit and Vedas. Many of these scholars gained honor for their great contribution to Malayalam literature.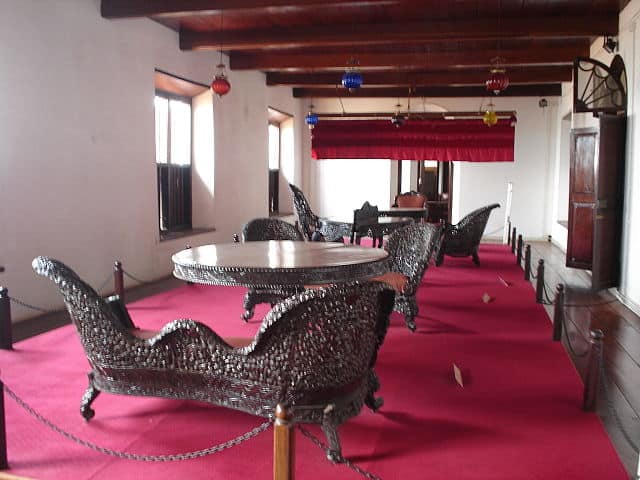 Furniture Display at Arakkal Palace Museum: Image by
Shijaz
at
en.wikipedia
Arakkal Palace belonged to the only Muslim royal family of Kerala. The Durbar hall of the palace is now a museum. Government of Kerala spent a lot to renovate but did not take over the mansion. A family trust owns it now.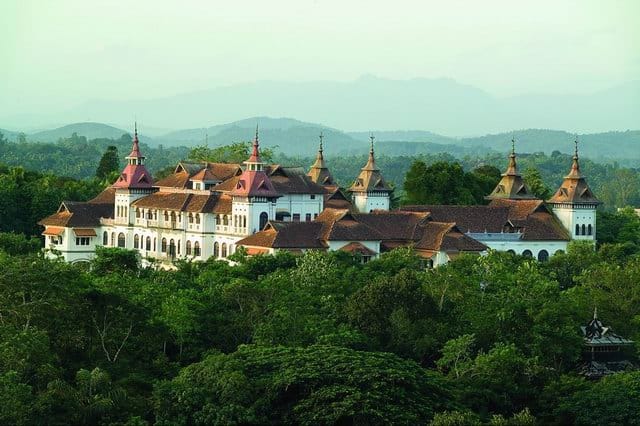 Image by
Manu rocks
at
English Wikipedia
Kowdiar Palace is also in Trivandrum. It was  built in 1915 by Sree Moolam Thirunal. The royal family of  Tranvancore lives there. Architecture is noteworthy ; It is a beautiful palace with 150 rooms, Entry is naturally restricted.

When you plan your Kerala trip, do include these palaces in your itinerary, as possible. They are well worth the visit.
Have you visited any of the above Palaces? Share your experience with us. Love to hear from you…!