'Name Our Mascot' Facebook Contest
We are super excited to announce our first Facebook contest. Last November along with the inauguration of our customer relationship office, we had unveiled a new logo. Now we have made the logo character to be our official Mascot! You can now Name Our Mascot
Here is our mascot in different avatars!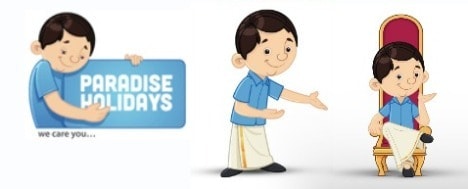 And now we need your help. Please help us to choose a name for him! For that we are conducting a Facebook contest where you can add your name suggestion.
NAME OUR MASCOT – Facebook contest!
Give our little fella a name and you could win yourself a 'One Night Stay at Munnar'!! 
From all the accepted entries, the entry with most number of votes will be declared as the winner. The contest will run from 29th March to 12th April 2014.
Terms and conditions for this contest:
1. Paradise Holidays reserve the right to approve the entry or response.
2. Approved Entry with most votes will win!
3. You will have to provide your email ID and address for redeeming your gift!
4. Our decision will be final.
5. Winner will get one night stay in a 3 star Hotel in Munnar (for a couple!).
6. Winner will be declared on 12th April.
We look forward to your help in finding a name for our fellow! See you there ( on Facebook!!).