Our Guruyayoor Temple Darshan
It's a regular practice for us to visit Guruvayoor temple at least once in two months. Ideal time to reach Guruvayoor for Darshan is either in morning or in evening. Guruvayoor is 90 km from Cochin, 2.5 hrs drive. One can either start early morning from Cochin to reach temple by 8.00 am in the morning or get down at Thrissur which is only 45 min drive.
When to Start from Cochin
We normally go in the evening, starts by 4.30 pm from home to reach temple by 7.00 pm. Guruvayoor normally you have to wait for 2-3 hours to get darshan. Apart from temple darshan, one can visit elephant care centre which has more than 60 elephants and Chavakad beach.
To reach Guruvayoor temple, one can either take the route Cochin- Thrissur- Guruvayyor or Cochin- Kodungallur- Guruvayyor. If taking the later route we can visit Kodungalloor Bhagavathi Amman temple also but should travel early morning to cover both else won't get time.
As usual we started at 4.30 pm in the evening and took the Thrissur route, being NH 47.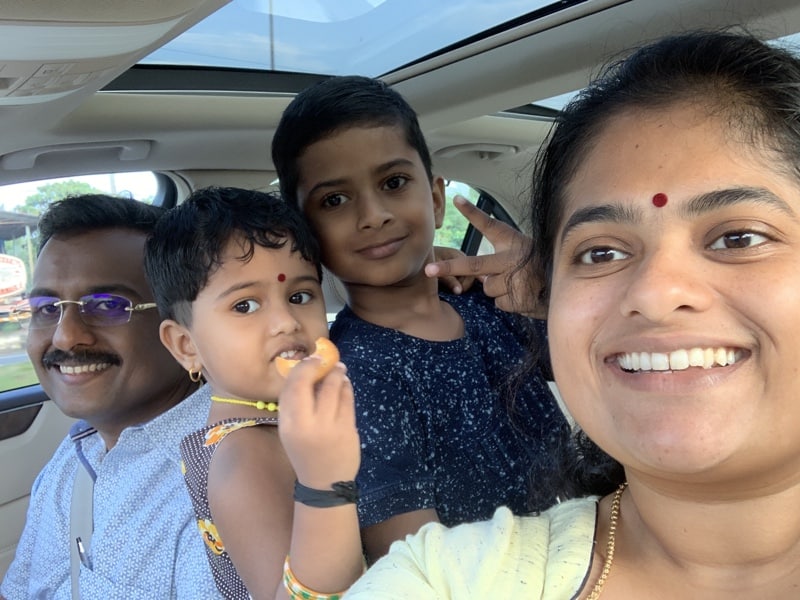 We reached Guruvayyor temple by 7PM and it was heavy rush due to festival time. We had to be in que till 8.30 and had darshan and came out by 9.30PM. There is a Ganapathy temple at east nada. We used to have darshan when ever we go go Guruvayoor temple. A visit to Maraprabhu status which is at South Nada, you can even see the 1:1 statue of Guruvayoor Keshavan. Above is our routine schedule for Guruvayoor temple visit. A drive home, reached by 12.30 after dinner on the way.
Best Practices
If your intention of visit is only to have Guruvayoor temple darshan prefer to go in the evening. If you can plan travel in the morning, you can visit Kodungalloor Amman temple on the way. After Guruvayoor temple visit, you can visit Mammiyoor temple and have time at elephant sanctuary which is close by. At this elephant sanctuary you can watch more than 60 elephants roaming around.
If your stay is near Guruvayoor temple, have an afternoon nap and visit chavakkadu beach in the evening. You can even visit temple in the evening. There are many rituals in the evening time with chenda melam which is worth watching.
Many people even used to have full day Bhajan at Guruvayoor temple where they reach one day early. Have darshan early morning, morning and in the evening. Except going out for food and during the short closing time in the afternoon people spend time inside temple. A spiritual day to be spent.
On the way back to Cochin
While return to Cochin you may visit Trichur Vadakkumnathan temple. This is one of the biggest temples in Kerala and move back to Cochin or catch return train from Trichur
Guruvayoor temple allows only Hindus to go inside temple, men allowed only with dothi and women on sari or churidar. Pants, shirts, leggings etc. not allowed inside.
We could not take picture from temple as mobile was not allowed inside.
Guruvayoor temple visit also used to be a part of South Kerala tour
Rgds
Ratheesh R. Nath & Sreedevi Ratheesh
Managing Director
director@paradise-kerala.com