Plan a Kerala Tour – A Step-by-Step Guide to Plan Your Kerala Tour Package
If you are in the planning stages of a Kerala tour, I recommend that you read the information below. This is something I've produced based on my personal experience organizing Kerala tour packages for numerous visitors like you. You can make sure that this article will assist you in planning every detail of your trip.
Making Plans for a Trip to Kerala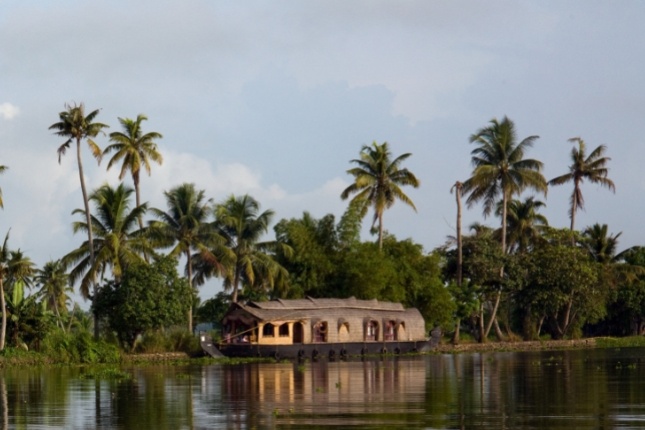 Decide how many days you can spend in Kerala before beginning any research to arrange your trip there. This is essential because you can only choose your travel destinations based on your leave.
If you have a sufficient amount of vacation time, explore Kerala's tourist attractions and decide on the number of days with the aid of the tour operator. Freeze your arrival and departure dates in both scenarios.
You can purchase your tickets to Kerala once your Kerala vacation package is complete. Always reserve up to Cochin when making reservations for a subsequent flight. Another alternative is Trivandrum; however, only reserve a trip to Trivandrum if Kovalam or Kanyakumari are your first two stops. The only time Calicut is worthwhile is if Wayanad is your first stop.
How can I get to Cochin?
Cochin is also known as Ernakulam and is also written as Kochi. You can make a bus reservation to Ernakulam at the same time. Since some trains only stop at one station, you can choose to schedule a trip to either Ernakulam North or Ernakulam South. ERN or ERS is the station code for train reservations. Make a reservation for a flight to Cochin or Kochi (location code is COK).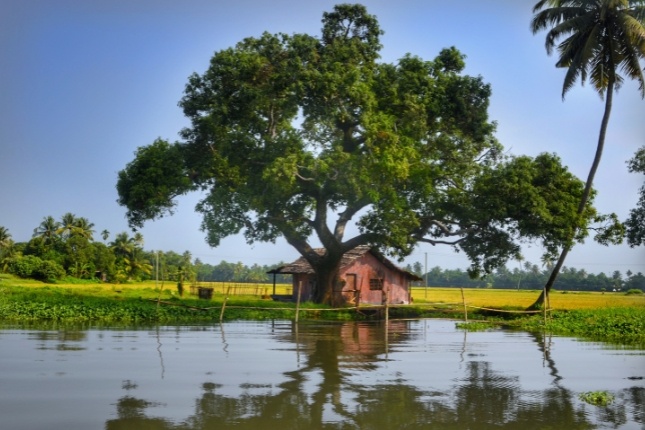 By all means, try to get to Cochin as soon as you can to visit as many places as possible on our Kerala tour packages. When planning a Kerala tour, this should be a preference.
Kerala can be reached by train, flight, or bus from Coimbatore, Bangalore, Mysore, Chennai, Hyderabad, and other nearby cities. The best method from Coimbatore is by bus. You can choose between all three alternatives if you're leaving from Bangalore. Typically, a bus from Bangalore to Cochin takes 9 to 12 hours. These days, multi-axle Volvo buses arrive in Cochin in 9 to 10 hours. Depending on the state of the roads, this varies. There is a checkpoint at the border between Tamil Nadu and Kerala, and on extremely rare occasions, buses have arrived late as a result of inspection at this checkpoint.
The Bangalore-Cochin route is well-served by buses, making it a viable alternative for travellers from Bangalore who want to travel to Kerala. You might even search for sleeper buses.
From Bangalore, it takes a train for about 12 hours, but finding a ticket is the major problem. This is your best choice if tickets are available. Anyhow, make an effort to reserve a bus or train that arrives in Cochin early in the day. If flying is your preferred method, make sure your flight arrives at least before noon.
If flying is your preferred method, make sure your flight arrives at least before noon.
Travel from Hyderabad to Cochin
The best transport options from Hyderabad are by train or by air. Buses should only be taken as a last resort because they take about 18 – 22 hours.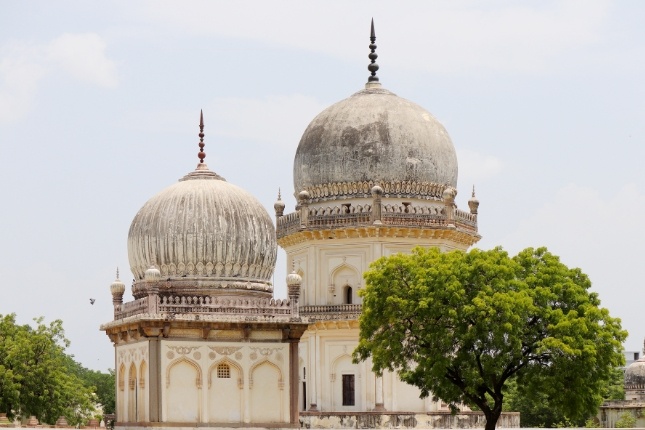 Buses and trains are available from Mangalore. You can either travel to Cochin directly from Mysore via bus, or you can first travel to Bangalore and then Cochin. You have a choice of travelling by bus, train, or flight if you are leaving from Chennai. The travel time to Cochin by train and bus is nearly 12 hours. If you're planning a trip to Kerala from Chennai, Mangalore, or Mysore, you should consider this alternative.
You can travel to Kerala by train or flight from Delhi, Ahmedabad, Jaipur, Mumbai, Delhi, or any other destination. If you're coming from another country, you can choose to fly directly there. You can also get out at one of the airports in major cities and travel to Kerala by train.
To minimize complications, you must make every reservation in advance.
You may purchase a return ticket once your continuing travel has been scheduled. Please be cautious regarding destinations and departure times when purchasing a return ticket. I advise you to reserve this just once the package, or at the very least, the itinerary has been decided.
Choose the Tourist Destinations in Kerala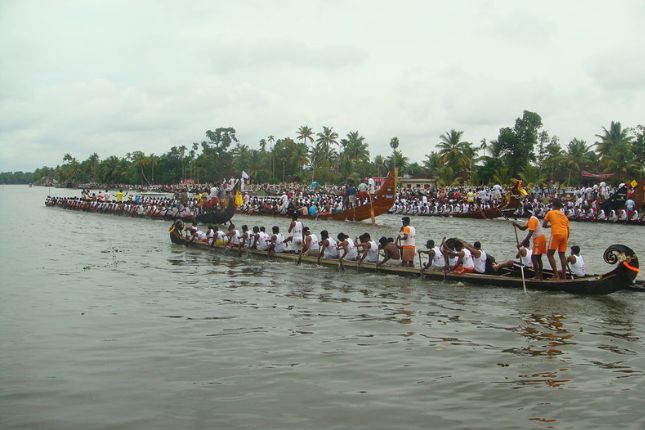 When planning a trip to Kerala, this is another factor that must be considered. Here, we need to decide on the ultimate destinations to be visited. The number of days you have and your interests need to be balanced at this point. This should be made easier for you by a brief summary of the main tourist attractions in our Kerala holiday packages.
Major Tourist Destinations in Kerala
Cochin:

If you fly into Kerala, here is typically where you land. If you want to explore the sights in Cochin, you may either do it the first day after arriving there or if you have time on the last day, go for it.

Munnar:

The best tourist destination in our Kerala trip packages is Munnar. Munnar is a hill station in Kerala. You would like to see that 100 times. 

Thekkady

: When you go boating in Thekkady, you can visit the Periyar Wildlife Sanctuary. Adventure travel, as well as ecotourism, are both quite popular in Thekkady.

Alleppey/Kumarakom:

This is the location for a houseboat cruise. In addition to a gorgeous beach, Alleppey features a variety of resorts where visitors can unwind.

Thiruvananthapuram:

The capital of Kerala, is a popular tourist destination in India. Nearby beach villages Kovalam and Varkala are well-known. The city is renowned for its distinctive architectural design, which combines elements of Kerala architecture with British and Dravidian influences. 

Kanyakumari:

Although Kanyakumari is in Tamil Nadu, it is nevertheless recommended to visit if you are traveling up to Trivandrum (and if time allowed).

Athirapally-Vazhachal:

Athirappilly-Vazhachal Falls, at over 80 feet high, is Kerala's most famous and largest waterfall. You can't help but be amazed at the natural world's utmost force and splendor when you see the water rushing into the ground. This area is significant to ornithologists, and bird watchers can find many uncommon and colorful species here.

Cherai:

Cherai is another beach in the vicinity of Cochin.

Guruvayoor:

Guruvayoor is a pilgrimage site with the famous Krishna temple. At this location, there is an elephant sanctuary with more than 65 elephants.

Wayanad:

Wayanad is a tourist destination in Kerala's northern region. Wayanad is about 300 kilometers north of Cochin.
Plan Kerala Tour Itinerary
When you plan a Kerala tour, the itinerary plays an important role. This should be well balanced with sightseeing and free time with family. From the above-listed major tourist destinations, make a list of places you wish to cover in our Kerala tour packages.
I shall be writing about all these places in detail below with the travel time required for each. After reading this post, you would be in a position to finalize the places to visit depending on your leave from the office. Once the places of visit and the number of nights in each destination are finalized, the itinerary can be prepared with ease.
Cochin: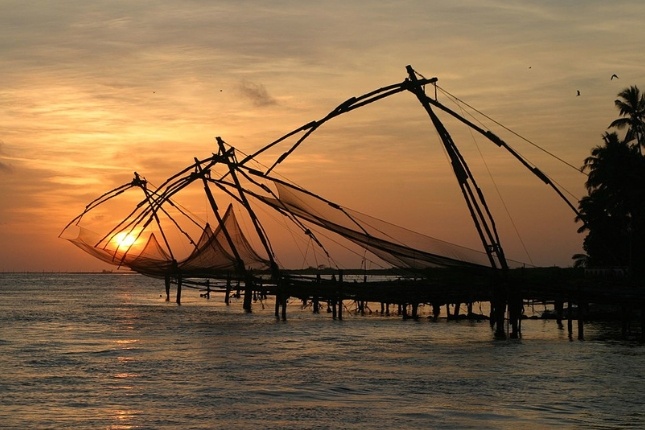 Most of the time, this is the place where you land in Kerala. If you have enough days in Kerala, a full-day visit to Cochin is worth doing. Cochin has a lot of sightseeing places including Marine drive, Chinese fishing nets, and Fort Cochin where you can visit the Dutch palace, the Jew Synagogue, etc.
For more info read our blog post: 9 Must-See Places in Cochin.
If you are short of time, I suggest you move directly to your first destination from Cochin. This can be Munnar which is a 4 to 5 hours drive from Cochin, Thekkady which is 5hrs drive, Alleppey 2hrs, Guruvayoor 2hrs and Athirapilly-Vazhachal, a short 2 hours drive. If you want Kovalam as your first destination, it is better to arrive at Trivandrum instead of having a hectic journey of 6 to 7 hours on the same day of arrival. This will be a good take when you plan a Kerala tour and need to be finalized properly.
For every travel, you need to consider halting time in between for sightseeing, food, etc. When your first destination is Alleppey Houseboat, make sure you reach Cochin at least by 9 AM so that you can check in to Houseboat at Noon. If your arrival is after 10 AM at Cochin, then don't plan the Alleppey Houseboat cruise on the same day, as a check-in to the houseboat is at Noon and check-out is at 9 AM the next day. If you are reaching Cochin after 3 PM, then don't plan any travel on that day. In this case, the best option is to stay in a hotel near to airport or railway station depending on how you come to Cochin.
Stay near Airport
Most hotels near the airport offer free pick-up from the airport, thus helping you save money on a vehicle for that day. Do inform your travel agent about your mode of arrival, so they can book the hotel accordingly. Cochin airport is almost 20km from Cochin city/railway station.
If you are planning to stay at Cochin on arrival day, normally check-in time of all hotels is 12 Noon and if you are reaching early morning, do inform this in advance to your travel agent. In this case, you can request for early check-in. Most of the hotels allow this subject to room availability and do note that breakfast will not be complimentary for this day.
If you are planning to travel to other destinations on the same day, I suggest you start directly to that destination, instead of having a half day sightseeing of Cochin and then traveling to the next destination. If you are arriving at Cochin by train or bus or after a long flight journey, try to refresh yourself before driving from Cochin to your next destination. This helps you to enjoy the trip right from the beginning and you can do all your sightseeing on the way. Coordinating your first destination in accordance with your arrival time is very important. This should also be taken care of when you plan a Kerala tour as you can save a lot of time here.
Munnar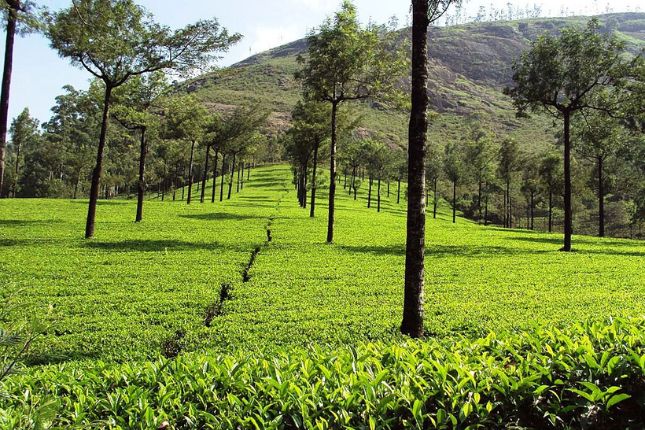 Munnar, a hill station, is one of the most beautiful places in our Kerala tour packages. There are lots of Tea plantations and more than a dozen places to see near Munnar. This is a must-see place if you are visiting Kerala. The climate will be mostly cold throughout the year. Munnar is 140km from Cochin.
When you plan a Kerala tour, if you wish to have a better understanding of Munnar, read our blog post: 13 must visit places in Munnar!
If you are traveling to Munnar, you should try to stay there at least for 2 nights. For your onward journey, the travel time listed from Cochin is 4 to 5hrs, but, you will reach Munnar in about 7 to 8 hrs only. There are lots of sightseeing spots in between. You can enjoy waterfalls and rolling hillsides with tea gardens on the way. During this travel enjoy as much as you can on the day and don't be in a rush to reach Munnar. You can even visit spice plantations on the way. After enjoying the scenery, you will be reaching Munnar by evening only.
If you feel, you can spend some time in the market. If your hotel is away from Munnar town, try to have food and finish all activities in town and move to a hotel. Coming back from the hotel to town at night is not a good idea as there can be fog on the road and driving is not safe.
Second day at Munnar
The second day should be dedicated to sightseeing in and around Munnar. If you want to cover almost all the places, try to start sightseeing by 8.30. Or you can choose places to visit according to your interest and mood. Purchase spices, tea, etc. while you go shopping. Do visit Eravikulam National Park to see the endangered mountain goat of South India, the Nilgiri Tahr.
Selecting the resort/hotel is most important while you are in Munnar. Every hotel in Munnar is not in town, you will find hotels within a radius of approximately 30km from Munnar. See Hotels in Munnar . Most of the good resorts are away from the city. If you are a person who wishes to stay in the city, do make sure the hotel you select is in the city itself. If you want to be away from all traffic and love to have a relaxed mood select a resort/hotel accordingly. While approaching any tour operator, if you have a specific choice, make sure you communicate this clearly.
Hotel Selection at Munnar
It is always better to do a Google search on the hotel selected. Nobody can tell you whether you will like a hotel or not. As this is very subjective and depends upon your interests and background. Personally, I like to stay away from the city when I am on holiday and used to prefer hotels outside the city. But for business trips, I prefer city hotels. This needs to be considered when you plan the Kerala tour itself. Else you land up staying in a hotel which you may won't feel good with.
A normal package can be prepared with a 2-night stay at Munnar. If you wish to stay at Munnar for 3 nights, you will get a lot of time to relax. A package with one night in Munnar is not that advisable. I have seen many times people taking packages with one night at Munnar and one night at Alleppey when they have only 3 days to spend. This is not a good idea as they will not be able to cover neither Munnar nor Alleppey.
From Munnar, you can travel to the next destinations like Thekkady, Alleppey, or Cochin. Moving to Kovalam directly from Munnar is not a good idea as traveling time would be minimum 10hrs. If you are moving to Cochin to catch a return flight/train do make sure you have minimum 6hrs in between, as you may even stop for food during this travel. So do your time planning accordingly.
Here is an easy-to-follow map with the major tourist spots in Munnar. This map will help you in planning your itinerary during your visit to Munnar.
Click here to read the Munnar travel guide which gives more ideas on Munnar
Munnar Tourist Destinations Map to plan Kerala tour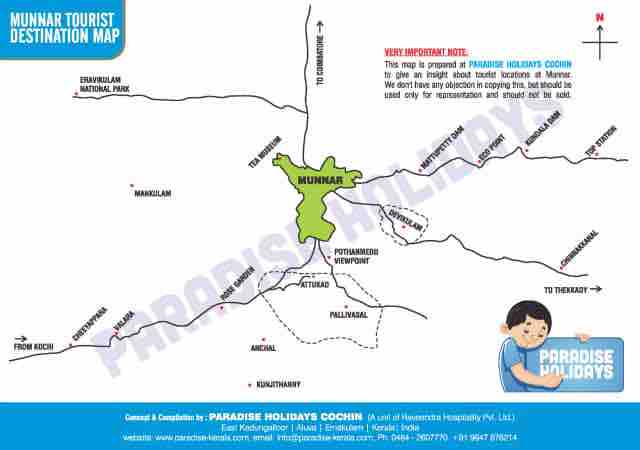 Distance to various places from Munnar
Distance from Munnar to Madurai – 130KM
Distance from Munnar to Cochin    – 135KM
Distance from Munnar to Aluva     – 130KM
Distance from Munnar to Theni      – 165KM
Distance from Munnar to Thekkady – 110KM
Distance from Munnar to Trivandrum     – 280KM
Distance from Munnar to Alleppey – 190km
Distance from Munnar to Kodaikkanal – 180km
Thekkady



The famous Periyar wildlife sanctuary is in Thekkady. Thekkady is sometimes referred to as Kumily or Periyar. Thekkady is the best place to visit if you are interested in adventure and eco-tourism activities. If you are not interested in such activities, you have only Periyar wildlife sanctuary to see.
For more info read our blog post: More info about Thekkady 
To watch wildlife closely, you need to go boating through the Periyar River. Wild animals, forest areas of Periyar sanctuary, and Mullapperiyar dam from long view can only be seen during this boating. Vehicles are not allowed inside the sanctuary for sightseeing.
Boating in Thekkady has fixed timings and the guest needs to be personally in the queue to get tickets. You need to give your personal details as well as show your ID card while taking this ticket. Depending on the season, the rush for boating varies. In peak seasons, there might be a heavy rush, so try to be in the queue at least 3 to 4 hrs before the departure time. This time needs to be considered when you plan the Kerala tour itself.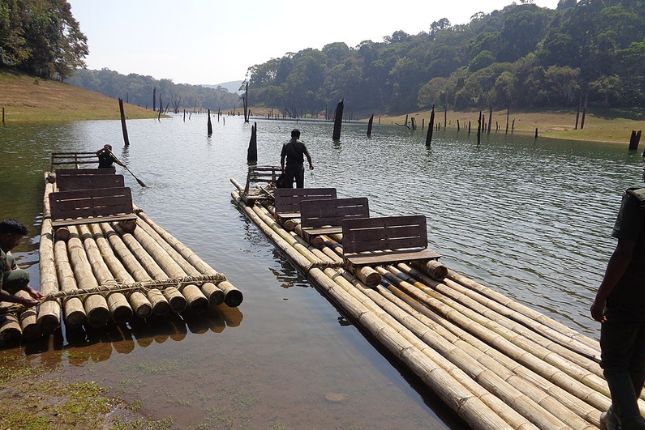 Thekkady has a lot of activities/shows running in the evening. If interested, you can watch Kalarippayattu (martial arts of Kerala), Kathakali, Magic shows, musical fountain, tribal dance, etc. You can also go for an Ayurveda massage, Elephant ride, Elephant bath, Elephant shower, Spice plantation tour, etc. You can plan for boating through the Periyar River as well above activities if you have one night stay at Thekkady. Unless you are interested in adventurous activities, don't stay for more than 2 nights there. If you are opting for two-night stay, you can relax on the second day enjoying the wilderness of Thekkady.
Second Day at Thekkady
If you are an adventurous person, this is the place for you. Plan for 2 or 3 nights at Thekkady and you get to do all sorts of adventure activities here. You can go for the Gavi tour which includes a full-day Jeep safari, trekking, etc., bamboo rafting, eco-tourism, nature walking, night patrolling, etc. Go through the details for these activities and fix the number of days you want to stay at Thekkady. Whether to stay for 2 nights or 3 nights should depend on your interest and need to be taken care of when you plan the Kerala tour itself.
From Thekkady you can move to Alleppey, Munnar, Cochin, Madurai (Tamil Nadu), Kodaikkanal (Tamil Nadu). Again Kovalam is not a good idea as there will be a lot of traveling.
Very recently we have found a website where you can do online bookings for boating at Periyar. Though we have not tried this, one of our guests did it themselves. Thought of sharing that website here.
Online booking for Periyar boating can be made at www.periyarfoundation.org.
Click here to read my travel experience to Thekkady
Distance to various places from Thekkady
Distance from Thekkady to Kumily – 4km
Distance from Thekkady to Munnar – 110km
Distance from Thekkady to Alleppey – 150km
Distance from Thekkady to Cochin – 170km
Distance from Thekkady to Kodaikkanal – 120km
Houseboat Cruise in Alleppey



Alleppey is another destination that you need to consider when you plan a Kerala tour. The destination is famous for Kerala-style houseboats. Alleppey has a good beach also. A houseboat cruise is a different experience and should not miss this if you have enough holidays with you. Houseboats give a different feel than staying in a hotel. These floating villas have a dining hall, rooms with bathrooms, and kitchens. The number of rooms varies from one to nine as of now.
Houseboat cruises can be of two types; you can either opt for a 21 hrs overnight cruise or can take a morning cruise for 5 to 6 hrs.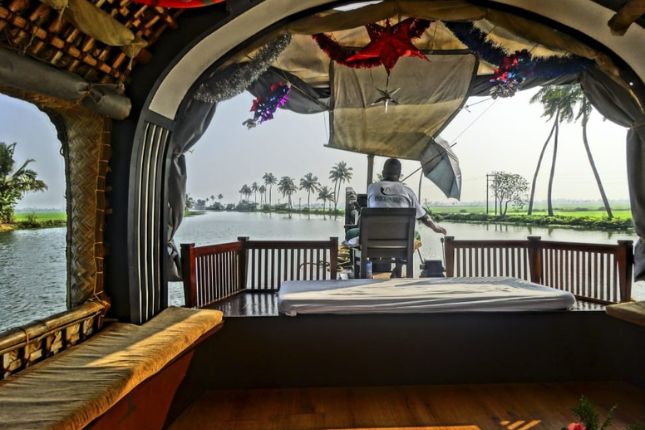 If you are opting for a morning cruise, you have to check in at 10 AM and check-out will be at 4 or 5 PM depending on the cruise provider you opt for. In this case, you will be greeted with a welcome drink (lime juice or tender coconut) and will serve lunch prepared on the boat and evening snacks. The boat will cruise through the inland canals, backwaters, and lakes. And you can also watch the long stretch of paddy fields at Alleppey (Kuttanad). This cruise, I am sure, will be one of the most memorable experiences of your lifetime.
The boat will halt during lunch timings and food is prepared in the boat itself. The boat will have a Captain (driver), Cook, and sometimes a helper too depending on the size of the boat. These boats are engine driven.
Timing of Houseboat
For an overnight stay houseboat cruise (21hrs), you need to check in to the houseboat at 12 Noon and check-out will be at 9 AM the next day. The boat will take you for a cruise at 12 Noon and will be going around till lunchtime. The boat will halt for lunch and after lunch, it cruises till 5.30 to 6 PM and then anchors till the next day morning. You will be cruising again the next day for at least an hour before checkout.
For this kind of cruise, you will be getting a welcome drink, lunch, evening snacks, tea, dinner and breakfast for the next day morning. Food is prepared in the boat itself and all boats will have their fixed menu. They take your food preference before you reach Alleppey and raw materials will be stored in boat before it leaves the shore.
If you are a non-vegetarian, you will be getting rice, vegetables (2 types), fish fry, curd, pickles, pappad, and Sambar for lunch and chicken, chappati, rice, vegetable curry, and dal for dinner. If you are a vegetarian, the menu is similar with some changes. It will be Payasam instead of fish fry for lunch and one more variety of veg curry instead of chicken for dinner. For breakfast, it will be idly sambar, omelet, and bread butter jam.
Strong Suggestion for Houseboat
It's always advisable to inform them in advance if you have any specific preference as once you start the journey getting raw materials is not easy. If you have children with you and want more milk or such food, don't forget to inform that in advance. During the cruise, you can purchase prawns, and extra fish on your own (if you feel like it). The crew will cook and serve that for you. Whether a day cruise or full-time houseboat needs to be finalized considering all the above aspects when you plan a Kerala tour.
AC in Houseboat
If you are opting for A/C Houseboat unless specifically mentioned A/C operates from 9 PM to 6 AM only. If you require full-time A/C or need extra hours, then inform the houseboat operator in advance. You will be charged extra unless your package is with a full-time A/C houseboat. If you want extra A/C time, they need to carry extra fuel with them and unless you tell them in advance, this will be difficult.
While on board, do close the windows and doors of your room in the evening. As it is in water and flies may enter in the evening. Houseboats are usually parked in a safe place where the owner of the houseboat has easy access or is near his house. Houseboats are of different categories and rooms may not be as big as your hotel room.
The biggest disadvantage of the houseboat is that if there is some issue with A/C or TV at night, it may not be able to get repaired till the next day.  Getting an electrician late at night to that halting place may not be possible.  But such things happen very rarely.
Depending on your interest, either go for a 21hrs cruise or take a morning cruise and then stay in a resort at Alleppey or Kumarakom.
Click here to read my experience in houseboat will help you to understand more about cruise.
Kumarakom

and Alleppey Resorts



Alleppey is famous for Houseboats, backwater resorts, and beaches whereas Kumarakom is for Houseboats and backwater resorts. Both are just 30km apart. Both places have decent resorts as well as houseboats. Depending on the option selected, you may move to that place. You can plan for a resort stay either after a Houseboat morning cruise or for the next night after an overnight cruise.
If you have enough days, I always suggest taking one night stay in a resort after your Houseboat cruise.  In most cases, you will be reaching Alleppey or Kumarakom after a 3-night stay at Munnar, Thekkady, or any other place and a resort stay here will definitely relax you.
You can either move back to Cochin to catch your flight back or can travel ahead to Kovalam after this relaxing stay.
While selecting a resort at Kumarakom or Alleppey, make sure you do enough research. Make sure the resort is as per your liking because there are few things to do when you are in a Kumarakom/Alleppey resort. You can visit Alleppey beach in the evening and can relax. Some backwater resorts do provide additional facilities like pedal boating, a swimming pool, and an Ayurvedic spa. There are resorts providing countryside boating, fishing, and cooking class. This resort can be either at Alleppey or Kumarakom and I know some good backwater resorts on the way to Cochin also. Alleppey or Kumarakom for a stay should be finalized according to your interests considering the above facts. You may do this when you plan the Kerala tour itself.
What after Alleppey
Once you are done with Alleppey and Kumarakom, you have several options. It depends upon your travel plan. You can either move towards Cochin and return home on the same evening or stay at Cochin and travel to Guruvayoor or Athirapilly-Vazhachal the next day. Or you can move south from Alleppey to visit Kovalam, Trivandrum, Varkala, and Kanyakumari. You also have the option of going to Thekkady or Munnar from here if you started the tour from Trivandrum. Alleppey lies almost midway between Trivandrum from Cochin.
Distance to various places from Alleppey
Distance from Alleppey to Cochin – 80km
Distance from Alleppey to Munnar – 190km
Distance from Alleppey to Thekkady – 140km
Distance from Alleppey to Trivandrum – 170km
Distance from Alleppey to Kovalam – 180km
Distance from Alleppey to Kanyakumari – 250km
Varkala



Varkala lies between Alleppey and Trivandrum and has a good beach. There are several beach resorts if you want to stay here. Opt for this place, only if you have extra days, or skip this place. This is a great place to be considered when you plan a Kerala tour.
Trivandrum and Kovalam
Trivandrum is the capital city of Kerala. At Trivandrum, you can visit the famous Sree Padmanabhaswamy temple, Museums, art gallery, Zoo, etc. If you have plans to visit the temple, make sure you have the required dress to get inside. Pants or jeans are not allowed for both ladies and gents. The temple can be visited between 5 to 11 in the morning or 3 to 6 in the evening. Visit other places as per your interest and time availability.
While at Trivandrum, it's advisable to stay at Kovalam which is famous for its beach. If you are really on a tight schedule, one night stay is sufficient but we recommend a two-night stay to fully enjoy this place. When you have two nights at Kovalam, you can visit Trivandrum one day and next day you can visit Kovalam beaches. Select a resort as per your interest at Kovalam.
There are some luxury resorts at Poovar also. Poovar is a place just 14km from Kovalam and is famous for its estuary, where backwater and sea meet!  To fully unwind you can extend your stay for one more night, either at Kovalam or at Poovar.
Return from Kovalam
If Kovalam is your last destination, try to book a return ticket from Trivandrum which helps you to spend enough time at this place and to avoid the long journey of 6 to 7 hrs to Cochin. If your return ticket is from Cochin, try to leave Kovalam at least 8 hrs in advance to be on the safer side. And if the return ticket is for a morning flight/train from Cochin, make sure you stay at Cochin instead of rushing from Kovalam on the last day. Stay between Kovalam and Poovar also is an important factor that needs to be consisted and should fix when you plan a Kerala tour.
From Kovalam, you can do a day visit to Kanyakumari. You can spend one night at Kanyakumari if you have time.  Kanyakumari is 90km from Trivandrum and is almost 2hrs drive. There is a Kerala-Tamil Nadu check post in between.
If your tour is starting from Trivandrum, you have the choice of moving to Kanyakumari, Varkala, Alleppey, and Cochin from here.
Distance to various places from Trivandrum
Distance from Trivandrum to Cochin – 250km
Distance from Trivandrum to Munnar – 310km
Distance from Trivandrum to Thekkady – 270km
Distance from Trivandrum to Kovalam – 13km
Distance from Trivandrum to Kanyakumari – 90km
Kanyakumari
Though Kanyakumari is not in Kerala, if you are traveling up to Trivandrum, I suggest visiting Kanyakumari too, if you have time. Try to have one night stay at Kanyakumari so that you can see the sunset as well as the sunrise. Make sure you reach Kanyakumari before 4 PM to see the evening. If you are on a tight schedule, you can also do a day visit to Kanyakumari.
Guruvayoor Temple



The famous Sree Krishna temple is at Guruvayoor. Guruvayoor is 90 kilometers, a 2-hour drive from Cochin towards North West. Though it is only a 2hrs drive from Cochin, you can expect a long queue and will have to wait for about 2 to 4 hrs to enter the temple.
If you stay overnight, you can visit the temple in the evening when the crowd is less. At around 7 PM, there are lots of rituals happening there. When I go, I visit the temple at 6 PM, have a darshan, stay inside the temple till 8 PM, and return to the hotel. Then I wake up at 2.30 AM and revisit the temple early morning at 3.30 AM and return to the hotel. During this time, the rush will be less, and one can go inside quickly.
There is an elephant Sanctuary near to temple where you can see more than 60 elephants, and it is a must-see place if you are visiting Guruvayoor temple. If you are interested in visiting temples in Kerala when you plan a Kerala tour, this is an ideal destination.
Athirapilly-Vazhachal Waterfalls



There are few good resorts in Athirappily –Vazhachal region. Athirapilly Vazhachal is the biggest waterfall in Kerala and is approximately 70km from Cochin. If you have enough holidays, you may consider visiting this place. During the Athirapilly visit, either you can stay in Athirapilly or come back and stay at Cochin.
Cherai Beach



Cherai is ideal for a beach visit and is only 30km from Cochin. Either you can have an overnight stay here or visit if you have enough time.
Wayanad
Wayanad is approximately 300km from Cochin towards the north. If this is your first destination, try to book a ticket to Calicut.   If your next destination is towards the south, suggest taking a night's stay at Cochin. The drive from Wayanad to Cochin takes 7 to 8 hrs. A 3-night visit is advisable as all sightseeing places in Wayanad are not close to each other. When Wayanad is your last destination, you can book a return ticket from Calicut instead of driving back to Cochin.
Hope with the above details; you will be now able to chart your travel itinerary with the destinations chosen and the number of nights to be spent at each location decided.
Itinerary to plan Kerala tour
I am mentioning Some suggested route plans here.  I would recommend deciding on the number of days to at each location. This itinerary will help you to get the routing done quickly for your holidays.
If arrival is at Cochin

Cochin – (135 km) – Munnar – (110 km) – Thekkady– (160 km) – Alleppey resort – Alleppey Houseboat – (80 km) – Cochin
Cochin – (135 km) – Munnar – (110 km) – Thekkady– (160 km) – Alleppey resort –Alleppey Houseboat – (80 km) – Varkala – (150 km) – Kanyakumari– (90 km) – Trivandrum/Kovalam – (230 km) – Cochin
Cochin – (80 km) – Alleppey resort –Alleppey Houseboat – (210 km) – Kanyakumari– (90 km) – Trivandrum/Kovalam – (230 km) – Cochin
Cochin – (135 km) – Munnar – (110 km) – Thekkady– (160 km) – Alleppey resort –Alleppey Houseboat – (80 km) – Cochin – (90 km) – Guruvayoor– (140 km) – Athirapillyvazhachal– (70 km) – Cochin
Cochin – (300 km) – Wayanad– (300 km) – Cochin – (135 km) – Munnar – (110 km) – Thekkady– (160 km) – Alleppey resort –Alleppey Houseboat – (80 km) – Varkala – (150 km) – Kanyakumari – (90 km) – Trivandrum/Kovalam Cochin

If arrival is at Trivandrum
Trivandrum/Kovalam – (90 km) – Kanyakumari – (150 km) – Varkala – (80 km) – Alleppey Houseboat –Alleppey resort – (160 km) – Thekkady – (110 km) – Munnar – (135 km) – Cochin
Check the Weather Conditions
Kerala has a typical tropical climate around the year. December and January are relatively colder months, and the weather starts warming up in February. April – June is the summer months when it can be pretty hot and humid. The South-West monsoon season from June – September sees a lot of torrential rainfall. Following that, there is the North-East Monsoon that runs from October to December.
It's best to plan your trip based on the weather conditions as well. Hill stations remain cool year-round, and you can expect a higher tourist population during the summer months. Kerala is quite enchanting during the monsoon season, and you can enjoy the weather if you come prepared with appropriate rain gear.
Selecting a Vehicle for the Kerala tour
Dzire/Ethios – Sedan Vehicle
Do select a vehicle as per the number of people traveling and the luggage you carry. When the number of people traveling is three or fewer, suggest Sedan. When four people are traveling, there will be enough luggage, and a Sedan is a vehicle that does not have a luggage career. In Kerala, finding a sedan with a carrier is difficult.
Ertiga/Enjoy
If there are 4 to 5 people, choose Ertiga, Tavera, and Inova for better luxury. If there are seven or more people in your group, then travel in a Tempo traveler.
Toyota Inova
You will be traveling approximately 150km every day that too through hilly areas. If you try to save money by congesting yourself in a vehicle, travel will not be relaxing, not only that your car will find it difficult in pulling through hills. There should be space to keep your luggage also while selecting the vehicle.
Luggage/Cash/ID card while planning a Kerala Tour
While traveling, try to carry minimum luggage. Also, try to take a minimum of cash with you and fewer ornaments. You will find a lot of ATMs in Kerala.
Do carry the ID card of every person who travels with you. For hotel Check-in ID card is required.
I hope this article helps you in planning your Kerala trip smoothly and to decide the itinerary. You may contact me at director@paradise-kerala.com for any clarifications required. I would be the happiest person in this world to clarify for you. I am reachable on 9947876214 at any time.
If you find me wrong anywhere in the article, I am open to discussion and will update the same.
Thank you very much, and I wish you a great Kerala experience.
Check out our latest blog post:

Kerala Hotel Booking Guide – How to Select a Hotel of Your Choice

414 Comments