Souvenirs or the Best Things to Buy in Kerala
Keeping mementos of one's many life events in mind is the goal of souvenirs. When it comes to travel, mementos have a tremendous value, particularly when people go to extremely exotic places like Kerala.
Kerala's spectacular natural wonders, mouth watering food, and intriguing history are only a small part of its beauty. Kerala is known for its jewelry, carvings, antiques, and other handicrafts that are among the best things to buy in Kerala thanks to a strong and long-standing legacy of workmanship and art.
An encounter as alluring as a vacation in Kerala produces extraordinary recollections, giving Keralite mementos very high emotive worth. There is no need to explore further if you want ideas for the most popular and distinctive souvenirs made by Kerala's skilled craftspeople!
Travelers can find a wide range of souvenirs in Kerala that capture the socio-religious, cultural, and historical features of the state. The tradition and culture of Kerala are known for its outstanding souvenirs. The state is also known for its handicrafts, gold jewelry, and spices. Kerala handicrafts are renowned for their distinctiveness of style, precision of form, and grace of design.
Kerala offers a large selection of appealing and distinctive handmade souvenirs. Here are just a few examples of the numerous beautiful, traditional, and useful items available in Kerala.
Nettipattam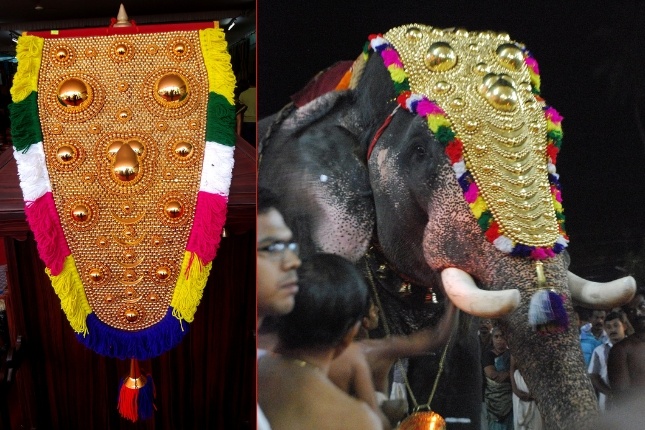 Elephants are loved and adored in Kerala and are a major part of the cultural and religious events. In temple festivities held all around Kerala, these majestic animals take center stage and are decorated appropriately. A clan of artists customarily spends at least 20 days crafting the nettipattam that elephants wear over their foreheads when they march through the streets of Kerala. Even the most basic nettipattam will be made by artists using at least 3.5 kg of copper and 24 gms of gold, making these glistening adornments a breathtaking sight to behold.
Kathakali Masks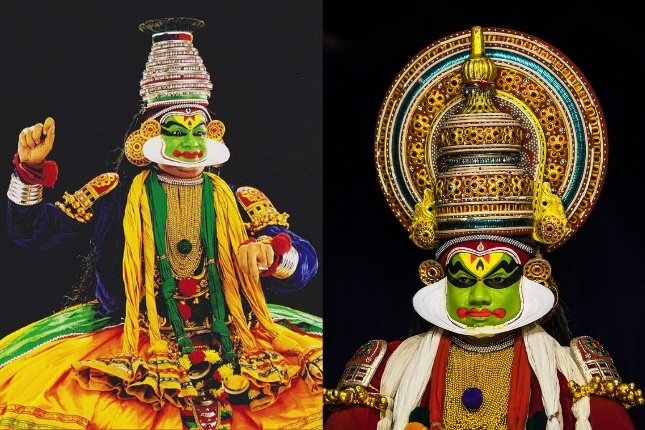 With the performers' distinctive traditional makeup, Kathakali has come to represent Keralite culture. The artisanal masks meticulously modeled after the Kathakali characters portrayed by the actors were made from fibers and synthetic stone, faithfully reproducing this make-up. These masks, which make stunning cultural souvenirs from Kerala, are sold in Kerala handicraft boutiques all around the state, but especially in Kochi.
Kasavu Sari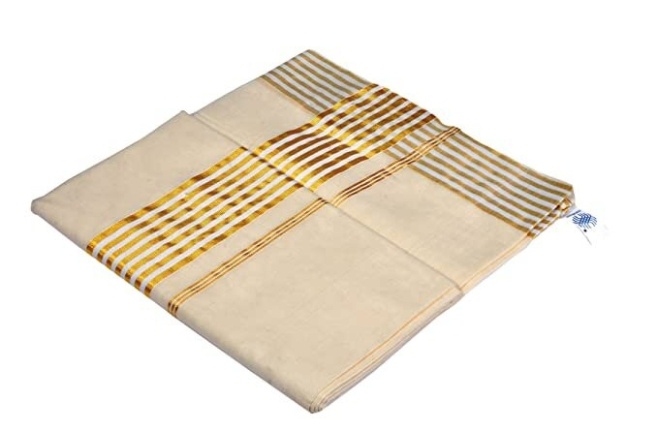 If you're seeking for the best items to buy in Kerala, consider Kasavu Sari. The finest cotton is painstakingly weaved into these traditional white and gold saris that Kerala women wear on festival occasions. The color of the blouse is typically based on the age and marital status of the woman in question, even if the gold border, or kasavu, is always present.
This lovely outfit provides a fashionable and exotic present, but it must be worn correctly! Depending on the width and fabric of the kasavu, the price of a kasavu Sari can range from Rs. 700 to Rs. 1 lakh. They can be purchased from any reputable textile store.
The Coir Products
Coconuts are a plentiful crop in Kerala, and their fibrous outer shell is used to make coir. The fibers are then classified based on the method of extraction, their color, purity, and length, and utilized to make a variety of goods, including the hugely well-liked coir mats. Throughout the state, Coir Board Showrooms sell these goods, with a well-made coir mat typically costing around Rs. 300.
The Aranmula Mirror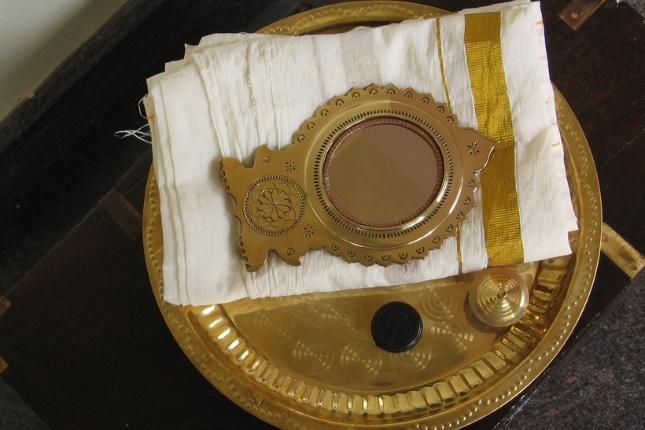 These mirrors are famous for the quality of their reflection since they are only made in the Keralite town of Aranmula using a long-secret, family recipe for a specific metal. The metal's front-surface reflection reduces the secondary reflections and distortions that are typical of black surface mirrors.
The Sree Padmanabha mirror, which originally served as a representation of the Travancore dynasty, is the most widely used model. Even now, it still carries a strong sense of authority and affluence. Prices start at about Rs. 2500, and we strongly advise getting your mirror from the original family studio in Aranmula itself.
Nilavilakku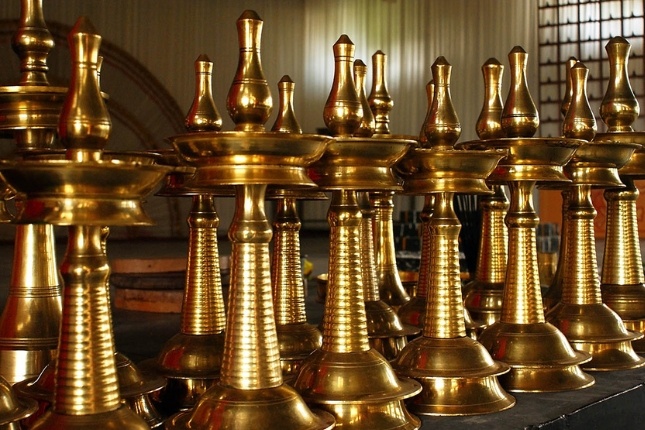 These oil lamps, or nilavilakku, are taken to the home's porch and lit at night and dawn by the household's young females. An artistic performance or celebration frequently begins with the lighting of Nilavilakku, which is regarded to be auspicious. It is among Kerala's most well-known attractions. Prices vary according to size and purpose and can range from Rs.80 to Rs.50,000 or more!
Mural Painting (Temple Painting)
Murals are works of art that are painted directly onto a durable surface, effortlessly blending the structural components of the support into their design. The largest collection of paintings inspired by old Indian myths may be seen at Kerala's medieval temples, which are among the best in the world.
Genuine mural paintings from Kerala are striking, colorful, and expertly crafted pieces of fine art. The majority of those still in existence today were created between the 15th and the 19th centuries, while some date all the way back to the 8th century! Thiruvananthapuram is home to the oldest ones.
However, many temple artworks are now being replicated on canvas and paper because you can't carry a wall home. So you can take a piece of Keralite culture and mythology with you when you return home!
Coconut Chips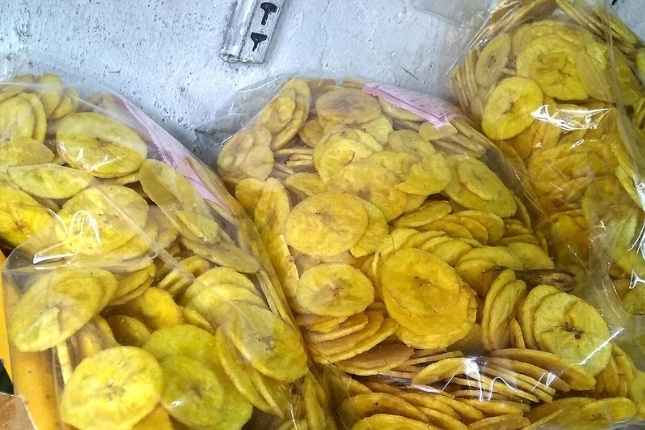 A common food item in Kerala is banana chips. These delicious treats will undoubtedly be the go-to foods whether you're munching on anything while traveling or having a sumptuous wedding feast. Plantains can be used to make this dish, which is made using either ripe or unripe fruits. The sliced fruits are cooked in coconut oil before being eaten plain, spiced with masala, or sweetened with jaggery. All of these variations would be provided in the traditional sadya lunch, which is consumed during weddings and celebrations.
Every grandma would have been the only banana-chip maker in the family. She would tenderly peel and slice the fruit, heat the oil in an iron wok, and watch the slices fry until they turned golden.
The procedure has become more industrialized today. In Kerala, banana chips are produced in big quantities for consumption, and they are also steadily gaining popularity elsewhere in the world. The ideal way to share the wonder of Keralese cooking traditions with friends and family is by serving them this nutritious alternative to typical potato chips.
Nettur Petti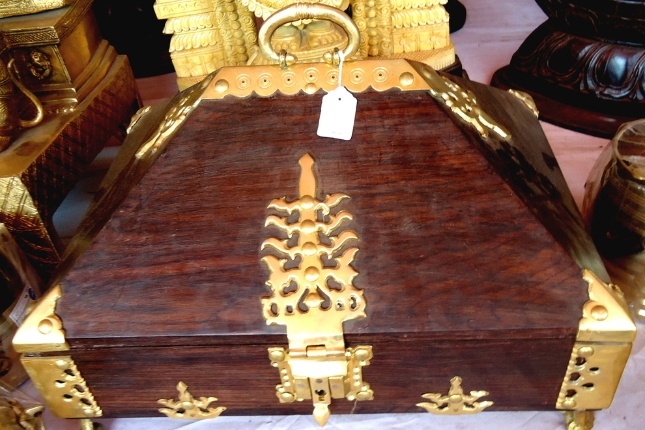 This unique type of jewelry box, which originated in the Nettur region of Kerala's Kannur state, is now prized by discerning collectors. The brilliant, elaborate patterns on these caskets, which are made entirely by hand from rosewood or country wood, are striking. Everything is handmade, even the hinges and nails! These one-of-a-kind pieces can be purchased in handicraft showrooms all over Kerala for starting prices of about Rs. 400.
Any holiday in God's Own Country will undoubtedly be one to treasure and remember. So what could be better than taking a piece of Kerala handcraft as a reminder of your time spent surrounded by the misty hills, pristine sea, backwaters, coconut trees, and banana leaves?