Theyyam – Where to Watch –
Kerala, the land of rich cultures, was always replete with several varieties of dance forms from time immemorial. Long before televisions, computers and internet took the place of entertainment and leisure, dance and dance forms of the temples and churches were an integral part of the Kerala culture. Days and weeks were marked for festivals and the revelry and celebrations spread into every nook and corner of each neighbourhood, irrespective of religion. Theyyam is once such art forms of Kerala.
The colours of the dances and the festivals brought joy and peace to the people; ask any elder in Kerala, and their eyes will get dreamy with evergreen nostalgic memories. The emotionally charged atmosphere created by the incredible Kathakali dancers, the satire generated by the talented dancers of Chakairkoothu, the simplicity of wit, humour and presentation of Ottanthullal, and Theyyam the ritual dance of the Gods of India are all unique dance forms of Kerala that will never vanish in the sands of time.
What is Theyyam?
Let's get a little deeper into the folklore culture of Kerala, through Theyyam, the 800 year old spectacular dance ritual form that's popular in North Kerala, covering Malabar, Mananthavady Taluk of Wayanad and Vatakara and Koyilandy Taluks of Kozhikode. It is a celebration of divinity and devotion that's renewed every year, and celebrated with vigour.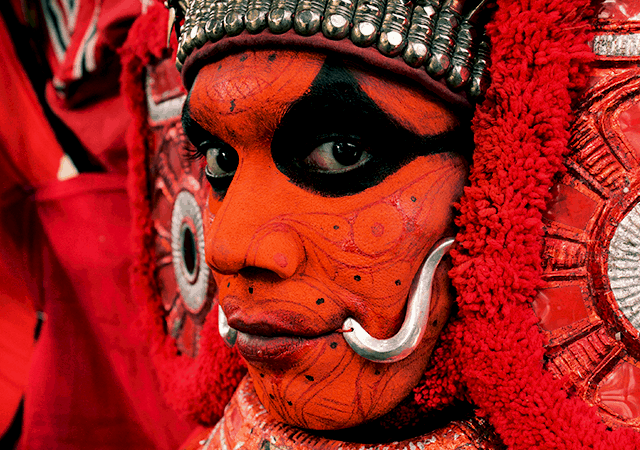 This incredible festival, played through a mélange of dance, music, drama and mime, has its roots in the ancient Dravidian culture of South India. The ceremonious dance form is accompaniment by the perfect harmony of a chorus of musical instruments like Chenda, Elathalam, Kurumkuzal and Veekkuchenda.
Theyyam is played during the months between December and April in certain temples of North Kerala, making it a hub for national and international tourists, art enthusiasts, art photographers, and a host of others. The play of power displayed by the artists adorning flamboyant costumes, heavy make up and gorgeous masks all conjure up a spectacular form that cannot be recreated in words.
Theyyam is not just a single dance drama played by talented artists; there are about 400 forms of Theyyam with unique style choreography, makeup (the artists paint their faces and bodies), costumes and music. The most popular forms of Theyyam are Pottan, Vishnumurthy, Kari Chamundi, Raktha Chamundi, Veerali, Gulikan, Nagakanni,  Bhagavati, and Mutiappan.
The artists show incredible power and their charisma rubs on to the spectators as they watch in awe, transfixed, and sometimes transported to a totally different world. The costumes, makeup and headgear of the Theyyam performers are quite elaborate and detailed as the performers are personifying the grandeur of various mythological divine forms like gods, goddesses, demons and spirits.
Where to Watch Theyyam?
Here are some incredible places where you can watch Theyyam in all its glory.
1. Muchilot Bhagavathy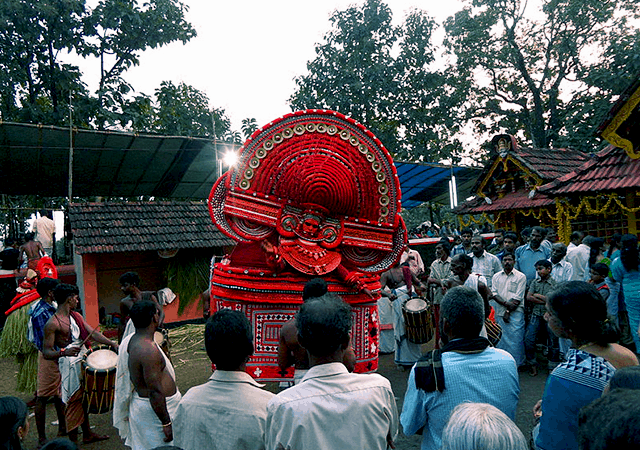 Image by Wikitanu via Wikimedia
The temples in Kerala host Theyyam festivals every year, especially Kannur district in North Kerala. There are so many inspiring and incredible stories attached to Theyyam. One such popular legend is of Muchilot Bhagavathy.
It is believed that Bhagavathy was actually a young Brahmin girl who was expelled from her community for not being a virgin. In great distress she left for the Karivellur Shiva temple, and immolates herself in burning coal and oil. She requested a Vaniya (Hindu sub-cast) boy to pour oil on her, so she could burn herself down. The Vaniya boy saw a reflection of the girl later in the well, and he also discovered that the pot of oil he poured over her to help her immolate herself had been refilled.
It was the Vaniya community that built a temple (also known as Kavu) in the Muchilot province, in her favour. Visit the various Muchilot Bhagavathi temples in Kannur to get a taste of this incredible dance form.
2. Pulimuthappan Kavu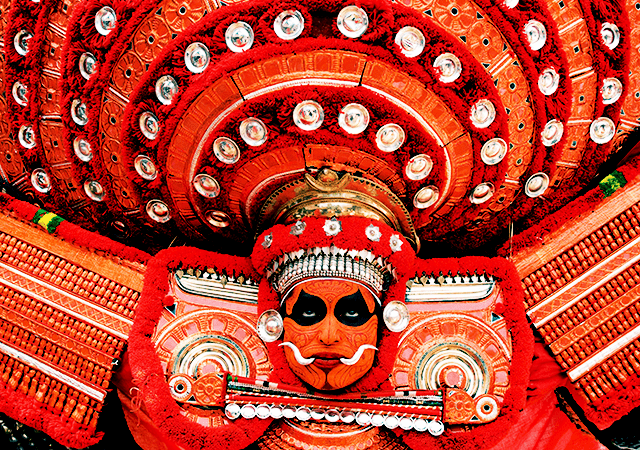 Another place where Theyyam is performed is Pulimuthappan Kavu, a temple, built in the traditional style and surrounded by thick trees and intertwining vines. The temple, also located at Kannur, sets the perfect stage for spectacular Theyyam performances every year. The onlookers watch transfixed while the performers, though mortal, become one with the immortal spirits.
3. Sree Mavilaakkavu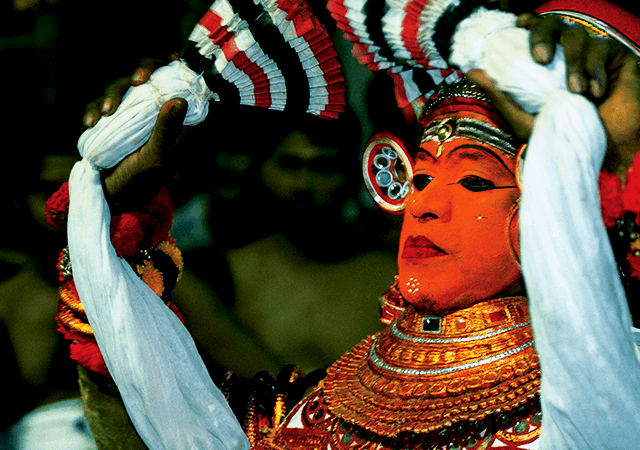 The third place where Theyyam is performed is the Sree Mavilaakkavu at Mavilayi, Kannur. It is believed that the deity here is silent as his tongue was cut off by his own brothers to prevent him from speaking the truth when he was a mortal. A ritual at the temple shows devotees grabbing each other by the shoulder and then slapping them.
4. Mallom Kollom Temple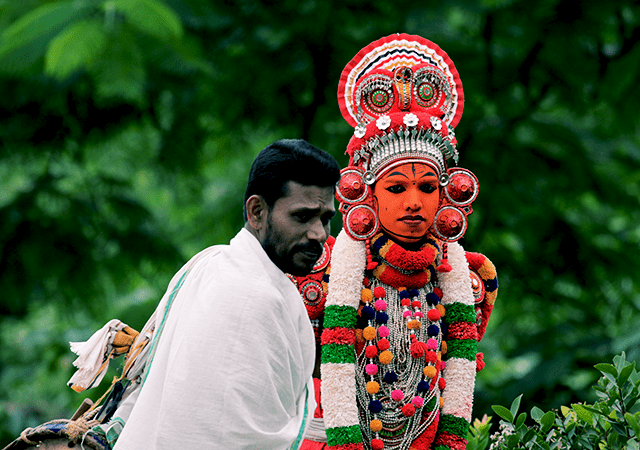 Mallom, a hilly village on the slopes of Western Ghats in Kasargode district of Kerala also hosts Theyyam shows. It is mainly held at Mallom Kollom Temple at Vellikundh where a Hindu performer dresses up as a Muslim character, reads out verses from the Holy Quran and performs certain rituals as per the Muslim tradition. The performer even speaks to the villagers and solves their problems and woes.
Muslim characters like Ali Chamundi, Mokri Poker, Kallandha Mokri and Bapuran Theyyam are in vogue. These Theyyam are known as Muslim Theyyams. Theyyams with Muslim characters advocate religious amity and communal harmony.
Closing Thoughts on Theyyam
Theyyam is definitely more than folklore; it's a fantastic display of enactments with performers moving with powerful dance rhythms and intense expressions. The positivity emanating from these dance forms will totally mesmerise the viewer. When the performers enact their dances through impossible and very flexible moves, breaking coconuts with their head and jumping into the sacrificial fire and coming out of it unscathed, you know you've seen it all.
The energy of Theyyam, the vibrations that devotees and tourists feel at the height of the festival, is definitely something you should experience at least once. If you are planning a trip to Kerala between December and April, do put Theyyam on your itinerary.
If you like this post, please share!!