Things to Do in Kerala in February
Kerala in February is as beautiful as a bride. You can sip coffee in the balcony of your resort and watch the glorious pink and blue sunrise or while away time at the beach while watching the reddish glow of the sunset. Climate-wise also, February is a good time to visit Kerala as it is neither too cold nor too hot.
If you are planning to visit Kerala during February, then it is a wise decision. Have a look at some of the activities you can indulge in during February.
1. Bekal – On a visit to enjoy the rich culture and natural heritage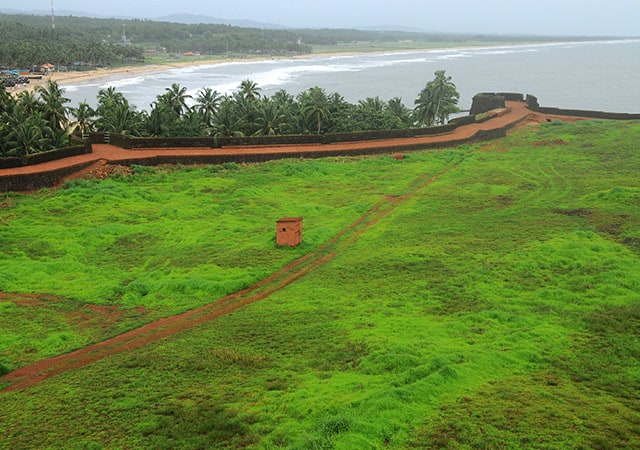 The tranquility and beauty of Bekal, located in the Kasargode district of Kerala makes it a great place to visit during February. The stunning sand-kissed beaches whispers stories of interesting legends while you can walk along the pristine village with its indigenous vegetation and enjoy the natural charm of the place and visit all the historical places and beaches as well.  Here are some of the top sites you can visit while at Bekal. Of course, it all depends on how you plan your itinerary:
Beaches
Valiyaparamba Backwaters
Bekal Beach
Kappil Beach
Azhithala Beach
Religious sites
Ananthapura Lake Temple
Mallikarjuna Temple
Anantheshwara Vinayaka Temple, Madhur
Thrikkannad Shiva Temple
Malik Dinar Mosque
Madiyankulam Durga Temple
Bela Church
Heritage sites
Maipady Palace
Kanjan Junga
Edneer Mutt
Anandashram
Nityananda Ashram
Nature lovers
Ranipuram hills Proposed Wildlife sanctuary
Kottancheri Hills
Veeramala Hills
Possadigumpe
Pandiyan Kallu
2. Wayand – Trekking to enjoy nature's bounties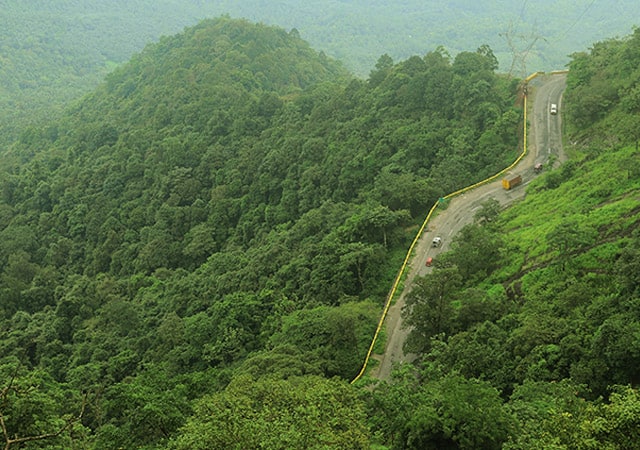 Wayanad is also ravishing during February-March months. Called lovingly as the green jewel of Kerala, you will be mesmerized by its scintillating natural beauty. Picturesque hills, luxuriant forests, sprawling plantations where various varieties of spices are grown, coupled with plenty of other exciting activities for you to indulge in make this destination wonderful and unique.
Apart from having rich flora and fauna, the rich cultural heritage of the place beckons people here. You can go on trekking expeditions within the forest and experience a different kind of adventure here. You will have a guide accompanying you all the while.
Trekking
The Pakshipathalam Trek
The Banasura Trek
The Chembra Peak Trek
The Brahmagiri Peak Trek
Thusharagiri Trek
Wildlife glimpse
Wayanad Wildlife Sanctuary
Muthanga Wildlife Sanctuary
Historical wonder
3. Periyar – Sightseeing in nature's lap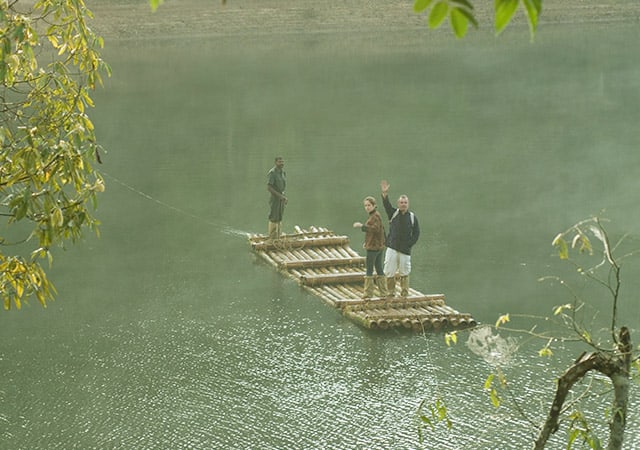 Periyar in Thekkady is another popular destination for ardent nature and wildlife lovers. Nature adorns itself in all the beautiful shades of green and awaits her keen visitors with eagerness.  The bountiful treasure trove of flora and fauna gives it the feel and charm of an idyllic destination. You can visit Periyar Tiger Reserve and go on jungle trails through the dense and deciduous forests of swampy grasslands.
You can go on trekking expeditions into the jungle with a good and experienced guide. Spotting wildlife in their natural habitat would just be one of the thrilling activities you can indulge in there, not to speak of the interactions with friendly, local tribes and learning about their culture and customs.
Sightseeing spots
Kerala spice plantation
Leisurely cruise along the Periyar River
Visiting tea factories
Pandikkuzhi
Peerumedu
Murikkady
Calvary Mount
Vandiperiyar
Wildlife
Periyar Tiger Reserve
Muthanga Wildlife Sanctuary
4. Kannur and Kasargode – A slice of life through Theyyam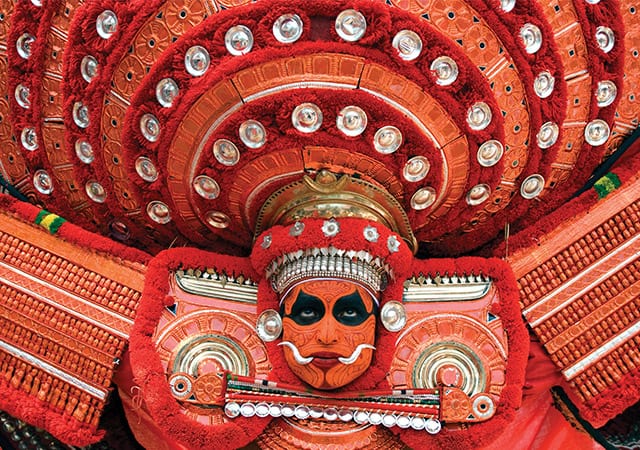 The most famous happening in Kannur and Kasargode districts of Kerala during the months from December to April is Theyyam. Theyyam is a very old traditional ritualistic art form that comprises of a perfect synthesis of music, vocals, dance and plenty of literature. This is a socio-religious ceremony and is very, very colorful and vibrant.
Theyyam is celebrated with great vigor in many of the local temples spread across the two districts and is accompanied by devotional hymns exuding divine power even to the listener. The locals believe that the gods and goddesses participate in this gorgeous splendor. Hence, they dress themselves as Theyyams and take part in dangerous feats.
The participants are attired in gorgeous colors with elaborate headdresses, rouged lips, huge red colored breastplates and other embellishments. Theyyam is also known by other names such as Thirayattom and Kaliyattom. About 400 types of Theyyams performed, and the famous ones out of them are Raktha Chamundi, Muchilottu Bhagavathi, Wayanadu Kulaven, Kari Chamundi, Gulikan and Pottan.
5. Anywhere in Kerala – Specialized skin cure Ayurveda packages that chase away the winter blues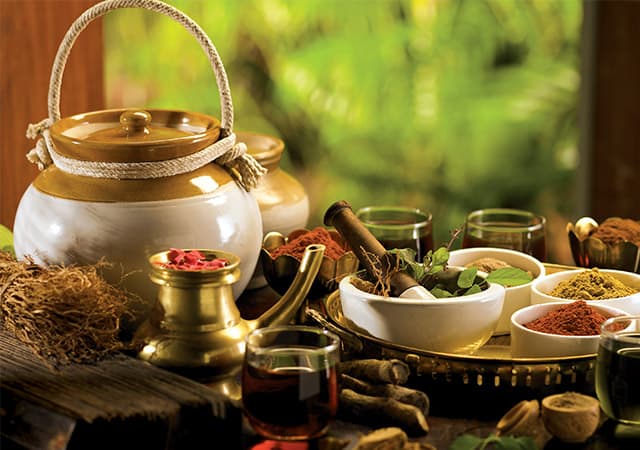 Winter is slowing bowing out and summer will make its entrance with renowned vigor. You can go on a skin rejuvenation therapy if you are visiting Kerala during February. Almost all the destinations in Kerala have hotels and resorts that offer Ayurvedic packages that would let you pamper your skin and body. Masseurs and Masseuses with profound healing capabilities would work wonders on your skin giving you a rejuvenating experience in the resort's tranquil atmosphere.
Through proper Ayurvedic skin therapy regime, you will be able to experience the magic of the oldest healthcare practice in the entire world. Curative skin therapy packages that restore the natural properties of your skin are practiced with commendable devotion in Kerala. It's sinfully relaxing, but definitely worth the effort.
Lastly,
Take a backwater ride from Alappuzha to Kochi and watch the mesmerizing sunset accompanied by the symphony cacophony of the aviator population. The sky during this season is worth it!
With Valentine's Day just around the corner, why don't you plan for a romantic getaway to any of the places listed above? It would definitely be a fun way to celebrate your love!
If you like this post, please share!