Things to Do in Kerala in July
The south west monsoon reaches its zenith in Kerala during the month of July. The days of incessant rains are interspersed with reading and imbibing religious texts, indulging in rejuvenation therapies or even refreshing some sweet old memories!
Check out some of these activities that you can do and some of the places that you can visit in Kerala in July.
1. Celebrate Eid-ul-Fitr
Id-ul-fitr or Eid marks the culmination of the holy month of Ramadan. During Ramadan, Muslims fast during the daytime, read the Holy Quran and immerse themselves in prayers. After sunset, they break the fast with special Iftar dishes.
According to the Islamic calendar, the Shawwal month begins when the crescent moon is sighted. The first day of this month is celebrated as Id-ul-fitr. People visit their family and friends, exchange gifts and indulge in sumptuous feasts.
To get the real feel of Eid, you must head to the Malabar region in northern Kerala that has a sizeable population of Muslims.
2. Participate in the Aanayoottu Ritual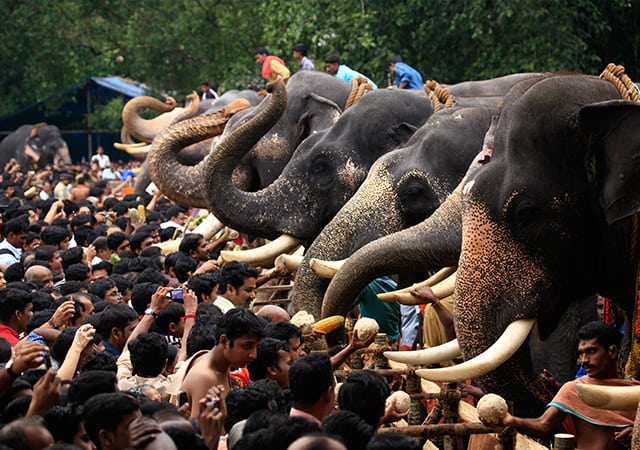 Are you an ardent elephant lover? Then, you shouldn't miss this golden opportunity!
Elephants are an inevitable part of temple festivals in Kerala. It's hard to imagine any temple ceremonies or rituals without the presence of pachyderms. The sight of caparisoned elephants is simply exhilarating and adds grandeur to festivals.
Aanayoottu is an annual elephant feeding ceremony that takes place in the premises of the famous Vadakkumnathan Temple in Thrissur. It is held on the first day of the Malayalam month of Karkkidakam that falls in July/August.
On the ritual day, unadorned elephants are brought and lined up in a single row facing a great multitude of people who eagerly wait to feed the jumbos. The ceremonial feast is made of parched rice, ghee, coconut, jaggery, sugarcane, fruits and a mix of Ayurvedic medicines.
It is believed that offering elephants food on this auspicious day will propitiate Lord Ganesha – the remover of obstacles.
3. Plant a Sapling During Van Mahotsav Week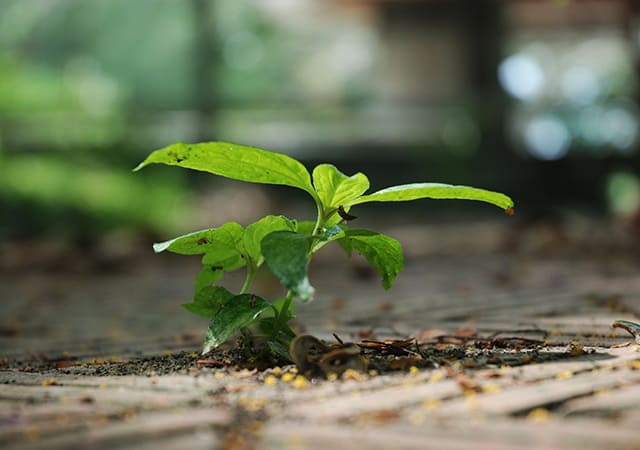 Trees are the lungs of the earth and forms an integral part of man's survival on this planet. With forest cover making way to concrete jungles, the significance of Van Mahotsav cannot be undermined.
Started in 1950 by K.M. Munshi, Van Mahotsav is an annual tree-planting festival celebrated all over India in the first week of July. Tree planting drives and awareness campaigns are organized in offices and educational institutions.
So, for this year's Van Mahotsav, plant a sapling and contribute to preserving the Nature.
4. Learn Crafts–making at Sargaalaya Kerala Arts and Crafts Village
Spread across 20 acres of land on the banks of Kuttiyadi river in Iringal village of Kozhikode is Sargaalaya, India's unique handicraft destination. It is a venture started by the State Tourism Department to promote Kerala's exquisite arts and crafts on the world tourism map.
Here, traditional artisans exhibit their craftsmanship and sell their products at reasonable prices. An exclusive feature of this crafts village is that you can watch and learn the nuances of crafts-making directly from the experts. Sculptures, handloom products, coconut crafts, wooden crafts, jewellery, paintings and terracotta are some of the handicrafts on display.
If you are into crafts business, then this is a must visit place for you. Sargaalaya is located 5 kms from Vadakara and 40 kms from Kozhikode city. It's open on all days from 10 am to 6 pm except on Mondays.
5. Visit Niranam Church on St. Thomas Day (July 3)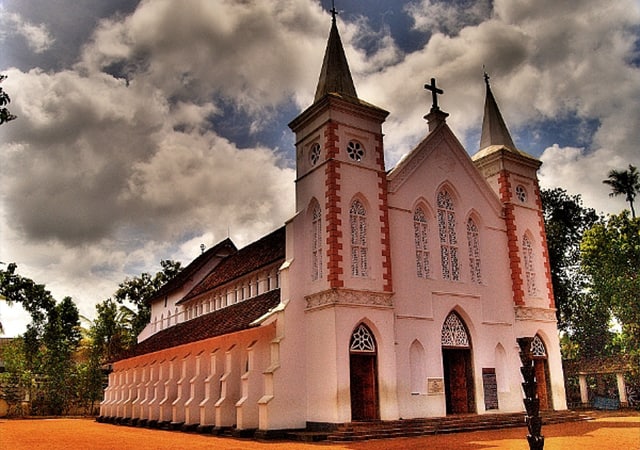 Image by Arayilpdas via Wkimedia
For those who are spiritually inclined, a visit to the St. Mary's Orthodox Syrian Church, Niranam will be a memorable one. Also known as Niranam Valiya Pally, this church is one of the oldest churches in Kerala.
It was founded in 54 AD by St. Thomas, one of the twelve apostles of Jesus Christ. St. Thomas reached India in 52 AD and landed in Kodungalloor, a coastal town in Thrissur district of Kerala. He later founded seven and a half churches, one of which was established at Niranam.
The church has five altars each dedicated to different saints. There is a tall, granite cross in front of the church. Many antique relics like stone-inscriptions, sculptures, lamps and vessels dating back to the ancient times have been preserved here.
6. Try Karkkidaka Kanji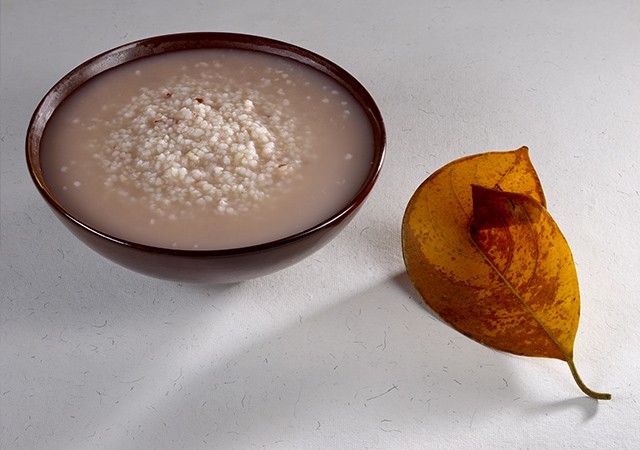 In Kerala, the month of Karkkidakam (July/August) is considered as a lean season. The entire agricultural sector comes to a standstill because of heavy rains. But, this is the best time to rejuvenate your body and soul and ward off fevers and other ailments. In most households, people consume the Karkkidaka Kanji during this period.
Also known as Oushada Kanji, it is a medicinal rice gruel that is made of Njavara rice – a traditional rice variety grown in Kerala, different spices and about 24 medicinal herbs. It boosts the body's immunity and improves digestion.
It can be had during breakfast or dinner. Remember not to consume oily or non-vegetarian foods during the days when you have the kanji.
7. Dive into History At St. Angelo Fort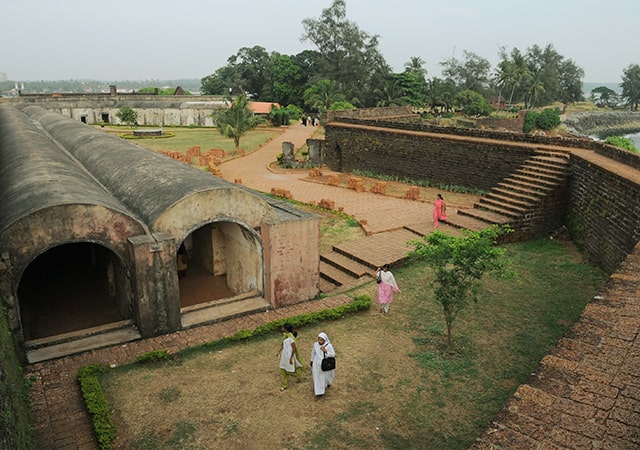 Situated 3 kms from Kannur, the St. Angelo Fort, also known as Kannur Fort, presents a tourist with a fascinating slice of history. It is one of the famous historical monuments of Kerala. The fort bears testimony to the warfare and military strength of erstwhile colonial powers.
It was built in 1505 by the first Portuguese Viceroy of India, Dom Francisco de Almeida. The Dutch seized the fort in 1663 and built three bastions. They sold the fort to the local Arakkal family in 1772. After a few years, the British captured it and used it as their military base till 1947.
The entire fort is made of laterite stone and is triangular in shape. There is a large moat surrounded by bastions and a strong sea wall. From the fort, one can get a spectacular view of the Mappila Bay and Dharmadom Island.
Kannur Fort is a protected monument under the Archaeological Survey of India. It can be visited from 8 am to 6 pm on all days.
8. Watch Kalarippayattu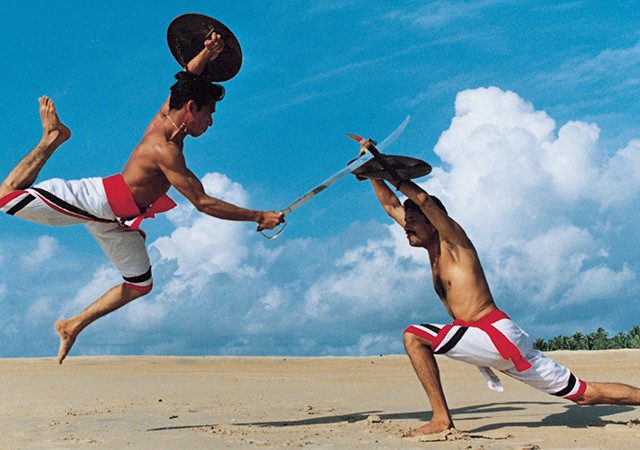 Image by Leelavathy B.M via Wikimedia
Kalarippayattu is the traditional martial art form of Kerala and is believed to be more than 3000 years old. It tests the perfect co-ordination between the mind and the body. It has different styles depending upon the places it is practiced in Kerala.
The training of this martial art is done in a school known as kalari, meaning a combat arena. Kalarippayattu is a combination of attack and defense using strikes, kicks, postures and steps. Training in weapons such as swords, flexible swords (urumi), shields, daggers and spears is also imparted.
Watch a Kalarippayattu bout and be awestruck by the athletic moves of the fighters.
9. Feel the Beauty of Nelliyampathy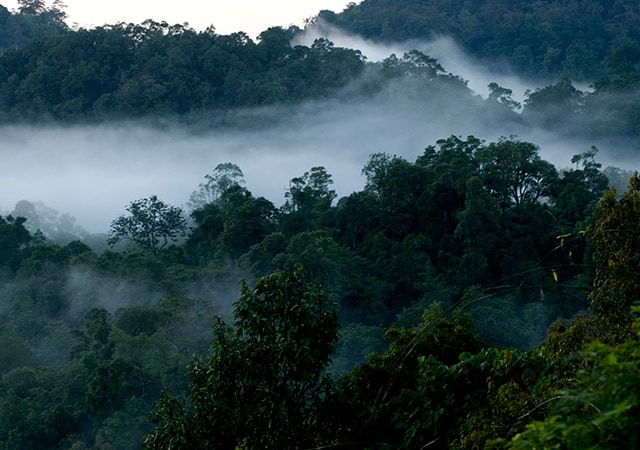 The sight of misty hills, tea plantations, lakes, waterfalls and wildlife is a panacea to the anxiety and stress of a fast paced city life. Nelliyampathy in Palakkad is such a place that beckons a traveller to experience its overwhelming beauty.
Also known as 'Poor man's Ooty', it is situated 65 kms from Palakkad town. At  Nelliampathy, you can see beautiful tea, coffee and cardamom plantations, bio farms and orange orchards interspersed with mist covered trees and hills. Seethargund view point and Pothundy dam are other attractions.
If you are interested in exploring wildlife, then you can go for a jungle safari. There are hotels and resorts available for accommodation.
10. Relax at Snehatheeram Beach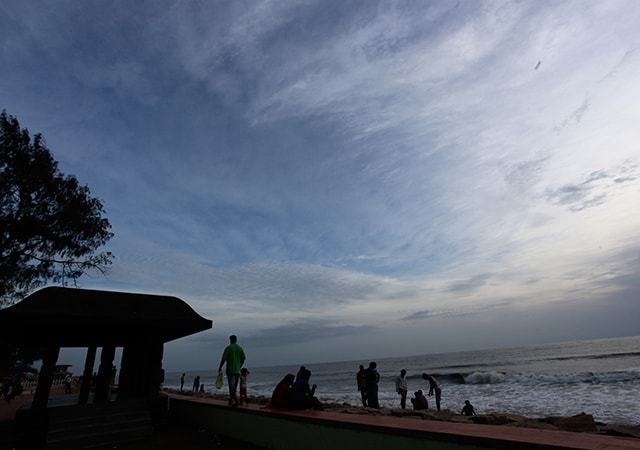 How about chilling at a beach with your family or friends? Or just simply relaxing on a bench listening to the rhythmic tunes of the waves and admiring the vast expanse of the Arabian sea? Then, head to Snehatheeram beach.
Located 25 kms from Thrissur town at Thalikkulam, Snehatheeram (Love Shore, when translated to Malayalam) is a beautiful picnic spot where you can spend some quality time in the evenings. A children's park, a garden, an aquarium and a walkway are present near to the beach. You can savour sea food delicacies at restaurants nearby.
So that sums up the activities that you can try out this month. If you have any more ideas, then go ahead. Because there is no dearth of choices in Kerala!
If you like this post, please share!!