Things to Do in Kerala in March
It is March and we are at the threshold of welcoming another summer.
March is one of the busiest months for tourism, and all those regular spots would be crammed with people.
But we have come up with 8 places to visit in Kerala in March. These are different destinations, each with a story of its own. Certain places are crowded, but definitely worth the visit because of the experience.
1. Revel in the Chettikulangara Bharani Festival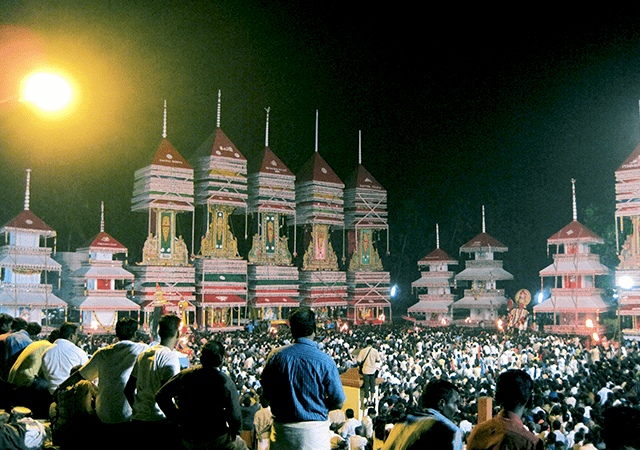 Image by Hellblazzer via Wikimedia
A color and vibrant festival enjoyed by thousands of Hindu devotees every year, the Chettikulangara Devi temple at Alappuzha district in Kerala becomes a hub of activity with processions, performances and fireworks during the Kumbham (Malayalam month, towards the end of February and beginning of March) masam.
Hundreds of devotees assemble at the temple grounds to absorb the divine sense of spirituality that permeates everything attached to it. One noted event in the festival is the magnificent Kettukazhcha where you can observe immaculately prepared and intricately crafted structures decked up for the procession.
The procession, consisting of huge Bhima and Hanuman (legendary characters) icons, horse and chariot motifs, creates a sense of surreal mise en scène that can never be duplicated.  This huge pageant often leaves a lasting impression on the visitors who are totally mesmerized by the elaborate structures, probably because they are little seen elsewhere.
2. Beat the Heat at Meesapulimala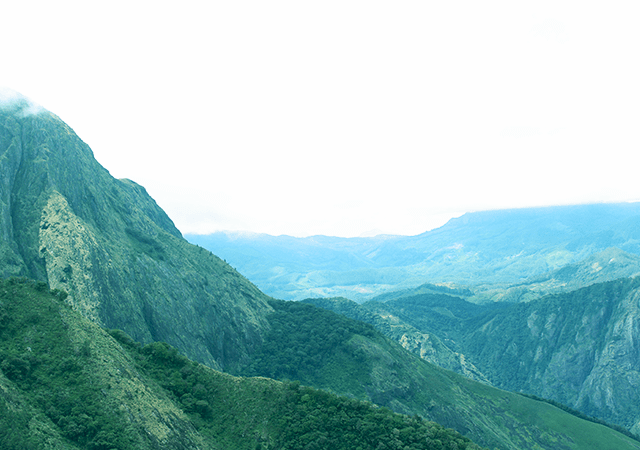 Image by Niyas8001 via Wikimedia
When it gets too hot to handle, take a break at the enchanting peak known as Meesapulimala in Munnar.
The peak is also credited to be the third highest peak in the Western Ghats. With a significant altitude of 2,640 feet above sea level, a trek or a jeep safari to this magnificent location would add icing to your trip. Being the main hotspot for diversity, UNESCO has declared Meesapulimala to be a World Heritage site.
A trek along high altitude grasslands would start at 1,500 meters and then reaching to 2,600 meters where you can see vast amounts of untouched greenery and grasslands.
The main attraction of the trek would be Kolukkumalai (renowned to be the world's highest tea estate) and its undulating hills.
Trekking along would also give you glimpses of indigenous animals, especially the Nilgiri Tahr, an endangered species, if you are lucky. The trek would be around for 21 kilometres, so go for it only if you are healthy and strong enough.
3. Walk the Walk at Thirunetty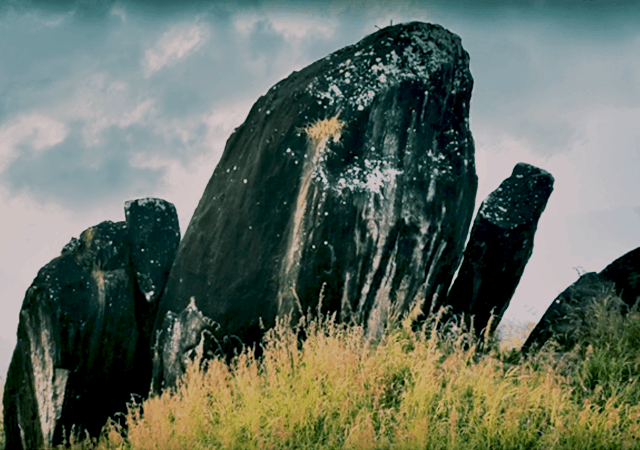 Thirunetty in Kannur is an awesome place for an exhilarating trekking experience. Situated in Cherupuzha Panchayat in Kannur, Thirunetty has been attracting tourists of late, thanks to its sheer beauty and pure nature. With a height of 2300 feet, Thirunetty is now a favorite spot for photographers, nature enthusiasts, hiking and trekking enthusiasts.
Walking through the hills would bring you right into the lap of Nature. Being pretty much an unexplored destination in Kerala, you can enjoy this place minus the regular crowd that you normally see at other trekking routes. This would probably be the most favored spot if you want to savor the true essence of Kerala.
4. Enjoy the Mind-blowing Beauty of Lakkidi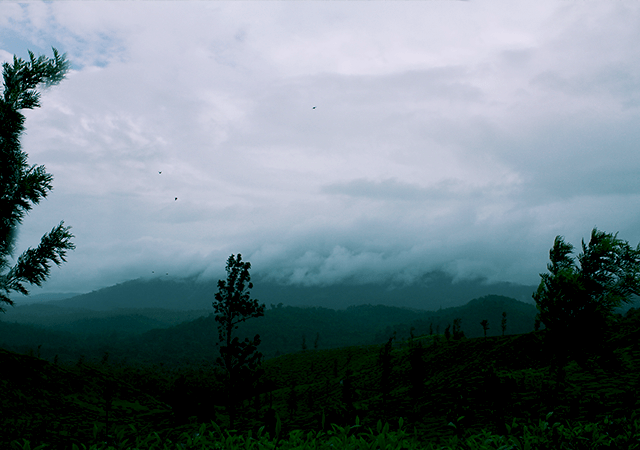 Image by Abhishek via Flickr
Lakkidi at Thamaassery ghat-pass is a major attraction in Kerala for both domestic and international tourists. The expansive greenery with acres and acres of resorts and plantations interspersed with streams, hills and gorges, the hill station is rumoured to be second in receiving the largest degree of rainfall in the world.
Though the area is replete with manmade plantations and resorts, you will still be enamoured by the stunning beauty of Nature. Just standing at the tops gazing at the activities below will bring forth the realization that even if life is transitional, Nature remains unperturbed and unremorseful.
5. Cheer for the Awe-inspiring Guruvayoor Aanayottam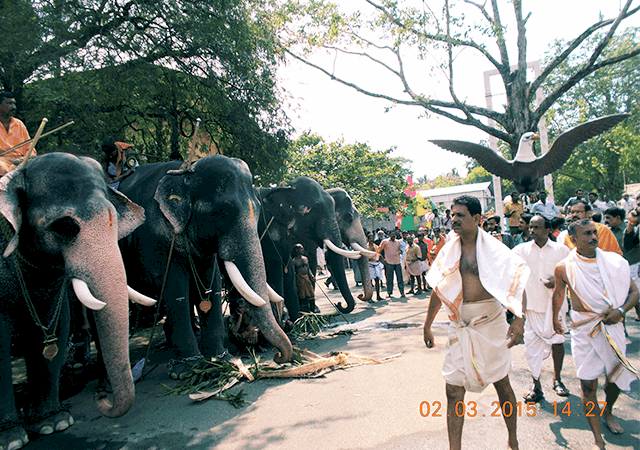 Image by Rudolph.A.furtado via Wikimedia
Guruvayoor Sri Krishna Temple gets ready during the Kumbham month (Feb-Mar) to celebrate its annual festival. This 10 day famous festival draws thousands of devotees from all over the world, and Aanayottam or the elephant race marks its beginning.
The temple fete is a hub for photography enthusiasts, while people have their own favorites among the elephants themselves. An array of colorful festivals follows in the days succeeding the elephant race.
6. Celebrate the Attuvela Mahotsavam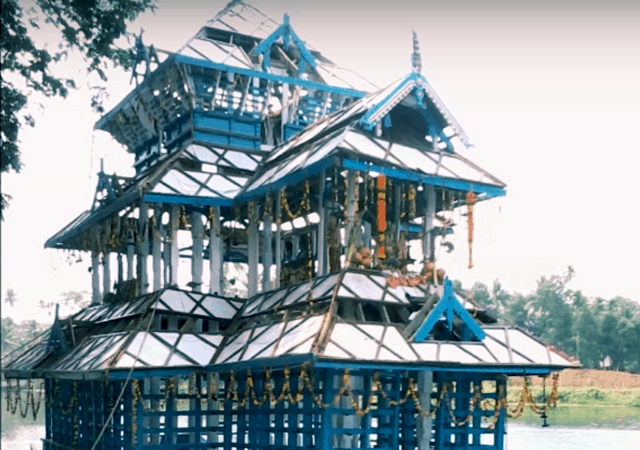 Attuvela Mahotsavam, also known as water festival or the floating festival is colorful enough to remind you of the tremendous fireworks that one can see during the famous Thrissur Pooram. But this is so different from all the festivals that you have seen so far.
An exact replica of the Elankavu Bhagavathy Temple (situated at Vaikkom, Kottayam) is made and placed on the waters and to complete the cynosure, there are a number of small boats accompanying it with reverberating music in the background. The temple's main deity Goddess Bhagavathy is decked up in glory during this two-day festival.
It's called Attuvela Mahotsavam because the procession for the temple starts from  Attuvela, just two kilometres from the temple and goes down the waters of the River Moovattupuzha.
7. Inhale the Freshness of Sarovaram Bio park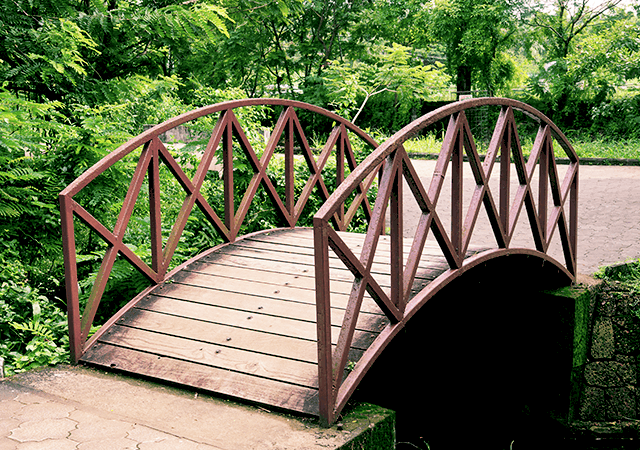 Image by Vengolis via Wikimedia
Enjoy a dash of fresh air at the heart of Kozhikode city with a visit to the protected biodiversity zone at Sarovaram Bio Park. Spread over 200 acres of land, the park is replete with exciting facilities and activities for tourists. Worth mentioning are the boating facilities, Butterfly park, Otter park, wetlands, 29 varieties of mangroves and an aquarium with 11 species of rare fishes, apart from other aquatic organisms.
Noted factors about the park are that it aspires to be totally plastic-free while embracing sustainable methods to maintain an ecological balance in the area and maintaining the wetlands and mangrove forests in the traditional Kerala manner.
8. Delve into History at Chandragiri Fort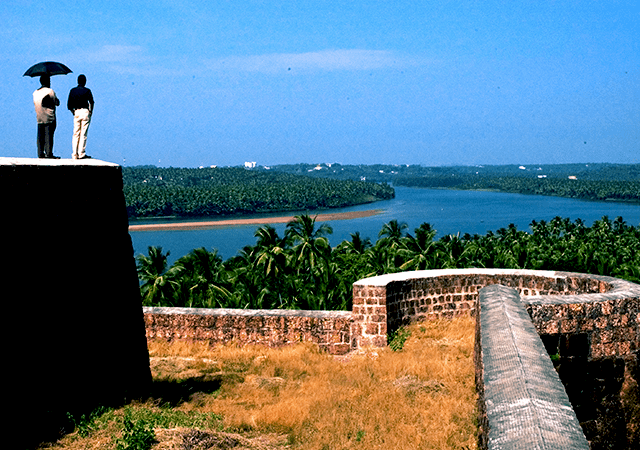 Built in the 17th century by Sivappa Nayak of Bednore, Chandragiri fort and river still holds unrelenting appeal to the visitors who still make a beeline for it. It is a large and square fort rising at a height of 150 feet above sea level with an area of about 7 acres along the river Payaswini.
People come here mostly to view the breathtaking sunset from the bridge built at Tekkil. The sunset and those gorgeous islands and palm groves in the background together make for a memorable view and a perfect frame. The fort still holds the charm of history and an appeal of mystery, though many are still shrouded in antiquity.
Kerala awaits you with all its treasures and March is one of the best times to visit them all, because it is neither too hot nor raining. So, get ready to go on a wonderful Kerala tour to visit these beautiful places.
If you like this post, please share!!