Things to Do in Kerala in October
Kerala is blessed with diverse landscapes, rich cultural heritage dating back to centuries and delectable, mouth-watering cuisine. The month of October is the ideal time to visit Kerala as the climate is very pleasant and you can enjoy the beauty of God's own country in its true glory. Add fun to your trip by celebrating a variety of cultural and festive extravaganzas all lined up for this month!
Here goes a list of must do things in Kerala this October:
1. Offer Your Prayers at Mannarashala Temple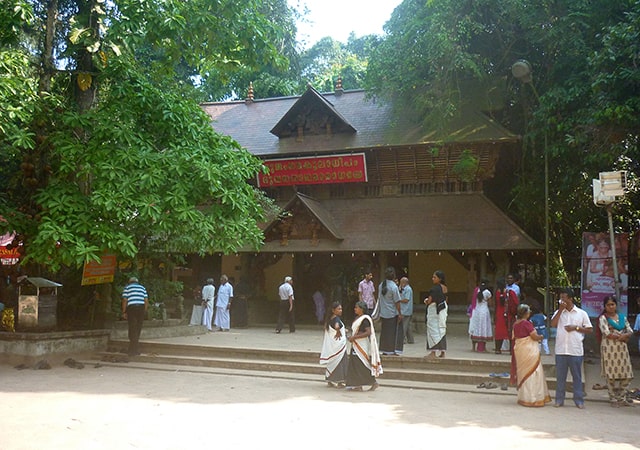 Image by Vibitha vijay via Wikimedia
One of the famous temples of Kerala, Mannarashala temple is an ancient temple for Serpent Gods, located in Alappuzha. Snakes or Nagaraja (Serpent God) are worshipped as gods for fertility and skin disorders. Mannarashala Ayilyam is the most important festival there and it falls in the Malayalam month of Thulam, which is from mid-September to mid-October.
During the festival, serpent idols are taken out from the temple and carried by the oldest lady from the illam (house of Brahmins) as a procession to the family house, and offerings are performed there.  It is a must to attend the festival to know how traditions of Kerala are so close to nature.
2. Visit Chulannur Peacock Sanctuary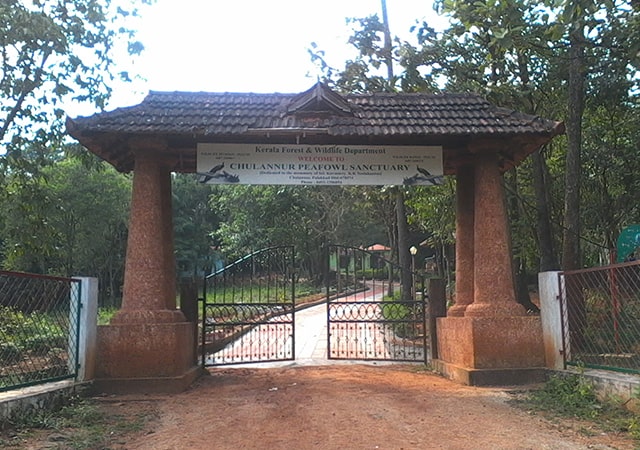 Image by Vimal Kumar V – Template:Choolannur via Wikimedia
Situated around 30 kms from Palakkad, Chulannur Peacock Sanctuary is the house for more than 200 peacocks. Also called as Mayiladumpara (Mayil in Malayalam means peacock), you can spot peacocks mostly during dawn and dusk. Sight of peacocks moving around with their majestic feathers is indeed mesmerizing! Spread over 500 hectares of moderately thick forest with a rocky terrain, you can enjoy different breeds of butterflies too here in October.
3. Admire the Beauty of Kumbalangi Tourist village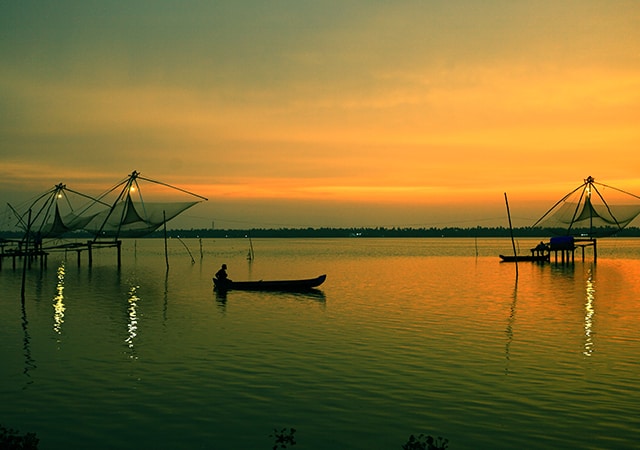 Kumbalangi is an aquatic tourist village, put up on an island surrounded by backwaters, near Cochin.  Rich mangrove forests separate land from water. You are welcomed to this ecotourism island by the amazing sight of local fishermen fishing using Chinese fishing nets in the water.
A recce around the village will give you the glimpse of fish farming, crab farming and know-how of the livelihood of the villagers. Kumbalangi is the ideal getaway to simply relax by fish baiting and enjoying local cuisine in a homestay.
4. Visit Nilambur Teak Museum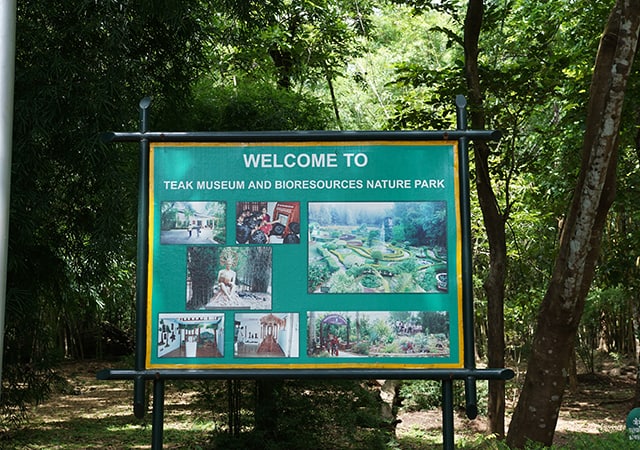 Image by Vengolis via Wikimedia
Nilambur Teak Museum is the world's first teak museum that provides information on all aspects of teak, ranging from flower to roots. You are welcomed to the museum by a carved teak door that adores a painting of Kannimara teak (oldest living teak tree).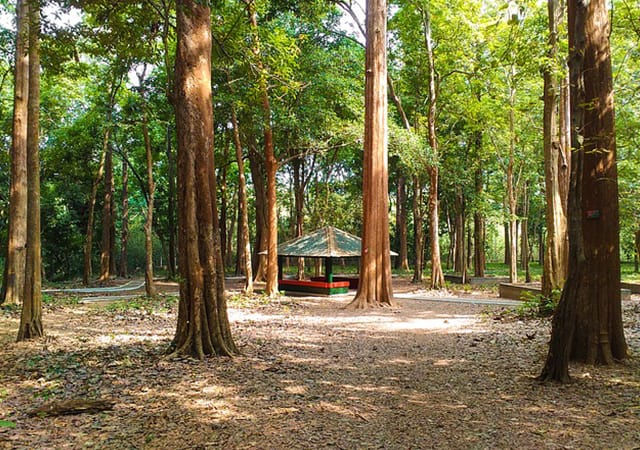 Inside, you will find many exhibits like a 414 year old teak trunk and an antique sailing vessel made of teak wood. The root system of a mature teak tree showcased is really worth experiencing. The history of teak plantations and wall paintings add glory to the museum.
5. Touch the Soul of Performing Arts at Kerala Kalamandalam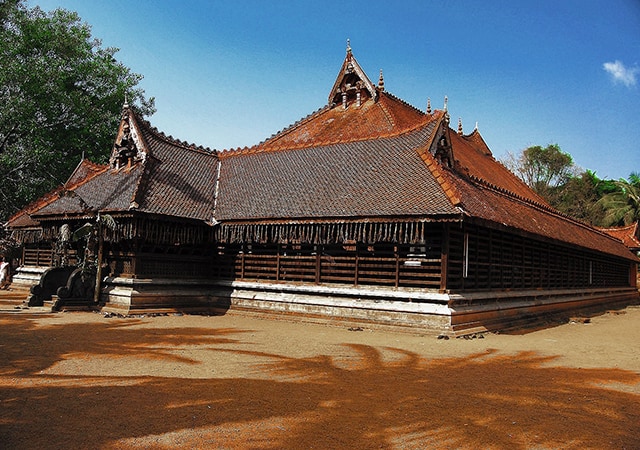 Located on the banks of the river Bharathappuzha, Kerala Kalamandalam is the iconic deemed university of Art and Culture by Government of India. It gives you the perfect ambience to learn South Indian performing arts like Kathakali, Mohiniyattam, Koodiyattam, Ottamthullal, Bharatanatyam, Kuchipudi and Nangiar Koothu, the authentic way.
Kalamandalam follows a residential school approach (Gurukula Sampradayam) to immerse students completely in the art they are pursuing. Undoubtedly, your visit to Kerala Kalamandalam will invoke the artistic senses in you.
6. Celebrate Navarathri
Image by RajeshUnuppally via Wikimedia
Kerala celebrates Navarathri or the festival of nine nights by welcoming Goddess Saraswathi, the epitome of knowledge and wisdom. All study materials like course books and religious books are stacked up and covered with holy cloth. This is reverently kept in the houses or temples to get blessings from Goddess Saraswathi. The last day of Navarathri called Vijayadasami or Vidyarambam day is when small kids are introduced to education. It is also considered as the best day to start new ventures.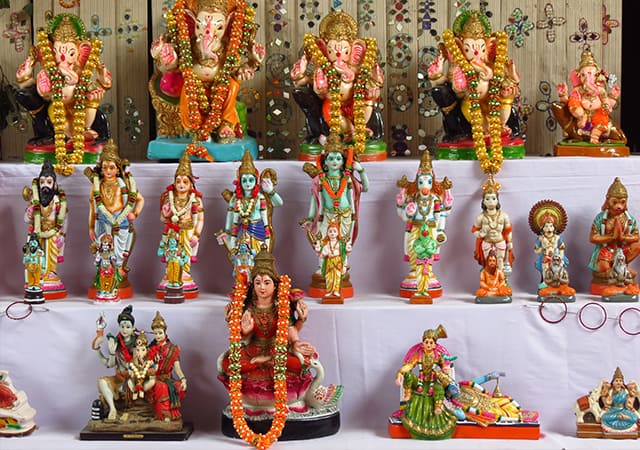 Image by Siva301in via Wikimedia
The Bengali, Gujarati, Punjabi, Tulu and Tamil Brahmin communities celebrate Navarathri with added fervor in places like Kochi and Kozhikode. A significant feature of their celebrations is a display of dolls and figurines of Gods and Goddesses known as Bomma Golu.
7. Have Fun Riding on the Malampuzha Ropeway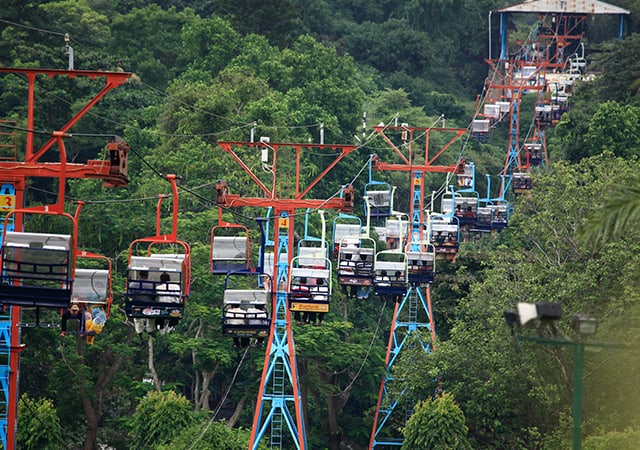 Malampuzha Dam is a well known tourist spot in Palakkad. You can enjoy the aerial view of the dam and the adjacent 28.5 acre wide Malampuzha Gardens, on a fun ride on the ropeway.
This 2000 feet long ropeway called Udan Khatola takes you 60 feet above the ground, making it an adventure ride spanning 20 minutes. Each rope car can accommodate 2 people and goes on a slow pace so that you can enjoy the man made marvel to the fullest.
8. Celebrate Diwali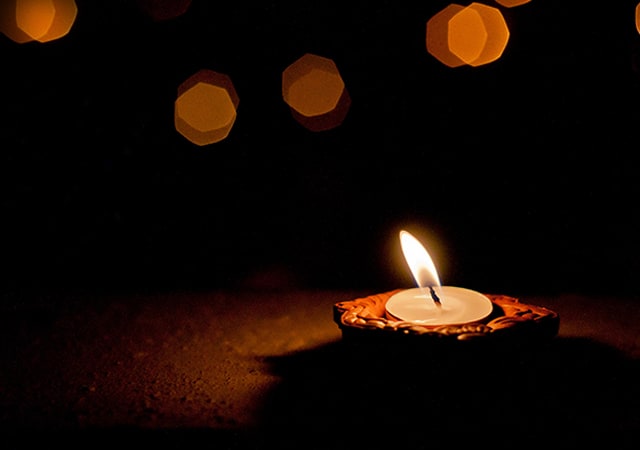 Image by Kartik Malik via Flickr
Diwali or Deepavali (or row of lights) is celebrated in Kerala as an offering to Goddess Lakshmi who symbolizes wealth. She is welcomed in every home by beautiful lighting and well arranged,  nicely lit oil lamps. Fire crackers are burst and people wear new clothes to enjoy the fun and laughter with their family. On your visit to Kerala this October, get blessings of Lakshmi by participating in Diwali celebration.

9. Try Your Hand in Coir Making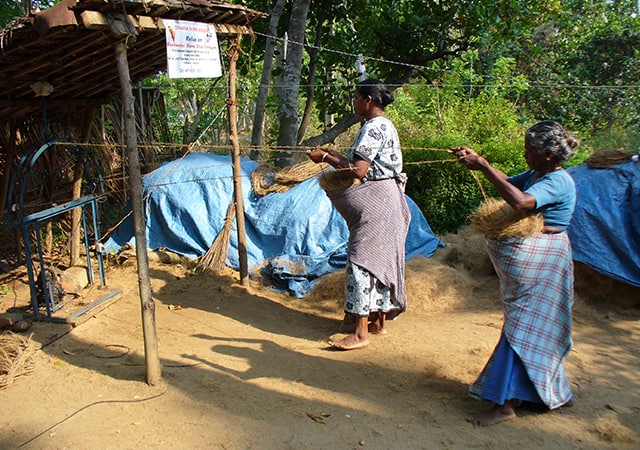 Image by Bricaniwi via Wikimedia
Kerala is the land of coconuts and coir making is the occupation for many people in the backwaters. The entire process of coir making is very interesting, a sight you will definitely witness on your houseboat ride through backwaters of Alappuzha.
It is a pleasant sight to watch the villagers, especially ladies spinning weaving wheels to fabricate the finest thread to make exclusive coir products like mats, rugs, mattresses, etc. You can try your hand in coir making to learn the enterprising art of Kerala.
10. Eat Thalassery Biriyani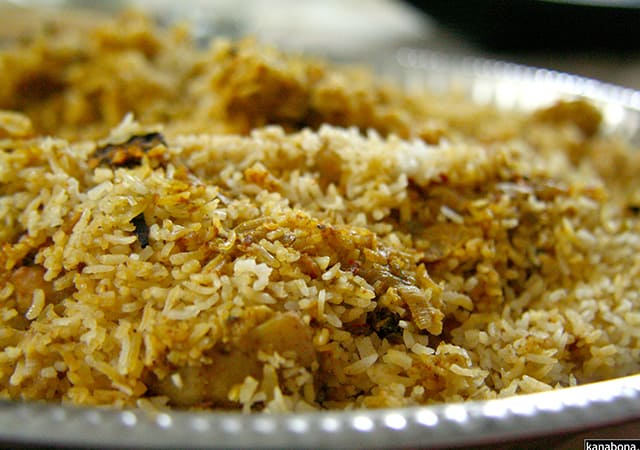 Image by Sheetal via Wikimedia
Thalassery Biriyani is a must to be tried non vegetarian Malabar cuisine. Thalassery is a small town in the coastal region of North Kerala, which still has the influence of erstwhile Mughal-Arab culture. You can experience the rich Mughal touch in the local delicacies, especially Thalassery Biriyani.
This is a rice and chicken dish cooked in aromatic spices along with dry frutis, and uses special short grain rice called Khaima/Jeerakasala that has a unique fragrance and texture. Thalassery Biriyani is actually an amalgamation of rich Mughal recipe and local Malabar preparation, thus imparting it a mouth watering taste that is so unique on its own.
That sums up the activities that you can do in October. And if you are a rain lover, you can enjoy the monsoon treat with grey clouds, thunder and lightning in the evenings during later half of this month. Yes, this is the time for retreating monsoon in Kerala and a perfect accompaniment could be hot cup of special Munnar tea!
If you like this post, please share!!