Things to Do in Kerala in September
September is the month in which you can make the most out of your Kerala trip. You know why? The climate is perfect, the monsoon is over and the days are warm. And there are some additional surprises too!
The top most among many activities awaiting you this month are:
1. Watch Athachamayam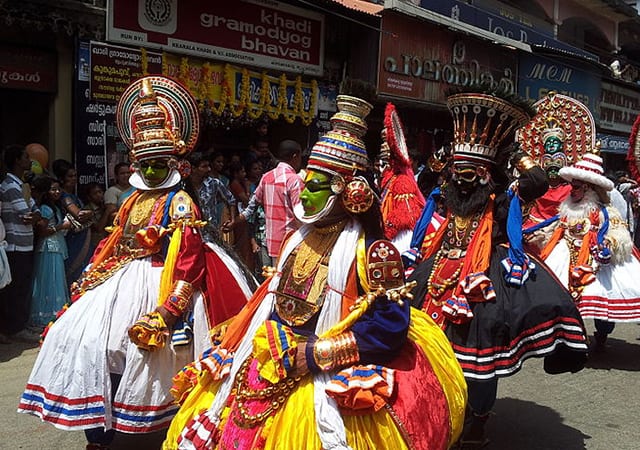 Image by Sivavkm via Wikimedia
Athachamayam is Kerala's own carnival that marks the inauguration of the 10 day long Onam festival. The parade lights up every road of Kerala with vivid colours. Decorated elephants and musical percussion add majestic glory to the fiesta. You can watch almost all the folk art forms of Kerala in this procession. Of all Athachamayam processions, Thrippunithura Athachamayam takes special mention for its Royal ensemble to commemorate the victory of King of Kochi!
2. Celebrate Onam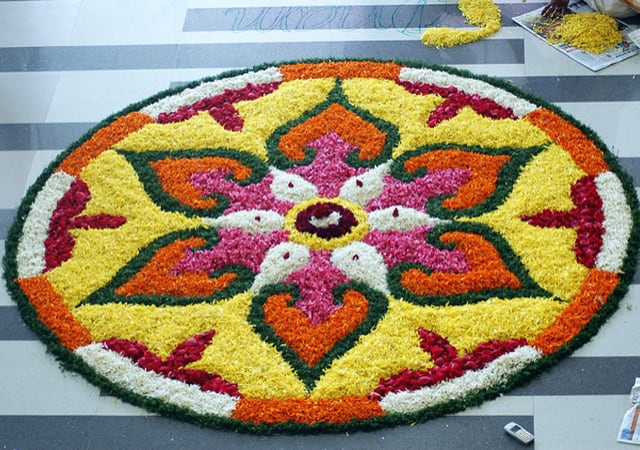 Image by Asif Musthafa via Flickr
Onam is the state festival of Kerala. It is the biggest harvest festival and is celebrated as the home-coming of the mythical King, Lord Mahabali. Unlike other popular festivals of Kerala, you will be greeted with greeted with spectacular floral decorations called Pookkalam in every nook and corner of Kerala.
Eating Onasadya in plantain leaf is an exhilarating experience in itself. Watching ladies performing Kaikottikali in traditional Kerala attire called Mundum Veshtim is simply awesome! Join Malayalees in the joy and enthusiasm of Onam celebration and make your Kerala trip memorable.
3. Enjoy Pulikkali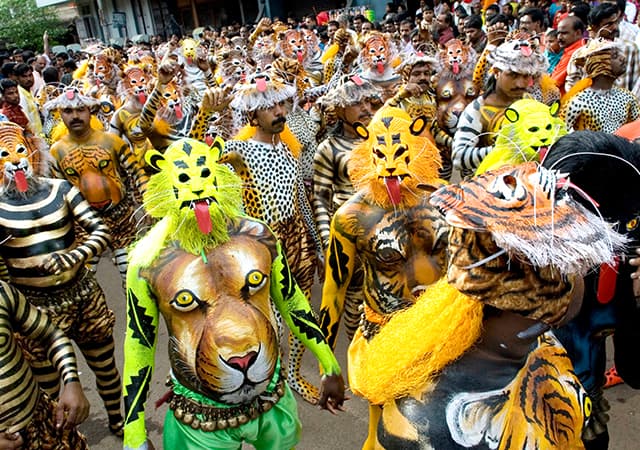 On the fourth day of Onam, Pulikkali (literally, a play of tigers) is performed by specialized artists to entertain people. Performers paint their body in bright yellow, red and black to look like puli (tiger/leopard) and hunters. With a theme of tiger hunting, performers dance to the beat of percussion instruments like thakil (barrel shaped drum) and udukku (similar to damaru). Watching Pulikkali in Swaraj Ground in Thrissur city is a must have in your Kerala trip this September.

4. Cheer for Aranmula Boat Race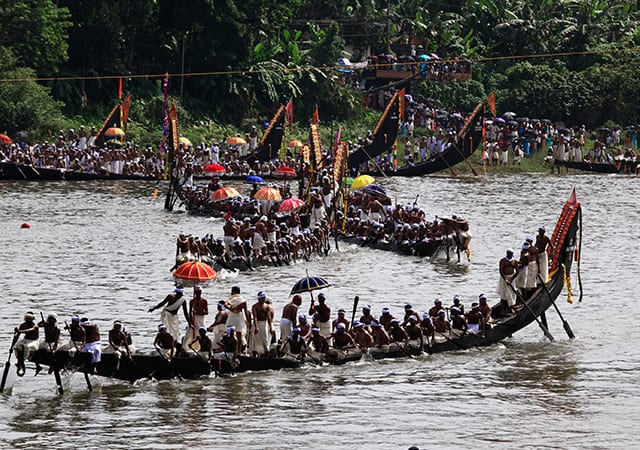 Aranmula boat race in the river Pampa near the Aranmula Parthasarathy temple, is another gala event in Onam celebration. Snake boats or chundan valloms charged by hundreds of oarsmen rowing to the rhythm of vanchipattu is a super energizing experience. The uniformity among the rowers, decorations like ornamental umbrellas and golden laces at the head of the boat, makes the view from the shores, charismatic.
The sight of boats moving in pair, neck to neck is a jaw-dropping moment for the viewers. Pick up your favourite boat and cheer for it to have maximum fun during the race!
5. Explore Kerala Architecture at Arakkal Museum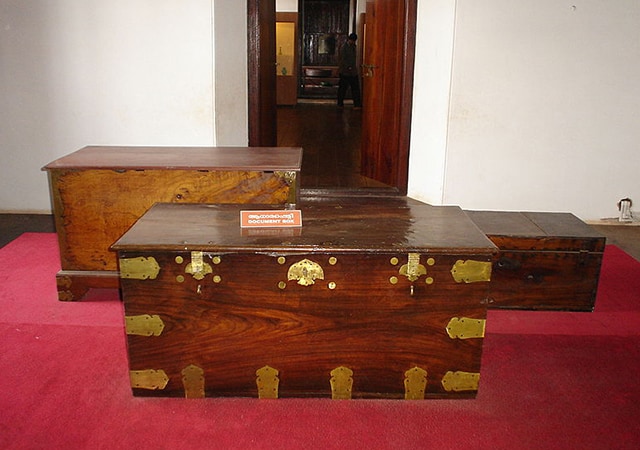 Image by  Shijaz via Wikimedia
Arakkal Museum is must visit interesting museums in Kerala, as it preserves the treasures from the oldest Muslim Royal family, Arakkal. The Arakkal family is deeply tied to Kerala history owing to the role in the formation of the Malabar province. Also known as Arakkalkettu or Arakkal Royal Palace, the place is a must visit to explore Kerala's finest  architecture.
The museum, which is a part of the palace, preserves the heritage of Arakkal family including ancient furniture, utensils, swords and tools. Arakkal museum is located in Ayikkara, 2-3 kms from Kannur town.
6. Enjoy the Breath-Taking Athirapally Waterfalls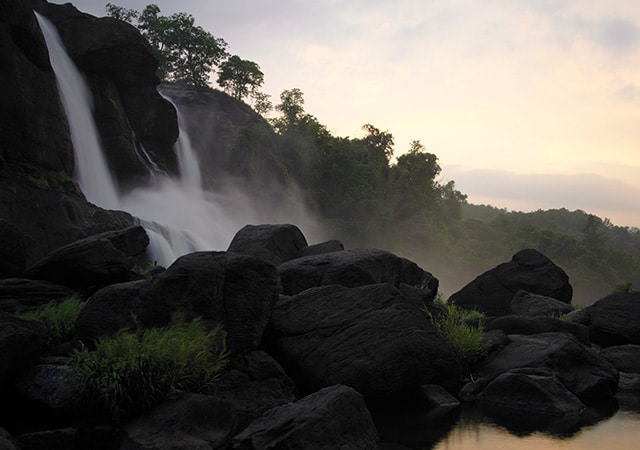 Athirappally waterfalls, situated in Chalakkudy district is the largest waterfall in Kerala. This 80 ft waterfall has a spectacular view as water gushes through big rocks and cascades down as three beautiful trails. You can enjoy a fascinating view of Sholayar hills by climbing up to the waterfall top. Surrounded by dense forest, the area is home to unique flora and fauna (including 4 species of South Indian hornbills).
Don't forget to visit the nearby Charpa falls, Vazhachal falls, Sholayar Dam, Valparai, Anakkayam and Malayattur wildlife sanctuary too!
7. Visit Thiruvananthapuram Zoo
Image by Augustus Binu via Wikimedia
Thiruvananthapuram Zoo is the oldest Zoo in Asia, and was established by His Highness Swathi Thirunal Rama Varma in the 1830s. Spread across 55 acres of land abundant in woods, lakes and lawns, the zoo houses 82 species of animals and birds from around the world. A snake farm is also present in the zoo premises with 7 anacondas as special inhabitants. Situated in the heart of the city, the zoo is one of the must visit places in Thiruvananthapuram.
8. Walk on a Hanging Bridge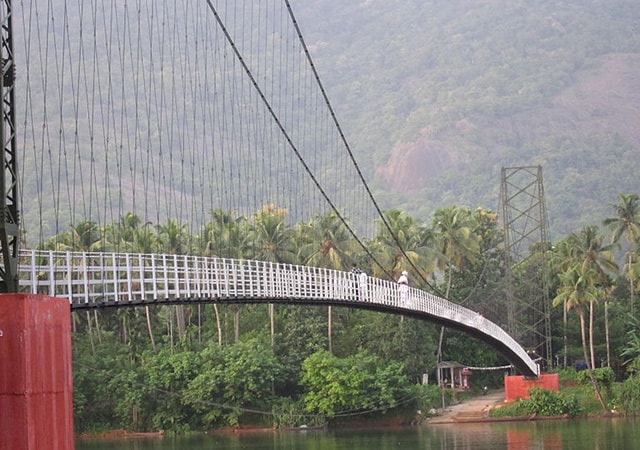 Image by Shijan Kaakkara via Wikimedia
Hanging bridges are architectural masterpieces that essentially connects two places, but do not have any ground support. Because of which it gives a unique shaky feeling when you walk over it. Walking on the 181m long Inchathotty Bridge across the Periyar River will give you the perfect feel of it.
If you want more of the shaky vibrations, add Punalur suspension bridge (oldest motorable hanging bridge), hanging bridge of Nilambur (connects Conolly teak plantation) and the suspension foot bridge across Chalakkudy river, to your Kerala itinerary.
9. Visit Sivagiri Ashram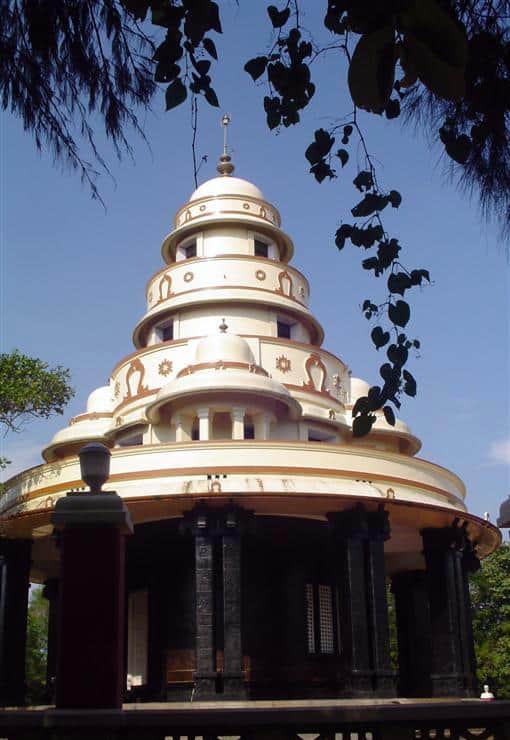 Image by Pratheepps via Wikimedia
Sivagiri Ashram in Varkala is a pilgrimage spot. Kerala's social reformer Sree Narayana Guru attained Enlightenment  and got salvation here. Sivagiri Mutt is the final resting place of Guruji. Located on a small hillock, the ashram is very calm and peaceful. Guru Deva Samadhi is celebrated in September every year with colourful processions, public meetings, cultural shows and community feasts. Definitely, visiting Sivagiri ashram will add more value to your spiritual self.
Definitely, September is the ideal time to enjoy the best of Kerala landscapes and the amazing flora and fauna. Adding to the natural wonders, colourful cultural festivals of Kerala can be an experience for a life time! Getting closer with the tradition and heritage of Kerala will fascinate the travel lover in you. So, pack your bags and plan for your trip to Kerala this September!
If you like this post, please share!!