24 Tourist Places in Idukki
Idukki, one of the largest hill stations in Kerala is also one of the most sought after destinations for tourists from all over the world. Located only at a distance of 105 kilometers from Kochi and just 47 kilometers from Munnar, you can enjoy several diverse attractions and activities for a memorable vacation. Tourist Places in Idukki talks about major tourist spots in Idukki district of Kerala.
You can plan for a 2 nights, 3 days tour to Idukki and visit the following places:
1. Idukki Wildlife Sanctuary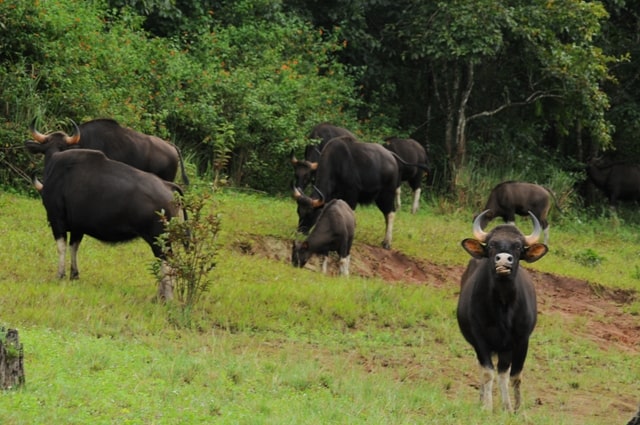 The sanctuary is located at a distance of about 58 kilometers from Thodupuzha and extends over Udumpancholataluk of Idukki. Spread over 105 square kilometers and situated at a height of about 450 – 748m above sea level, the sanctuary is home to plenty of endemic flora and fauna.
You can see herds of elephants, gaur, boar, deer, wild dogs if you are lucky. The sanctuary is also home to jungle cats, bears and several varieties of poisonous snakes. The avian population is also no less attractive as you can see plenty of woodpeckers, kingfisher, myna, jungle fowl, black bulbul and so on.
The sanctuary has different kinds of forests within it, including tropical evergreen trees, semi-evergreen forests, meadows and more. This is one of the major Tourist Places in Idukki
 2. Thommankuthu Waterfalls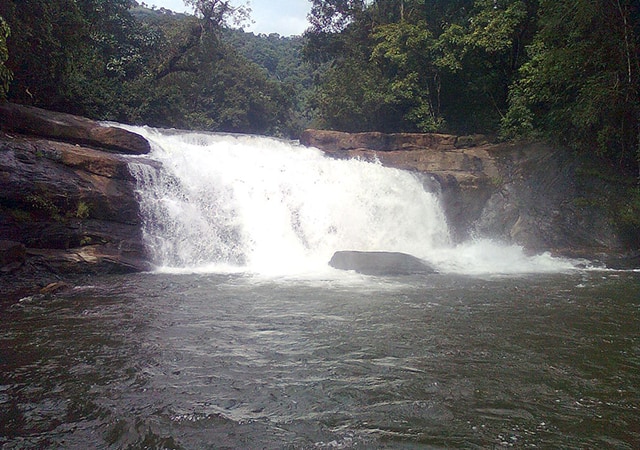 Image by Kiran Gopi via Wikimedia
The scenic waterfalls near Thodupuzha have a dark past. People say there was once a tribal named Thomman who fell into the waterfall, hence the name. The most curious thing about the waterfall is that it is a seven-step waterfall. Adventure tourism is allowed here. Forest trekking and bathing are other activities. This is another Tourist Places in Idukki
3. Meesapulimala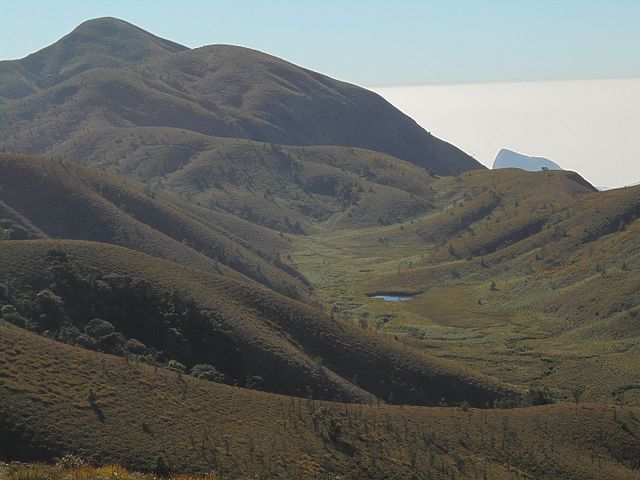 Image by Sivakumar1605 via Wikimedia
Is a peak in the high ranges of Idukki and an ideal place to start your hiking or trekking trails in Kerala. The mountain forest ecosystem is an attractive feature of Meesapulimala. This is a must visit Tourist Places in Idukki
4. Idukki Arch Dam
Image by Rameshng via Wikimedia
The amazing architecture of the Idukki Dam is what attracts people in the first instant. The dam, built across the river, and located between two hills is one of its kind in Asia and world's second.
Legend has it that these two hills were actually two tribals, Kuravan and Kurathy who were cursed by Lord Rama when they were caught watching Devi Sita bathing in the river. This is another Tourist Places in Idukki
5. Nedumkandam Hills
These hills provide the perfect backdrop of a typical village life, and since it is located at a height of about 3200 feet above sea level, you have many scenic spots as well.
6. Ramakkalmedu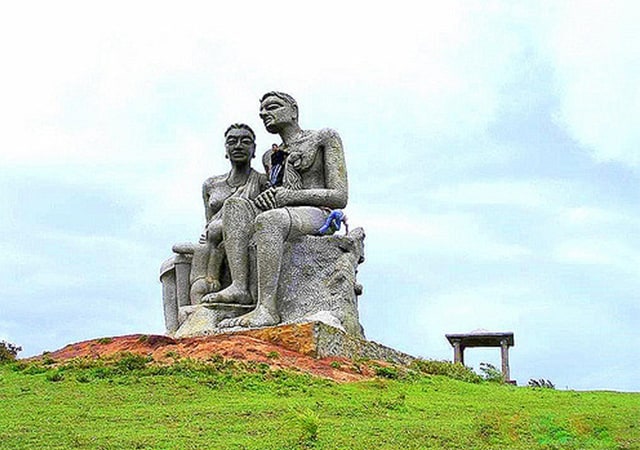 Image by Anoop Joy via Flickr
Ramakkalmedu or Ram + Kal + Medu, is a popular hill station now. This place has a very tall rock that Lord Ram stepped on to search for Devi Sita after she was abducted by Lord of Lanka, Ravan. If you sit here at dawn, you can enjoy mesmerizing views of the sun rising. Absolutely beautiful! This s a good Tourist Places in Idukki
7. Kalavari Mount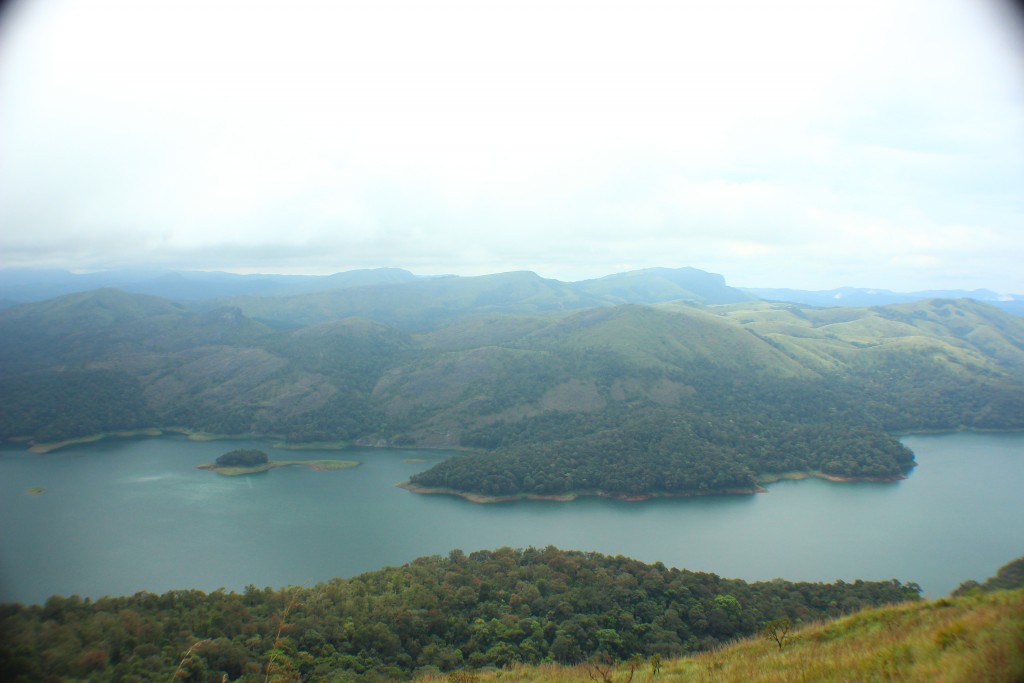 Right near Thekkady, and on the way to Kattappana lie Kalavari Mount or Calavary Mount. You can spot an elephant or two if you are lucky. Visitors come here to view beautiful views of the Idukki Reservoir as well.
8. Kulamavu Dam
 Image by Seb Powen via Flickr
A huge power project of Kerala and with a picturesque dam, the waters of Kulamavu reaches an underground power station, located at Muvattupuzha Valley. The Canada Government funds the dam project. A good Tourist Places in Idukki
9. Pothamadu Plantations
With its stunning view of tea, cardamom and coffee plantations, it is no wonder why visitors get down and pose for photographs at this spot.
10. Cheruthoni Dam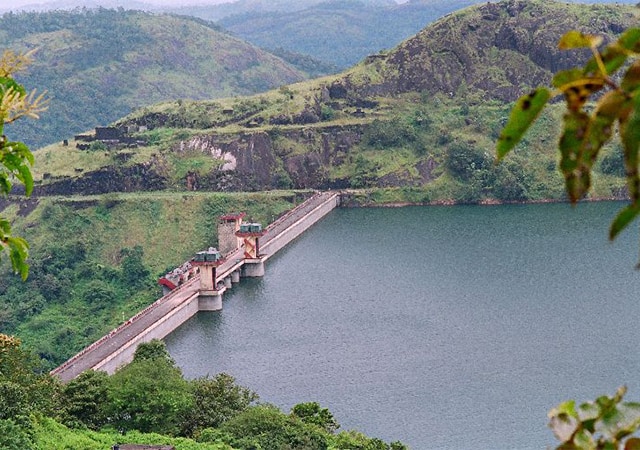 Image by Kseb via Wikimedia
Cheruthoni River is a major tributary of River Periyar and the dam supplies electricity to several villages in the area.
11. Anchurili Waterfalls
Splendid views of greenery bewitches you instantly. Anchuruili waterfalls offer splendid views of the forest with their semi-evergreen forest grasslands. This is a good Tourist Places in Idukki
12. Cheeyappara Waterfalls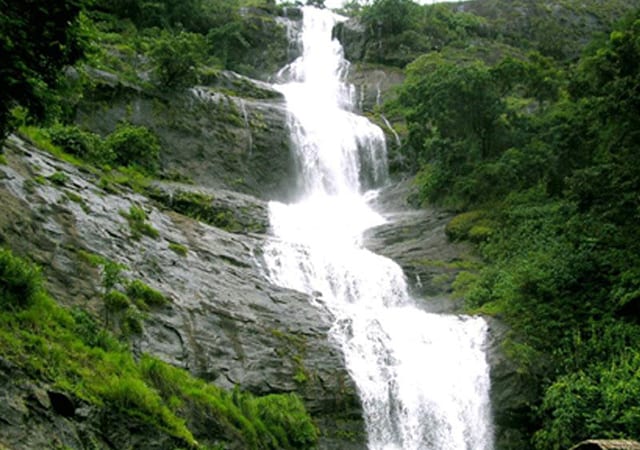 Image by Sudheesh S via Flickr
Lies between Adimali and Neriamangalam and can be seen from the road. Good place to take photos. This is another Tourist Places in Idukki
 13. Malankara Reservoir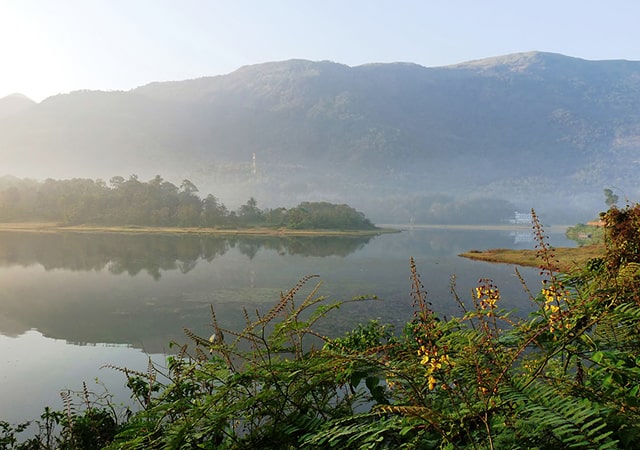 Image by Jeevan Jose via Wikimedia
There is an artificial lake here that allows for boating and fishing facilities for its visitors. The reservoir manages the water of the dam.
14. Thrissanku Hills
A popular hill station, well-known for its virgin walking trails, well, almost. A good scenic spot as well. Other things you can see from the hill include Diwan's residence, Mausoleum of Sufi Saint and a summer palace.
15. Valara Waterfalls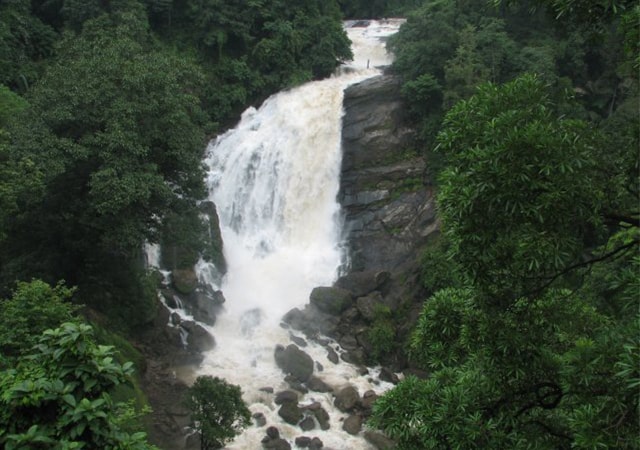 Image by Wikistranger via Flickr
This is also located between Neriamangalam and Adimali and is near Cheeyappara waterfalls. The sprays of the cascading waterfalls can be seen from afar. This is a must visit Tourist Places in Idukki
 16. Sita Devi Lake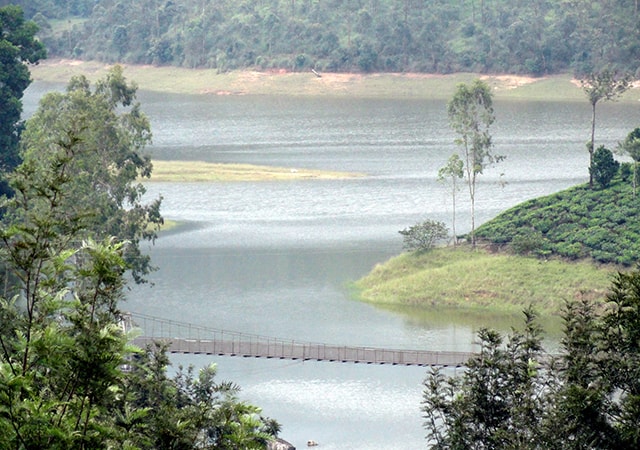 Image by Amrita Bhattacharyya via Flickr
Devikulam or the Sita Devi Lake is believed to be the lake where Devi Sita bathed in the river. The water has curative properties as well.

17. Njandirukki Waterfalls
The water falls from a height of 200 feet and is a sight to behold.
18. Nadukani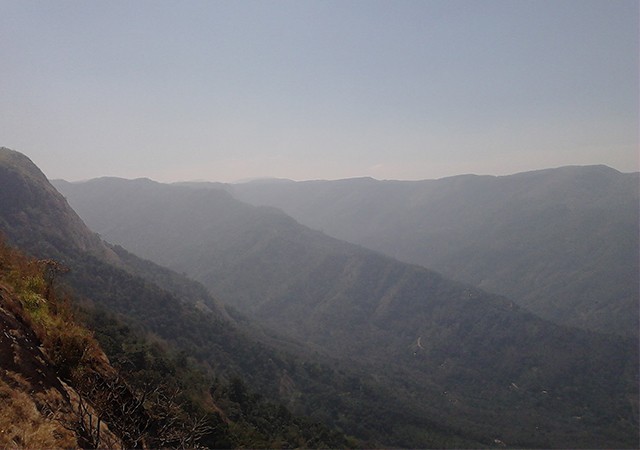 Image by Seb Powen via Flickr
Nadukani is a picturesque location with expansive hills and luscious views of meadows. Trekking and mountaineering are in vogue here. You can enjoy panoramic views of Ernakulam on a clear, sunny day. This is a good Tourist Places in Idukki
19. Keezharkuthu Waterfalls
The waterfall is well known for its lush greenery and thick forests. The area is also famous for ayurvedic medicines. Activities like rock climbing, mountaineering and camping are also allowed here.
20. Pattumala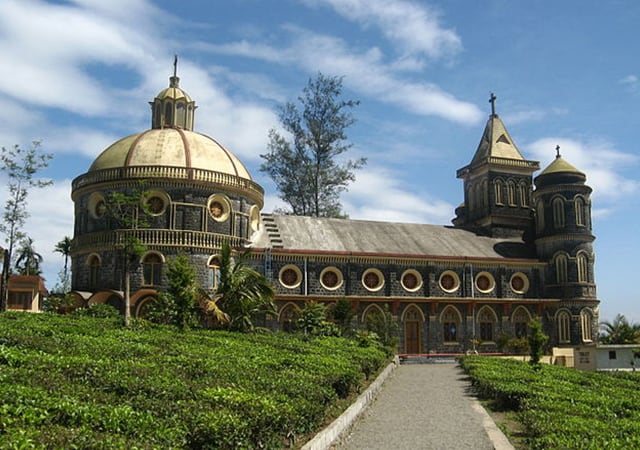 Image by Iaminfo via Wikimedia
Enjoy the ethereal beauty of rolling hills and the little streams along the backdrop of breathtaking greenery.
21. Thumapachi Calveri Samuchayam
It is a quiet and scenic spot where you can enjoy some time in contemplation.
22. Anayirangal Dam Reservoir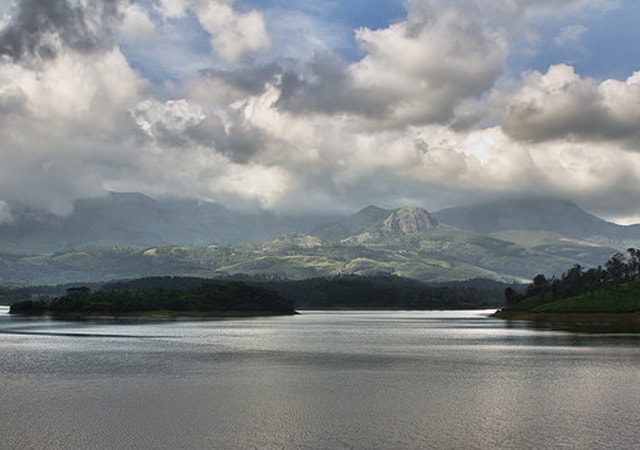 Image by alchimiae via Flickr
The scenic views of Anayirangal with its lush green carpet of tea plantations is a tourist places in Kerala.
 23. Ponmudi Dam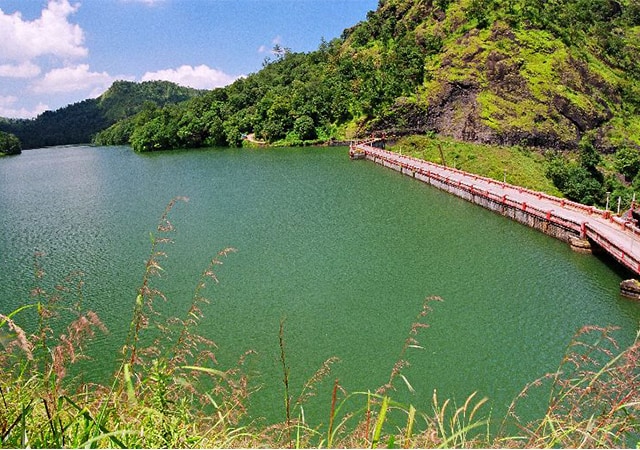 Image by Kseb via Wikimedia
This dam built along Panniyar River, another major tributary of Periyar is a famous tourism destination. Trekking is a favorite activity of tourists at Ponmudi Dam.
24. Hill View Park
This is a natural garden located between Cheruthoni Dam and Idukki Arch Dam.  There is a children's play area as well. You can also occasionally spot elephants, deer and bison here.
 Other wildlife sanctuaries near Idukki: Eravikulam National Park, Chinnar Wildlife Sanctuary and Periyar Wildlife Sanctuary.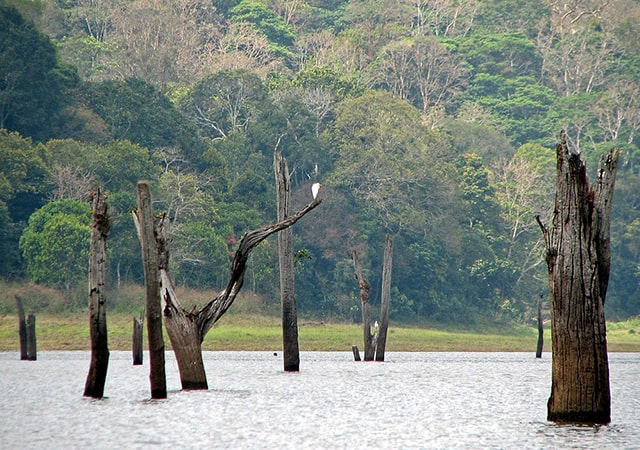 Image by Bernard Gagnon via Wikimedia
If you like this post, please share!