Valentine's Day in Kerala
At a certain stage in your life you look forward eagerly to a Day in the middle of February, the day you can openly express your feelings towards your partner. You take time to listen to him/her in rapture. You exchange gifts for which you probably have been saving for months because you want to it to be something very special!!  That is "Valentine's Day" which has become popular in conservative Kerala also, since about a decade. Valentine's Day in Kerala is unique and can have most romantic experience
Let us think a little different this year. Why not surprise your friend with an unusual gift such as a day together at an exotic locale in Kerala, or even at an otherwise ordinary place which appears exotic due to the company of your loved one. Maybe you can plan some 4 or 5 days  Valentine's day  special packages to truly enjoy and be with your partner!!
Here are a few suggestions to enjoy Valentine's Day in Kerala
1. How About Romancing on Kerala Backwaters?
A one day houseboat cruise on Backwaters would be ideal for the romantic in you. Go to Alappuzha (Alleppey) or
Kumarakkom Backwaters
or any other
backwater stretches in Kerala
, hire a houseboat  for two. Once you move a few minutes out of the crowd, it is almost like a dream come true.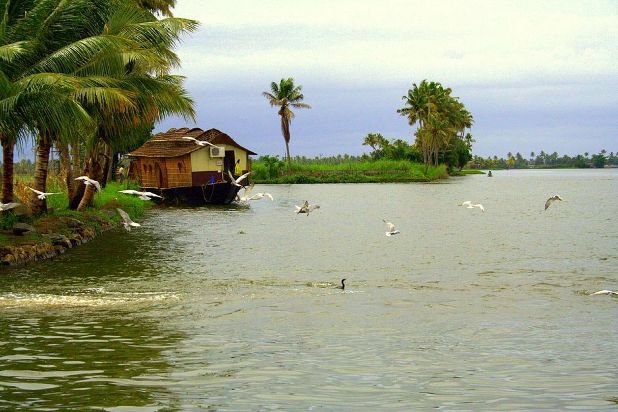 The lovely view around  you may make you silent, but isn't silence the essence of love? No worry of cooking dinner as the chef gives you tasty fried fish, rice or whatever you had ordered earlier. Spend the dusk and part of the night in viewing nature in her most romantic avatar.
2. Is It Domesticity You Prefer ?  Perhaps Some Fun Cooking Time With Your Partner!
Homestays have become popular in Kerala, so if you are looking for a little domesticity, select one. You both can join your  hostess when she spins the lacy Appams and cooks the delicious white stew of meat, potato and onions,  which can be called typical Kerala cuisine.
You can try preparing your favorite Kerala dish together….(of course with some guidance from your hostess!) Or you can try helping her in filleting the fresh water delicacy – Karemeen, but be very careful.
3. Does Adventure Excite You ?
If you want to share an adventure, you both may even go trekking. It is preferable and safer  with a group.  But a couple can enjoy a three-hour trek to reach the top of Dhoni Hills, a reserve forest near Palakkad.  A Swiss Dairy farm welcomes you and a nearby waterfalls provides the cool electric atmosphere. There are many other trekking trails you can choose in Kerala.
Taking a deep breath : Image by via Enchant_me via flickr
If sighting a wild animal in its natural habitat is your priority, plan a trekking expedition to a wildlife sanctuary. You may see an elephant herd on its water trail if you are lucky.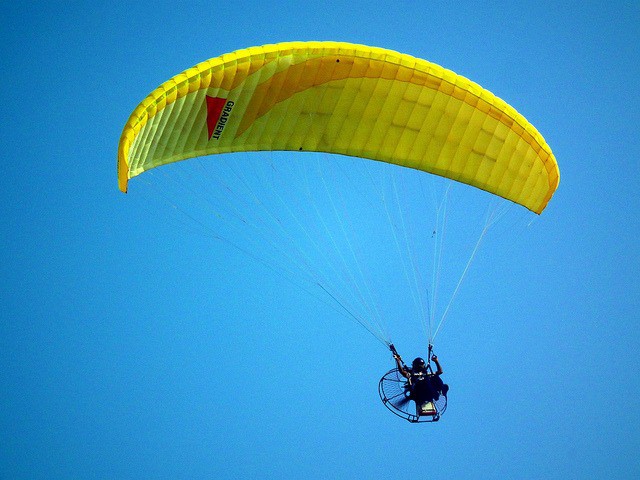 Paragliding In Kerala: Photo by Rameshng via flickr
Not only that, there are other adventure activities you can opt for…like paragliding at Munnar and Vagamon, canoeing through Kerala backwaters and may be camping near forest!! You might need to take permission from authorities and proper camping gears before choosing the camping option.
4. Total Relaxation…Is It Possible ?
Yes, definitely. There are well-run Ayurvedic resorts in Kerala which are placed among luscious greenery adjoining sparkling streams. Medicinal plants often contribute to the greens. An Ayurvedic massage with aromatic oils becalms your nerves.
The good resorts  provide yoga sessions also. If you are into meditation, then you will totally love this expereince. It is an ideal way to rejuvenate your soul and spirit. This will definitely aid you in reconnecting easily with your soul-mate! The food is strictly vegetarian in most of these resorts.
5. Are Hills More Elevating?
A hill-station may exhilarate your mind and senses. The cool weather seems ideal for a romantic interlude. Wayanad itself has a number of hill resorts where the ambiance of hills and mist is maintained. The Western Ghat is the eastern boundary of the State; the densely forested high ranges provide a number of getaways.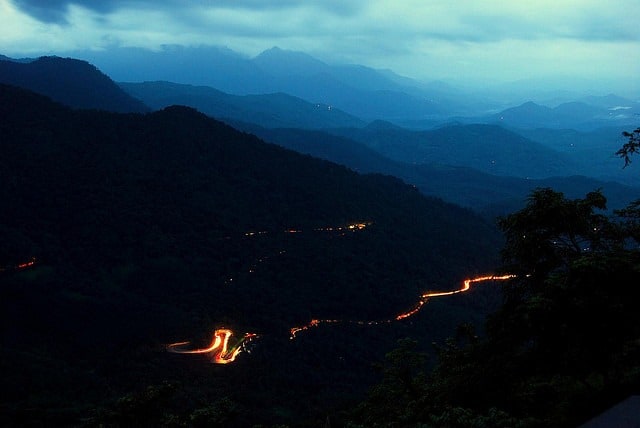 Majestic Western Ghats view from Wayanad: Photo by  dhruvaraj via flickr
You really don't have to stay at high-tariff hotels,; there are many other convenient stays where you can enjoy your vacation. After all, it is the atmosphere that attracts you and that is free. Cottages, home stays… some of the latter in plantations are really cosy.
Has it been your dream from childhood to stay on a tree? This is a chance to fulfill that. There are tree houses which are quite comfortable in some forest resorts. The food comes up to your tree house, just wish for it!!
6. Perennial Favorite, the Beach
A walk on the beach by itself costs you nothing but remains a cherished experience. Sand is sure to cling to your clothes and footwear, but helping each other clean up is fun. Kerala being a seaside State has a number of long beaches. Accommodation is plenty, so are small eateries. If you are staying for a day or two there are hotels, guesthouses or rest-homes to choose from. Won't it be great to view the sea in all her moods.?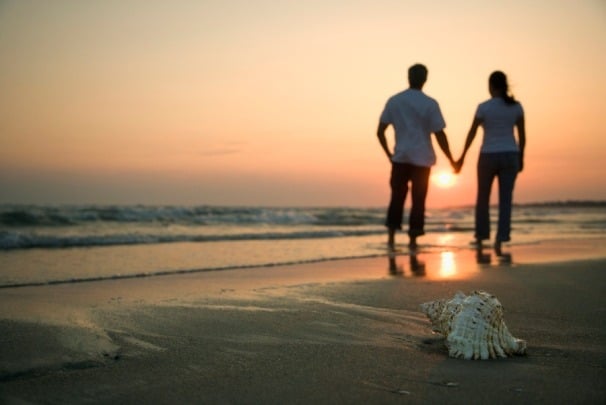 The rocky beaches of North Kerala are scenic beauties. There are broad-walks in some, Light Houses in others. Some of the Kerala beaches can be enjoyed by swimmers and bathers, but not all.
I hope these suggestions will entice you to spend some real, quality time with your partner. Well, that is what this valentine's day is all about..Giving your lover your best!