Azheekal Beach – Weekend Getaway
Going on a beach holiday is a great boost to your mental and physical framework. Especially when you work huddled in front of your computer all day long, and you need to do something healthy and nature-ish to rejuvenate yourself. There is nothing like a holiday by the sea! Spend a day walking by the beach, feel the sun in your face, the wind in your hair, the sand at your feet – would you ever want to trade that experience with any other? Especially when you are looking for a break from work or the stress and demands of the city life. Azheekal Beach is one such good option
It can do wonders not just for your mental and spiritual health, it can be amazing for your body too. You get a healthy dose of Vitamin D while at the beach, walking in the sand can give a boost to the muscle function in the legs, swimming in the sea gives you a healthy dose of cardio workout, so when you are on a beach holiday, you are actually loving yourself.
To do at Azheekal Beach
Does that sound good? That exactly what you are going to enjoy when you embark on a weekend getaway to Azheekkal Beach.
Azheekal Beach is at Karunagappilly, one of the tourist attractions in Kollam, one of the districts in South Kerala, and a worthwhile spot to explore on a weekend. Kollam or Quilon as it was formerly known as is an ancient port city boasting of pristine backwaters and beautiful, lengthy shorelines with magnificent white sands all along.
Though the beach is still stunning, you can see traces of damaged done by the Tsunami of 2004. The sunset at the beach is stupendous, so if you are traveling in from the city, make sure you reach on time because it is 41 kilometers away.
Apart from watching a glorious sunset, at Azheekal Beach you can have fun with your family. There aren't too many people on this beach. Of course, there would be plenty of lads flying their kites, but watching their happy faces is plenty of fun too. That's one of the major activities at the beach, apart from getting yourself wet and building magnificent sand castles. And there are plenty of starfish and shells too; your kids would have a field day, collecting them.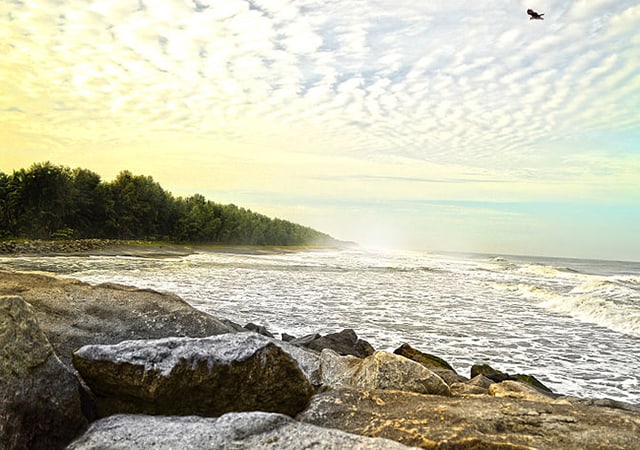 Image by Gokulpoovlliyil via Wikimedia
Photography at Azheekal Beach
Azheekal Beach is a great spot for photographers too. The cheenavala or the Chinese fishing nets in the backdrop of a stunning sunset along the clear brown shores is a favorite theme for both pros and amateurs. And in the distance, you can see islands filled with Mangrove forests. You can experiment a lot with landscapes and capture some great frames to take home.
To reach the beach
Azheekkal Beach is located 12 kilometers away from Karunagappilly town.
From the Mata Amritanandamayi Math, the beach is just 5 kilometers away.
Conclusion
Kollam is home to many great beaches, and Azheekal Beach is one of the most beautiful ones. It's a must visit when you are visiting South India and a great place to hang out with friends and family.
If you like this post, please share!!!