Weekend Getaway – Ilaveezhapoonchira
Ilaveezhapoonchira is a beautiful destination located on the outskirts of Kottayam district. In a literal sense, Ilaveezhapoonchira means "the pond of flowers where the leaves do not fall"; Ilaveezha means "where the leaves do not fall" and poonchira means "pond".
There are no trees on these hills, so there are no leaves to fall and that's how this place got its name. Ilaveezhapoonchira is located at  a distance of about 75 kilometers away from Changanesserry, and along the Pala-Thodupuzha highway.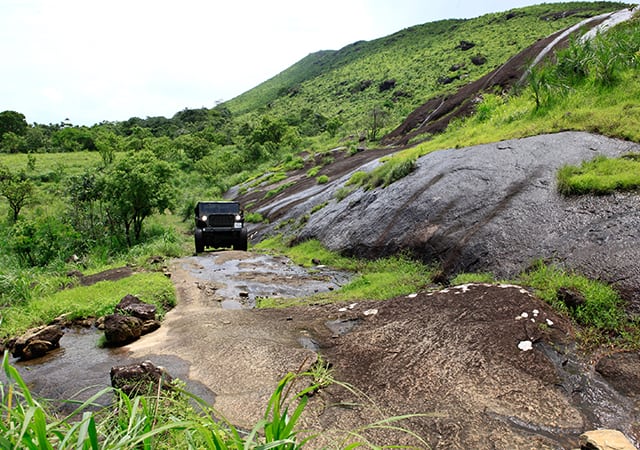 Many people start their bike tours from Changanassery and take off to  Ilaveezhapoonchira. Because of its beauty and popularity, Ilaveezhapoonchira has evolved to be one of the most adored tourist spots in Kerala.
The silence that permeates the hills, valleys and rock contours is deeply invigorating. Once you reach atop the hills and look down below, you can glimpse the placid, perennial lake, also called poonchira.
Ilaveezhapoonchira is also the one of the excellent trekking trails in Kerala and along the way, you can see the beauty of the three hillocks – Kudayathurmala, Mankunnu and Thonippara. The rocky hills and green expanse span for a long, long way and you can see for kilometers at a stretch because of the absence of trees.
When you stand atop the hills of Mankunnu, you can see the following districts: Thrissur, Ernakulam, Kottayam, Alleppey and Pathanamthitta. Isn't that exciting?
The Legend Behind Ilaveezhapoonchira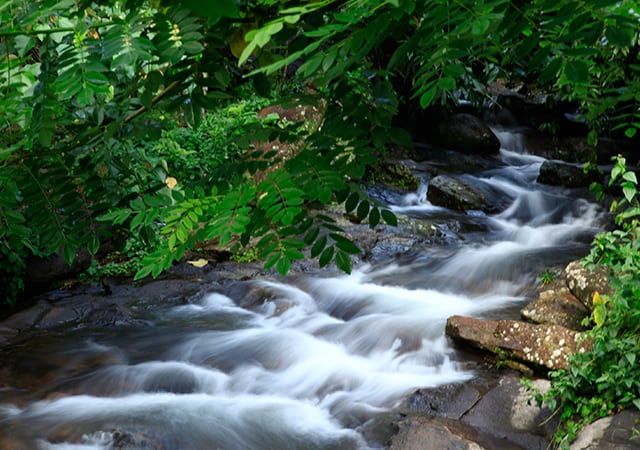 During the time of the Pandava exile, it was believed that Draupadi used to take the bath at the perennial lake here. According to the story, the Devas attracted by her beauty used to come and watch her taking the bath. When Lord of the Devas, Devendra heard of this, he shielded the area with the three floral hills mentioned above.
The best time to visit Ilaveezhapoonchira would be during November to March period, when there is greenery all around, and right before the hot season sets in. This period would be right after the monsoon and the sun sparkles off everything – over the hills and the valleys spreading happiness everywhere.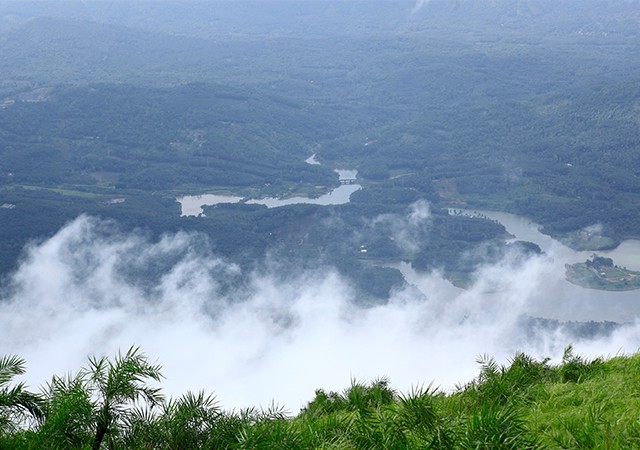 The beauty of the floral hills and bushes are beyond mere word description.You can take the steep road from Kanjar, located just 9 kilometers away from      Ilaveezhapoonchira and just follow it to reach here. However, you have to climb an altitude of 3200 feet, so make sure you are alright with that. Some people find it quite adventurous while some find it downright scary.
Apart from trekking and nature watching, Ilaveezhapoonchira is one of the best places in Kerala to watch the sunset.
Other Places Worth Visiting Nearby are 
Malankara Dam – 7 Kms
Thommankuthu Ilaveezhapoonchira Waterfalls – 30 Kms
Vagamon – 35 Kms
Distance from Other Locations
Idukki – 36 kms
Kottayam – 48 kms
Thodupuzha – 20 kms
Kumarakom – 72 kms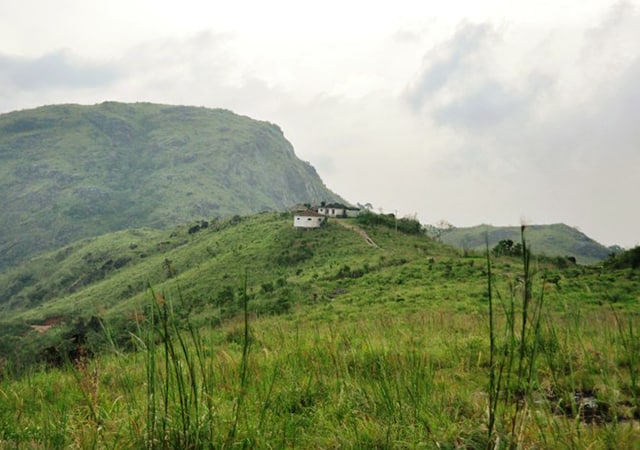 Image by Fullfx via Wikimedia
Thus, Ilaveezhapoonchira has become a blessed spot to spend some quiet time with family and friends, enjoy picnics, take photographs and so on.
If you like this post, please share!