Jadayupara – Weekend Getaway
Wondering where to visit this weekend to spend some quality time with your friends or family? Jadayupara is highly recommended which is at Kollam.
How about going on a trekking adventure at Kollam and have a look at the world's largest bird sculpture. Plan your weekend trip to Jadayupara, a place like nowhere else that's sure to leave you spell-bound.
Located at 38 km from Kollam and 46 km from Thiruvananthapuram, Jadayupara serves as a great weekend getaway from the capital of Kerala and other places.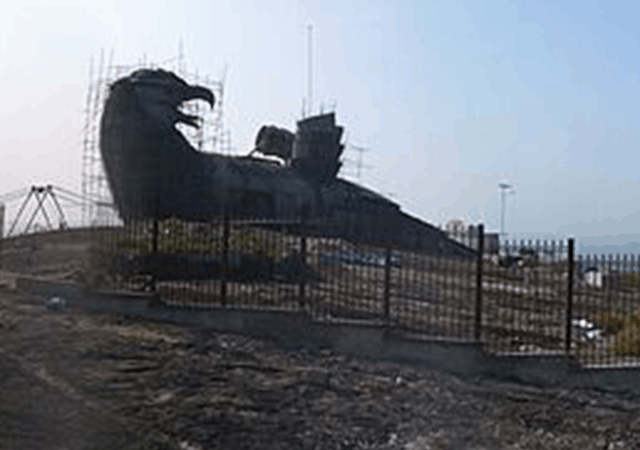 Image by Kumar.kisalaya  via Wikimedia
Built among the 20-acre rocky mountainous property, the Jadayupara Adventure Park was constructed under the supervision of sculptor and movie director Rajiv Anchal. The sculpture of the mystical bird Jadayu is the world's largest bird sculpture which is 200 feet long, 150 feet wide and 70 feet tall.
Jadayupara is the first public private partnership tourism initiative between the Kerala Government and Guruchandrika Builders and Property Private Limited. The business partnership is designed on a Build-Operate-Transfer (BOT) model.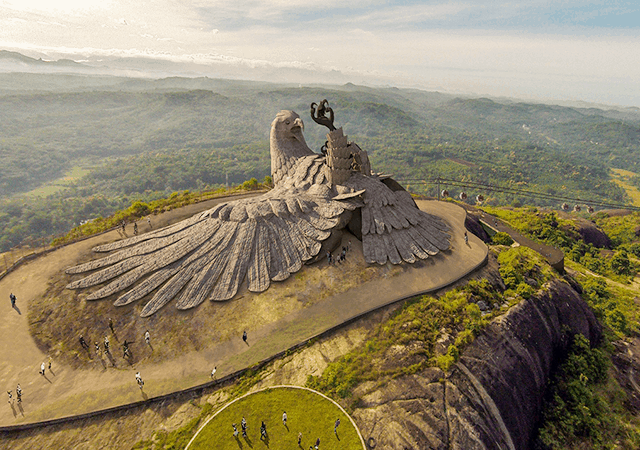 There is a legend related to the Jadayupara; it is said that Jatayu tried to save Sita Devi, wife of Lord Rama, when the demon king Ravana was abducting her in his airborne chariot. Jadayu is said to have fought bravely and fallen on these rocks, severely injured.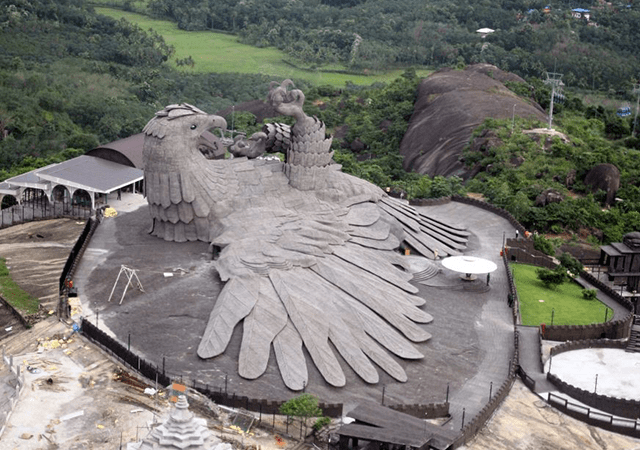 Image via siasat.com
Jadayupara offers activities for those who love adventure sports in Kerala. Trekking, Burma bridge, wall climbing, 6D theatre, cable car, helipads and local flying service, digital museum, adventure zone (with 20 games), and facility for bird's eye view, etc. are few among the activities.
How to Reach Jadayupara
Nearest Bus Stand: Chadayamangalam
The schedule for buses to Chadayamangalam can be found online at KSRTC (Kerala State Road Transportation Cooperation). Local buses are also available from Kollam, Varkala, Punalur, Kottarakkara, etc.
Kollam KSRTC Bus Station – 40.4 km
Varkala – 30 Km
Nearest Railway Stations of Jadayupara:
Punalur railway station – 25 Kms
Paravur railway station – 27.5 km
Kollam Junction railway station – 38.7 km
Kottarakara railway station – 23.1 km
Varkala railway station – 30 Km
Nearest airport: Trivandrum International Airport, about 51 km
If you are planning to have an adventure filled, nature exploring weekend, Jadayupara is the perfect place to spend it. Pack your bags and start your engines to explore the world's largest bird sculpture and its surroundings.
If you like this post, please share!!