Weekend Getaway- Kavvayi Backwaters
The Christmas and New Year break that you had was wonderful, and you have been working hard for the past couple of months. Now you are ready to stretch your limbs a little, enjoy a bit of pure nature and breathe in the invigorating air. Perhaps you are looking for a weekend where you can go for a short trip to recharge your batteries. In that case, you might be on the lookout for a destination that would fit the bill. Kavvayi Backwaters in Payyanur, Kannur district would just be the right one.
Heard of Ibn Battuta and Marco Polo? They were famous travelers who wrote fascinating tales about their travels and played a major role in spreading culture and ideas to distant lands. While Marco Polo traveled in the 13th century AD, Ibn Battuta traveled during the 14th century AD. Their travel accounts of a fascinating harbor in the South of India, Kavil Pattanam is the present Kavvayi Backwaters. The harbor was a huge port for trading spices and gems, and it was this port that was later converted into an extremely beautiful island.
The rivers – Kavvayi, Kankol, Vannathichal, Kuppithodu and Kuniyan, feed the backwaters of Kavvayi. There is a huge island known as Valiyaparamba and the backwaters near the island also go by the same name. Valiyaparamba has a secluded beach as well. It's clean and serene, so you can let your children play with sand castles.
The natives of the area indulge in agriculture, and fishing, as these form the primary source of income. However, now tourism also brings in a lot of money, as backwater tourism, water sports and aqua-tourism are in vogue. A boat ride along the backwaters would gift you glimpses of swaying coconut trees, a chat with the friendly locals and the perfect antidote for stress.
Kavvayi is the perfect spot for a weekend holiday with your friends and family. You can walk around the villages, relish fresh, homemade food, and soak in the virgin beauty of the land. There are a number of islands in and around Kavvayi, so you can hop in and out on a country boat, and have a good time.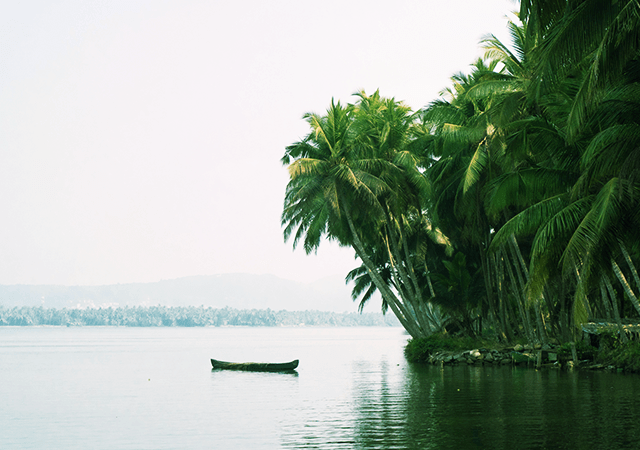 Image by Vinayaraj via Wikimedia
If you intend to spend a long weekend at Kannur, you can explore the nearby villages as well. It is fascinating how Kannur, received its name. Kannur when split becomes Kannan (the fond name of Lord Krishna) Uru (Place), making it the 'place of Lord Krishna'. It is also the third biggest backwater of Kerala, and the largest in North Kerala. Hence, the backwaters reach up to Neeleshwar in Kasargode district.
If you like this post, please share!!!!